Slow Cooker Spinach and Feta Quiche is a low-carb, vegetarian quiche with no crust! Let your Crockpot do the work for your next brunch or breakfast for dinner night.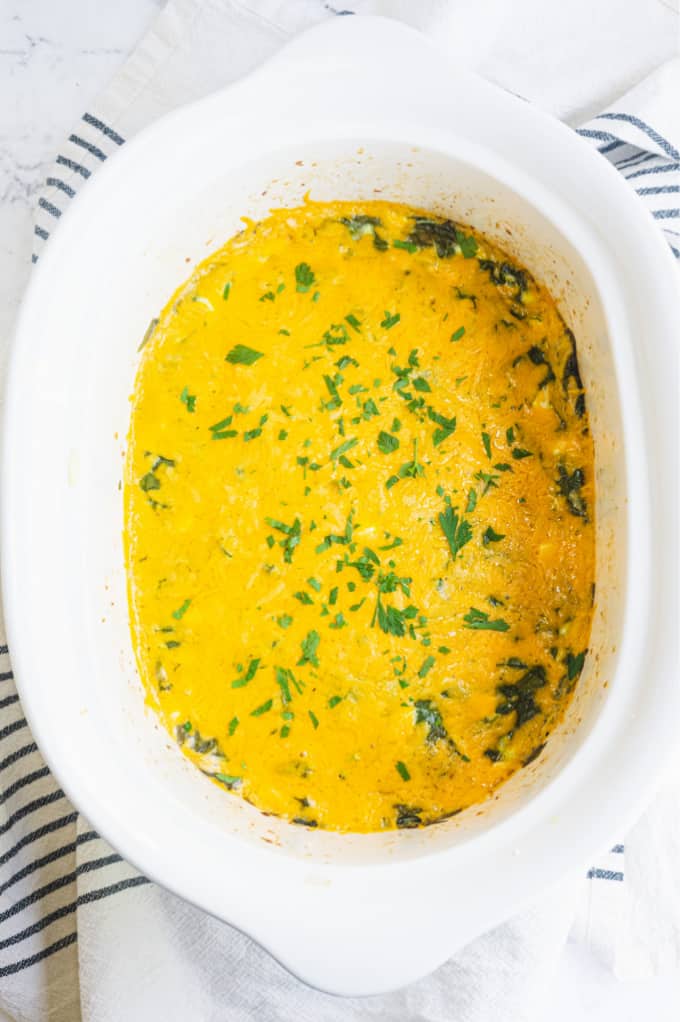 A quiche in the slow cooker?! Really!
This Slow Cooker Spinach and Feta Quiche has a delicious eggy base filled with fresh spinach, minced garlic, three cheeses, and no crust! I love making this for dinner and eating leftovers the next morning for breakfast.
Want to make the most famous quiche? Try my Quiche Lorraine recipe for a delicious bacon and cheese quiche!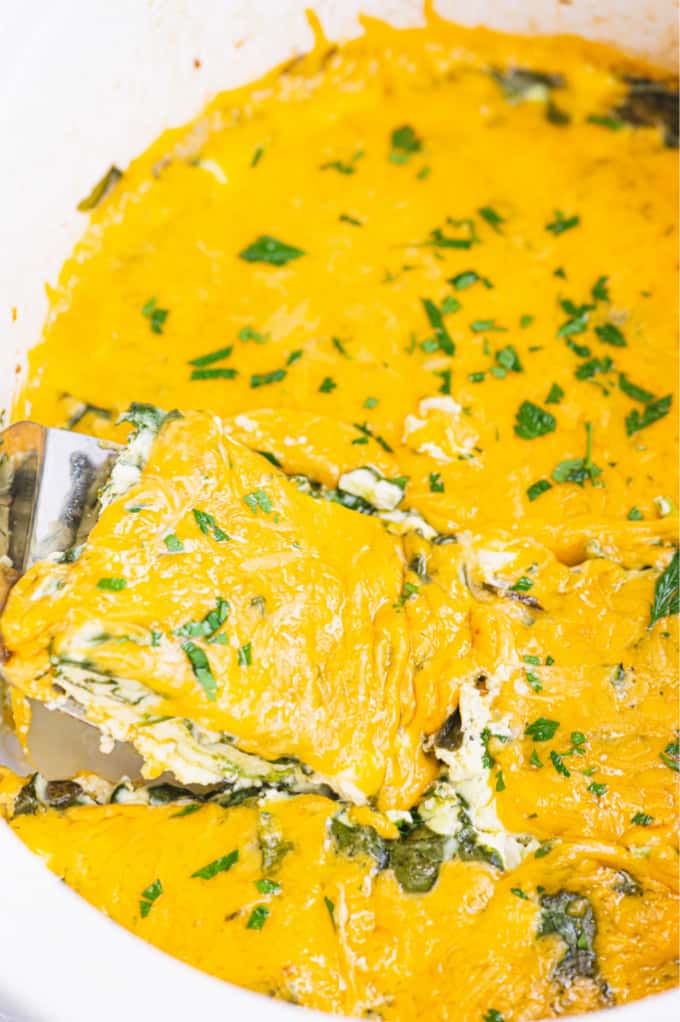 These 8 ingredients are pantry staples in my house and I bet most are in yours, too!
Ingredients
Eggs
Milk
Spinach — I used fresh because I fear frozen will lose too much water during cooking
Garlic
Shredded Parmesan cheese
Feta cheese
Shredded cheddar cheese
Salt
I tried making a slow cooker quiche with ham and it did not go well. I think the ham released too much water during cooking and made the whole thing a soggy mess. You could possibly add cooked bacon to this recipe, but I would steer clear of ham, chicken, and other meats.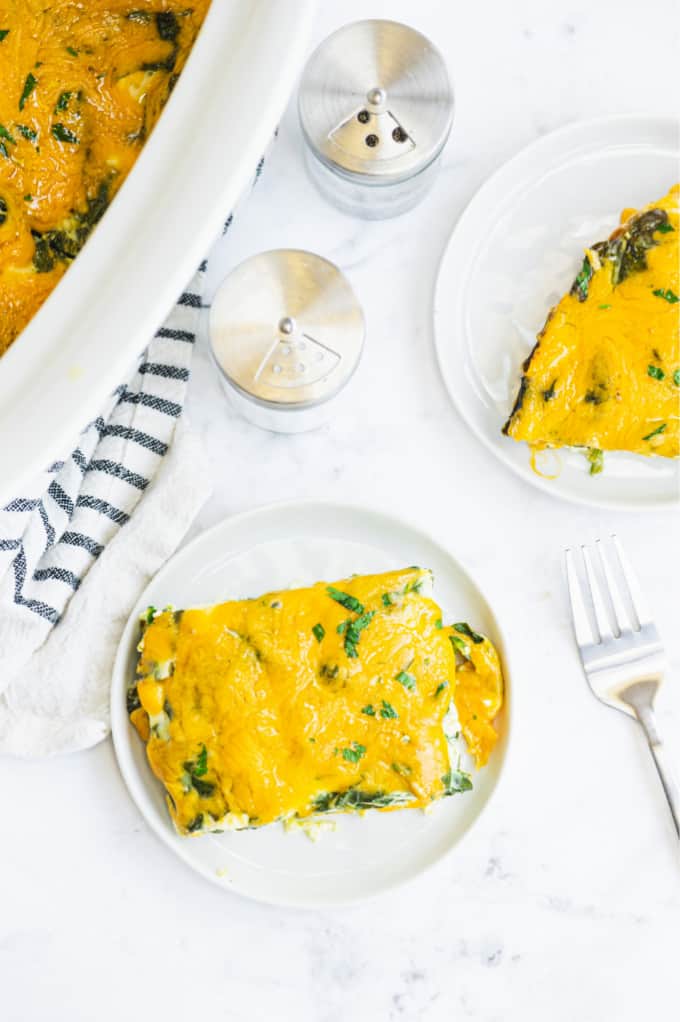 What I used for my Slow Cooker Spinach & Feta Quiche
This post contains affiliate links.
Cheese grater: You can use pre-shredded cheese for this recipe, but I find it costs more and doesn't melt as evenly. This cheese grater has a large handle and a sturdy rubber base to keep your counters scratch-free.
Garlic press: Mincing garlic is one of my least favorite kitchen tasks but it tastes so much better fresh! This garlic press saves me time and energy, bringing all the garlic juice to the pot instead of the cutting board!
Slow cooker: This 6-quart slow cooker is my favorite because the lid snaps shut for easy transport! It's big enough for a roast and delicate enough to simmer a soup all day.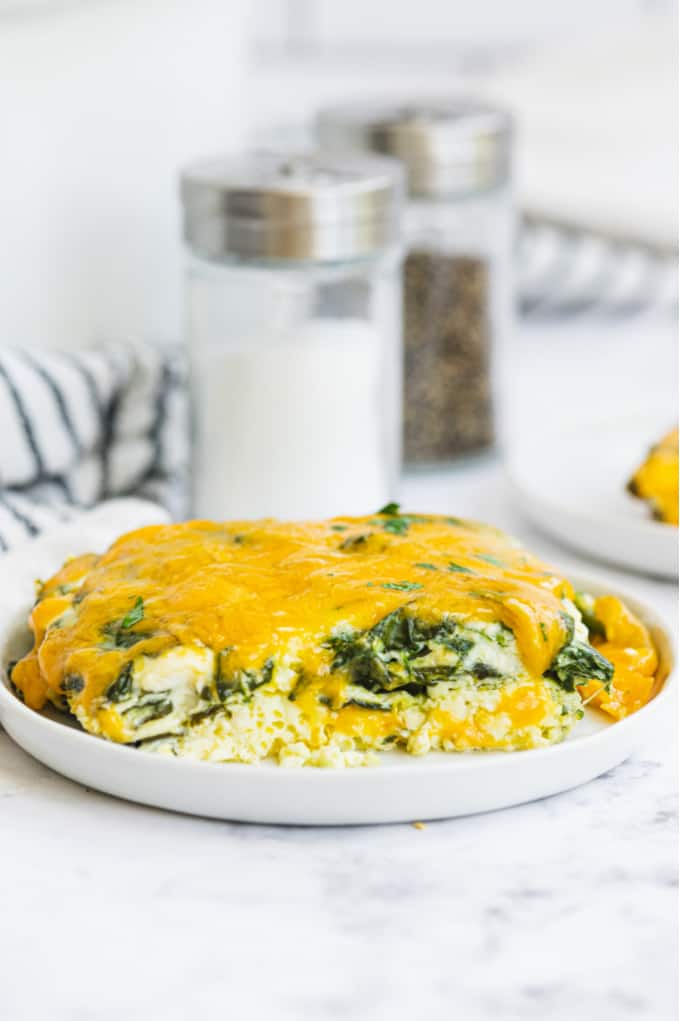 How to Make Slow Cooker Spinach & Feta Quiche
This quick and easy spinach and feta quiche is only FOUR steps! With no crust to worry about, it's the easiest quiche recipe I've ever made.
First, whisk the eggs and milk together in a large mixing bowl.
Then, fold the spinach, garlic, feta, parmesan, and salt into your egg mixture.
Then, pour your mixture into a greased slow cooker and sprinkle your shredded cheddar cheese on top.
Cover your slow cooker and cook on low for 7 to 8 hours until the eggs have solidified and the cheese has browned slightly on top. Serve warm and enjoy!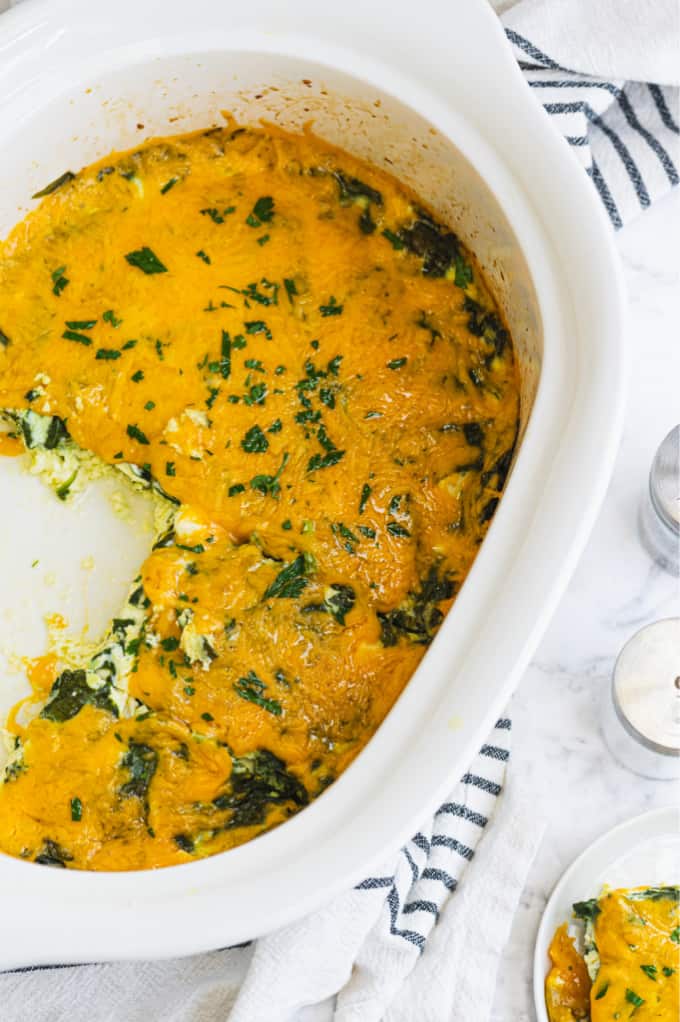 How to Store
Leftover Slow Cooker Spinach and Feta Quiche — if you have leftovers — can last up to 4 days in the fridge or up to 4 months in the freezer.
To freeze, put the quiche in a freezer-safe container and wrap with heavy-duty aluminum foil.
To reheat your leftovers, skip the microwave and head for the oven. Let the quiche come to room temperature before popping it in a 300-degree oven for about 15 minutes. Check the center to see if it has warmed through.
If reheating frozen quiche, skip the thawing and go straight for the oven! You'll need a longer cook time and may need to tent the top with foil to keep the cheese from burning.
Other Quiche Recipes
I love a good quiche! It's such a filling meal and is perfect morning, noon, or night!
This Bacon and Potato Quiche is a great simple quiche for every meat-and-potatoes lover.
Hash Brown Quiche is super easy and is a combination of quiche and hash brown casserole! Frozen hash browns make this one quick and simple for holiday mornings.
Want everyone to have their own mini quiche? Try this amazing recipe for a dozen Cheddar, Pancetta, and Thyme Mini Quiches!
The most gorgeous quiche I make is another vegetarian option: Spinach and Mushroom Quiche. The fresh spinach on top bring a beautiful pop of green to a normally brown and tan dish.
This Bacon, Spinach, and Mushroom Crustless Quiche is baked in a 9×13 baking dish for another great low-carb, crustless option!
Looking for a new spin? This Hamburger Quiche is a perfect breakfast for dinner dish!
Other amazing slow cooker recipes to try…
Do you have any amazing slow cooker recipes? I'm always looking for more recipes to try! Follow me on Instagram @simplystacieblog, on Facebook at Simply Stacie, and on Pinterest @SimplyStacie and let me know how you liked this and my other recipes!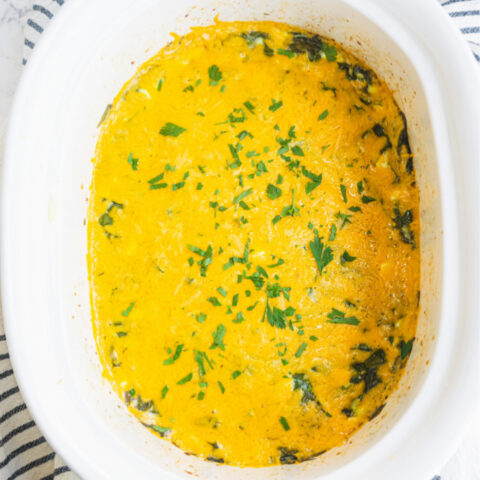 Slow Cooker Spinach & Feta Quiche
Total Time:
8 hours
10 minutes
Make this low-carb quiche in the Crockpot for your next brunch. It's a great savory breakfast recipe with spinach and 3 types of cheese. Yum!
Ingredients
8 eggs
2 cups milk
2 cups fresh spinach
2 cloves garlic, minced
1/2 cup shredded Parmesan cheese
3/4 cup feta cheese, crumbled
1/4 cup shredded cheddar cheese
1/4 tsp salt
Instructions
Add the eggs and milk to a large bowl and whisk to combine.
Add in spinach, garlic, feta cheese, Parmesan cheese and salt and stir to combine.
Pour into your greased slow cooker and sprinkle the cheddar cheese on top of the mixture.
Cover and cook on low for 7 to 8 hours.
Recommended Products
As an Amazon Associate and member of other affiliate programs, I earn from qualifying purchases.
Nutrition Information:
Yield:

6
Serving Size:

1
Amount Per Serving:
Calories:

237
Total Fat:

15g
Saturated Fat:

8g
Trans Fat:

0g
Unsaturated Fat:

6g
Cholesterol:

281mg
Sodium:

558mg
Carbohydrates:

6g
Fiber:

0g
Sugar:

1g
Protein:

18g