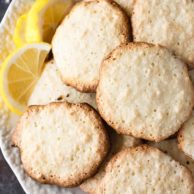 Lemon Coconut Macaroon Cookies
Yield: 24
Prep Time: 10 minutes
Bake Time: 15 minutes
Total Time: 25 minutes
Light and crisp on the outside. Soft and chewy on the inside. This easy cookie recipe tastes like heaven.
Ingredients
4 egg whites
1 cup powdered sugar
1/2 cup flour
1 tsp lemon extract
2 cups sweetened shredded coconut
Instructions
Preheat oven to 350F. Butter and flour a cookie sheet. Set aside.
Add egg whites to a large bowl. Beat with an electric mixer until stiff peaks form. Add lemon extract and beat to combine. Gradually add in powdered sugar, beating after each addition. Fold in flour and coconut.
Drop by teaspoonful on to a baking sheet. Bake for 15 minutes or until the edges start to lightly brown.
Remove from oven and place cookies on a cooling rack.
Nutrition Information:
Yield: 24
Serving Size: 1 cookie
Amount Per Serving:
Calories: 65
Total Fat: 3.4g
Saturated Fat: 3g
Sodium: 31.9mg
Carbohydrates: 8.1g
Fiber: 1.2g
Sugar: 5g
Protein: 1.4g