Caramel Apple Grilled Cheese Sandwich
This grilled cheese sandwich tastes like cheesecake! Dessert for lunch? Yes, please! You are going to love my Caramel Apple Grilled Cheese Sandwich.
It's made with sweet and creamy mascarpone cheese, apple pie filling and caramel sundae sauce. I used Dempster's Honey Wheat Bread and real butter to create one of the most amazing flavour combinations. I seriously cannot get enough of this sandwich.
Of course, you won't want to eat it every day but I think moderation is the key. If you want to indulge a little and eat something truly spectacular, this is a grilled cheese sandwich you'll want to try. It sounds weird, but it works so well.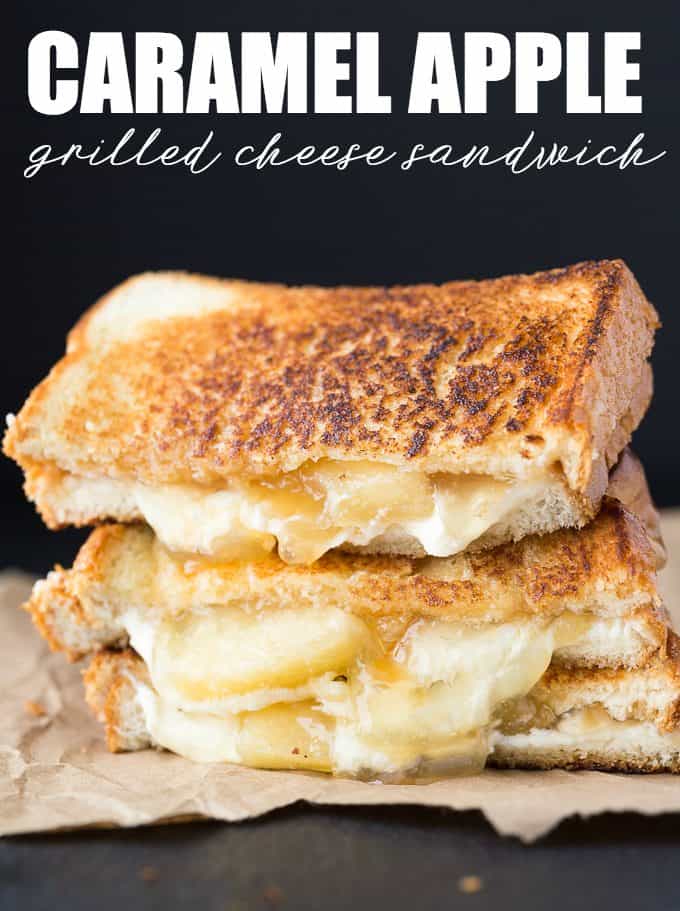 Yield: 1
Caramel Apple Grilled Cheese Sandwich
One of the most delicious dessert grilled cheese sandwiches you'll ever have!
Ingredients:
3 tsp butter, softened
2 slices bread
3 tsp mascarpone cheese
3 tsp apple pie filling
1 tsp caramel sauce
Directions:
Spread butter on one side of each slice of bread.
On the non-buttered side, add toppings and cover with other slice of buttered bread. The buttered side should be facing outwards.
Heat a skillet to medium-high heat. Grill each side for 2 to 3 minutes or until desired doneness is reached. Cut in half and enjoy hot!
I used Dempster's Honey Wheat Bread.

It's a little messy to eat so you'll want to grab a spoon or fork to scoop all those deliciously sweet bits that fall on your plate.
You might also like my Jalapeno Popper Grilled Cheese.
I'm a big fan of dessert grilled cheese and always trying to think of new combinations to try. Do you have any suggestions on what I should make next?