Jalapeno Popper Grilled Cheese Sandwich
This month I'm participating in the Crazy Cooking Challenge hosted by Moms Crazy Cooking and the theme is grilled cheese sandwiches. I found a recipe for Jalapeno Popper Grilled Cheese Sandwich on Closet Cooking that looked like something we would like.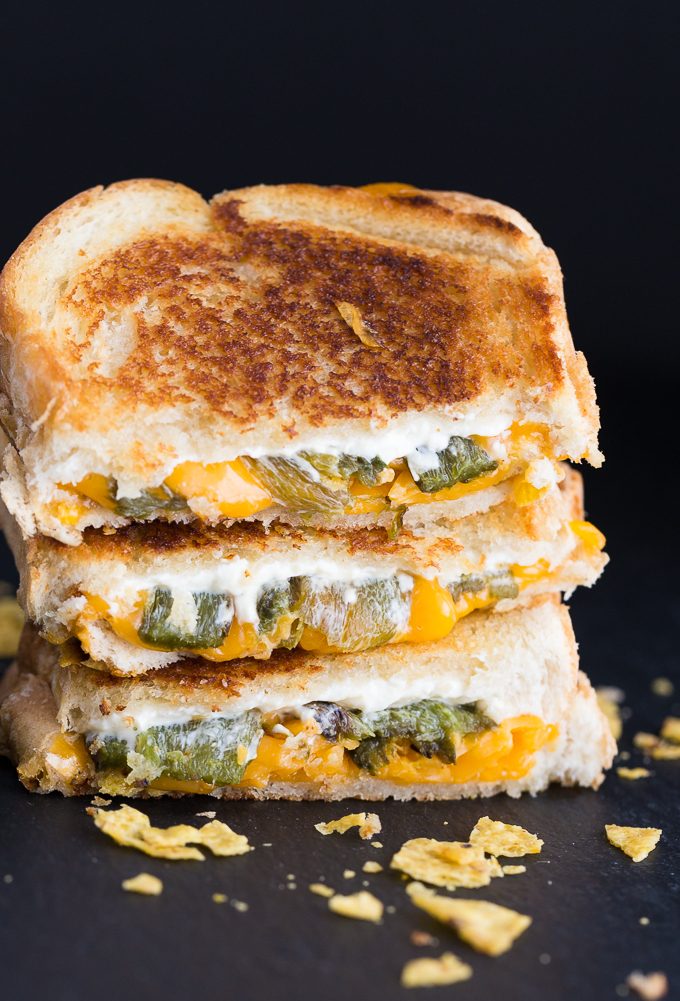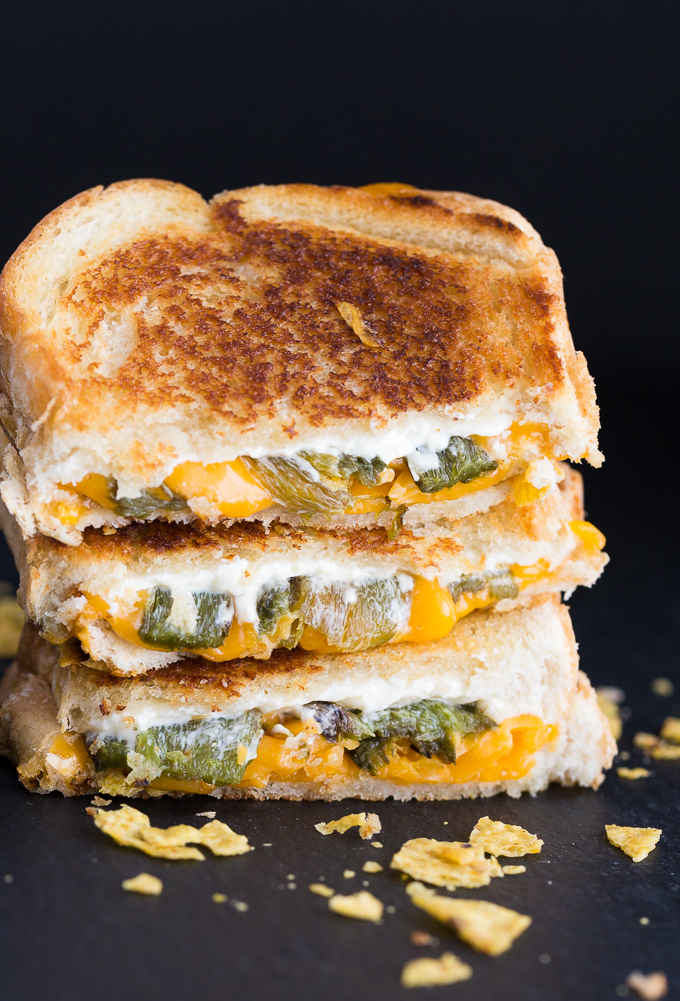 Jalapeno Popper Grilled Cheese
I love the flavours of Jalapeno Poppers and was curious to see what they would be like in a sandwich version. It's fun to take a recipe and a little twist to it. I was blown away with how yummy this Jalapeno Popper Grilled Cheese was. The bread was buttery and crispy on the outside and inside was an explosion of flavour. The cream cheese, melty cheddar and spicy jalapenos were to die for. The tortilla chips added a crunch of texture.
It turned out beautifully and John even asked for them again the next day! They are little bit more effort to make because you have to roast the jalapenos, but my gosh, they are SO worth it. I swear this will become your favourite sandwich once you give it a try.

Helpful Kitchen Tools
This post contains affiliate links.

I had to share the sandwich cut so you could see the ooey gooey-ness of the inside. My mouth is watering now!
The kids might not like this sandwich if they aren't into spicy food. My girls are soooo picky so they wouldn't even try it. That's fine, though. More for me! I can easily eat two servings (maybe more if I'm really hungry….)
I have several grilled cheese sandwich twists on the blog. Check out my Caramel Apple Grilled Cheese Sandwich, Honey Banana Grilled Cheese Sandwich, Taco Grilled Cheese Sandwich and Blueberry Brie Grilled Cheese Sandwich.
What are your favourite grilled cheese sandwiches?
Yield: 3
Jalapeno Popper Grilled Cheese Sandwich
Take your lunch to a whole new spicy level!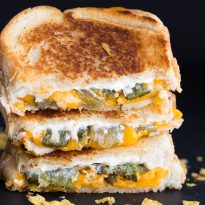 Ingredients:
3 jalapeno peppers, cut in half lengthwise and seeded
6 slices white bread
butter, room temperature
cream cheese, room temperature
1 cup cheddar cheese, shredded
3 tablespoon tortilla chips, crumbled
Directions:
Place the peppers on a baking sheet with the cut side facing down.
Place the baking sheet on the top shelf in the oven and broil until the outer layer of the skin has blackened, about 10 minutes.
Place the peppers in a zip-lock bag and seal and let them cool for 20 minutes.
Remove the skins from the peppers by "pinching" them off.
Butter the outside of each slice of bread and spread the cream cheese on the inside. Top with two jalapenos and then sprinkle on cheese. Add on crumbled tortilla chips and then the to other slice of bread.
Cook in a non-stick pan on the stove at medium heat until outside is golden brown and the cheese is melted.
Adapted from Closet Cooking