Chicken Fajita Wonton Cups
The holidays are all about entertaining family and friends and to me that means serving up some good eats! I whipped up a batch of Chicken Fajita Wonton Cups to enjoy as a holiday appetizer. They turned out beautifully and I can't wait to share them with all of you!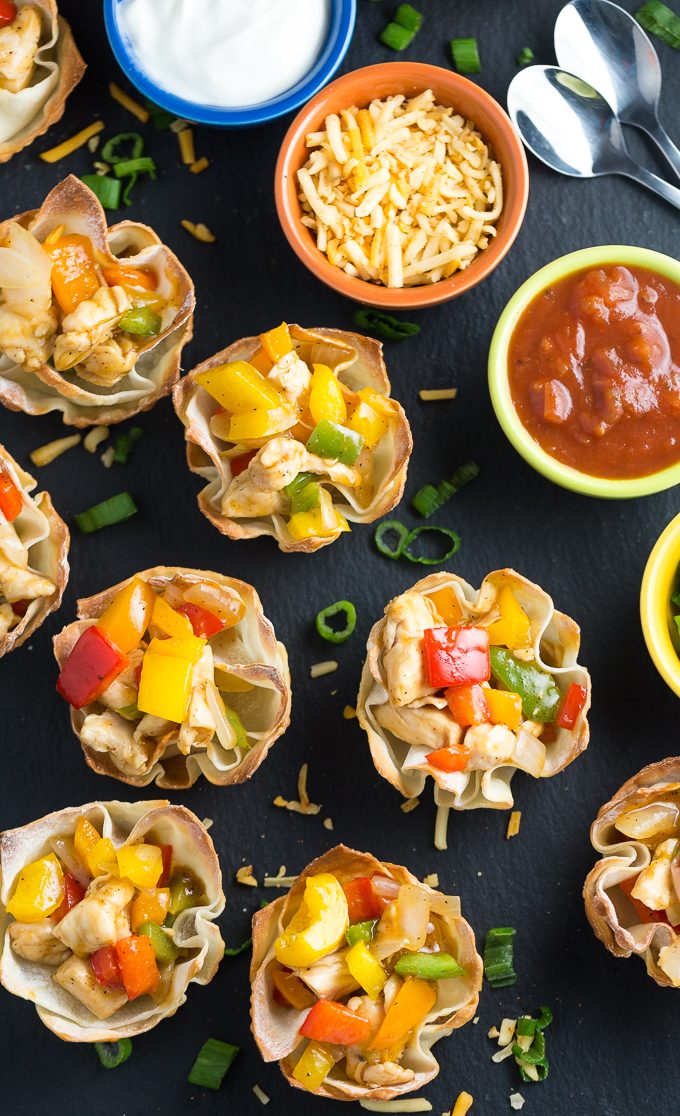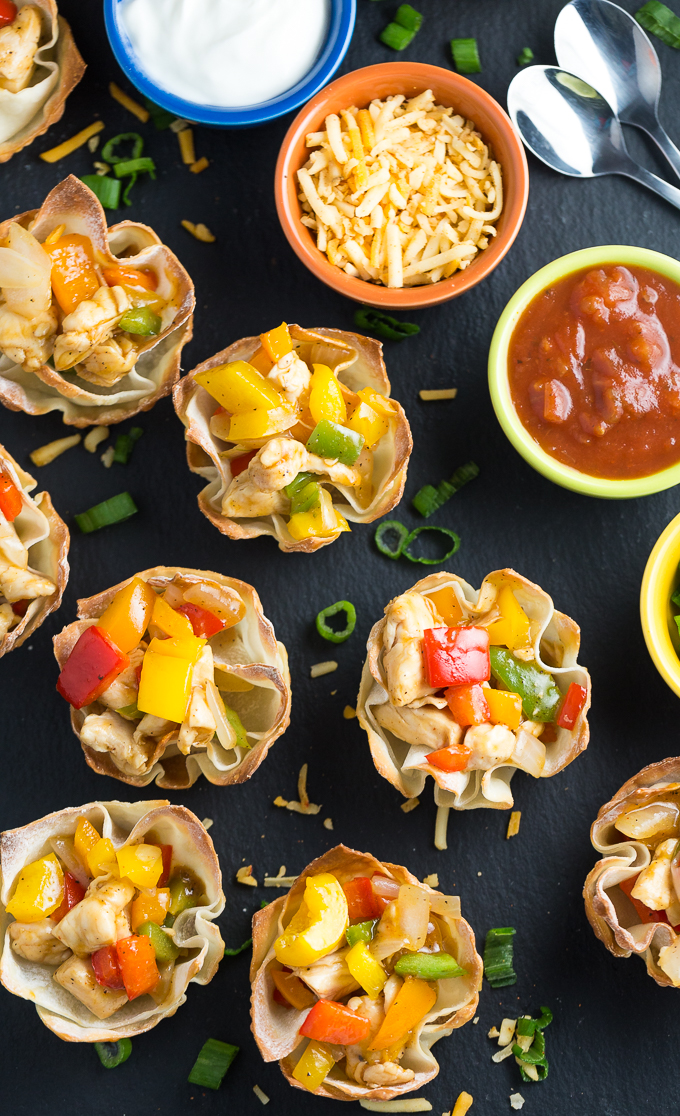 They are a bit of a Mexican/Asian fusion theme. The crispy wonton cups serve as the perfect dish to eat saucy and spicy chicken fajitas. To save time, prepare the wonton cups ahead of time. You could also prep the chicken fajita mix prior to the gathering, but make sure you heat it up before you put it in the wonton cups. It tastes better hot.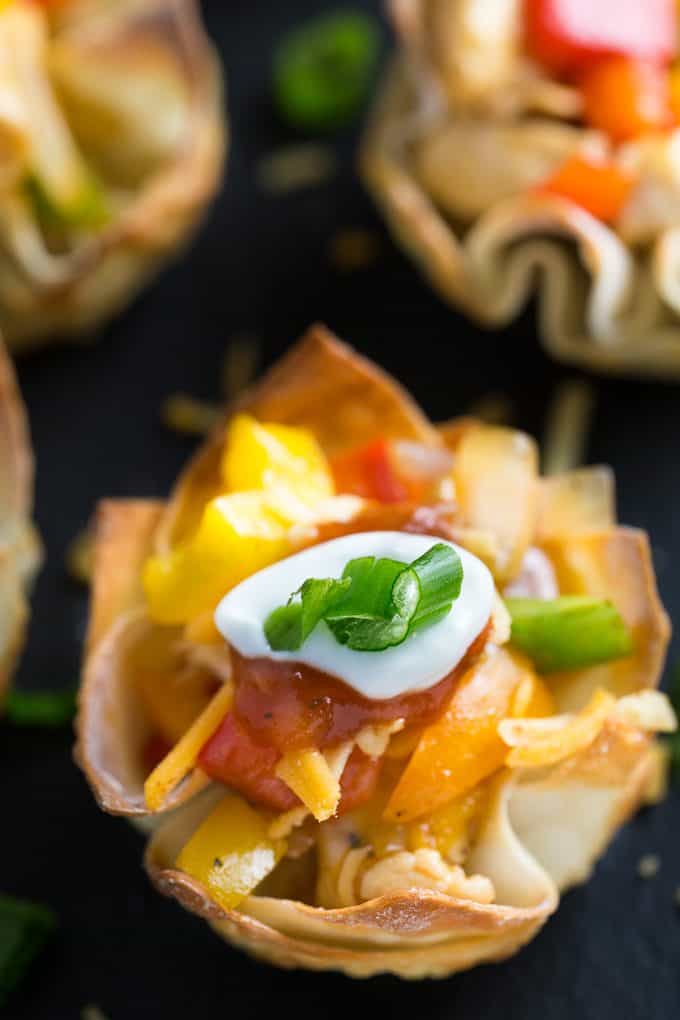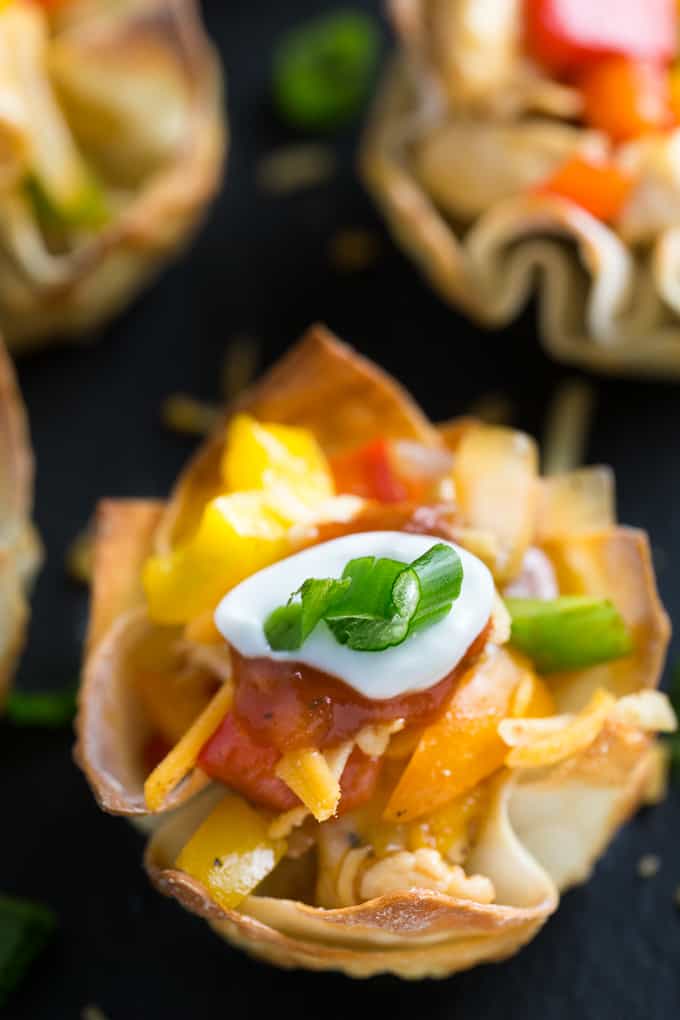 Set out some toppings like shredded cheese, salsa, sour cream and green onions so your guests can top their cups the way they like. I prefer mine with the works with a whole lot of flavour going on.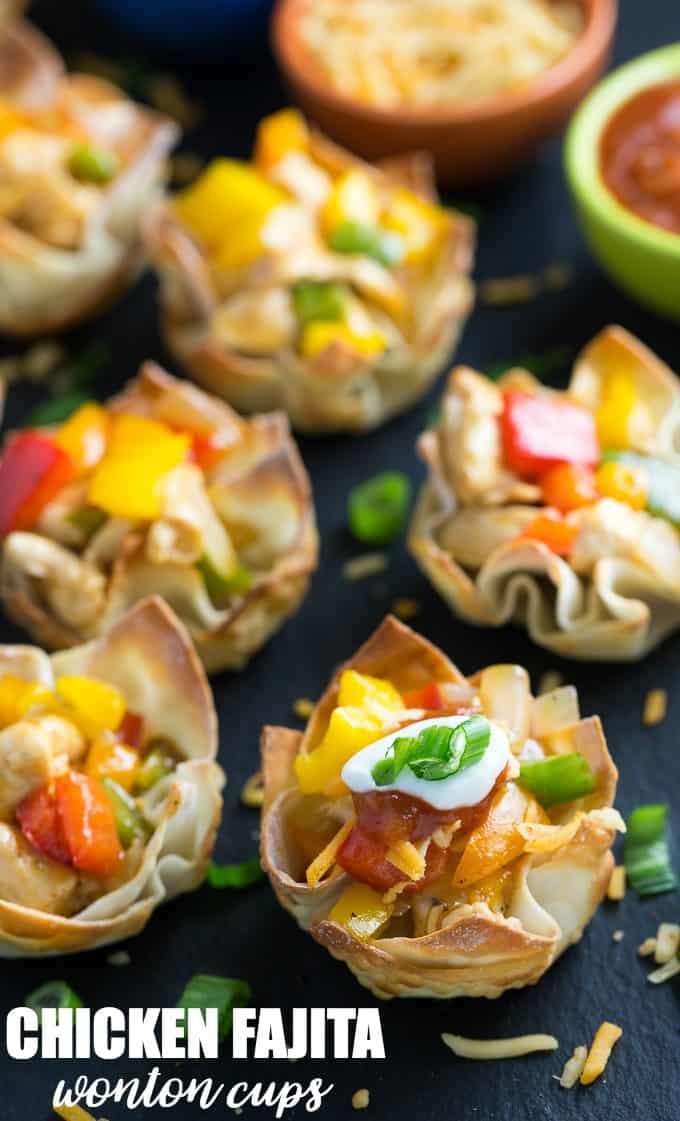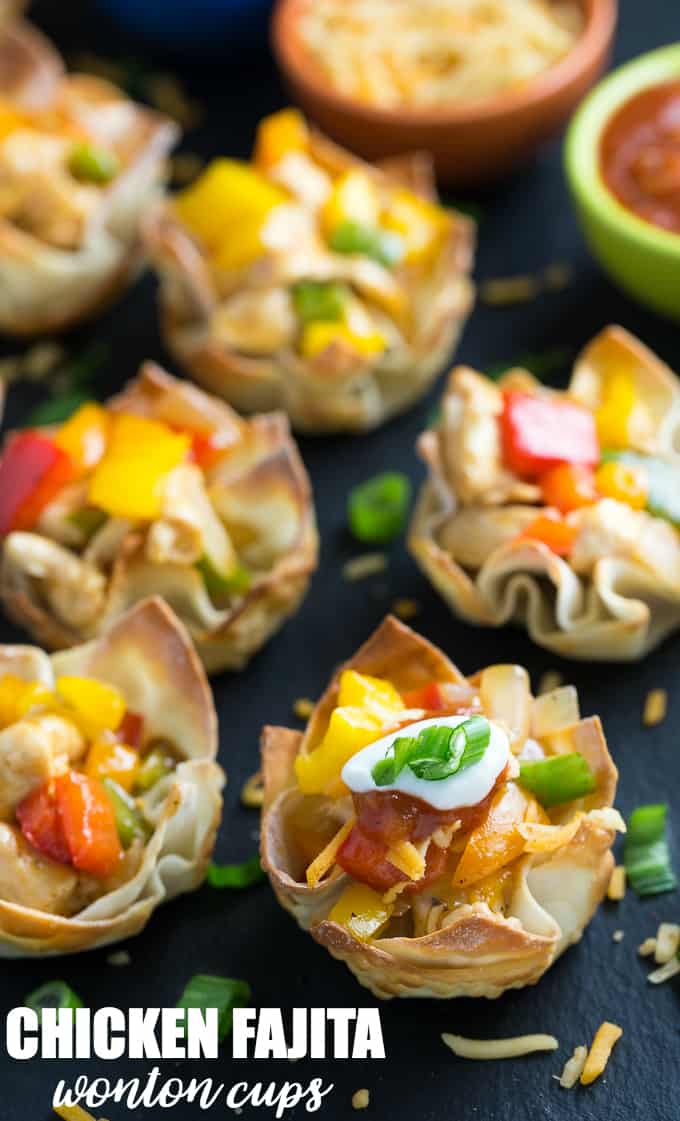 Yield: 24
Chicken Fajita Wonton Cups
A mouthwatering Mexican/Asian fusion appetizer! You'll love how easy they are to make for your friends and family to enjoy.
Ingredients:
Cooking spray
48 wonton wrappers
1 tbsp vegetable oil
2 boneless, skinless chicken breasts, chopped small
1 green pepper, chopped
1 red pepper, chopped
1 orange pepper, chopped
1 yellow pepper, chopped
1 small onion, chopped
1 package Fajita seasoning mix
sour cream, salsa, shredded cheese, green onions, for garnish, if desired
Directions:
Preheat oven to 375F. Spray a muffin pan with cooking spray. Line each muffin cup with a two wonton wrappers each. Bake for 10 minutes.
In a large skillet, heat vegetable oil over medium high heat. Cook chicken for 5 to 7 minutes or until cooked through.
Add green pepper, orange pepper, yellow pepper, onion and Fajita seasoning mix and stir to combine. Cook for an additional 5 minutes or until veggies are slightly softened.
Add 1 to 2 tsp of fajita mixture to wonton cups. Top with sour cream, shredded cheese and green onions, if desired.
Add these Chicken Fajita Wonton Cups to your holiday menu. You can thank me later once your guests gobble them up. If they are anything like my family and friends, they'll be asking you for the recipe. I bet they'll be shocked at how easy they are to make.
For more delicious recipes, make sure you visit Chicken Farmers of Canada. They are my go-to source for all things chicken. I've made many of their recipes over the past several years and all have turned out fabulous. It's a site worth bookmarking.
Another thing I wanted to mention is their Shopping App. Use it during this busy time of year to organize your grocery list and discover even more recipes to try. It will save you time at the grocery store. With the crowds, I want to get in and get out as quickly as possible and this app helps me do that.
What appetizers are on your holiday menu this year?
Holiday Helper Contest
Enter to win $5,000 from the Chicken Farmers of Canada! Open to Canada (excludes Quebec) and ends on December 27, 2016. Good luck all!
#ChickenApp Twitter Party
Join the #ChickenApp Twitter party on November 24th at 9 pm EST!
Party Details
Date: Thursday, November 24, 2016
Time: 9 to 10 pm EST
Hashtag: #ChickenApp
Hosts: @SJConsulting_CA, @Chickenfarmers
Prizes: Includes an iPad Mini, $250 & $100 Bed Bath Beyond Gift Cards and Chicken Farmers of Canada swag
Eligibility: Canada only
RSVP
Follow the Twitter accounts above and add your Twitter name and link to the linky below to let us know you plan to attend!
NOTE: The "your name" field should be your Twitter handle (i.e. @simplystacienet), and the "your URL" field should be your Twitter URL (i.e. http://twitter.com/simplystacienet/").

Connect with the Chicken Farmers of Canada on Facebook, Twitter, Instagram and Pinterest.
Disclosure: I am participating in the Chicken Farmers of Canada campaign managed by SJ Consulting. I received compensation in exchange for my participation in this campaign. The opinions on this blog are my own.