Slow Cooker Easy Cheesy Potatoes
At first glance, this dish looks like macaroni and cheese doesn't it? I thought so too when I peered inside the slow cooker. It's actually potatoes – hash browns to be exact. This is easy, cheesy comfort food. It's literally just dumping your ingredients in the slow cooker and letting it do the rest of the work.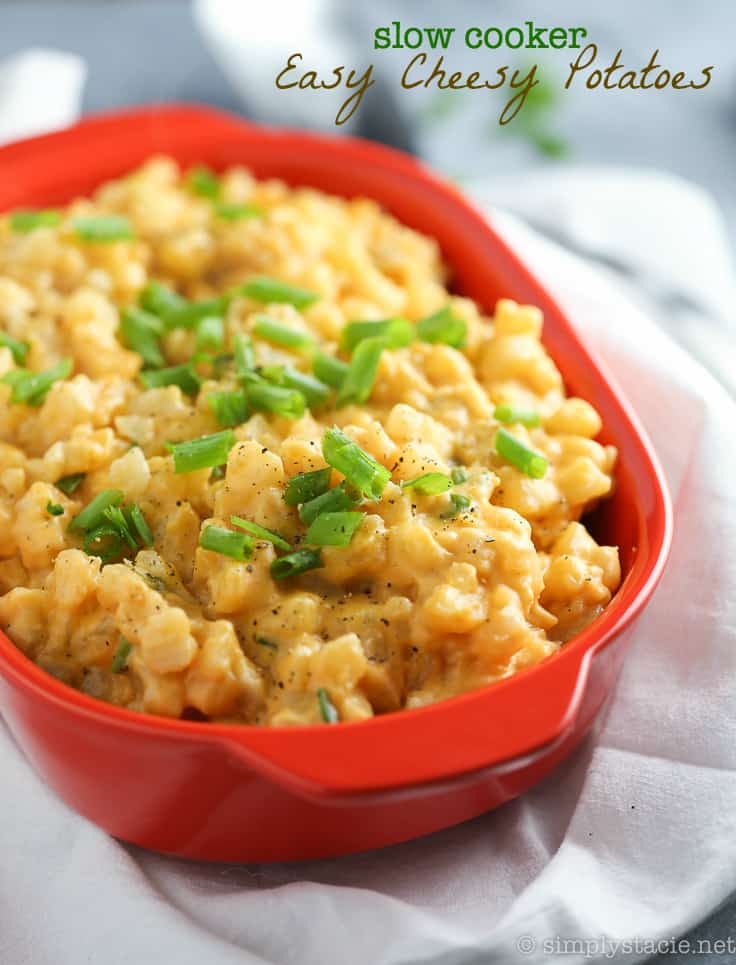 I didn't even thaw my hash browns. I put a whole 900g bag of frozen hash browns in there along with two cans of cheddar cheese soup (yes, it exists!), evaporated milk and some green onions. Campbell's makes a cheddar cheese soup you can use in this recipe. Grab two cans at the grocery store. No need to dilute it. You are going to put all that cheesy goodness right in there with the potatoes.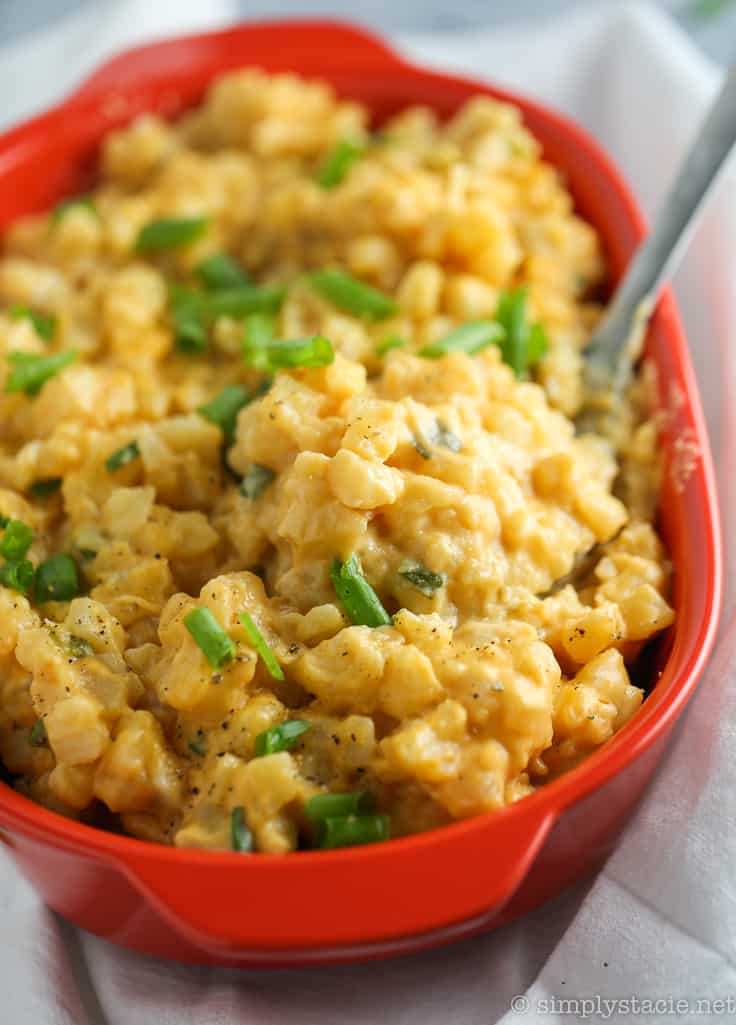 I served this side with some Dill Pickle Roast Beef (recipe coming soon!). We had some left over and ate them for dinner the next night too. John, who will never hesitate to tell his opinion on my recipes, gave his nod of approval.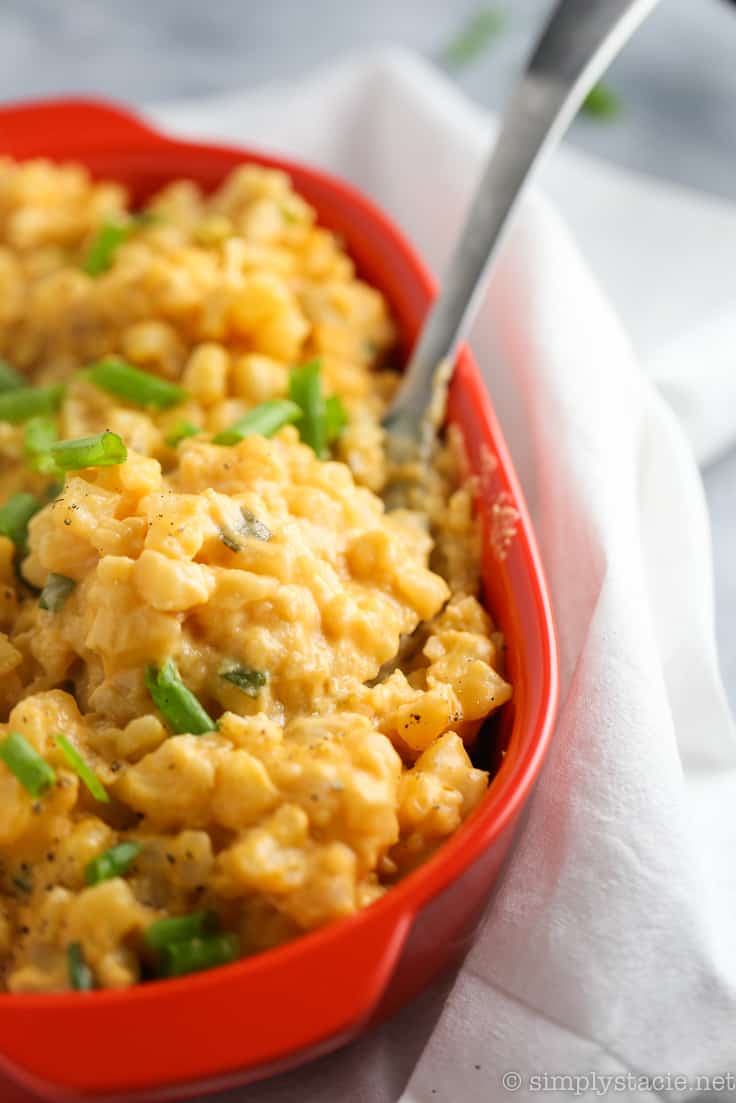 For more easy slow cooker recipes try my Slow Cooker Lasagna, Slow Cooker Verde Chicken Chili and Slow Cooker Beef Stroganoff.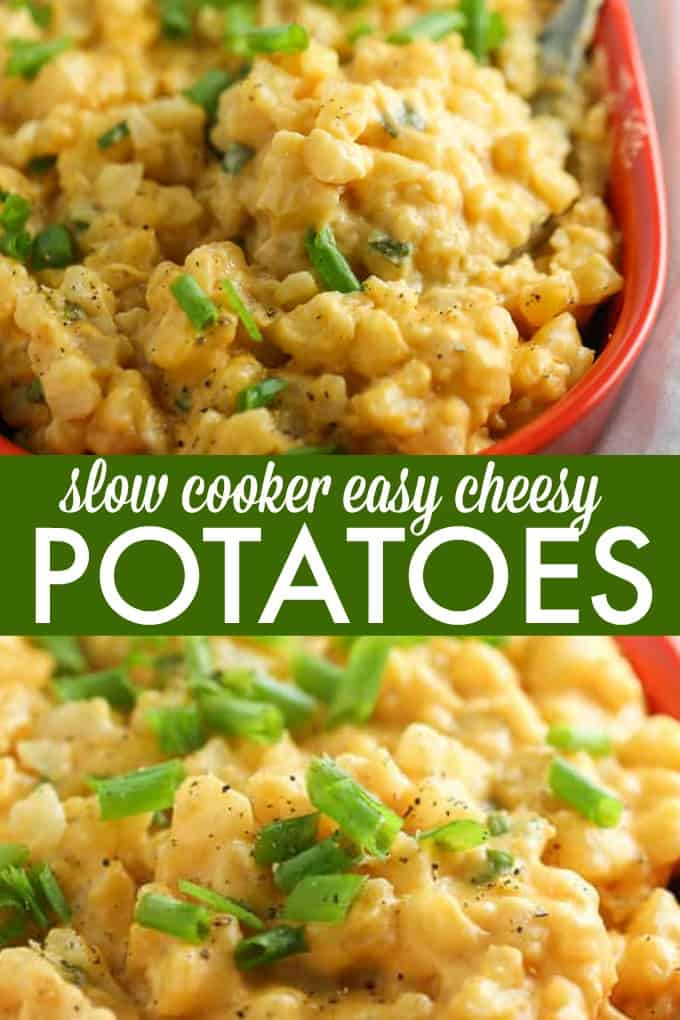 Now, I'm wondering what other soups would work in this recipe besides cheddar cheese. Maybe Cream of Chicken or Cream of Broccoli? Hmmmm I'm interested in testing these out too!
What is your favourite potato slow cooker recipe?

Yield: 6
Slow Cooker Easy Cheesy Potatoes
Slow Cooker Cheesy Potatoes is a cheesy and tasty side dish to pair with your weeknight dinner. Frozen hashbrowns, canned cheese soup and a few other ingredients are all you need for this easy potato recipe.
Ingredients:
1 900g bag of frozen hash browns
2 10 oz cans of cheddar cheese soup
1 1/2 cups evaporated milk
4 green onions, plus 2 extra for garnish, chopped
salt and pepper, to taste
Directions:
Mix together the hash browns, cheddar cheese soup, evaporated milk and green onions in the slow cooker. Cover, and cook on low for 6 hours. Serve hot. Garnish with green onions and season with salt and pepper, if desired.