Slow Cooker Cheesy Potatoes
Slow Cooker Cheesy Potatoes is the tastiest side dish to make for your weeknight dinner or even a potluck side dish. Tender pieces of potatoes that is smothered in a creamy and cheesy mixture.
At first glance, this dish looks like macaroni and cheese doesn't it? I thought so too when I peered inside the slow cooker. It's actually potatoes – hash browns to be exact. This is easy, cheesy comfort food. It's literally just dumping your ingredients in the slow cooker and letting it do the rest of the work.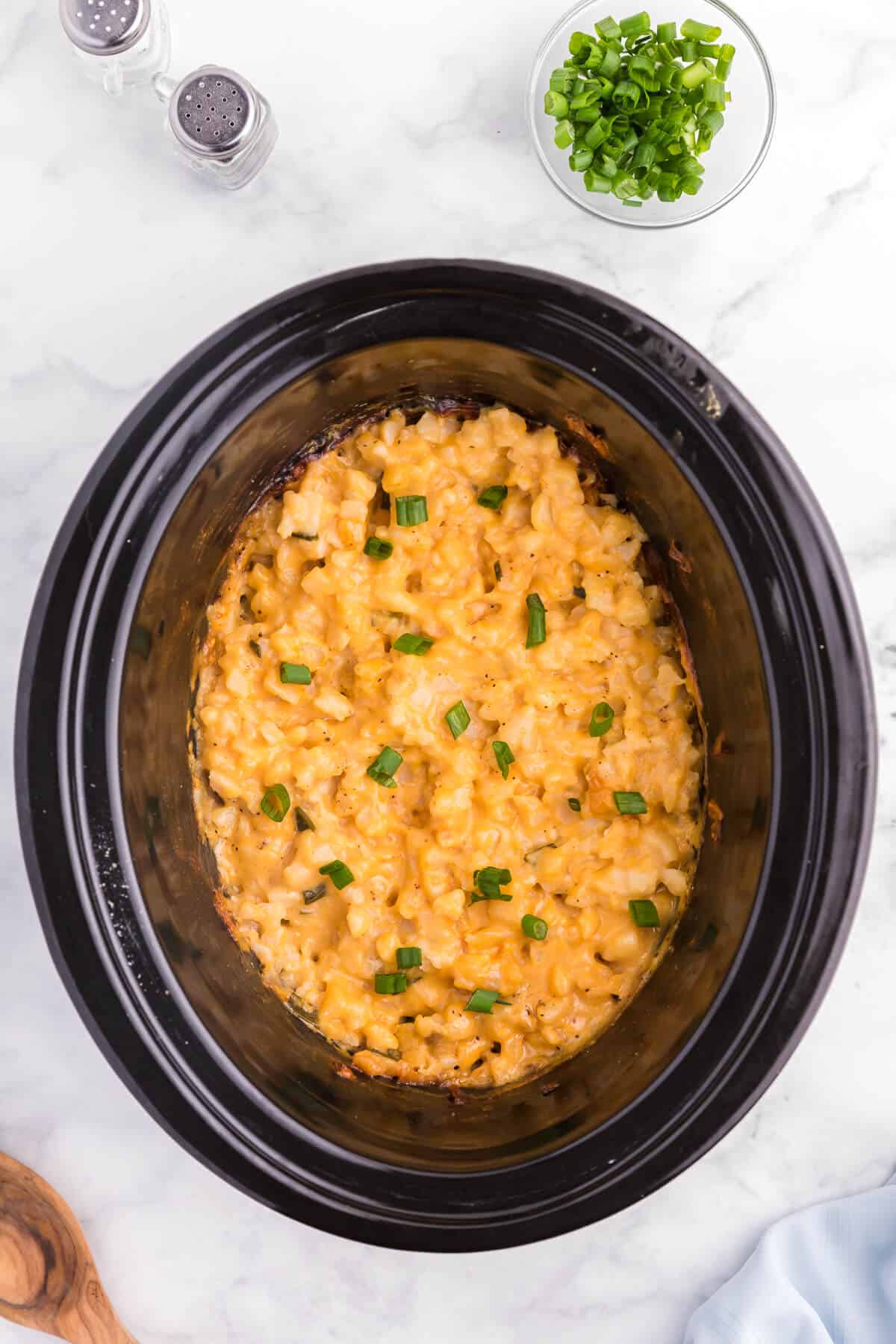 Slow Cooker Easy Cheesy Potatoes
I didn't even thaw my hash browns. I put a whole 900g bag of frozen hash browns in there along with two cans of cheddar cheese soup (yes, it exists!), evaporated milk and some green onions. Campbell's makes a cheddar cheese soup you can use in this recipe. Grab two cans at the grocery store. No need to dilute it. You are going to put all that cheesy goodness right in there with the potatoes.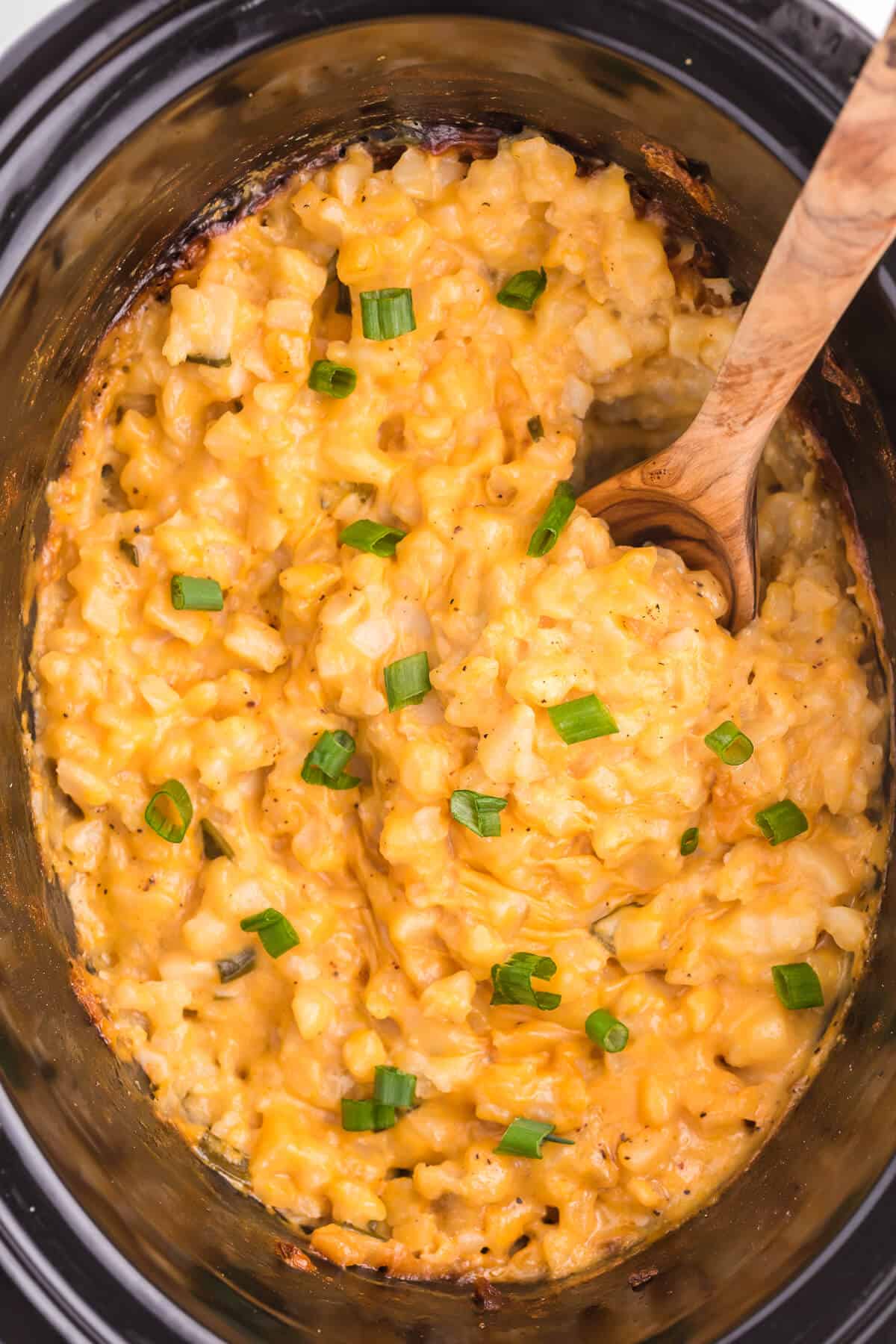 What to Serve with Cheesy Potatoes
I served this side with some Dill Pickle Roast Beef. We had some leftover and ate them for dinner the next night too. John, who will never hesitate to tell his opinion on my recipes, gave his nod of approval.
You will find chicken, beef, pork, or any other protein that will pair nicely to these cheesy potatoes. From meatloaf to baked chicken and all things in between. Feel free to find the perfect recipe that pleases your tastebuds.
For more easy slow cooker recipes, try my Slow Cooker Ham & Potato Hash, Slow Cooker Lasagna, Slow Cooker Verde Chicken Chili and Slow Cooker Beef Stroganoff.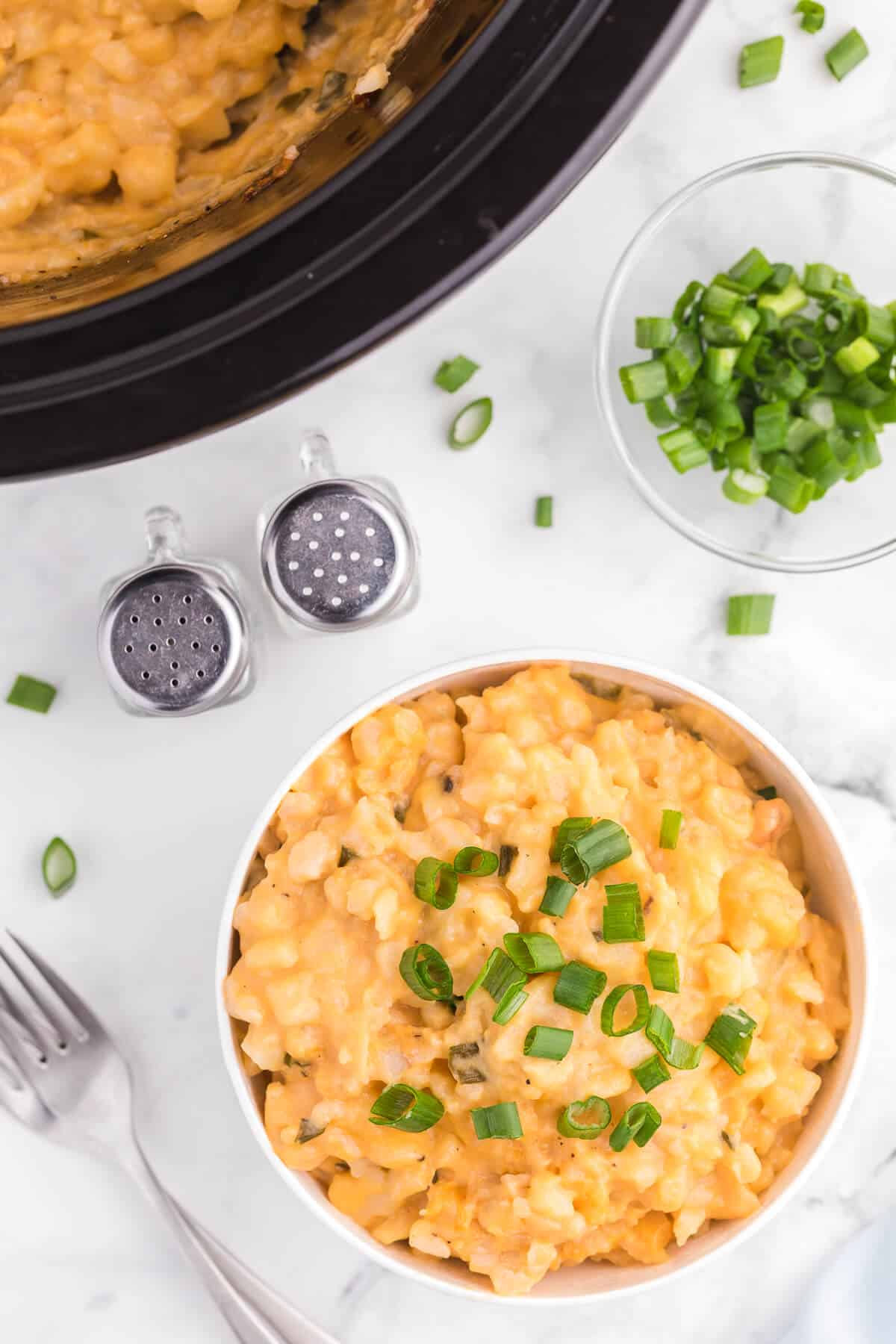 Can I Use Other Creamed Soups for Cheesy Potatoes
Now, I'm wondering what other soups would work in this recipe besides cheddar cheese. Maybe Cream of Chicken or Cream of Broccoli? Hmmm, I'm interested in testing these out too! I would think any would work well it would vary the flavor slightly. Cream of chicken, broccoli, celery or mushroom should all be good choices.
How to Make Cheesy Potatoes in Slow Cooker
Toss your ingredients into the slow cooker and make sure the ingredients are well mixed. You can mix right in the slow cooker or opt to mix and pour into the slow cooker. Then cover and cook on low for 6 hours.
Top with green onions and season with salt and pepper if you would like.
Cubed Potatoes or Hash browns
Either cubed potatoes or hash browns will work. You just want to use frozen potatoes so they will thaw and reheat nicely without becoming mushy as they cook.
Now if you use shredded hash browns vs cubed you might find that you don't have to cook as long. Just cook until it is well melted and the potatoes are cooked through.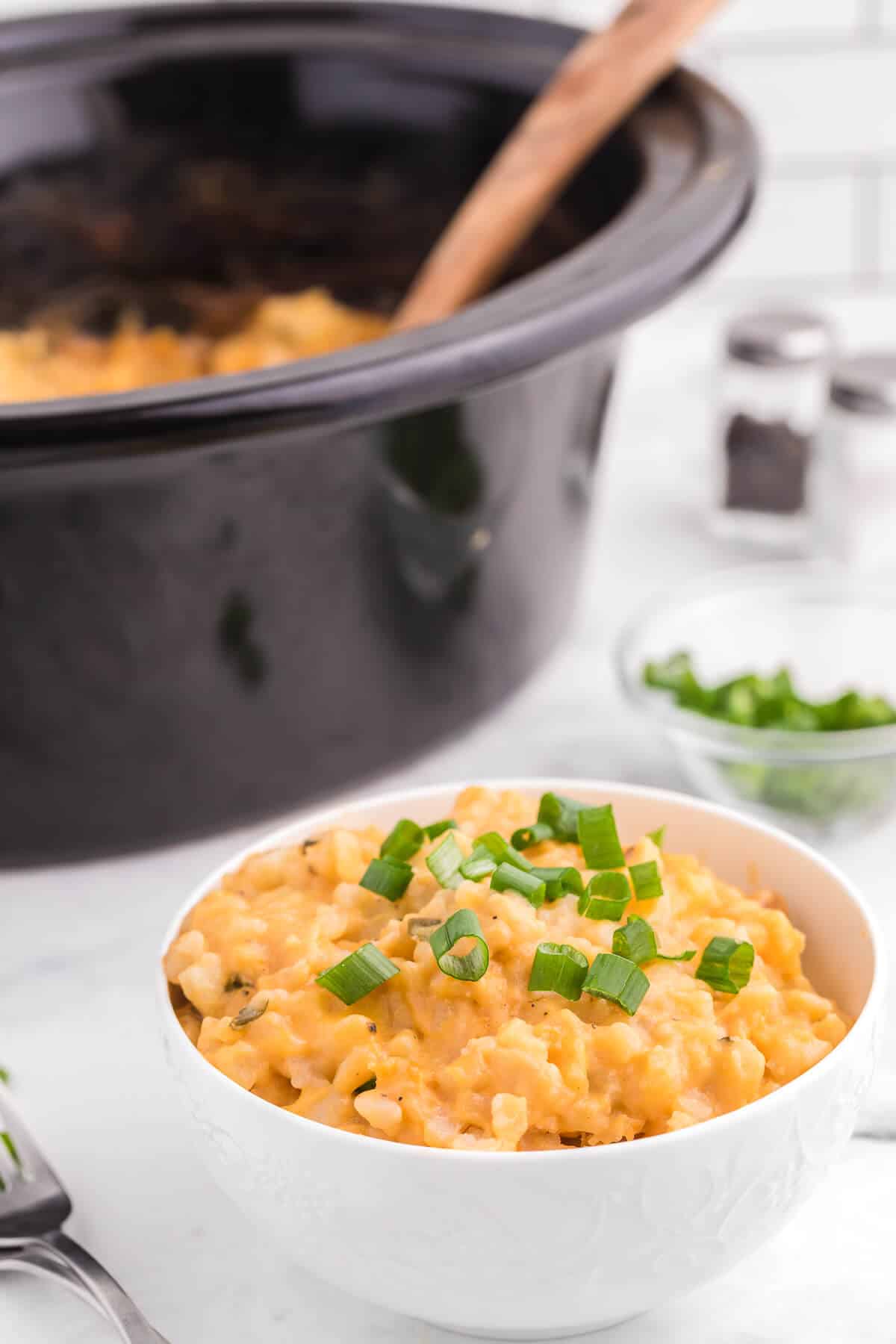 How to Store Cheesy Potatoes
Start by putting any leftover potatoes in an airtight container and store in the fridge. The potatoes will store in the refrigerator for up to 4-5 days.
If you want to reheat you can toss in the microwave for a fast reheat, or do the oven. For the oven place potatoes in a casserole pan, cover and cook at 300 degrees until the potatoes are warmed through. I cover the potatoes so they don't dry out as they reheat.
For more potato side dishes see these recipes
Cheese Potato Salad | If you want a new way to serve up potato salad, try this cheesy potato salad. Tender potatoes smothered in a creamy sauce.
Irish Potatoes | Mashed potatoes with garlic and cabbage for a rich and creamy side dish. This Irish potato recipe is going to stand out from other recipes.
Potato Nachos | Nachos get a makeover with this potato version. Crisp potatoes loaded with all your favorite nacho toppers. You will love this crispy and savory nacho recipe.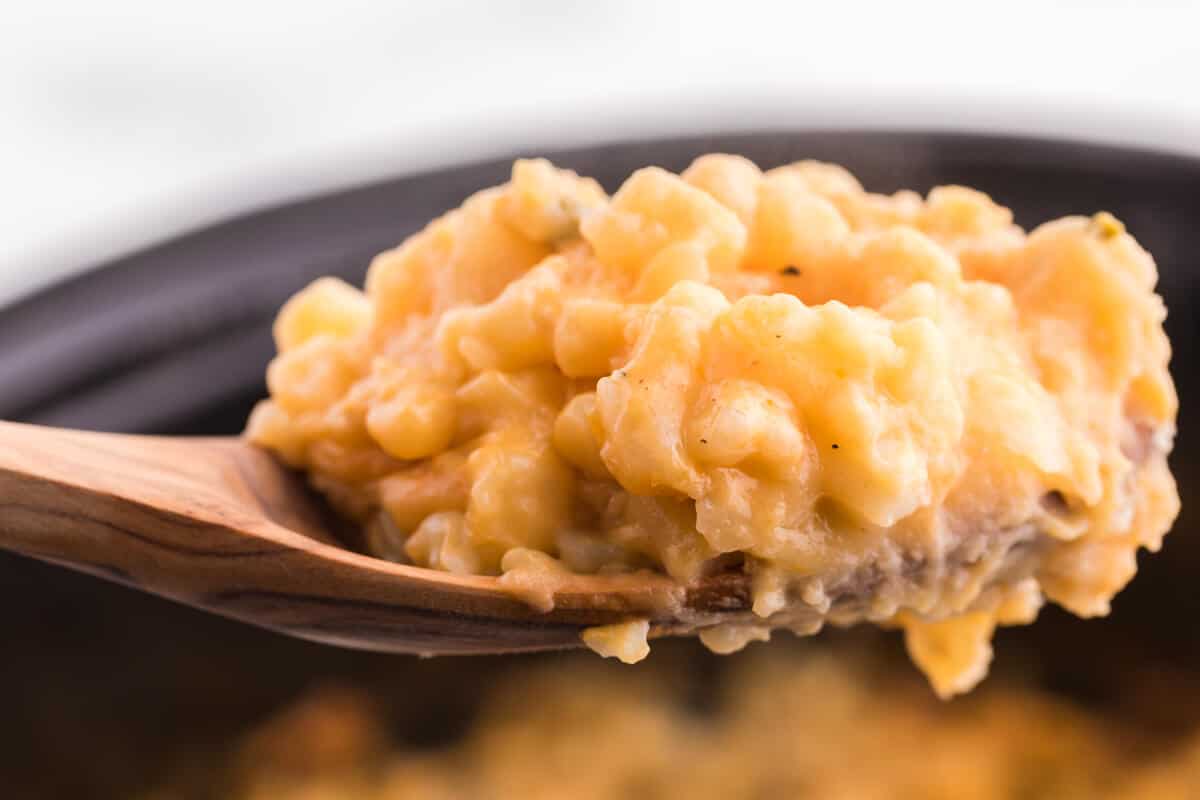 Slow Cooker Tip for Easy Cleanup
You can find slow cooker liners at your local grocery store and use that to place in the slow cooker before you pour in your ingredients. This is a great way to make cleanup a breeze. If you have not tried them yet, I think you might really appreciate them.
It is like a plastic liner you sit in the slow cooker. Then when you are done you scoop out and store your leftover potatoes and throw the liner in the trash. There is no soaking the slow cooker or scrubbing, which is always nice in my books.
What is your favourite potato slow cooker recipe?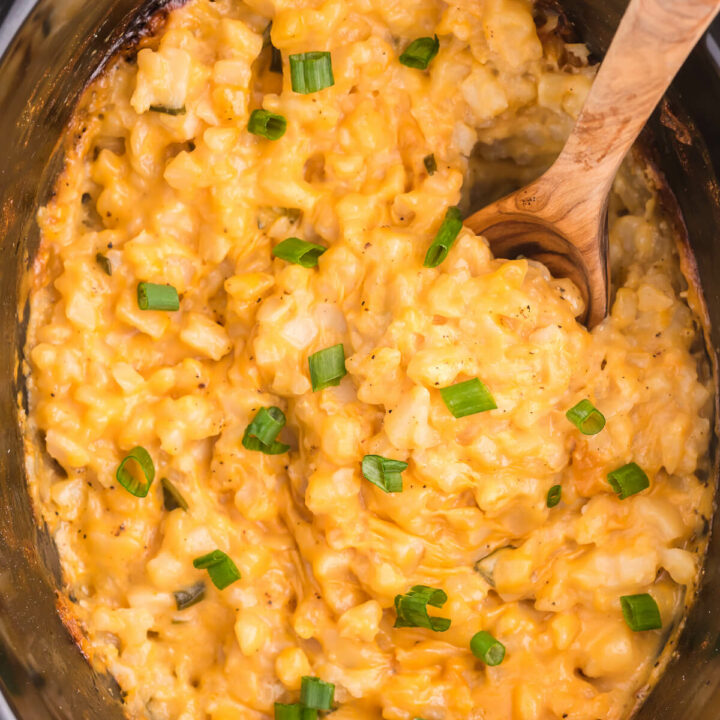 Slow Cooker Easy Cheesy Potatoes
Yield: 6
Prep Time: 5 minutes
Cook Time: 6 hours
Total Time: 6 hours 5 minutes
Slow Cooker Cheesy Potatoes is a cheesy and tasty side dish to pair with your weeknight dinner. Frozen hash browns, canned cheese soup and a few other ingredients are all you need for this easy potato recipe.
Ingredients
1 900g bag of frozen hash browns
2 10 oz cans of cheddar cheese soup
1 1/2 cups evaporated milk
4 green onions, plus 2 extra for garnish, chopped
salt and pepper, to taste
Instructions
Mix together the hash browns, cheddar cheese soup, evaporated milk and green onions in the slow cooker. Cover, and cook on low for 6 hours. Serve hot. Garnish with green onions and season with salt and pepper, if desired.
Recommended Products
As an Amazon Associate and member of other affiliate programs, I earn from qualifying purchases.
Nutrition Information:
Yield: 6
Serving Size: 1
Amount Per Serving:
Calories: 512
Total Fat: 28g
Saturated Fat: 8g
Trans Fat: 0g
Unsaturated Fat: 19g
Cholesterol: 38mg
Sodium: 565mg
Carbohydrates: 57g
Fiber: 5g
Sugar: 7g
Protein: 12g