Pineapple Sticky Buns with Coconut Caramel
For this recipe, you are going to want to make sure you have some wet wipes close by! It is super ooey-gooey sticky, but the taste more than makes up for the messy fingers. As I was taking these photos, I was trying to not get my camera all gross while I positioned the food. I was about 99% successful. At least, I didn't get any on the lens because that would have been BAD! A little goo on the strap was no biggie.
When I bought the refrigerated biscuits, I wasn't sure what I was going to make with them. At first, I was thinking of a cinnamon roll, but thought there is already so many recipes for them. I looked in my pantry and was inspired by the items on my baking shelf. I was going for a tropical vibe here with the pineapple and coconut.
I also wanted to use my coconut extract. I bought a bunch of extracts when they were on sale at Food Basics. Coconut extract is new to me.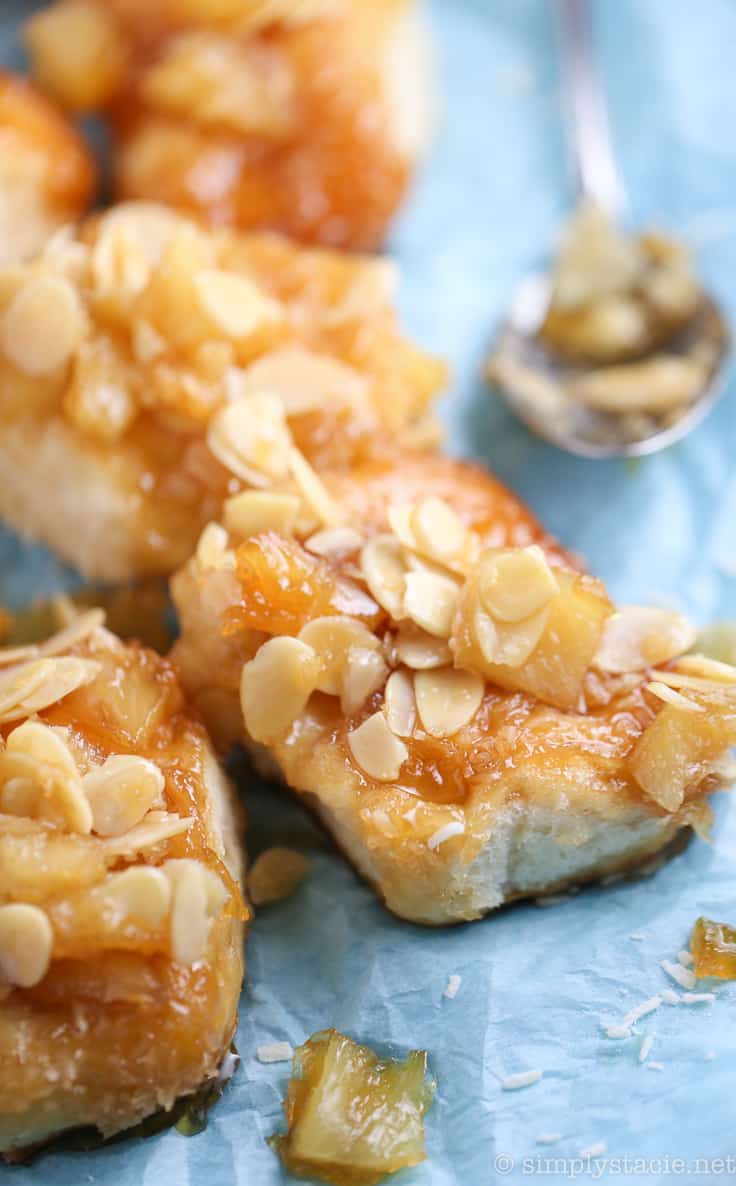 This recipe is assembled in layers starting out with the coconut caramel layer at the bottom. Top with your coconut flakes, pineapple chunks and sliced almonds. These two layers will be your topping. Yes, it's on the bottom, but it won't be when you are ready to serve them. It's one of those flip 'em over recipes.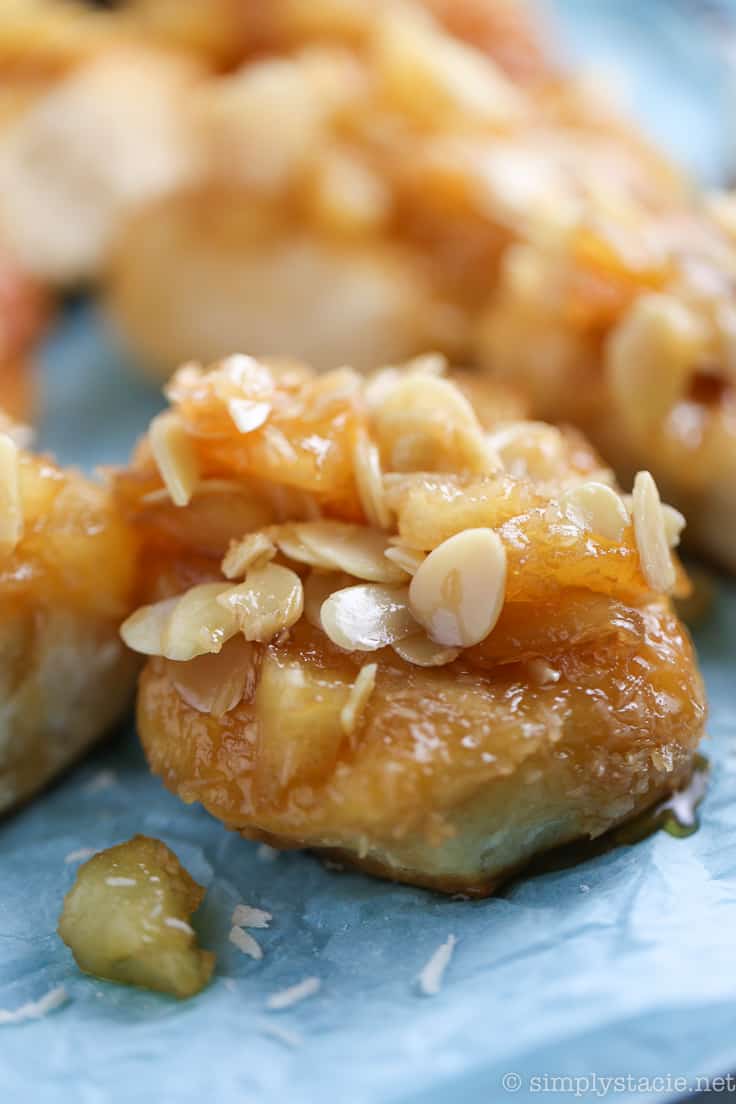 I realized that my biscuits didn't entire cover the surface of my pan, but figured I'd be ok because they would expand when they bake. And yes they did. I had a narrow miss there with a recipe fail.
They come out of the oven piping hot (I'm sure you know this….) so use oven mitts while you flip the dish over on a large serving platter. I was able to do so without spilling any of the caramel sauce. If this was Twitter, I'd hashtag that #winning.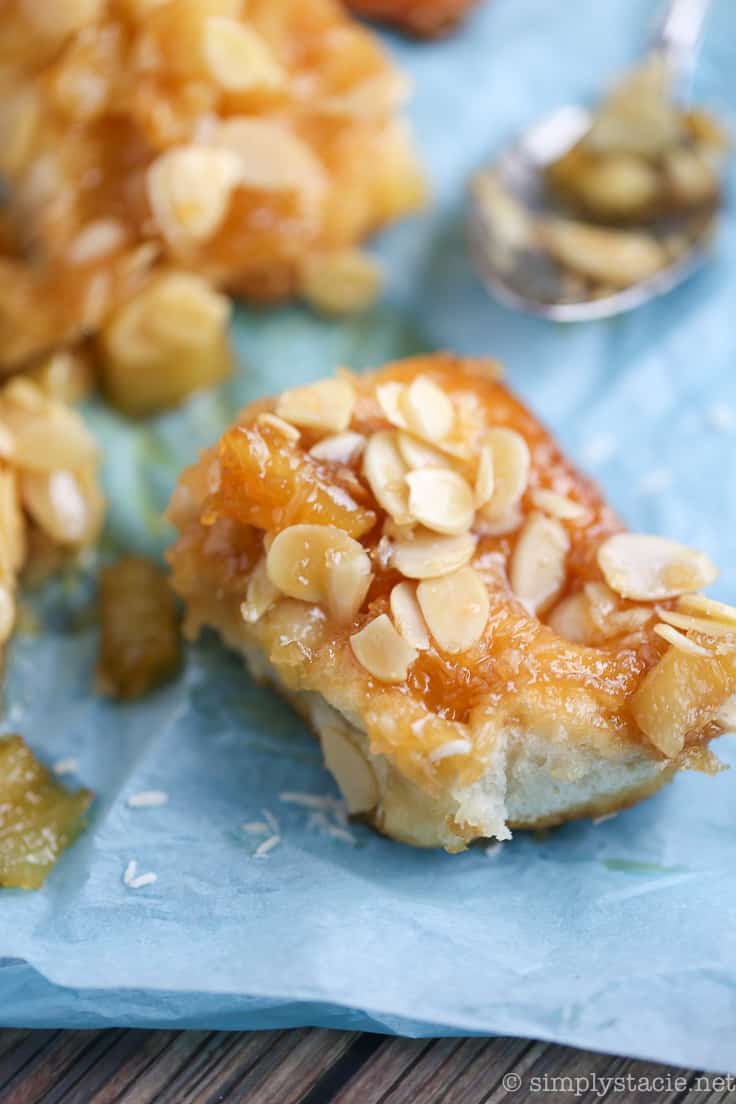 Some of the topping may not have all come out of the pan. Just spoon it over top of your buns and serve warm. It's sticky, sweet and almost melts in your mouth. To have the best experience, serve them warm.
You might also like this Pineapple Delight or Pineapple Pretzel Fluff.
Does this dessert look like something your family would enjoy?
Yield: 10
Pineapple Sticky Buns with Coconut Caramel
Ooey gooey Pineapple Sticky Buns with Coconut Caramel are the bomb! Plus, they are easy to make and ready in 30 minutes. We couldn't stop eating them!
Ingredients:
1 package refrigerated biscuits (10 biscuits)
2/3 cup brown sugar
1/4 cup maple syrup
2 tbsp melted butter
1 tsp vanilla extract
1/2 tsp coconut extract
1 cup pineapple, chopped
1/4 cup almond slices
1/4 cup sweetened coconut flakes
Directions:
Preheat oven to 350F.
In a medium bowl, stir together brown sugar, maple syrup, butter, vanilla extract and coconut extract. Pour into a baking dish or casserole dish* and spread out evenly.
Sprinkle almonds, coconut flakes and pineapple evenly over the caramel mixture.
Place each biscuit in a single layer over top. Don't worry if it doesn't cover the entire surface because they will expand while baking.
Bake for 30 minutes or into golden brown. Carefully flip over onto a large serving platter. Serve warm.
I used Pillsbury Refrigerated Country Biscuits. I would use one on the smaller side. 9×13 will definitely be too big. The one I used was a Corningware 3quart dish. It was just a tad too big at first, but ended up being an ok size because the biscuits will expand while baking.