Vanilla Cream Cheese Cake is simply one of those indulgent desserts that you find yourself craving often. This decadent bundt cake is perfect for any season or occasion, even birthdays and holiday get togethers.
If you are a vanilla lover, and let's face it, many are, this cake is perfect for you. One of the best parts of this Vanilla Cream Cheese Cake is the addition of cream cheese to the batter. It creates a texture and flavor experience like no other. The added richness to the cake itself is a great way to keep it moist and flavourful.
That isn't the only good part though. Once topped with the cream cheese glaze, this cake comes together perfectly, boasting loads of vanilla flavour.
The vanilla flavour in this cake is prominent, making it the perfect cake for vanilla lovers everywhere. Especially because there is vanilla extract in both the batter and the glaze. For extra vanilla flavour, pair this with a French vanilla cappuccino.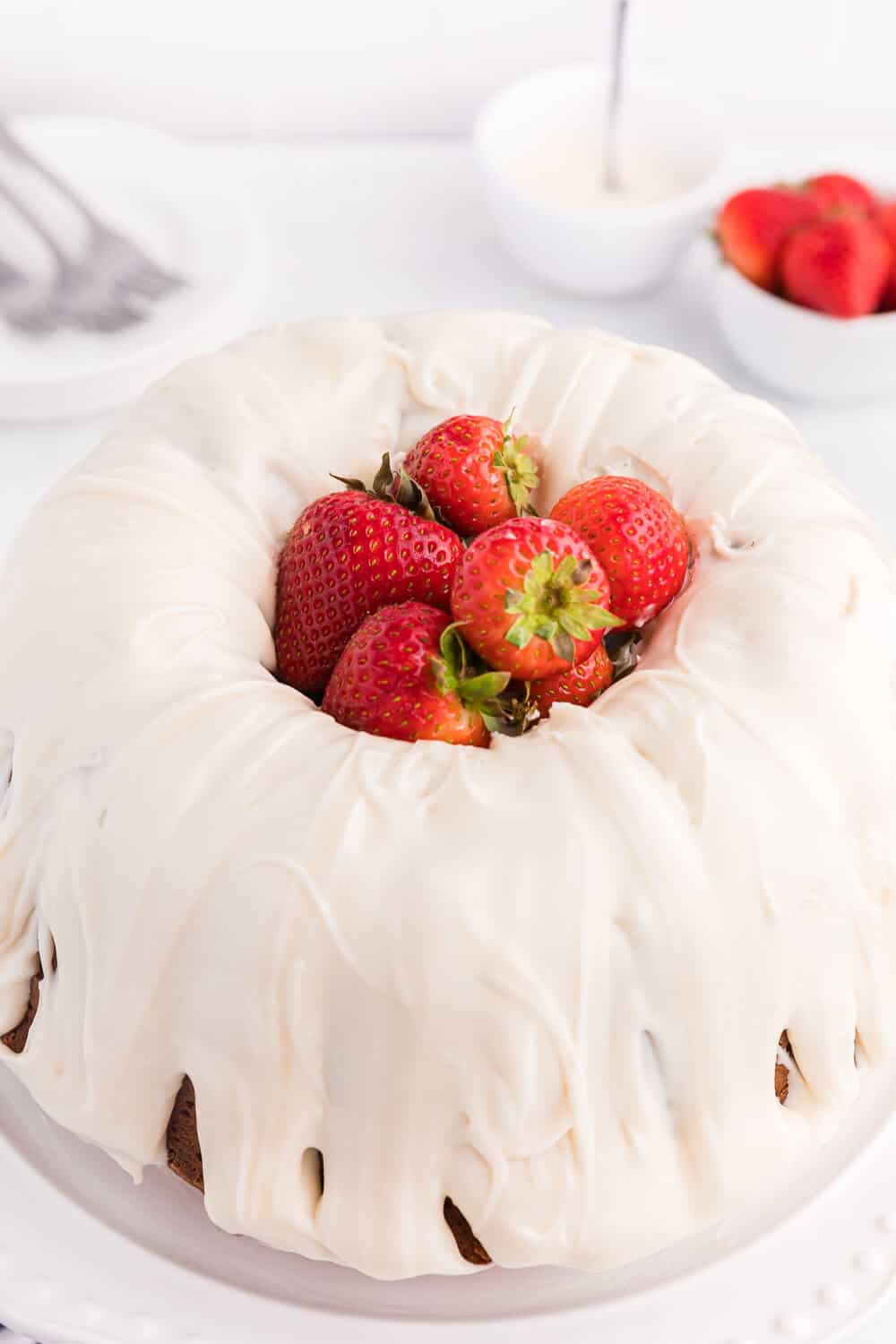 This cake isn't overly time consuming to make, you just have to make sure that you have the right ingredients to get started. Warning though, if you make this once, you are going to want to make it over and over again.
Ingredients
For the cake:
Granulated Sugar: Granulated sugar is perfect for baking this cake as the crystals won't stick together. This makes it perfect for creaming together with the other ingredients to create a smooth batter.
Cream Cheese: I like to use regular fat brick cream cheese for this recipe. You want to ensure that your cream cheese has had time to soften before making the batter. This will allow it to mix properly with the other ingredients and create and smooth, velvety consistency.
Salted Butter: You want to ensure that your butter is softened properly before adding it in with the other ingredients. I use salted butter in this recipe to add a little extra flavour.
Vanilla Extract: This ingredient is what is going to add the delicious vanilla flavour you crave. Make sure to measure it properly as you don't want the cake to be underwhelming when it comes to the vanilla taste.
Eggs: Baking with large eggs is generally the best route to take when creating a cake recipe. You can even let them sit out of the counter to come to room temperature. This will help the eggs mix better with the batter, allowing it to rise more easily.
Flour: I used a mix of all-purpose flour and cake flour in this recipe. The combination creates an amazing texture to the cake batter.
Baking Powder: Baking powder is what helps the batter to rise to form the perfect bundt cake.
For the Vanilla Glaze:
Powdered Sugar: To make the perfect glaze, you need powdered sugar. You can even sift it to ensure that it doesn't clump together.
Cream Cheese: Again, I just used regular cream cheese and made sure that it was properly softened to make the glaze.
Vanilla Extract: I used 2 full teaspoons of vanilla extract in the glaze. It creates the perfect vanilla flavour.
Milk or Cream: You can choose to use either milk or cream to make the glaze, I have made it with both and they are both equally as delicious.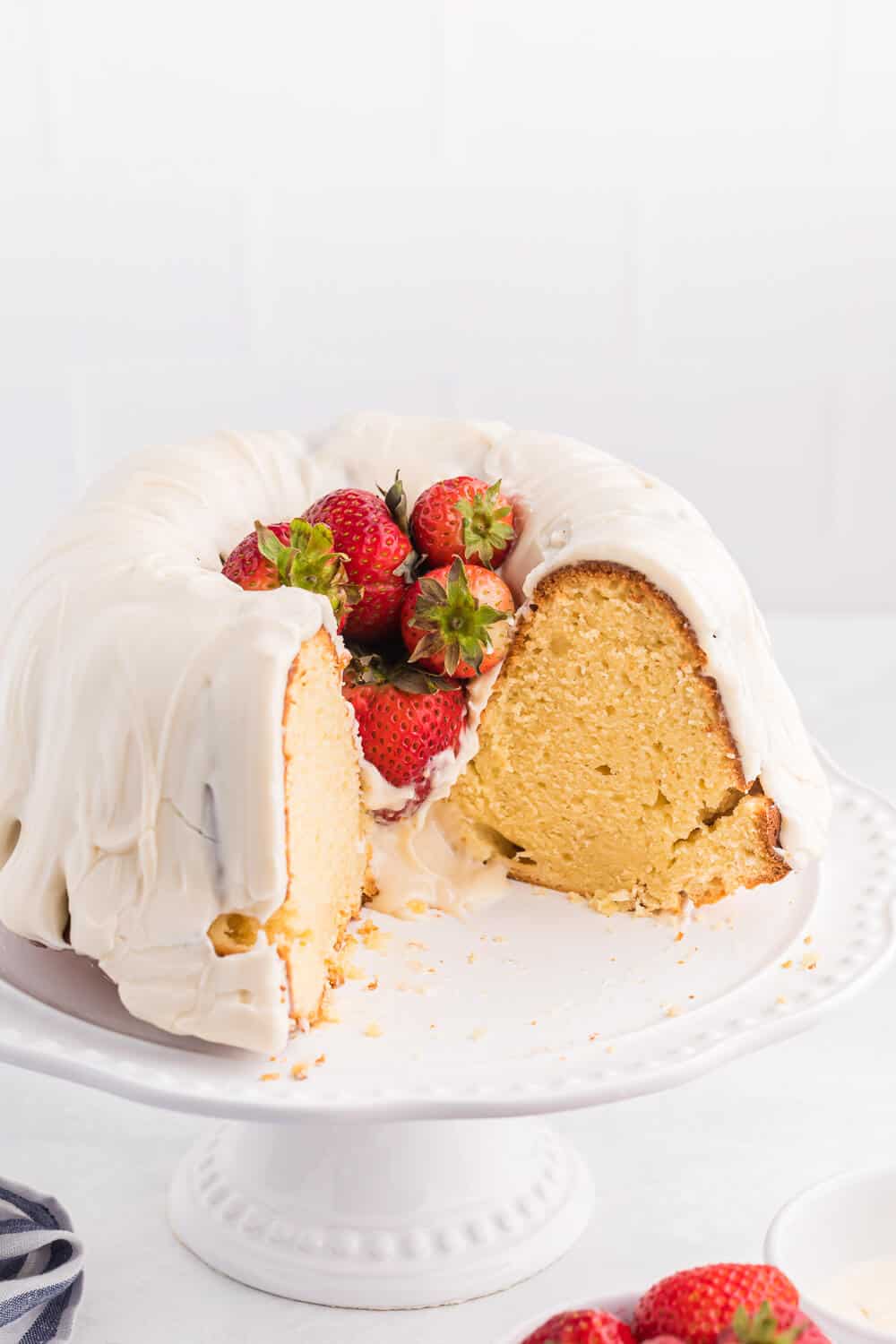 How to Make
Preheat your oven.
Cream together your sugar, cream cheese, butter and vanilla in a large mixing bowl. Use medium speed on your electric mixer. Add your eggs in one at a time and continue mixing until you reach a smooth consistency.
Use another mixing bowl to combine the dry ingredients.
Add your dry ingredients into your wet ingredients.
Grease your 9 inch bundt cake pan. I like to use shortening. Then, I sprinkle flour over the top.
Add the cake batter to the pan and bake.
Cool on a wire rack. Top with the Vanilla Cream Cheese glaze.
What I Used for this Recipe
This post contains affiliate links.
Recipe Tips & Tricks
There are many different tips and tricks to making this easy bundt cake recipe that will make all the difference in the process.
Add toppings. There are several different things that you can use to add to this cake. When it comes time to serve this cake recipe, you can use chocolate shavings, sliced strawberries or even some blueberries.
Allow it to cool completely. It can be so tempting to cut into this cake and eat it right away, but allowing it to cool will help the glaze to set properly.
Choose a fun bundt pan. As long as you stick with a 9 inch sized bundt pan, you can choose one with any designs you like. There are many different styles that will make this cake look even prettier.
Can I Make This Bundt Cake Ahead of Time?
One of the best things about this delicious bundt cake, aside from its delicious flavour, of course, is the fact that it can be made ahead. That means that it is perfect when preparing for get togethers and special occasions.
This recipe contains cream cheese and also has a glaze so it should be refrigerated until ready to be used. It can be kept in the refrigerator for 3-5 days.
Before you serve your bundt cake, allow it to come to room temperature.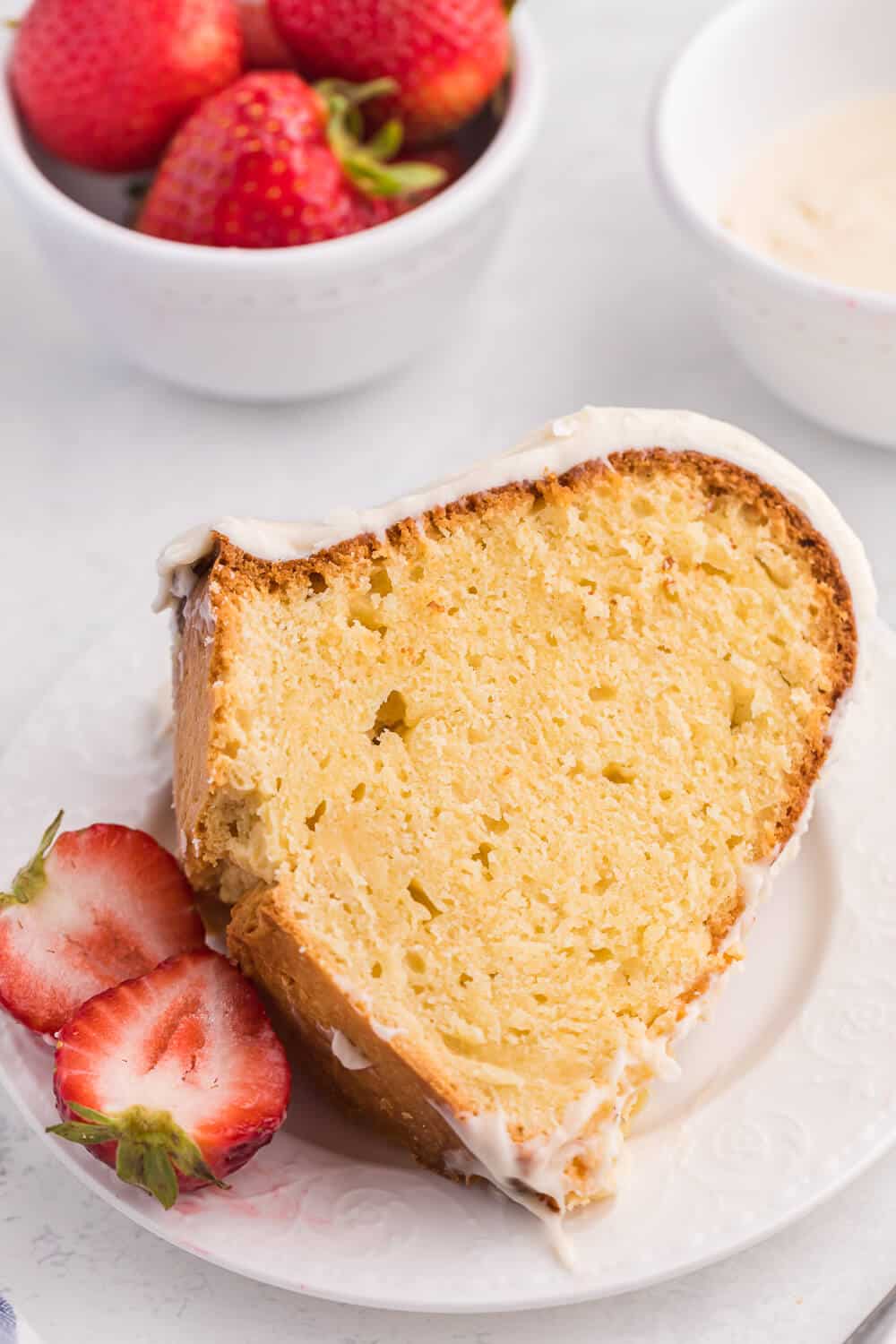 Other Delicious Vanilla Desserts You will Love
If you haven't noticed already, I am a huge vanilla fan. I have a few different recipes that include Vanilla as a primary ingredient. Make sure to give them all a try.
Do you have any amazing vanilla dessert recipes? I'm always looking for more recipes to try! Follow me on Instagram @simplystacieblog, on Facebook at Simply Stacie, and on Pinterest @SimplyStacie and let me know how you liked this and my other recipes!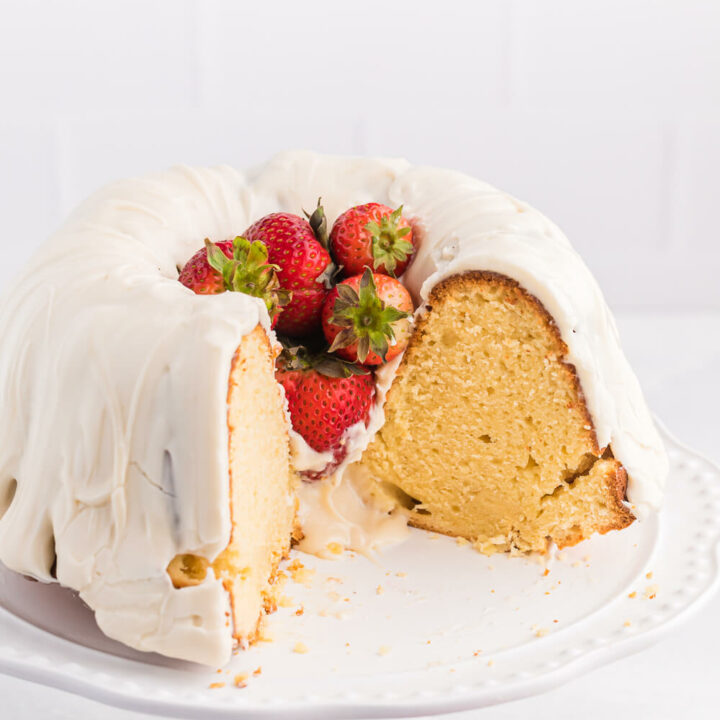 Vanilla Cream Cheese Cake
Cook Time:
1 hour
30 minutes
Total Time:
1 hour
45 minutes
Everyone can have a BIG piece of deliciously sweet and moist cake with this recipe!
Ingredients
Cake
3 cups granulated sugar
2 (8oz/250g) packages cream cheese
2 cups salted butter, softened
2 tablespoons vanilla extract
8 eggs
2 ½ cups all-purpose flour
2 cups cake flour
3 teaspoon baking powder
Vanilla Cream Cheese Glaze
4 cups powdered sugar
1 (8oz/250g) package of cream cheese
2 teaspoon vanilla extract
2 tablespoons milk or cream
Instructions
Cake
In a large mixing bowl, cream together sugar, cream cheese, butter and vanilla extract on medium speed with an electric mixer. Add eggs in one at a time and continue mixing until smooth.
In another bowl stir together the dry ingredients. Add dry ingredients to wet ingredients and mix till combined.
Grease a 9-inch bundt cake pan with shortening and then sprinkle some flour over top. Add cake mixture to the pan and bake at 325ºF for 90 minutes or until a toothpick inserted in the center of the cake comes out clean.
Cool on a wire rack. Sprinkle icing sugar on top or top with the Vanilla Cream Cheese Glaze.
Glaze
Add all the ingredients to a large mixing bowl and mix with an electric mixer until smooth. Spoon onto the cake leaving it to drip down.
Recommended Products
As an Amazon Associate and member of other affiliate programs, I earn from qualifying purchases.
Nutrition Information:
Yield:

8
Serving Size:

1
Amount Per Serving:
Calories:

1376
Total Fat:

63g
Saturated Fat:

37g
Trans Fat:

2g
Unsaturated Fat:

20g
Cholesterol:

341mg
Sodium:

725mg
Carbohydrates:

190g
Fiber:

2g
Sugar:

131g
Protein:

16g