25 Overnight Breakfast Casseroles
One of the big reasons why overnight breakfast casseroles are so great is that they are so darn EASY! Prep the night before and pop in the fridge. Then when you wake up in the morning, throw it in the oven and bam! Breakfast is served. Clean up is usually easier because you've done all the leg work the night before and tidied up. They are perfect to serve to a house full of guests. I figured with the holiday season coming up this would be a timely post to write both for myself and for you, my lovely readers!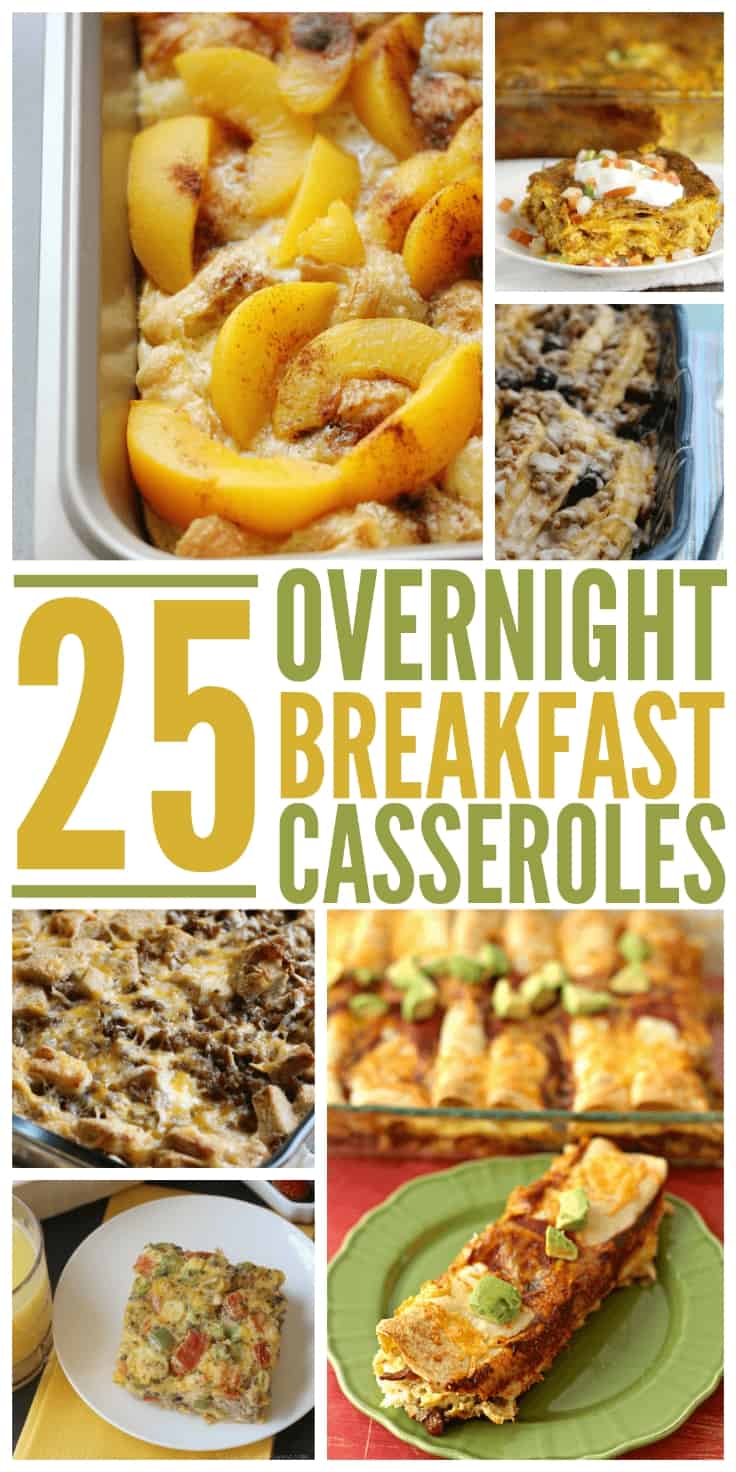 I included a link to one of the more popular recipes on my site, Wife Saver Breakfast. It's always a hit! I also shared savoury and sweet recipes. Some are almost like dessert! Who wouldn't want to eat Pumpkin Pie French Toast? I'd love a plate of it right now!
Check out this recipe list of 25 overnight breakfast casseroles.
1. Wife Saver Breakfast | Simply Stacie
2. Farmers Market Overnight Breakfast Egg Casserole | Two Healthy Kitchens
3. Overnight Breakfast Enchiladas | Food Folks and Fun
4. Paleo Overnight Breakfast Casserole | Just Us Four
5. Mexican Breakfast Casserole | The Gracious Wife
6. Overnight Blueberry Waffle Bake | A Dash of Sanity
7. Peaches and Cream French Toast | A Worthey Read
8. Savory Sausage and Cheese Breakfast Casserole | Grace and Good Eats
9. Everything Bagel Overnight Breakfast Casserole | Shaken Together
10. Blueberry Lemon French Toast Bake | Chew Out Loud
11. Ham Croissant Breakfast Casserole | Cooking With Janica
12. Overnight Raspberry Almond Baked French Toast | Cookie Monster Cooking
13. Overnight Bacon Asparagus Breakfast Casserole | I Heart Eating
14. S'mores Overnight French Toast Casserole | The Recipe Rebel
15. Overnight Pumpkin Pie French Toast | Just Us Four
16. Cheesy Overnight Sausage Breakfast Casserole | Savory Nothings
17. Maple Sausage, Apple and Sage Strata | The Stay at Home Chef
18. Apple French Toast Bake | Pip and Ebby
19. Overnight Sausage, Egg and Cheese Breakfast Casserole | Catz in the Kitchen
20. Savoury Bread and Butter Pudding | Delightful Repast
21. Sausage, Egg and Spinach Overnight Casserole | Maebells
22. Sausage and Mushroom Overnight Breakfast Strata | Wine and Glue
23. Overnight Cinnamon French Toast | Call Me PMC
24. Ham and Cheese Breakfast Casserole | Eat Cake for Dinner
25. Easy Cheesy Overnight Italian Strata | The Wanderlust Kitchen
I think I'm set for a while for recipes! Which recipe are you looking forward to trying?
You are also going to love:
If you enjoyed this breakfast casserole round up, you'll also love these posts!