Cheeseburger Pizza
Have you ever tried a slice of cheeseburger pizza? It's surprisingly good! National Hamburger Day is May 28th and I figured why not do something different and make my recipe for cheeseburger pizza. It uses ketchup instead of pizza sauce and toppings like ground beef, onion, cheese and tomatoes. You could also add some mustard and pickles if you like. I've seen recipes that mix mustard and ketchup together to make the sauce. I bought a "fancy ketchup" and like the taste of it all on its own.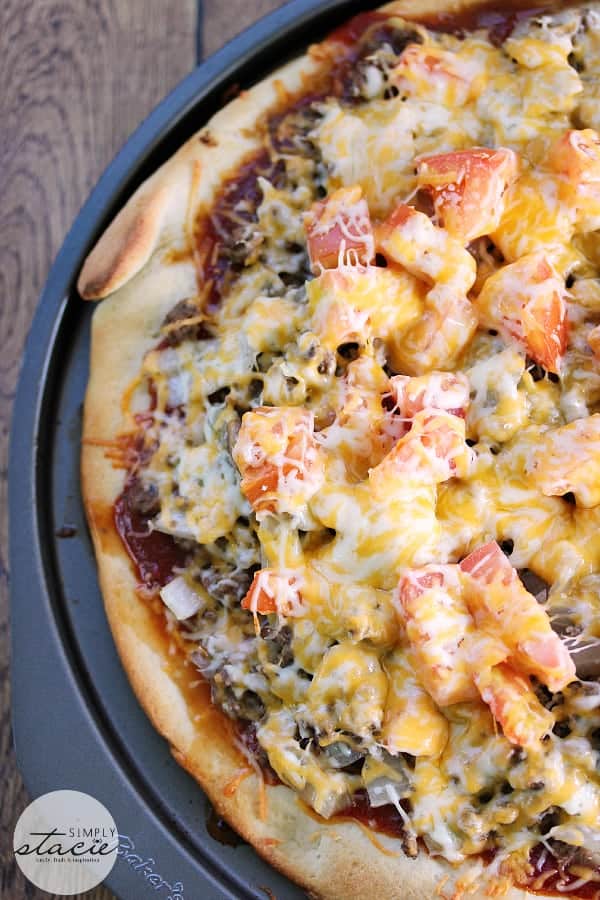 To get dinner on the table quicker, I used a refrigerated pizza crust. If you have time or have a preference for homemade crust, you could do that too.
With the tang of the ketchup and the loads of gooey cheese, this pizza is a hit for cheeseburger lovers!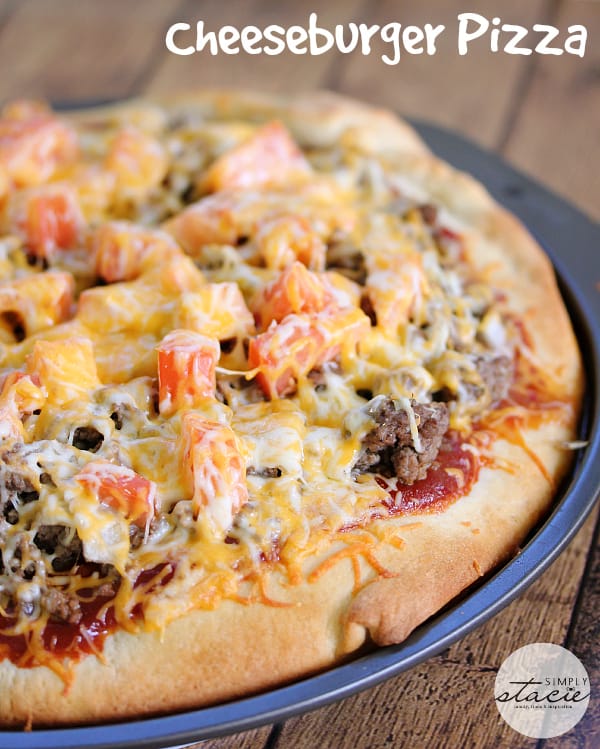 For more burger/ground beef posts, check out my friends' recipes: Bacon and Blue Cheese Stuffed Burgers, Taco Salad, Oh-So Simple Paleo Chicken Burger and Jalapeño Goat Cheese Burgers. You might also like this Cheeseburger Chowder.

Yield: 6
Cheeseburger Pizza
Delicious and easy recipe for Cheeseburger Pizza made with ketchup, ground beef and all the fixins'.
Ingredients:
1 Pillsbury Pizza Crust (or your own homemade pizza crust/other brand refrigerated pizza crust)
1 onion, chopped
3 garlic cloves, minced
1 lb lean ground beef
½ tsp oregano
1 tomato, chopped
3/4 cup Compliments Jamie Oliver Classy Ketchup (or your favourite brand of ketchup)
1 cup mozzarella cheese, shredded
1 cup cheddar cheese shredded
Directions:
Cook the pizza crust according to package directions. For the Pillsbury Pizza Crust I used, I greased a pizza pan and spread the dough to fit. Then I baked for 8 minutes in a 400°F oven.
In a large frying pan over medium heat, cook ground beef, onions, garlic and oregano until beef is completely cooked and onions are softened (about 10 minutes or so). Set aside.
Remove your pizza crust from the oven and spread ketchup evenly over crust leaving about a ½ inch gap around the edges. Spread ground beef mixture over sauce. Top with chopped tomatoes and cheese.
Bake an additional 9 to 11 minutes or until crust is golden and cheese is melted.