Disclosure: I was not financially compensated for this post. I received a sample of the product for review purposes. The opinions are my own, based on my personal experience with the product.
Now that our kitchen renovation is complete I've been able to have people over to visit. I always enjoyed cooking and entertaining and I missed it when my house was in disarray. It's finally done and I don't have to be embarrassed when people come over. The only thing I was missing was nice serving dishes. I'd whip up an appetizer with ingredients I had on hand in the house and serve them on a dinner plate. Not the best way to impress your guests!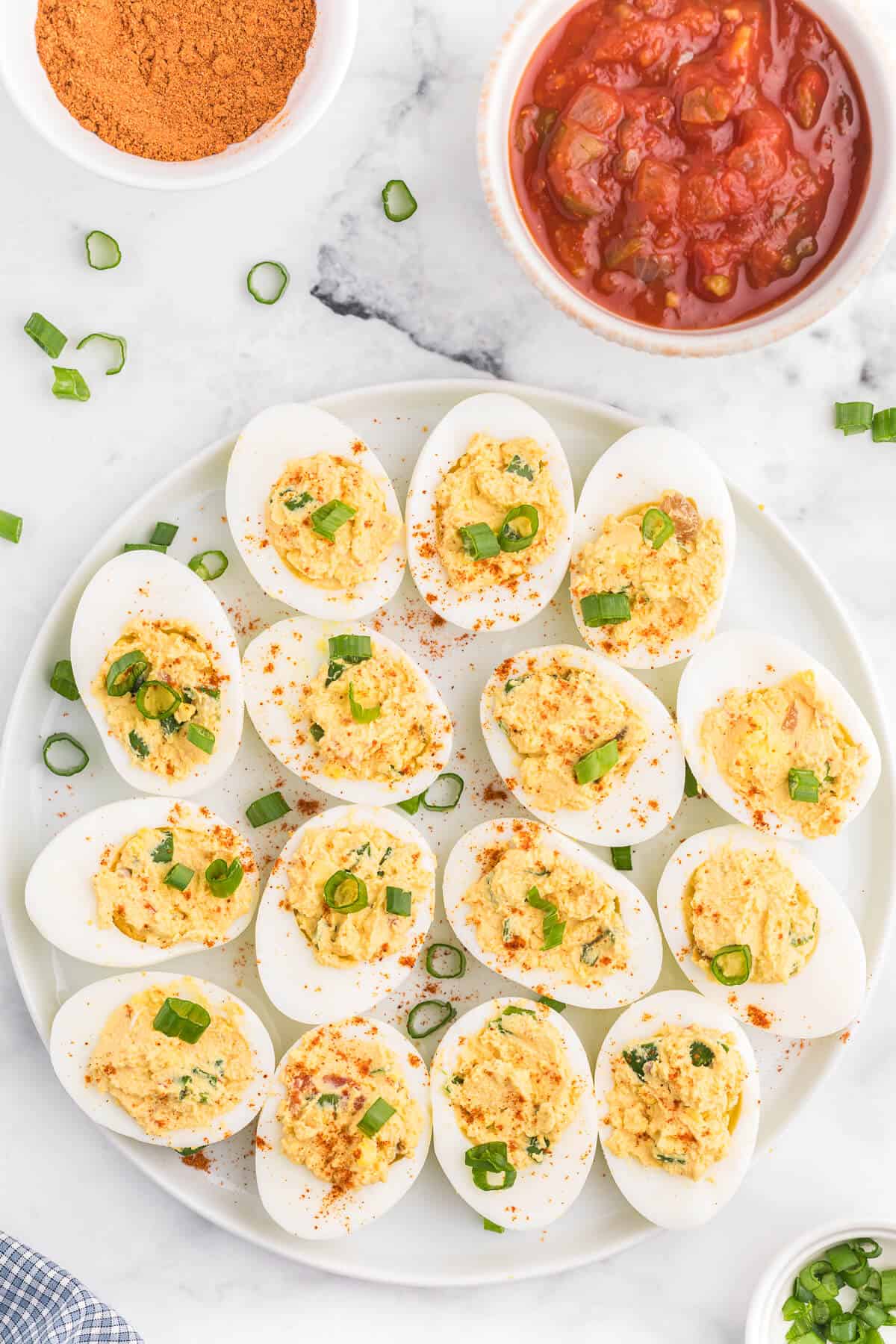 I'm now the owner of a Wilton Armetale Flutes & Pearls Egg Tray so I don't have to feel as bad when I'm hosting a get together. At least now, I've got one piece of serveware that is stylish and functional!
First let me tell you a little about Wilton Armetale. I'm in love with their selection of serverware and grillware! What makes them unique is the Armetale metal that their products are made of. Armetale metal is a non-toxic aluminum-based alloy ideal for cooking and entertaining. Your hot foods will stay hot longer and cold foods/drinks will stay cold longer when cooked and served in Wilton Armetale products. This is a huge plus for anyone who is entertaining. You want the food to stay as fresh tasting and at the right temperature for your guests.
In addition, Wilton Armetale products are extremely durable and will not rust, break, crack or chip (with normal usage, of course!). There's nothing worse than breaking an expensive platter or plate. At least with Wilton Armetale you don't have to worry much about that happening. These products are made to be passed down from generation to generation.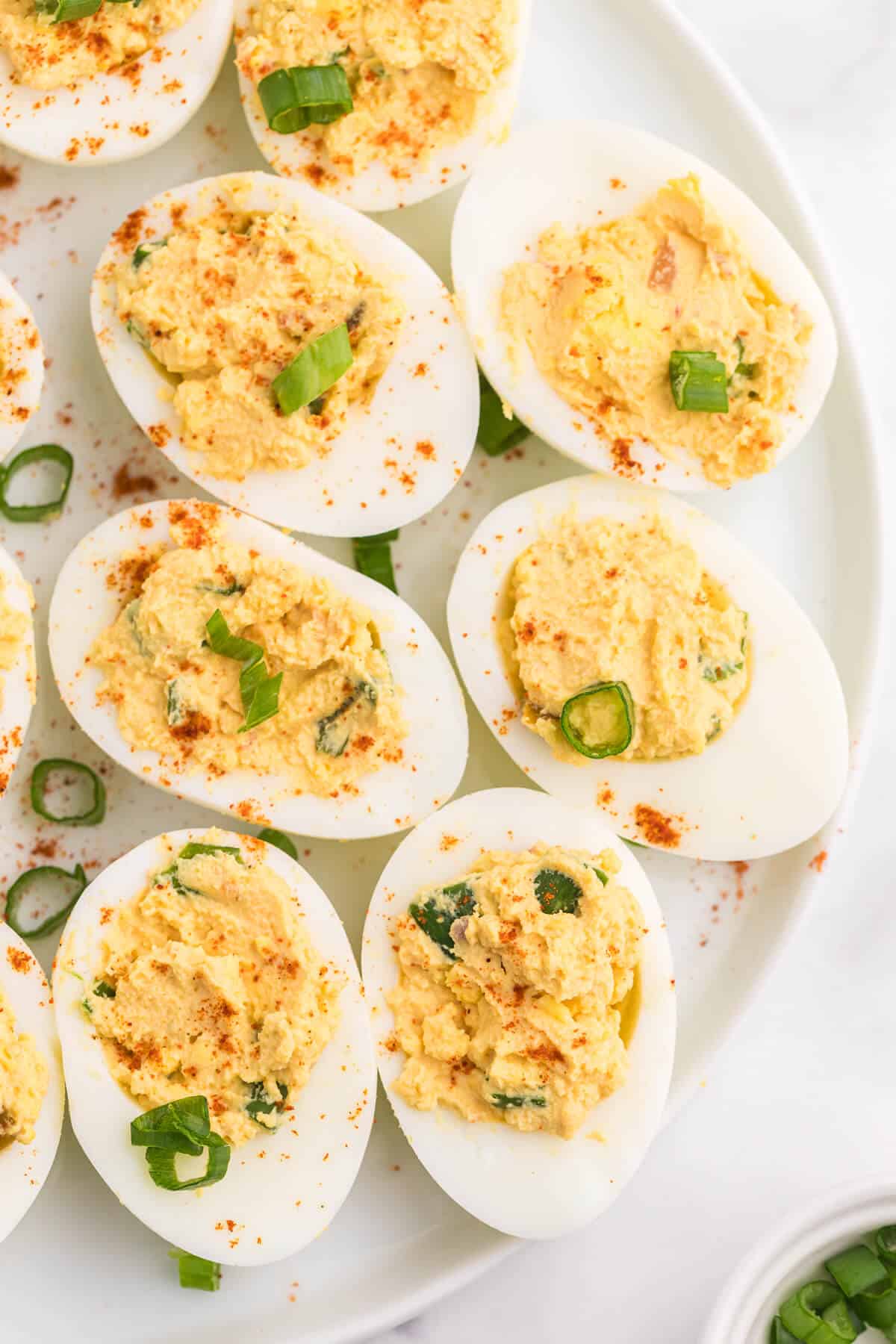 The Flutes & Pearls Egg Tray is gorgeous! It has a simple, classic design that suits my entertaining style perfectly. It will hold 12 deviled eggs or other small-ish appetizer of your choosing. The centre section can be used to hold more eggs if you wish or to hold a dipping sauce or other condiments.
I like easy appetizers and deviled eggs are so simple to make an always a hit. I made my deviled eggs and then stored them in the fridge on the Flutes & Pearls Egg Tray until I was ready to serve. The tray kept them cold longer than if I had put them on a regular platter.
If you have a hot food, this tray will also work. It can withstand up temperatures up to 1000°F and also be used in the oven, stove or grill. I'm thinking I need to make some escargots in it. I'll pop the tray right in the oven to cook. It keeps your hot food hot longer (just like it does with keeping cold food colder). Neat how that works isn't it?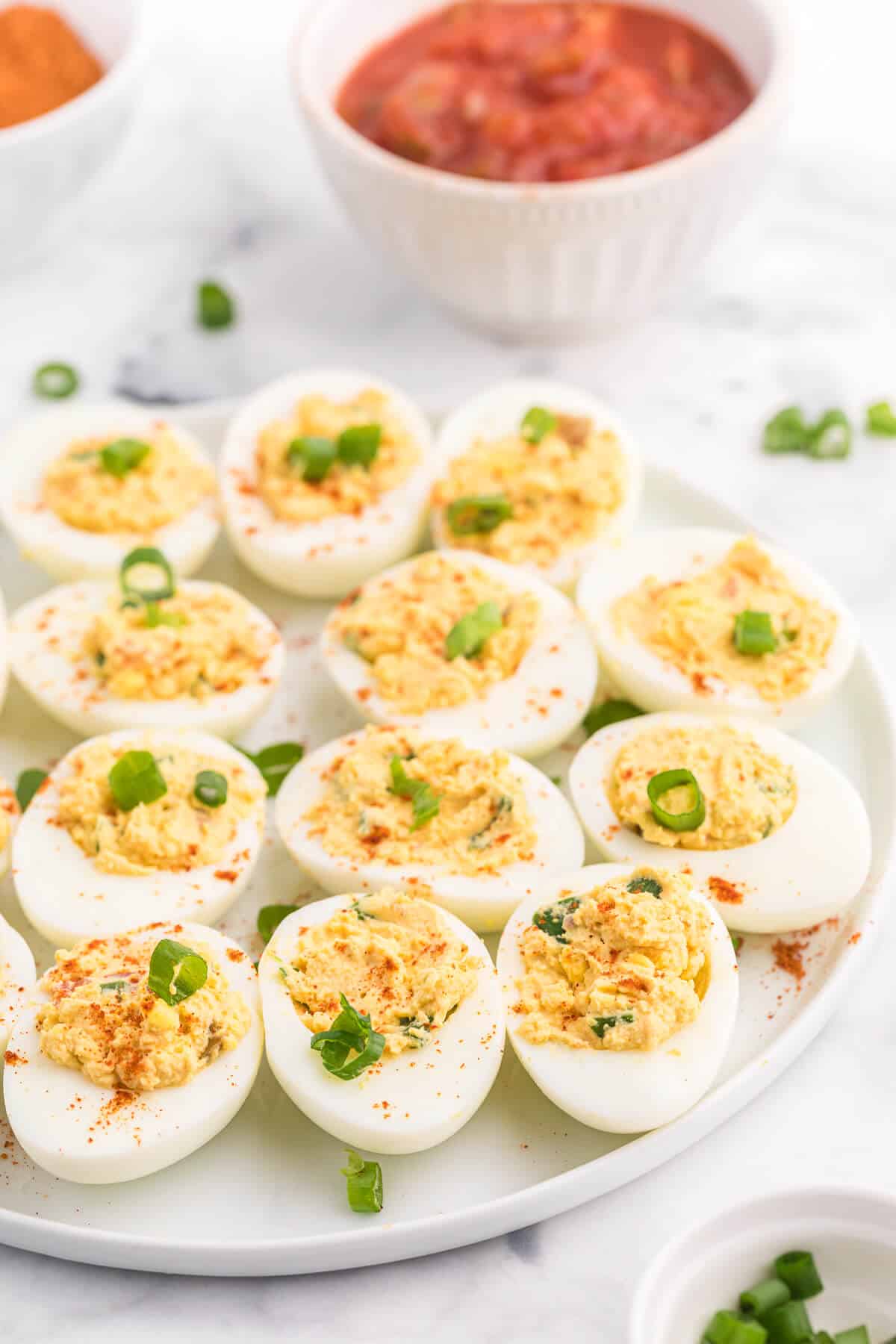 The Flutes & Pearls Egg Tray is extremely versatile. You can put it in the freezer, then pop it in the oven or on the grill and then set it on your table to serve to guests. Clean up is a breeze too. Wash by hand in hot water and soap like you normally would. Note: dishwashers are NOT recommended as this product is not dishwasher safe.
Today I wanted to share with you one of my favourite deviled egg recipes. I'll be serving this one up for Easter on my new Flutes & Pearls Egg Tray! Use the salsa of your choice. We like ours spicy so I used a salsa made with habanero chilis. Any kind of salsa will work though.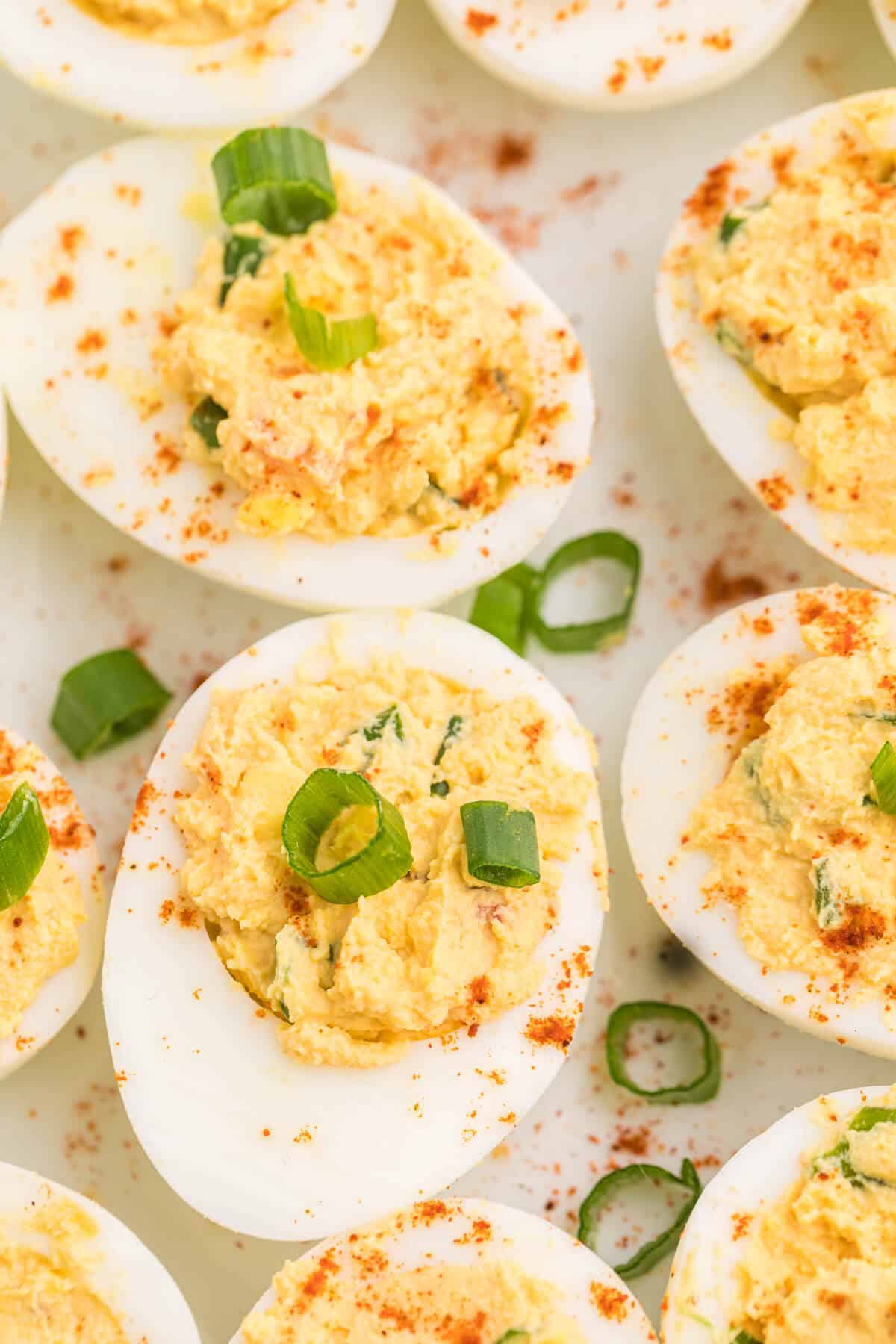 My deviled eggs were nice and chilled for serving. They were gobbled up quickly! I've had requests to make them again soon. Next time I'm invited to a potluck dinner I know what I'll be bringing with me. I'll have to make sure they don't keep my tray though!
You can buy the Wilton Armetale Flutes & Pearls Egg Tray for $49.99 on their site. If you've got a wedding or wedding shower coming up, here's your gift! I think any new couple would love one of these to impress their guests.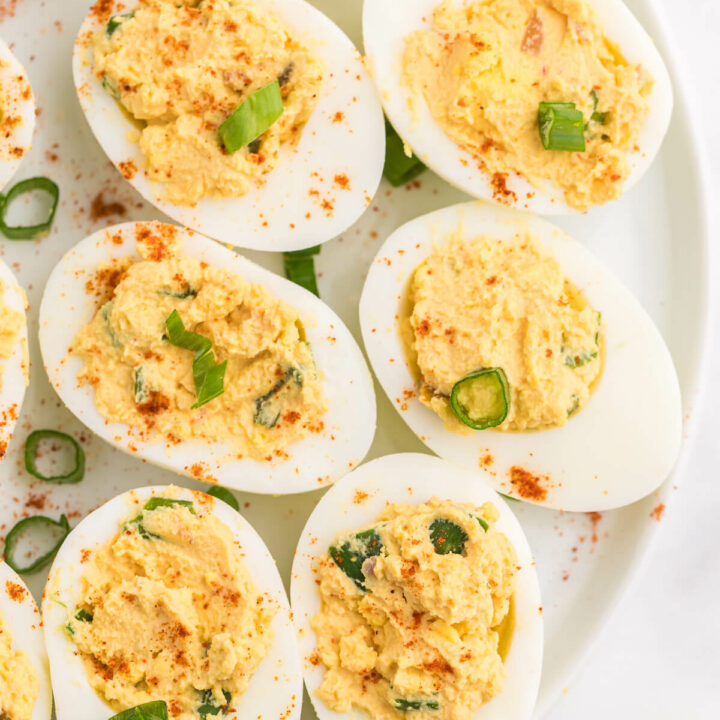 Salsa Deviled Eggs
A spicy kick to a popular appetizer recipe! This recipe is always gobbled up quickly.
Ingredients
12 eggs, hard boiled and shells removed
2 tablespoons salsa
3 tablespoons sour cream
2 green onions, chopped
¼ tsp taco seasoning
Instructions
Cut eggs in half lengthwise. Scoop out yolk centres into a bowl and set egg whites aside.
Add salsa, sour cream and green onions to yolks and mix together with a fork until fully combined.
Add a tsp of the yolk mixture to the centre of each egg white shell. Sprinkle Taco seasoning on top. Chill in the fridge until ready to serve.
Recommended Products
As an Amazon Associate and member of other affiliate programs, I earn from qualifying purchases.
Nutrition Information:
Yield:

24
Serving Size:

1
Amount Per Serving:
Calories:

49
Total Fat:

3g
Saturated Fat:

1g
Trans Fat:

0g
Unsaturated Fat:

1g
Cholesterol:

94mg
Sodium:

44mg
Carbohydrates:

2g
Fiber:

0g
Sugar:

0g
Protein:

3g