Book Review | Triple Slow Cooker Entertaining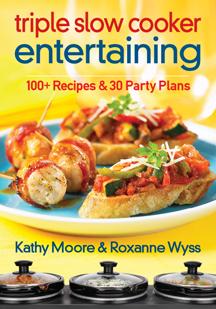 Title: Triple Slow Cooker Entertaining: 100 Plus Recipes and 30 Party Plans
Author: Kathy Moore & Roxanne Wyss
About the Book:
Stress-free party planning — the slow cooker does the work for you!
Let's have a party! In the past, those simple words might have invoked anxiety, but no more! Thanks to the innovative triple slow cookers now available — one slow cooker with three stoneware vessels — throwing a terrific party just got much easier.
What buffet table is complete without a slow cooker full of meatballs, dip, chili or another tasty dish? With triple slow cookers, you can offer a greater variety of these delicious, hot, slow-cooked foods. The recipes have been created by the team behind the bestselling Babycakes™ cookbooks and are guaranteed crowd-pleasers. There's a menu for virtually every occasion, from New Year's Eve to a child's birthday party to Halloween to Oscar night. This is truly an invaluable resource, whether you're a veteran party planner or hosting an event for the first time.
My Review: 
Triple Slow Cooker Entertaining was my first introduction to the world of triple slow cookers. I had never heard of them before! After reading this book, I want one. They sound so handy to have especially when you are prepping for a party. I checked on Amazon and was surprised how inexpensive they are.
This book has over 100 recipes and 30 party plans for a variety of themes. It begins with tips on how to properly use your triple slow cooker as well as party planning tips like how to serve to a large crowd of people.  There's a party plan for every occasion you can think of including a Kid's Birthday Party, Mother's Day, Bridal or Baby Shower, Family Reunion and lots more. Each plan has a list of recipes to make, a countdown of when to prepare each recipe, make ahead suggestions and even decorations and activities you can have at the party.
Since Cinco de Mayo is coming up soon, I decided to make a recipe from that theme. The Tex-Mex Spinach dip is not too spicy, but has loads of flavour. It's great with tortilla chips, but they also suggest you can use it with fresh veggies to dip. I substituted Monterey Jack cheese for the Colby-Jack cheese and used a can of green chiles since my store didn't sell tomatoes with chiles.  I also had to let mine cook on high for 2 hours for the cheese to completely melt. John who normally doesn't like spinach gobbled this up!
Other menu items that were listed for the Cinco de Mayo party were Chipotle Beef with Fresh Tomato Sauce and Chicken con Queso. Recipes were provided in the book for both.
I like that this book takes the guess work out of trying to pick a party menu. All the info you need is right there so it will save time. Now I just need to buy myself a Triple Slow Cooker and plan a party!
Connect with the publisher, Robert Rose, on Facebook and Twitter.
Yield: 4 cups
Tex-Mex Spinach Dip
Add a little spice to your dip!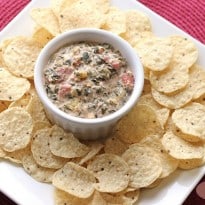 Ingredients:
1 package (10oz/300g) frozen chopped spinach
Nonstick baking spray
1 can (10oz/284mL) diced tomatoes with green chiles, with juice
8oz cream cheese, softened and cut into 1/2 inch cubes
2 cups Colby-Jack cheese
1/4 cup salsa
Directions:
Thaw spinach and drain well, squeezing between paper towels until dry.
Spray one slow cooker stoneware with baking spray.
In a large bowl, combine spinach, tomatoes and chiles with juice, cream cheese, Colby-Jack and salsa. Transfer to prepared stoneware.
Cover and cook on High for 1 hour, stirring occasionally, until cheese is melted and dip is hot. Turn to Warm for serving.
*I received a copy of this book for review, but was not compensated financially in any way. The opinions expressed are my own and are based solely on my experiences while reading this novel.*