A Cherry Vanilla Smoothie that is a fantastic way to kickstart your day or even a mid-day pick-me-up. A handful of frozen cherries, vanilla yogurt, milk and more, blended to a creamy drink.
This summer, I could not keep cherries in the house. I can't blame this one on John or the kids because it was all me. I was a cherry addict. I'd eat them in a big bowl and found them very filling. I also had frozen cherries for smoothies. It was a hot summer and many days I was looking for ways to stay cool.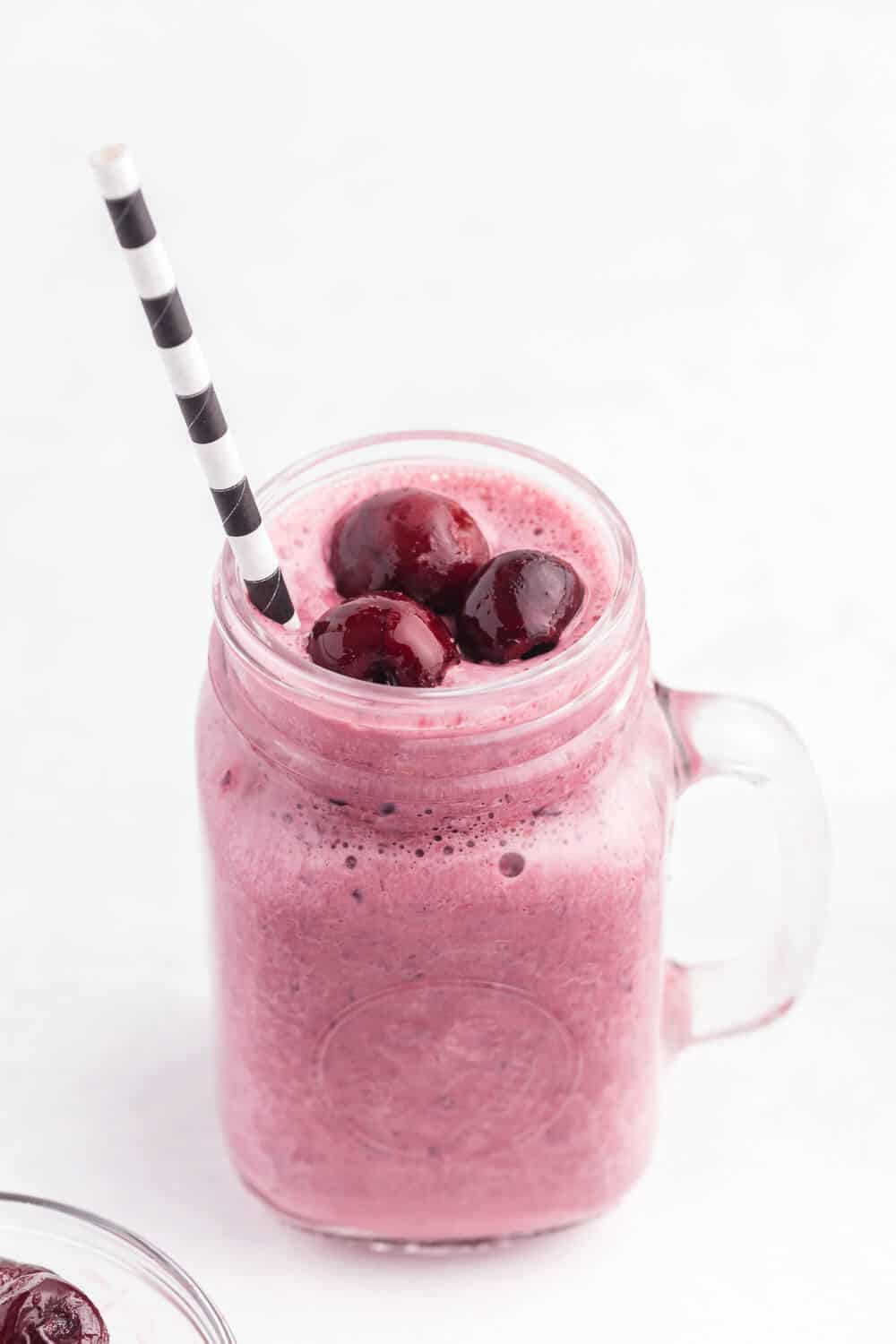 Cherry Vanilla Smoothie
This Cherry Vanilla Smoothie is amazing. The sweetness comes from the vanilla yogurt and frozen cherries. I like to use frozen fruit in smoothies so it's ice cold. If you use fresh cherries, add some ice to the blender so it will come out cold too.
Why Add Tofu to Cherry Vanilla Smoothie
I added a few frozen cherries as "ice". This smoothie is creamy, smooth and full of luscious flavour. To make it dairy-free, try add some tofu instead of the vanilla yogurt and milk instead of the vanilla soy milk. Silken tofu makes it creamy without changing the flavour of the smoothie.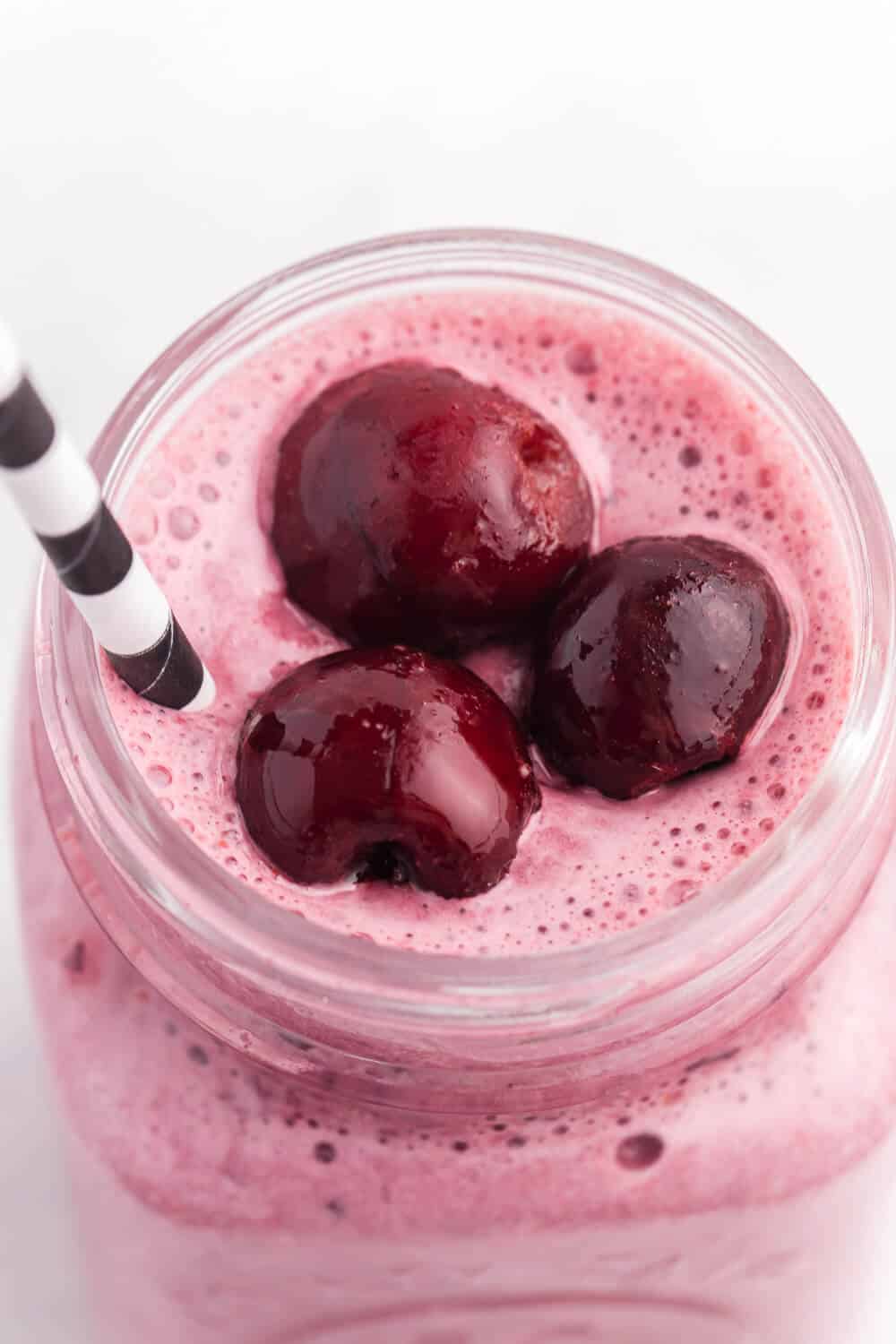 Is There Protein in this Cherry Smoothie
Now, this is an excellent way to start your day! A glass of this smoothie fills me up until lunch. It's packed full of protein and antioxidants. I always feel like I'm indulging when I drink a glass because it tastes that good.
As for blenders, I don't own a fancy Vitamix (though it's on my covet list). I have a Breville Hemisphere Control Blender and it makes great smoothies.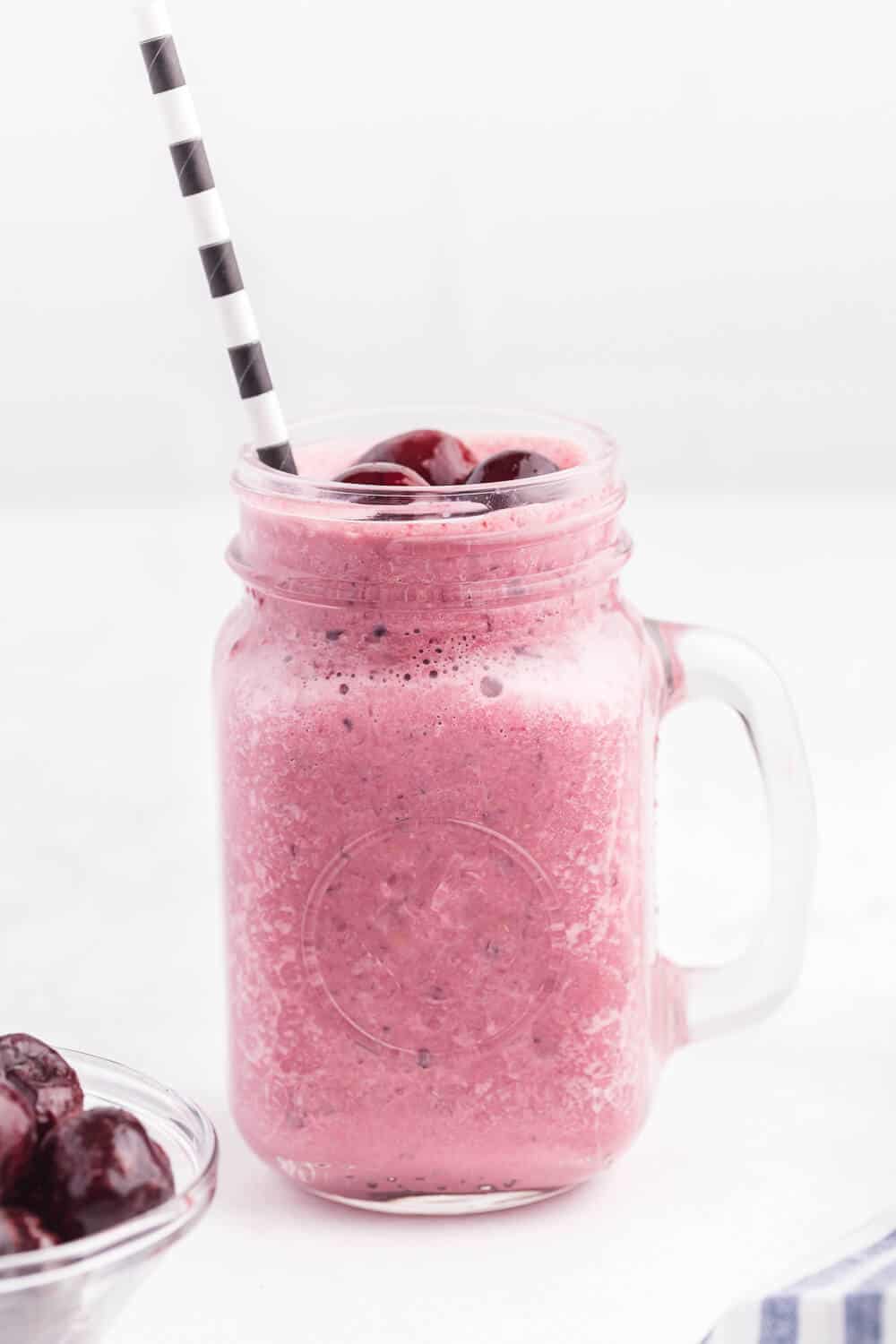 Craving more smoothie recipes
For more smoothie recipes, try my other smoothie recipes:
I also have several cherry recipes!
You'll also like this Strawberry Agua Fresca.
How to Thicken a Smoothie
If you want a thicker style smoothie you can easily reach the texture you want by adding more fruit to the smoothie. Or add in a little extra tofu or yogurt. This will help to thicken your smoothie. Or if you want to thin the recipe, add in a splash more milk by a teaspoon at a time until it thins out to your liking.
How to Make Cherry Vanilla Smoothie
Start by adding your cherries, vanilla yogurt, milk, vanilla, and the orange zest into a blender. Then turn on and mix until it is well blended and the consistency you want. Pour into a glass and enjoy it.
Can I Double this Cherry Smoothie Recipe
Yes, you are more than welcome to double this recipe. You can make as much or as little as you would like. If you want to make a lot for a crowd, then batch make your smoothies so that you have enough for everyone.
How to Store Leftover Smoothie
You can store any leftover smoothie in the fridge for up to 24 hours after you make it. Just make sure that you grab a spoon and mix up the smoothie a bit so that it incorporates again. Sometimes smoothies separate a bit as they sit in the refrigerator.
Can You Freeze Leftover Smoothie
What I recommend if you don't plan to use all the smoothie mixture right away, is to freeze it into popsicle molds. This will be a fun way to enjoy the leftover smoothie but in a popsicle form. Just pour into the molds and freeze overnight for a tasty homemade popsicle.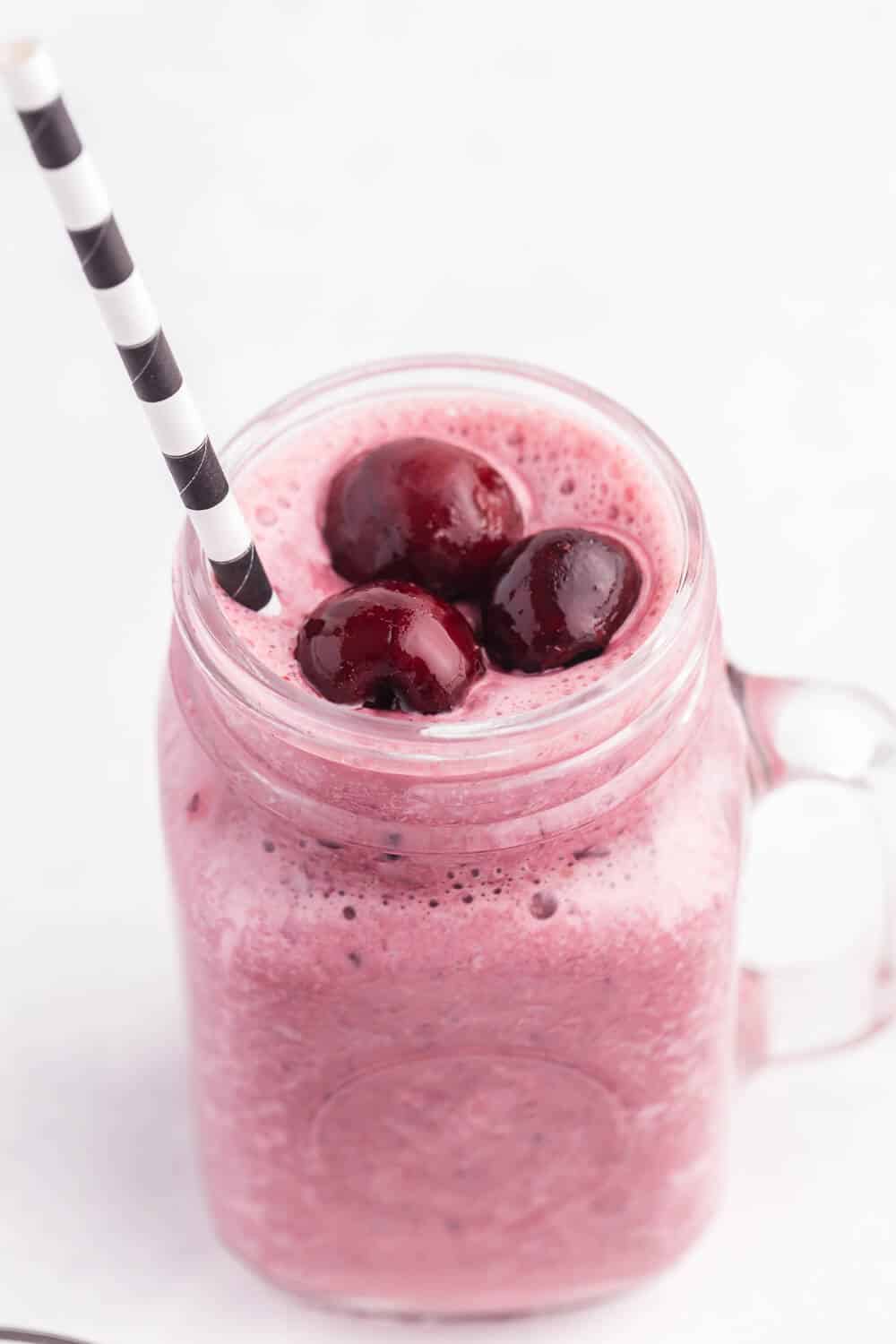 Can I Use Fresh Cherries in this Smoothie Recipe
You can use fresh cherries. I find that freezing cherries allows for a chilling effect from the smoothie and also gives it a thicker consistency. Just pit your cherries before using them. If you can toss them in the freezer for a bit to firm up or make with fresh cherries. You might find you will use less milk since the fresh cherries will not be as thick.
Can I Add Other Fruit into the Smoothie
If you want to add other elements of flavor into your cherry smoothie, feel free to add in other fruit. You can do fresh or frozen, I recommend frozen but it is up to you. Add in a bit blend, taste, and then see if you need to add more to adjust the flavor. Other berries would be good, banana, and more.
This smoothie takes minutes to make. Plus it is much more affordable than ordering one at your favorite coffee shop. Give this recipe a try next time you get a craving for a sweet smoothie to kickstart your day.
Do you like fresh or frozen fruit in your smoothies?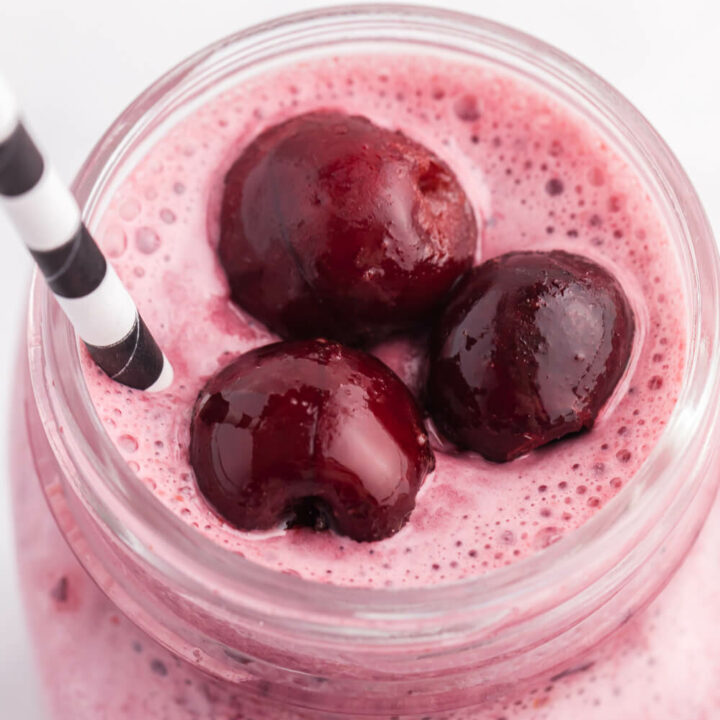 Cherry Vanilla Smoothie
Using convenient frozen sweet cherries, this smoothie is a year-round taste of summer. Vanilla yogurt adds a luscious and creamy texture.
Ingredients
1 1/2 cups frozen sweet cherries
1/2 cup vanilla yogurt
1/4 teaspoon vanilla extract
1 cup milk
Zest of one orange
Instructions
Add all the ingredients into a blender and blend until smooth.
Top with frozen cherries, if desired.
Notes
To make it dairy-free, you can substitute silken tofu for the yogurt and vanilla soy milk for the milk.
Recommended Products
As an Amazon Associate and member of other affiliate programs, I earn from qualifying purchases.
Nutrition Information:
Yield:

1
Serving Size:

1
Amount Per Serving:
Calories:

431
Total Fat:

7g
Saturated Fat:

4g
Trans Fat:

0g
Unsaturated Fat:

2g
Cholesterol:

25mg
Sodium:

204mg
Carbohydrates:

81g
Fiber:

8g
Sugar:

56g
Protein:

18g