Orange Mustard Pork Tenderloin
Hi friends, Heather here visiting from Food Lovin Family. Today I am sharing a family favorite, orange mustard pork tenderloin. It is tender and juicy with amazing citrus flavor and on your table in 40 minutes.
My kids can be picky eaters. As a food blogger I try to expose them to different recipes but most of the time they just want plain chicken, pork or pasta. I was getting tired of making them the same thing so several months ago I came up with this orange mustard pork tenderloin for them to try. They ended up loving it and my oldest daughter even said she wanted it for dinner every night!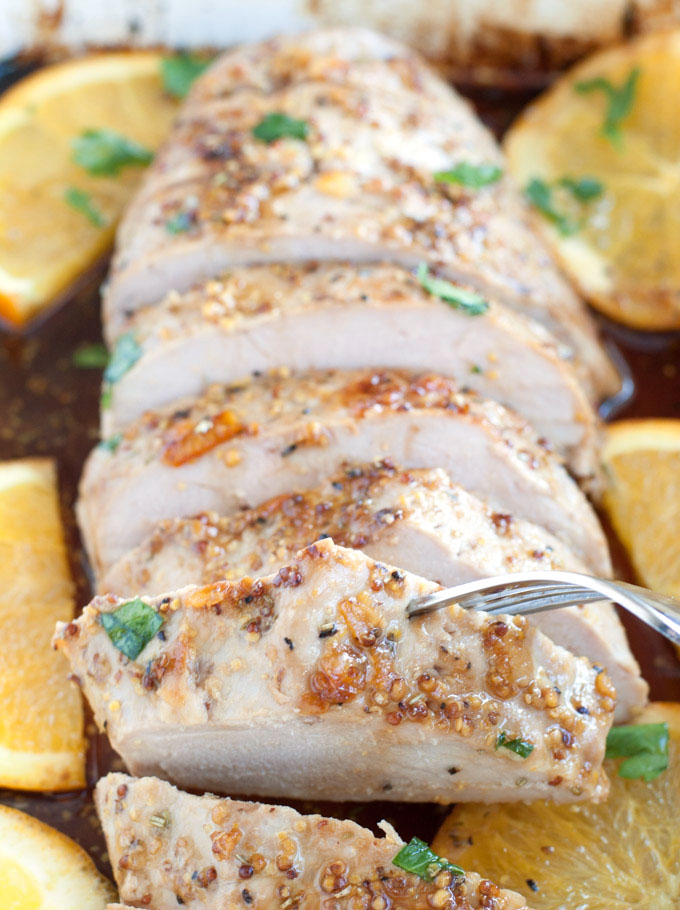 The best part about this dish is how easy it is to assemble. During the busy school week it is nice to have a dinner that the whole family will love and is quick to make. That is why this orange mustard pork tenderloin has become a regular on our weeknight menu. This meal goes well with a salad, roasted potatoes or even my kids choice, pasta.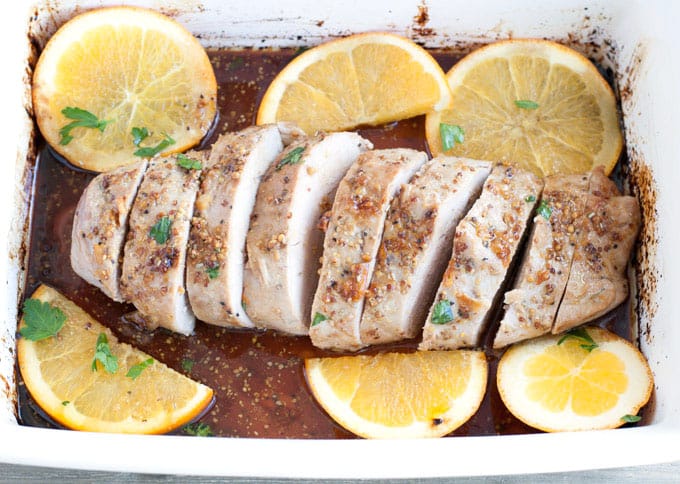 I bet you probably have most of the ingredients on hand to make this dish. You will need orange juice, orange marmalade (or honey), soy sauce, grain mustard, olive oil, garlic powder, rosemary and of course the pork tenderloin. After trimming off any excess fat, place the pork in a shallow baking dish and pierce with a fork. Mix together the remaining ingredients and spoon the mixture over the pork. I like to reserve a little of the mixture to spoon over once cooked. Bake for 30 minutes or until the internal temperature is between 140-160 degrees. Let the meat rest for 5 minutes, slice and serve.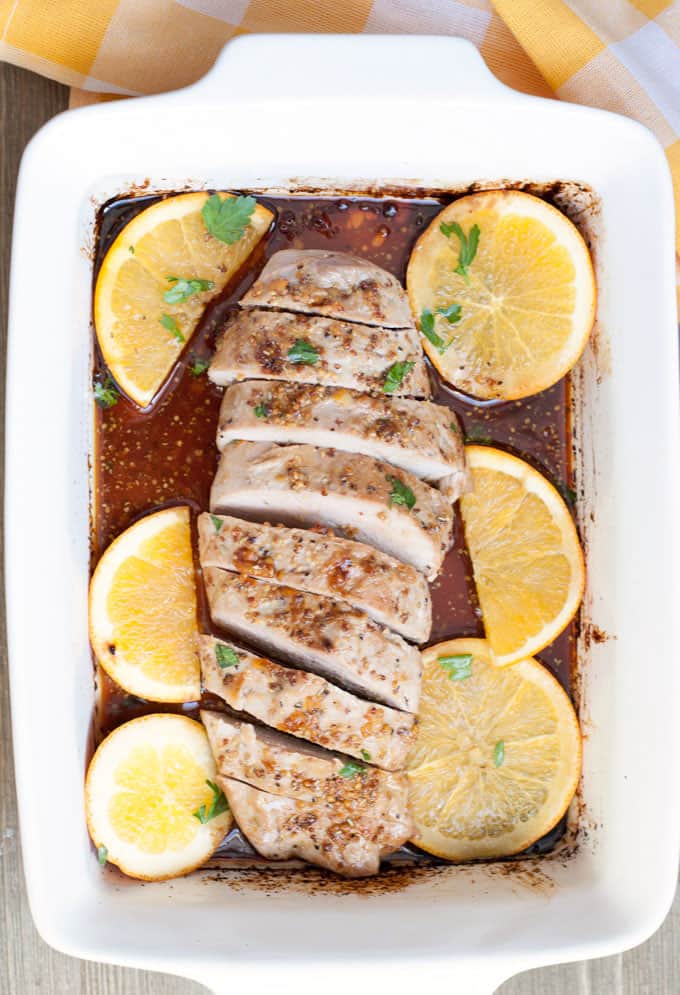 If you need a quick, flavorful, family friendly meal, this orange mustard pork tenderloin is a must try. This is a meal your family will ask for again and again.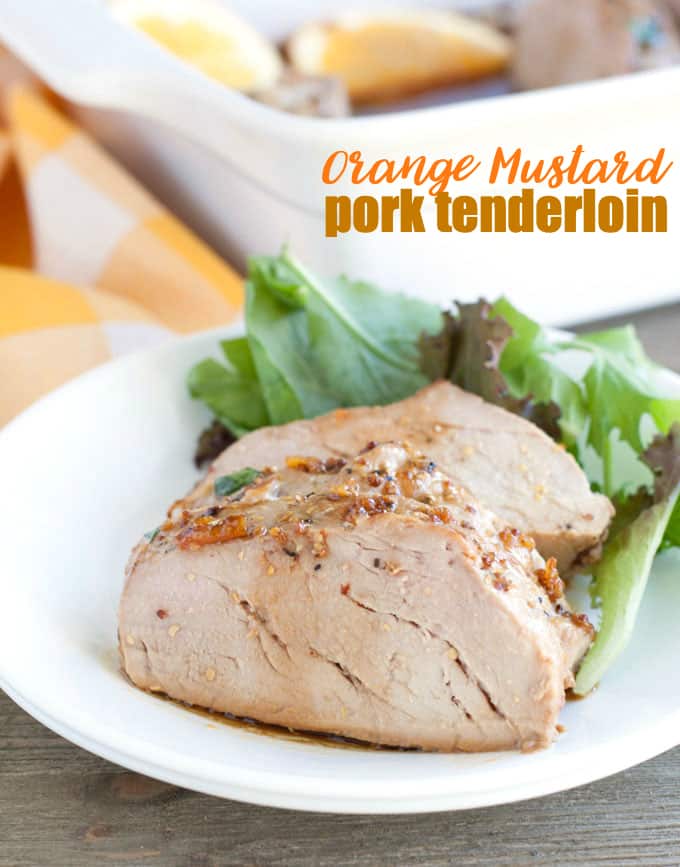 Are you a fan of pork tenderloin?
You might also like these Savory Pork Chops or orange extract.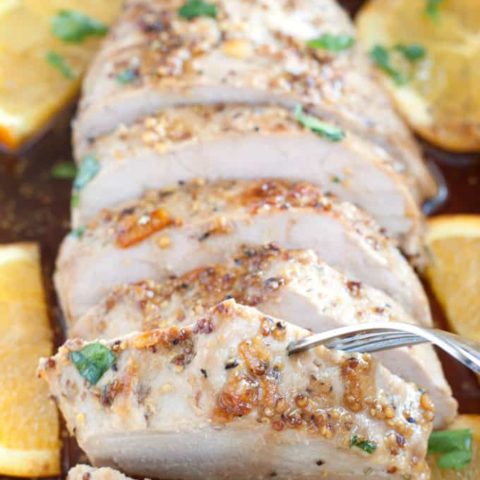 Orange Mustard Pork Tenderloin
Yield: 4

Prep Time: 10 minutes

Cook Time: 30 minutes

Total Time: 40 minutes

Tender and juicy with amazing citrus flavor and on your table in 40 minutes.
Ingredients
1 pork tenderloin
1/4 cup orange juice
1/4 cup soy sauce
3 tablespoons orange marmalade
2 tablespoons stone ground mustard
3 tablespoons olive oil
1/4 teaspoon garlic powder
1/4 teaspoon dried rosemary
1/4 teaspoon ground black pepper
parsley and oranges slices for garnish
Instructions
Preheat oven 400 degrees F. Spray baking dish with non stick cooking spray.
Trim excess fat off pork tenderloin and place pork in baking dish.
Pierce pork with a fork.
In a small bowl, mix together remaining ingredients.
Pour mixture over pork tenderloin, reserving  a 1/4 cup to spoon on after baking.
Bake for 30-40 minutes, or until meat thermometer reads 140-160 degrees in the center of the roast.
Remove from oven and let rest for 5 minutes.
Pour remaining mixture over pork, slice and serve.
Notes
You can substitute honey for orange marmalade.
Recommended Products
As an Amazon Associate and member of other affiliate programs, I earn from qualifying purchases.
Nutrition Information:
Yield: 4 Serving Size: 1
Amount Per Serving: Calories: 207Total Fat: 12gSaturated Fat: 2gTrans Fat: 0gUnsaturated Fat: 10gCholesterol: 16mgSodium: 898mgCarbohydrates: 18gFiber: 2gSugar: 14gProtein: 8g