Apple Pie Pancakes
Hi Everyone, Nicky here calling in from Kitchen Sanctuary. Today I'm bringing you Apple Pie Pancakes: a spiced apple pancake recipe, topped with syrup poached apples and a spoonfuls of creamy, thick crème fraiche. This is one glorious breakfast!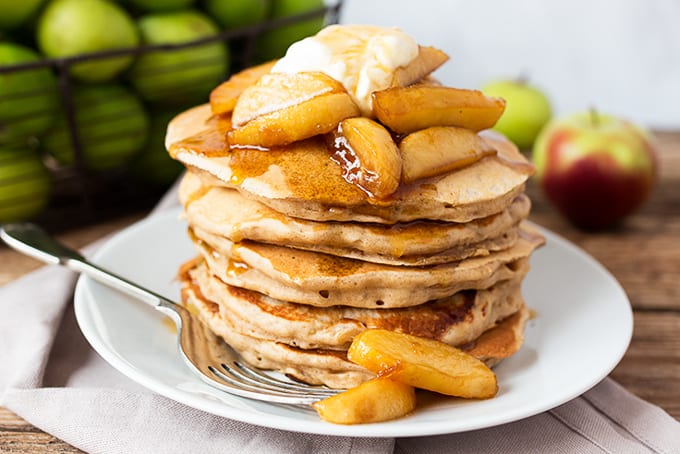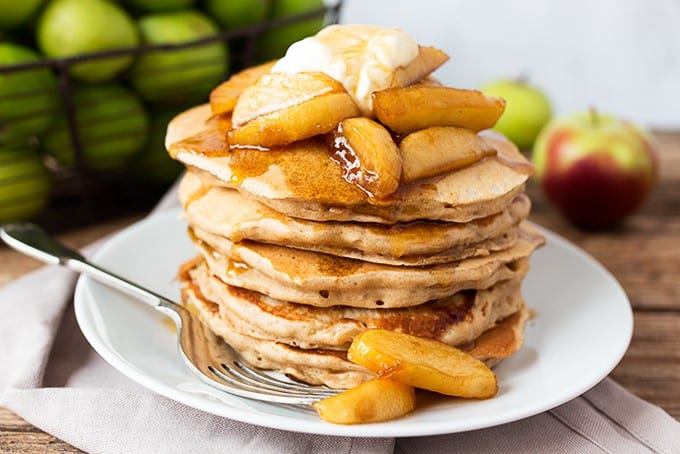 My family absolutely love pancakes, and although we often default to regular pancakes with berries and melted chocolate, I do enjoy experimenting with different flavours too.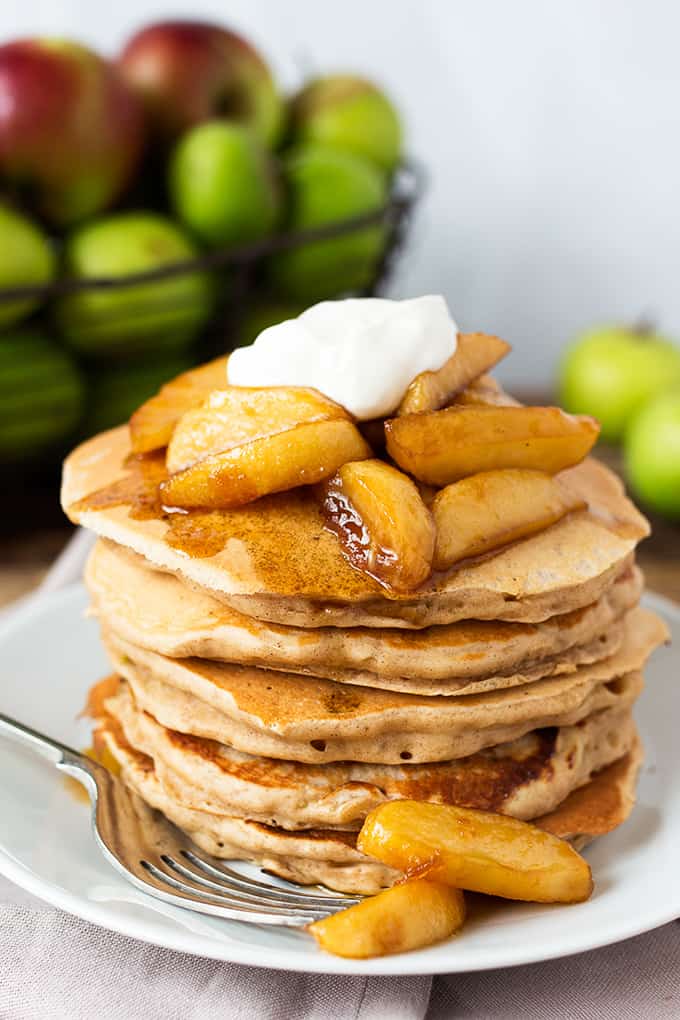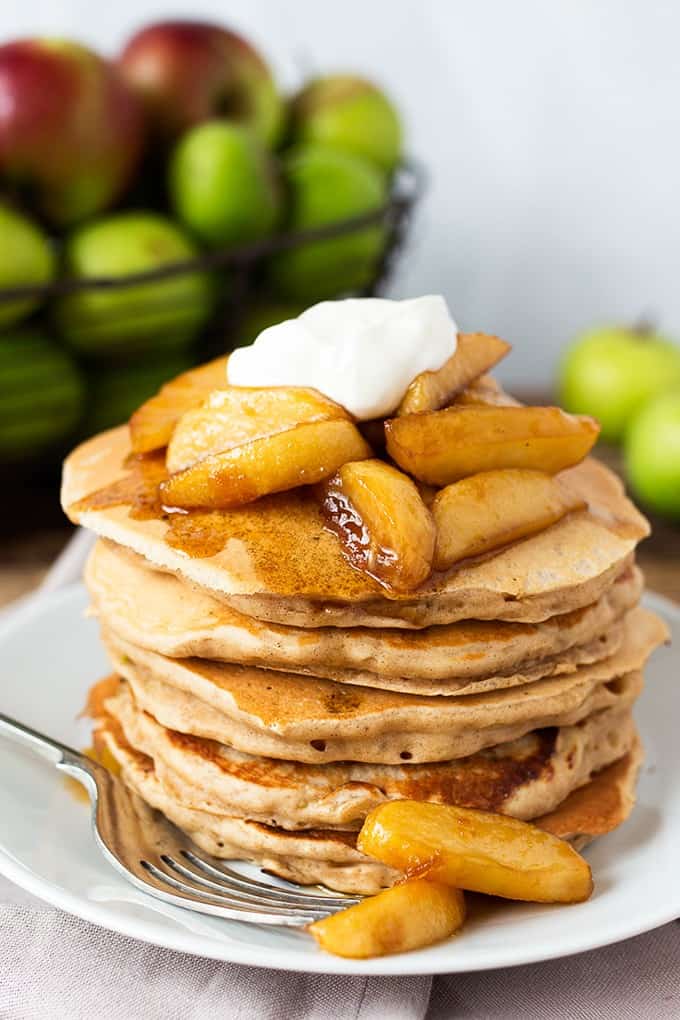 I've been slightly obsessed with apples recently (and have also been figuring out what to do with two large bags of apples given to me by friends) and my next pancake experiment seemed like the perfect opportunity to make the most of those apples.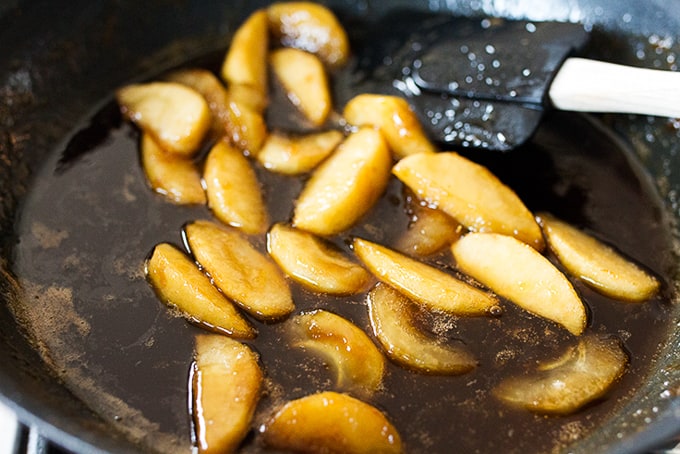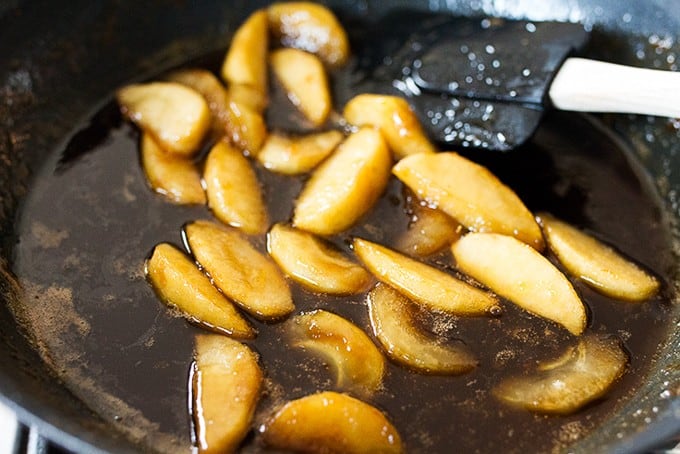 So not only are these pancakes topped with sharp apples that have been poached in a sinful syrup/sugar/butter concoction, they also have grated apple inside them!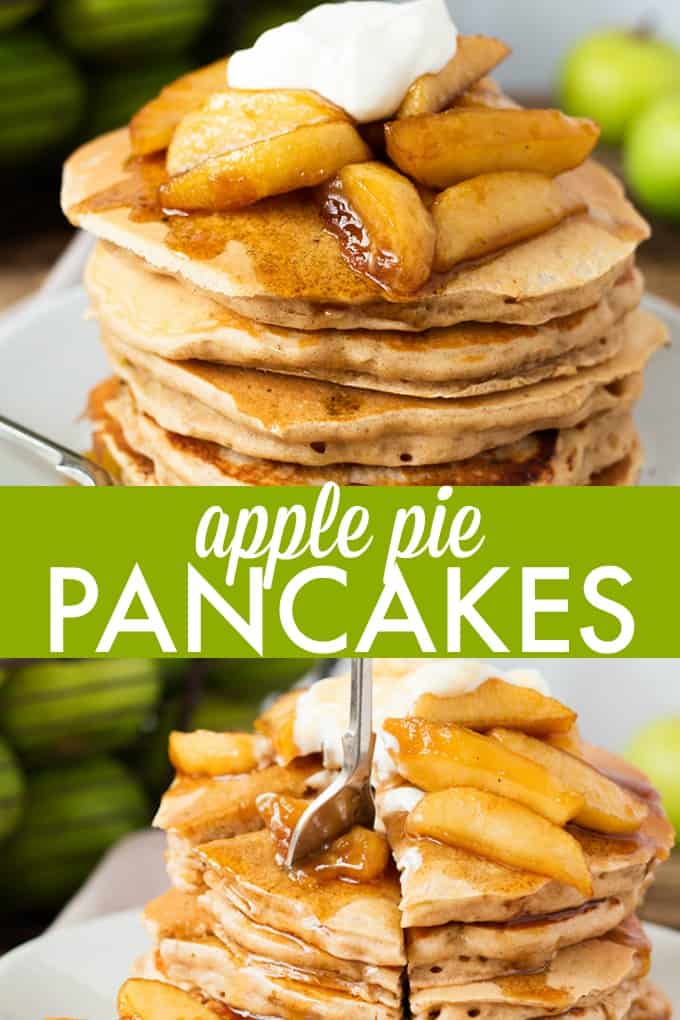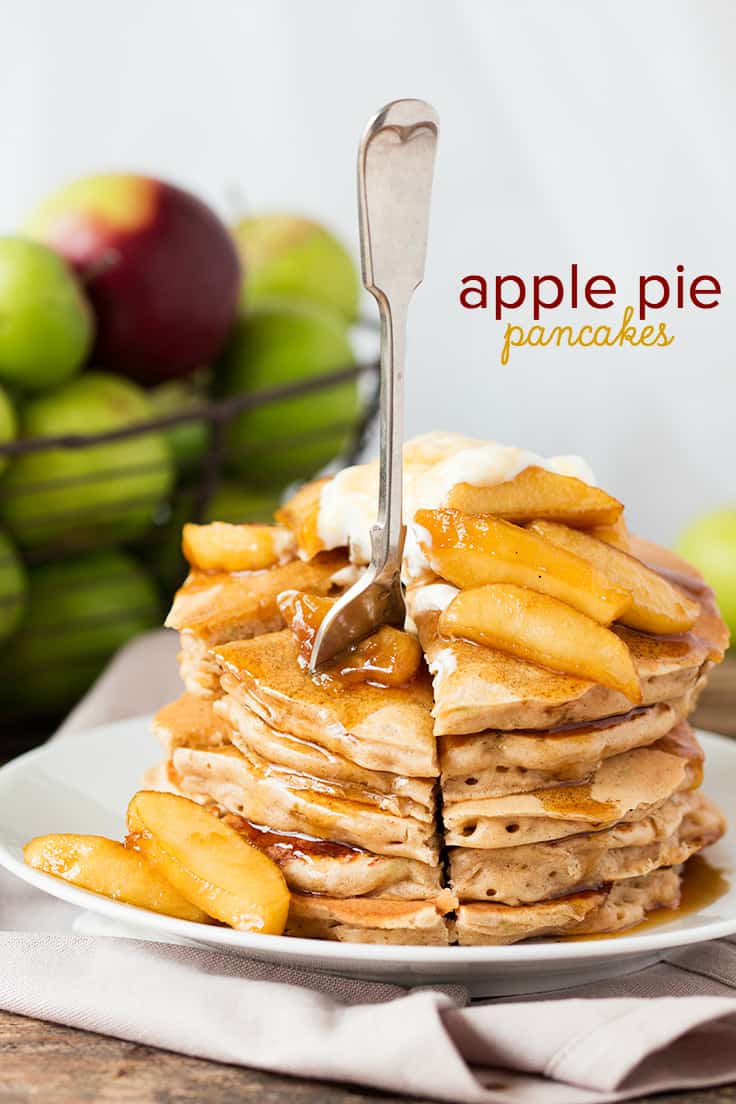 So delicious, and really easy to make too. You might just want to have double helpings and skip lunch altogether!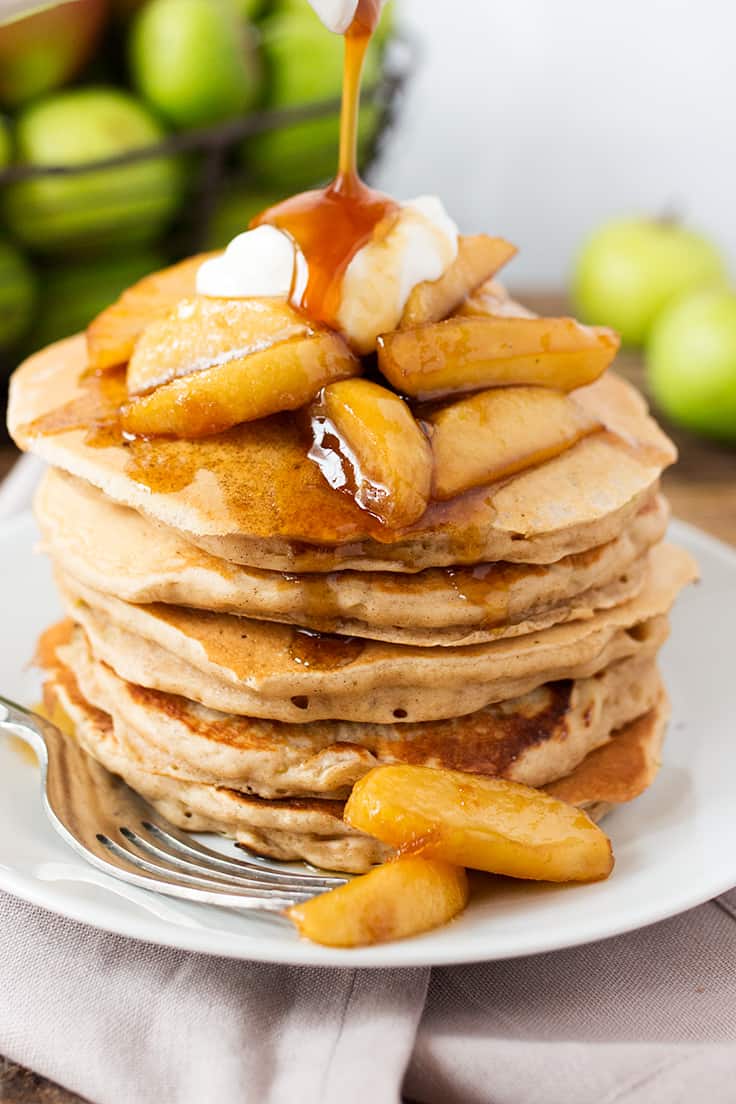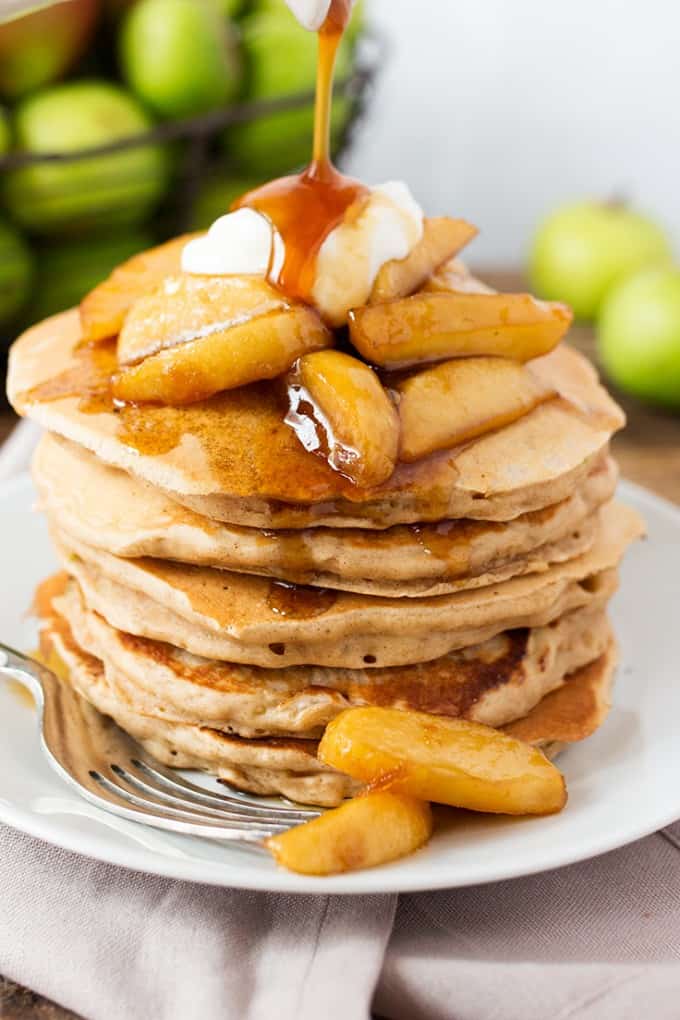 Yield: 12
Apple Pie Pancakes
A spiced apple pancake recipe, topped with syrup poached apples and a spoonfuls of creamy, thick crème fraiche.  This is one glorious breakfast!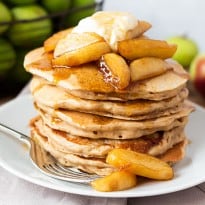 Ingredients:
Apples and sauce
1+1/2 cups water
1/3 cup golden syrup
1/2 cup brown muscovado sugar
2 Tablespoons butter
2 large sharp-tasting apples (such as Granny Smiths) peeled, chopped into slices and mixed with 1 tablespoon lemon juice (to prevent the apple from browning)
Pancakes
1 + ¾ cups all-purpose flour
1 tbsp baking powder
1 tsp cinnamon
½ tsp ground ginger
1 sharp tasting apple, grated/shredded (no need to remove the skin)
3 tbsp light brown (muscovado) sugar
1 egg
1 tsp vanilla extract
Pinch of salt
1 + ¼ cups milk (half fat or full fat)
1 tbsp vegetable oil
To serve
4 heaped tbsp. Crème fraiche
Directions:
Start by making the apples and sauce. Place the water, golden syrup, brown sugar, butter and sliced apple into a large saucepan. Heat, without stirring, on a medium heat until the sugar dissolves and the liquid comes to the boil. Turn down the heat and simmer for 10 minutes, then turn the heat off.
Whilst the apples are cooking, place the flour, baking powder, cinnamon, ginger, shredded apple, sugar, egg, vanilla extract, salt and milk in a large bowl. Use a whisk to mix until combined. Don't over-mix – a few lumps are fine.
Pour ¼ tbsp. oil in a large skillet, then wipe around with a kitchen towel to cover the pan. Heat the pan on a medium heat until hot. Pour in enough mixture to make three pancakes (approx. ¼ cup of mix per pancake). Cook for about 1-2 minutes until bubbles form on top of the pancakes and then burst, and the edges start to look firm. Cook on the other side for another 1-2 minutes. Repeat with the rest of the mixture – oiling the pan each time – until all the pancakes are cooked (you can keep the pancakes warm in a very low oven whilst you're making each batch).
Place 3 pancakes on each plate (the recipe makes approx. 12 pancakes). Top each stack with wedges of the cooked apple, then spoon on a heaped tbsp. of crème fraiche. Pour over the apple-syrup sauce before serving.