One-Pot Chicken Fajita Rice
Food plays a big role in my everyday life. Of course, the obvious reason is that we need it to live. However, I also love the process of preparing a delicious meal for my family and then savouring every bite. I even like photographing my food. Food photography is a new hobby of mine over the last few years. We rarely eat out because it's more economical (and often healthier) to eat a home cooked meal. A recent survey commissioned by Uncle Ben's discovered that 77% of Canadian families eat home-cooked dinners five or more nights a week. The next statistic was a bit troubling: only 12% let their kids help cook these dinners.
I hate to say it, but I'm guilty too. With my zeal for trying new recipes and creating meals for my family, I forget that my kids need to learn how to cook, too. As their mom, I want to take care of them. Often that translates into me doing everything for them which really doesn't help them at all – in the long run anyways!
What I need to make a bigger effort in doing is asking my kids to help out in the kitchen with our meals and passing on what I know about food. With so many kids not helping out in the kitchen now could translate into a generation of people who don't know how to cook nutritious meals. They will be missing out because cooking is fun!
The good news is that 90% of parents surveyed believe that teaching their kids how to cook is an important part of healthy living. The desire is there. We just need to take action!
I've teamed up with Uncle Ben's on the Ben's Beginners campaign to get kids cooking healthy meals that they will enjoy making and eating. They sent me a bunch of helpful tools to get us started!
In addition, Uncle Ben's has paired up with the winner of the U.S. MasterChef Junior Season Two, Logan Gulef, to help tackle kid-less kitchens! Each week, Logan will be sharing a kid-friendly cooking tip at GetKidsCooking and a recipe challenge for kids to try with their parents or guardians.
There are also some sweet prizes to be won, too! Submit a picture of the dish you are making to GetKidsCooking for a chance to win one of three $10,000 RESPs.
This week is Week 7 and the challenge is to create a meal with Uncle Ben's rice, avocado and something shredded. Watch this video where Logan shares tips on how to shred salad ingredients and cheese.
I'm trying his tip for shredding lettuce!
One-Pot Chicken Fajita Rice
As the queen of one-pot recipes, I had a yummy idea in mind that included all the challenge ingredients and that I knew my kids would enjoy. They love Mexican food (as long as it's not too spicy) and we settled on making a batch of One-Pot Chicken Fajita Rice. It's made with loads of fresh veggies like peppers, onions and tomatoes.
We made our own homemade fajita seasoning to control the amount of sodium. It's super easy to make your own at home with spices from your pantry. My daughter, Bridget, is 10 years old and was responsible for measuring the spices.
It's important to remember safety in the kitchen and to delegate age appropriate tasks. My older daughter, Olivia, who is 17, is perfectly capable of chopping veggies and meat with a sharp chef's knife. I didn't feel comfortable letting Bridget handle the knife so I did that part while she watched.
Bridget was in charge of browning the chicken on the stove. I showed her how to break up the meat so it would brown evenly in the pan. Look at the intense look of concentration on her face. That's my girl!
Bridget also added all our prepped ingredients to the pot to cook. We had a bit of a break while it was simmering. The kitchen was a bit of a mess so we both quickly tidied up. It's important to clean up after yourself while you are cooking!
Our One-Pot Chicken Fajita Rice turned out perfectly! It's a meal in a pan and we couldn't wait to dig in.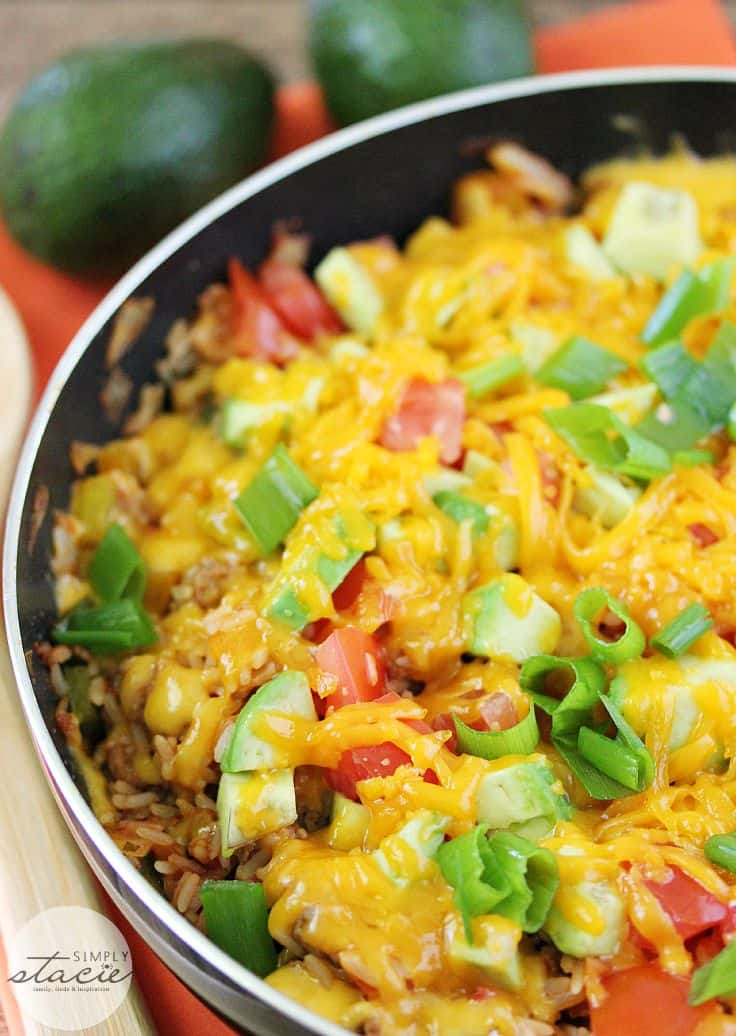 It was cheesy, flavourful and healthy! We have a winner here. Bridget was proud of her creation. She did a great job!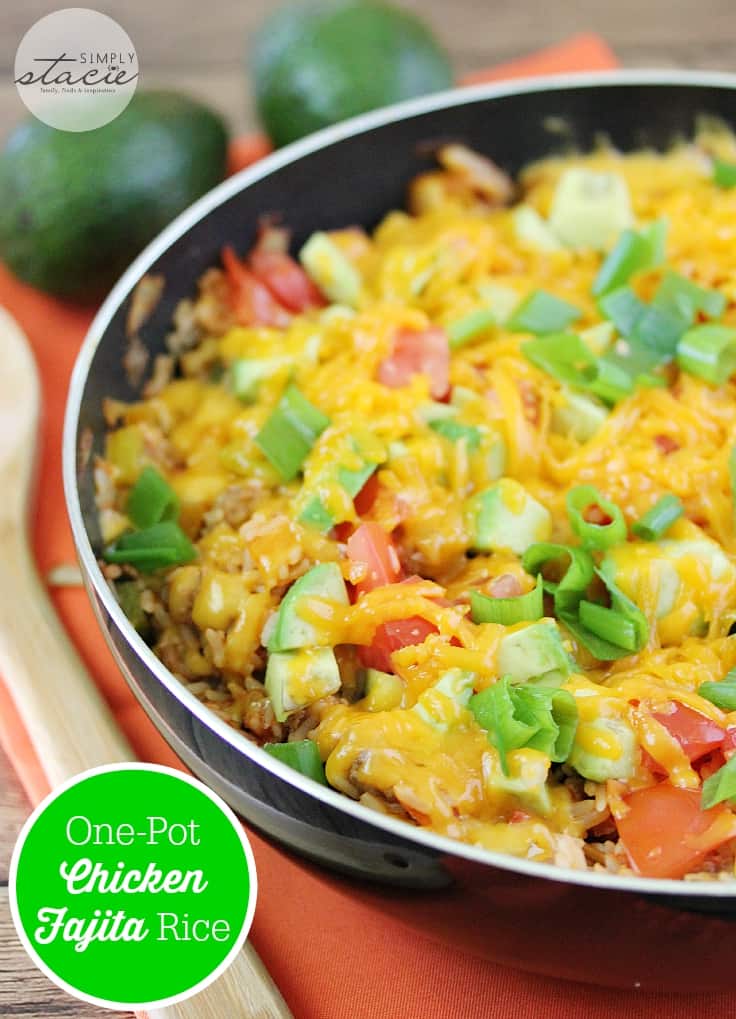 I'm going to get Bridget to help me make some more healthy recipes. I think she'll be more apt to try a new dish if it's something she had a hand in making. Ben's Beginners has many healthy recipes for us to try out together.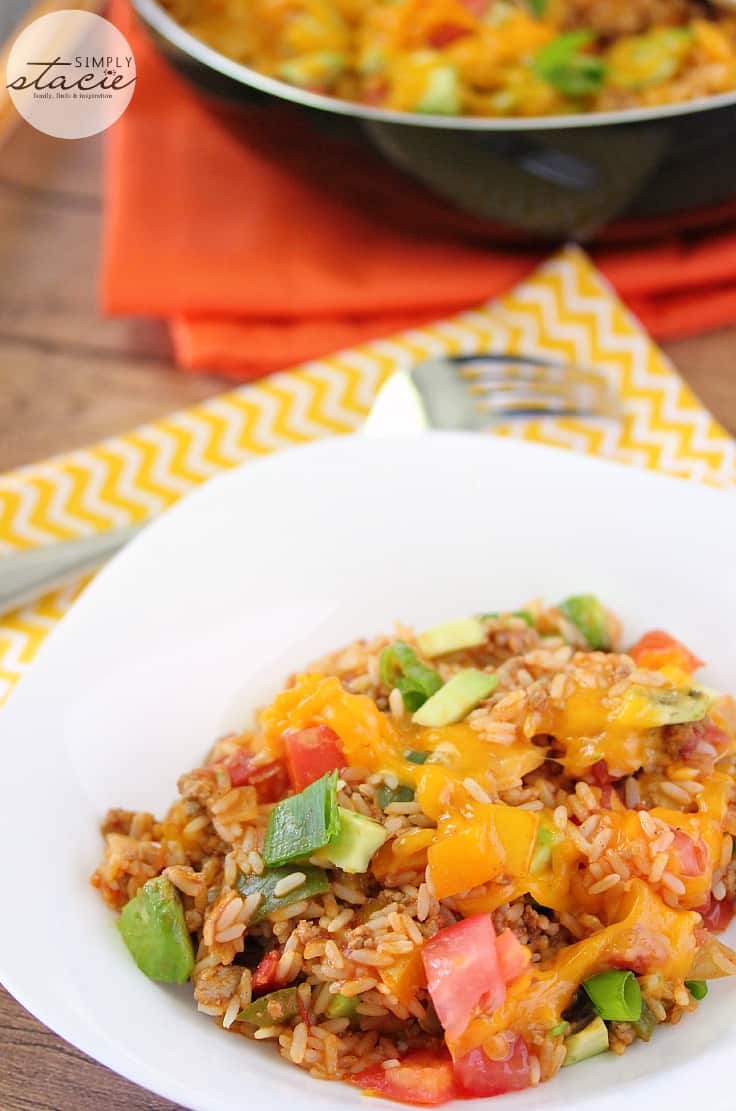 Visit Ben's Beginner's to get started on this week's challenge. Don't forget the $10,000 RESP's to be won!
Do you have any tips for getting kids to help out in the kitchen?
Yield: 6
One-Pot Chicken Fajita Rice
Get kids cooking with this easy One-Pot Chicken Fajita Rice recipe! It's filled with veggies, avocado, cheese, ground chicken and rice.
Ingredients:
1 tbsp vegetable oil
1 lb ground chicken
2 cups Uncle Ben's Converted Rice
1 onion, chopped
2 green onions, chopped
1 green pepper, chopped
1 orange pepper, chopped
1 yellow pepper, chopped
2 tomatoes, chopped
2 avocadoes, peeled and chopped
1 1/2 cups salsa
2 cups chicken broth
1 tsp chili powder
1/2 tsp paprika
1/4 tsp onion powder
1/4 tsp garlic powder
1/8 tsp cayenne pepper
1/8 tsp cumin
2 cups cheddar cheese, shredded
juice of one lime
Directions:
Heat oil in a large pan over medium-high heat. Add in ground chicken and cook for about 2 minutes, breaking it up with a wooden spoon. Add in onion (not the green onion), green pepper, yellow pepper and orange pepper and cook until chicken is browned and onions and peppers are softened.
Stir in the chili powder, paprika, onion powder, garlic powder, cayenne pepper and cumin. Stir in salsa, chicken broth and rice and bring to a boil.
Once boiling, reduce heat to medium-low. Cover and simmer for about 18 minutes, or until rice is cooked and liquid is absorbed.
Once cooked, stir and the cover in cheese, avocado and tomatoes. The cover again for a couple minutes until the cheese is melted. Top with green onions and serve.
Disclosure: I was compensated for this post. All opinions expressed are 100% my own.