Cabbage Roll Rice
Cooking has been a long time passion of mine. As a child, I used to peruse my mom's cookbook collection and bookmark ones that I wanted to try. I didn't expect my mom to make these recipes. I wanted to prepare them myself! Thankfully, my mom was very open to the idea. She knew that being comfortable in a kitchen was an important life skill and was happy that I took it upon myself to take some initiative to learn.
I had some recipe successes and a few failures too. The main thing is that I was having fun and learning at the same time. Today, I still enjoy my time in my kitchen. I get into my "groove" and find the process of preparing a meal quite relaxing!
My oldest daughter, Olivia, follows in my footsteps. At age 17, she's fairly comfortable in the kitchen and knows how to prepare a few basic dishes. I'm happy to see that she enjoys it too.
My 10 year old daughter, Bridget, needs a bit of a push. I know it's partly my fault because I take over and don't ask for help. Over the past several weeks, I've been releasing some control and asking Bridget to help me in the kitchen to prepare our meals. She's a great little helper!
You may remember a few weeks ago my post about the Ben's Beginners campaign and getting kids cooking in the kitchen. We made One-Pot Chicken Fajita Rice. The goal here is to get kids to help out in the kitchen giving them age-appropriate tasks.
According to a survey by Uncle Ben's, 77% of Canadian families eat home-cooked dinners five or more nights a week, but only 12% let their kids help cook their dinners. Let's bring our kids with us in the kitchen and get those numbers up!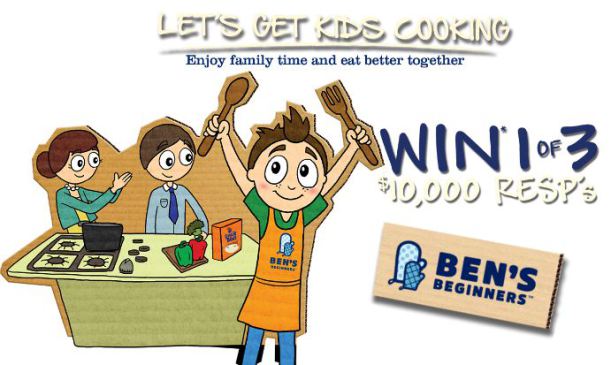 Plus, you could be a lucky winner! Enter the Ben's Beginners cooking challenge and you could win one of three $10,000 RESP's. Sweet!
Every week, Uncle Ben's will challenge you to prepare a meal with your kids using three ingredients (rice being one of them, of course!). Fill out your info and submit your photo to enter. Easy peasy.
This week is week 10 of the challenge and the three ingredients are rice, tomatoes and garlic. If you're stuck for ideas, check out the recipes on Ben's Beginners. This Beefed-Up Lasagna and Rice looks delish!
Cabbage Roll Rice
Bridget and I sat down to discuss some recipe ideas that included all three ingredients. At first we were thinking something Italian, but then Bridget asked if cabbage rolls had all these ingredients. Just like that, we had our recipe. Ours is kid-friendly though since cabbage rolls are even hard for me to make (I make a MESS rolling the cabbage!). We settled on making Cabbage Roll Rice.
We tested out the recipe at grandma's house to make sure it would taste ok. Bridget was a big help in the kitchen. She stirred the ingredients and measured out the spices.
It was such a hit that we made it again at home the next week. It's a super easy recipe that's made entirely in one-pot. The first step is browning the ground beef in the onions, garlic and a few spices.
Add in the cabbage, rice and diced tomatoes. It cooks covered for about 18 minutes. During that time, we cleaned the kitchen. Cleaning is an important part of cooking and another skill that kids need to learn!
After 18 minutes, the liquid has absorbed, the rice is cooked and cabbage is softened. And it smells SO GOOD!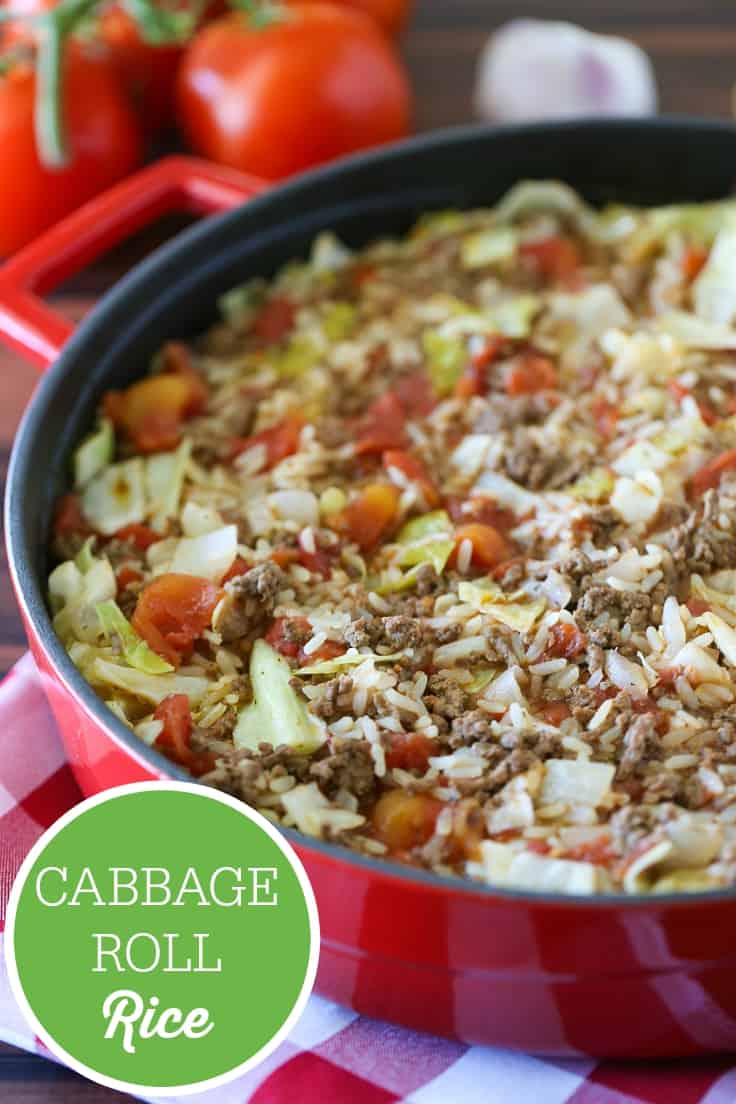 This recipe is a million times easier than making cabbage rolls! It may not look as pretty wrapped up in little cabbage bundles, but it sure tastes yummy.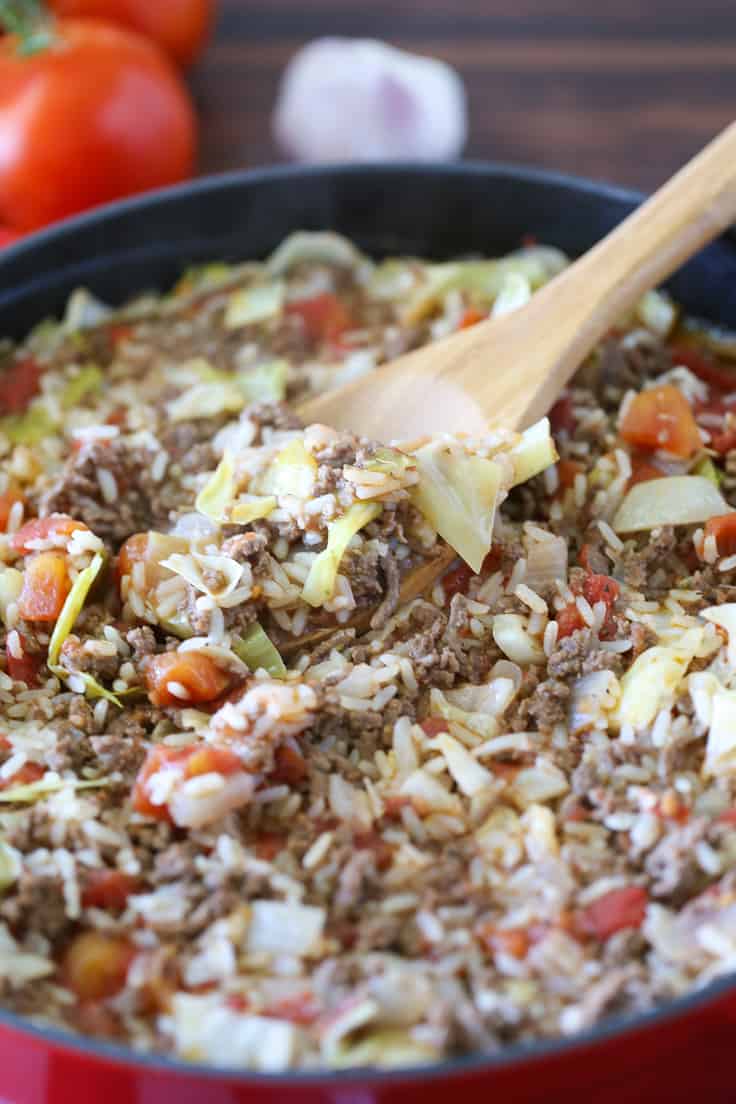 Now this is what I call kid-friendly comfort food. If there are any leftovers, store them in the fridge and serve them the next night for dinner.
I hope I helped inspire you to get your kids cooking in the kitchen! Head on over to Ben's Beginners to enter this week's challenge.
You might also like this Sweet and Sour Cabbage or Cabbage Roll Casserole.
Yield: 6
Cabbage Roll Rice
Want the taste of cabbage rolls without the extra work? This Cabbage Roll Rice recipe is exactly what you need. It's easy to make and tastes delicious!
Ingredients:
2 cups cabbage, roughly chopped
1 lb. ground beef
1 tsp Worcestershire sauce
1 tsp salt
1 tsp paprika
1 onion, chopped
3 cloves garlic, minced
1 tsp oregano
1/2 tsp basil
796 ml can diced tomatoes, undrained
1/2 cup water
1 cup Uncle Ben's Converted Rice
Directions:
Add ground beef, onion, garlic, Worcestershire sauce, salt and paprika to a large saucepan over medium heat. Cook until the ground beef is browned (about 7 to 10 minutes).
Stir in cabbage, oregano, basil, diced tomatoes, water and rice and bring to a boil.
Once boiling, reduce heat to medium low. Cover and simmer for 18 minutes, or until rice is cooked and liquid is absorbed. Stir before serving. Serve hot.
Disclosure: I was compensated for this post. All opinions expressed are 100% my own.