Cake Mix Cobbler
You won't find an easier recipe for fruit cobbler than this recipe! It has only three ingredients. When I made it for the first time, I wasn't sure how it would taste or if it would even come out of the oven edible. To my surprise, it tasted delicious! All you need is a box of cake mix, pop, and some frozen fruit.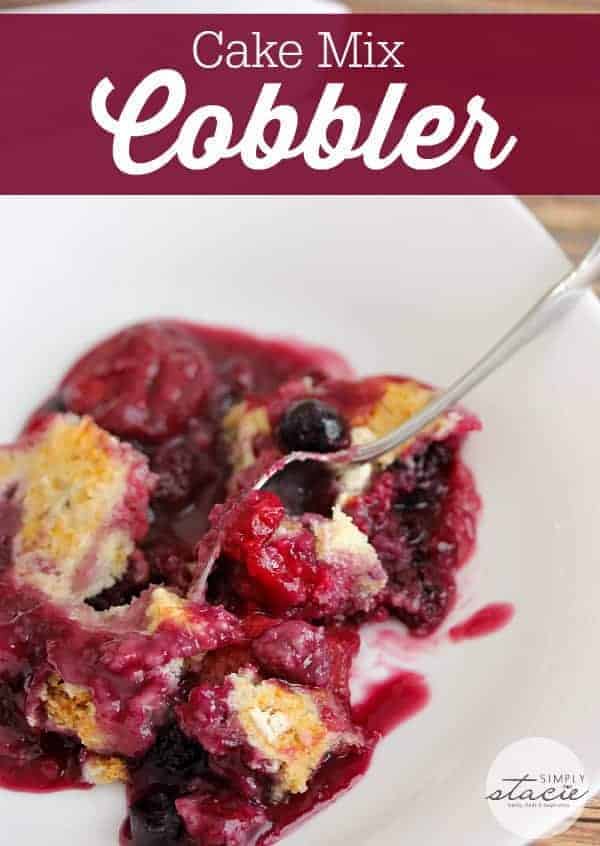 I had some frozen mixed berries already that I've been using for smoothies. I layered them at the bottom of a 9×13 baking pan. You can use any type of fruit you have on hand.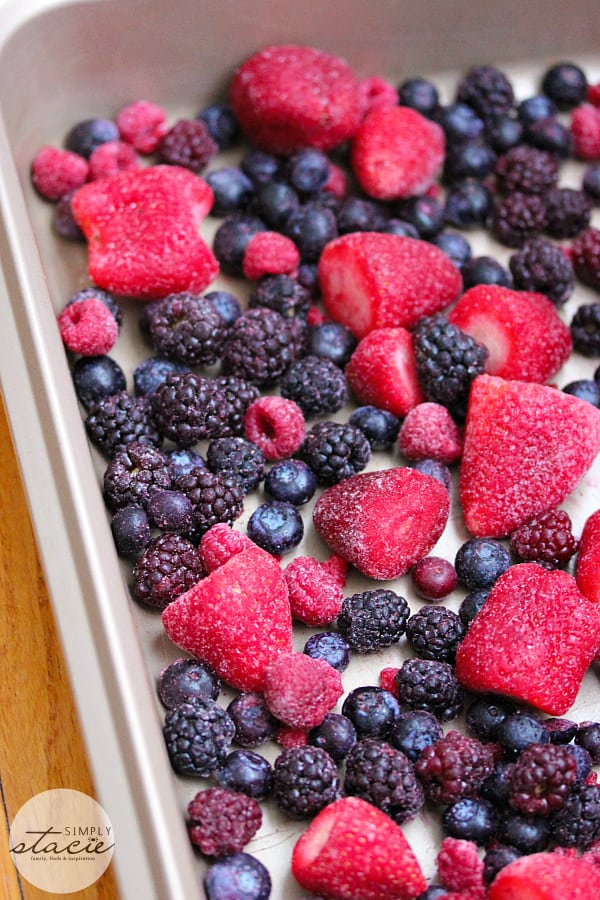 Sprinkle your cake mix on top of the fruit as evenly as you can. Sometimes cake mix can be lumpy in the bag so I gently massage the bag to break out the lumps.
Then pour your pop (I used Sprite) evenly over the cake mix. Do not mix. Make sure you cover everything. This is what gives helps to bake the cake part of the dessert.
45 minutes later it was ready! The cake was browned and the fruit cooked and had turned into a nice sweet sauce for spooning over your cake.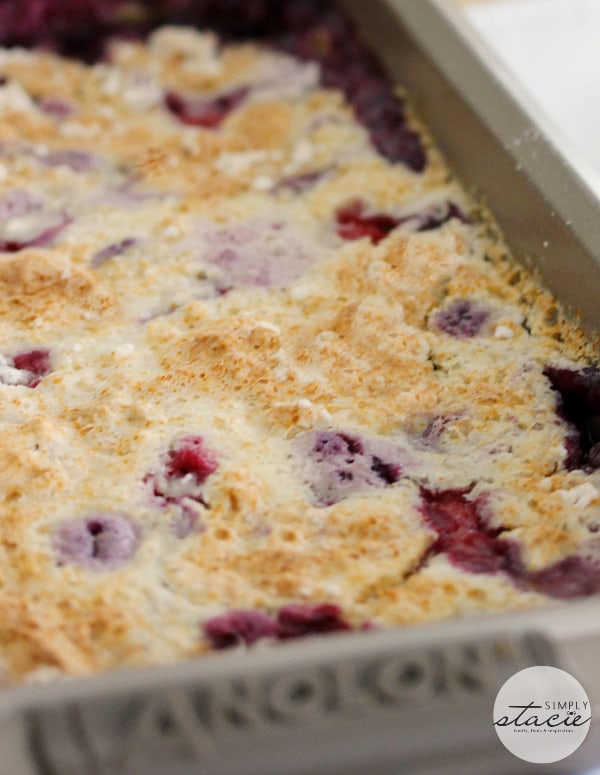 The only thing that I was missing was a scoop of vanilla ice cream! Next time I'll try frozen peaches with ginger ale. Be creative and play around with the ingredients. This is such a simple recipe that even my 10 year old could make!
For more cake mix hack recipes check out Pineapple Upside Down Cupcakes, Caramel Apple Dump Cake, Cake Mix Fudge, French Vanilla Cream Bars and White Chocolate Oatmeal Cookies.
Cake Mix Cobbler
Yield: 6

Prep Time: 10 minutes

Bake Time: 45 minutes

Total Time: 55 minutes

The most simple fruit cobbler recipe ever – Cake Mix Cobbler! It's made with only three ingredients – cake mix, frozen fruit and pop!
Ingredients
4 cups mixed frozen berries (or any other type of frozen fruit you like)
2 1/2 cups Sprite (or other clear pop)
1 box white cake mix
Instructions
Preheat oven to 350 F.
Spread frozen fruit in a 9×13 baking pan.
Sprinkle cake mix evenly over top of fruit. Tip: Gently massage the cake mix while still in the bag to break up any lumps.
Pour Sprite evenly over top of cake mix to cover. Add more Sprite if you notice some dry spots.
Bake for 45 minutes or until the berries are cooked and the top is browned. Let cool about 5 minutes before serving. Top with vanilla ice cream if desired.
Recommended Products
As an Amazon Associate and member of other affiliate programs, I earn from qualifying purchases.
Nutrition Information:
Yield: 6 Serving Size: 1 bowl
Amount Per Serving: Calories: 224 Total Fat: 3.5g Saturated Fat: 0.5g Unsaturated Fat: 2.8g Cholesterol: 48.4mg Sodium: 109mg Carbohydrates: 48.4g Fiber: 1.9g Sugar: 14.3g Protein: 1.8g