Chicken Queso Dip
This is a sponsored post written by me on behalf of RO*TEL & VELVEETA . All opinions are 100% mine.
Is your Facebook feed full of excited football fans too? Everyone is gearing up for the big game and talking about the players, teams and parties to come. I'm not a huge football fan, but I do like a good party! I've already started planning what I'm going to serve our guests. It will be mainly close friends and family members, but I want to make a spread they'll remember. Who knows maybe I'll sit down and watch a bit of the game too!
I plan to serve the usual fare – beer, pop, chicken wings, veggies and dip and a new yummy appetizer recipe that I'm sure will be the hit of the party: Chicken Queso Dip! Whether you are hosting a tailgating party or watching the game in your living room, you'll want to serve your guests something delicious.
This particular queso dip is made with RO*TEL and VELVEETA, the perfect marriage of flavors!
These two ingredients are all you need to make queso! It's seriously that easy. Chop the VELVEETA into cubes.
Add in a can of RO*TEL and melt on the stovetop.
Voila – you have yourself a zesty, velvety dip ready to serve.
Of course, you can easily create your own custom queso dip by adding a few of your favorite ingredients. Some ideas of ingredients you could include are bacon, chorizo, ground beef, veggies or ground chicken. Think of it like your own personal "Queso hack". Be as creative as you want to be and make something memorable.
Take for example my personal "Queso hack" – Chicken Queso Dip. It's made with VELVEETA, RO*TEL and seasoned ground chicken. I added some spices to the chicken to give it an extra kick.
It's meaty, creamy and tastes amazing on top of a tortilla chips. This queso dip is seriously addicting!
I can't wait to share this recipe with my friends and family at the next gathering. I did a "test run" this week and made appetizers for supper. This Chicken Queso Dip recipe was a hit.
For more yummy queso recipes, check out Queso For All. Connect with Ro*Tel Facebook and Velveeta Facebook.
What do you like to add to your queso?
You might also like this Cilantro Lime Avocado Yogurt Dip.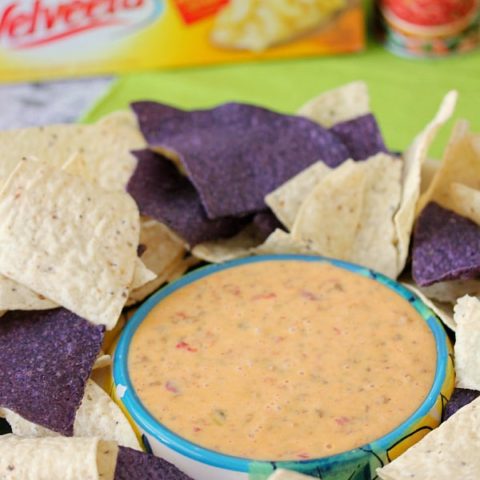 Chicken Queso Dip
Yield: 6
Prep Time: 5 minutes
Cook Time: 20 minutes
Total Time: 25 minutes
It's meaty, creamy and tastes amazing on top of a tortilla chips. This queso dip is seriously addicting!
Ingredients
1 tbsp olive oil
1/2 lb ground chicken
1 tsp chili powder
1 tsp cumin
1/2 tsp onion powder
16 oz VELVEETA, cubed
1 10oz.can of RO*TEL Diced Tomatoes with Green Chilies, undrained
Instructions
Heat olive oil in frying pan on the stove over medium high heat. Add the ground chicken, chili powder, cumin and onion powder.Stir to crumble the ground chicken and combine the spices. Cook until browned and drain fat (if any). Set aside.
Add VELVEETA cubes to a medium saucepan and melt over medium heat, stirring frequently. Add in the ground chicken and the can of RO*TEL Diced Tomatoes with Green Chilies. Stir an additional 3 to 5 minutes, or until heated through.
Serve immediately with your favorite tortilla chips.
Recommended Products
As an Amazon Associate and member of other affiliate programs, I earn from qualifying purchases.
Nutrition Information:
Yield: 6
Serving Size: 1
Amount Per Serving:
Calories: 331
Total Fat: 23g
Saturated Fat: 12g
Trans Fat: 0g
Unsaturated Fat: 5g
Cholesterol: 100mg
Sodium: 1436mg
Carbohydrates: 10g
Fiber: 0g
Sugar: 6g
Protein: 22g