White Chocolate Cherry Banana Bread
I'm not crazy about bananas, but I do love a good loaf of banana bread! Growing up, my mom would often bake banana bread. I love eating mine warm with some butter on top.
This week, the Friday Recipe Club theme is bananas! It's National Banana Bread day on February 23rd so I decided to do my own version of banana bread with a little twist. I made mine with white chocolate (my fave!) and cherries.
If you prefer regular milk chocolate, feel free to replace the white chocolate with some milk or dark chocolate instead.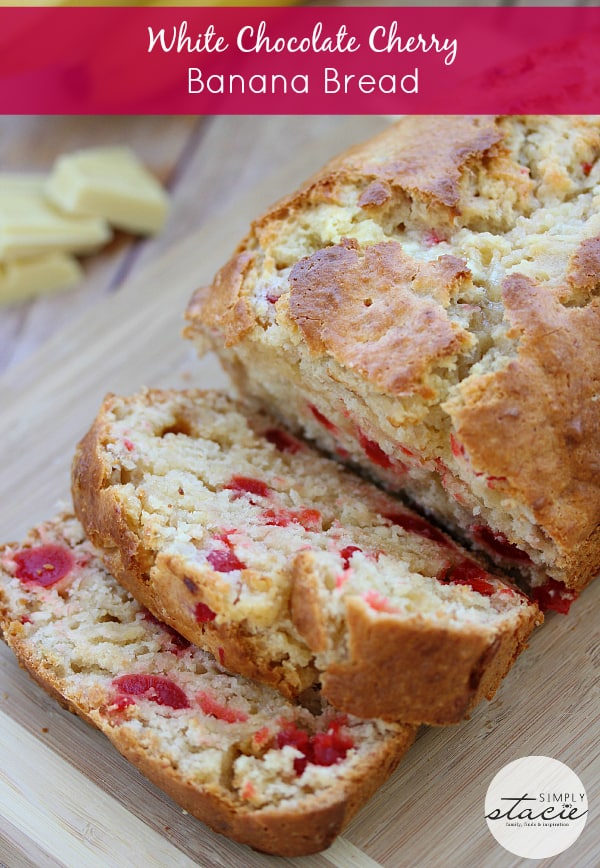 For more banana recipes, check out this Banana Bread Sheet Cake, Easy Chocolate Chip Banana Bread, Sprouted Grain Blueberry Banana Bread, Best Ever Banana Chocolate Chip Muffins, Banana Zucchini Bread and Easy Chocolate Chip Banana Bread.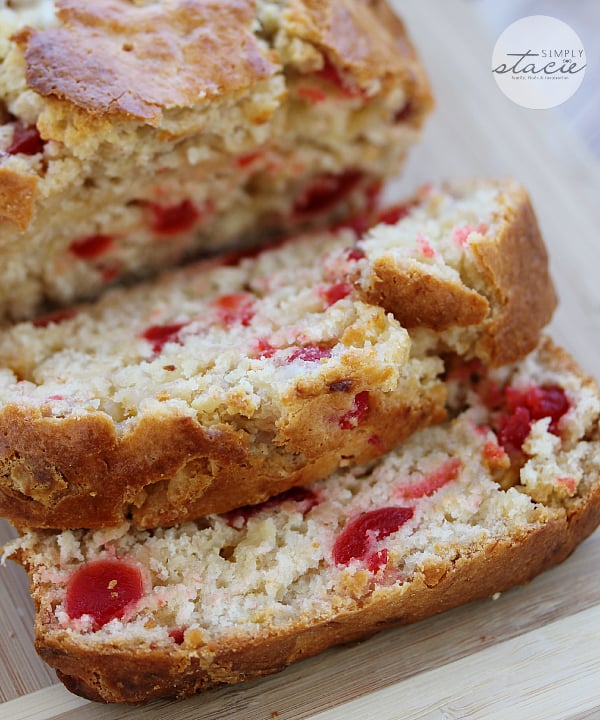 Yield: 8
White Chocolate Cherry Banana Bread
This is a great twist on traditional banana bread – chocked full of maraschino cherries and white chocolate. If you added in some nuts and milk chocolate, it would taste just like a banana split!
Ingredients:
2 eggs, lightly beaten
3 bananas, mashed
1/3 cup vegetable oil
¼ cup milk
2 cups flour
1 cup sugar
2 tsp baking powder
¼ tsp salt
1/3 cup white chocolate, roughly chopped
½ cup maraschino cherries, roughly chopped
Directions:
Pre-heat oven to 350ºF. Grease a 9×5 inch loaf pan and set aside
In a bowl, mix together eggs, bananas, oil and milk. Add in flour, sugar, baking power and salt and stir until moistened.
Add in white chocolate and cherries and mix to combine. Pour mixture into prepared loaf pan.
Bake for 1 hour or until a toothpick comes out clean from the centre of the loaf. Cool in pan for 10 minutes then remove and cool completely on a wire rack.