Slow Cooker Salsa Chicken
Chicken is always a popular menu item in our home. Not only is it a versatile ingredient, but it's also good for you and tastes delicious! This year watch for lots more chicken recipes on my site.
Disclosure: I am participating in the Chicken Farmers of Canada campaign managed by SJ Consulting. I received compensation in exchange for my participation in this campaign. Opinions on this blog are my own.
I'm excited to announce that I was selected to be a Brand Ambassador for the Chicken Farmers of Canada this year! I can't wait to get cookin' all kinds of chicken recipes and share them with you.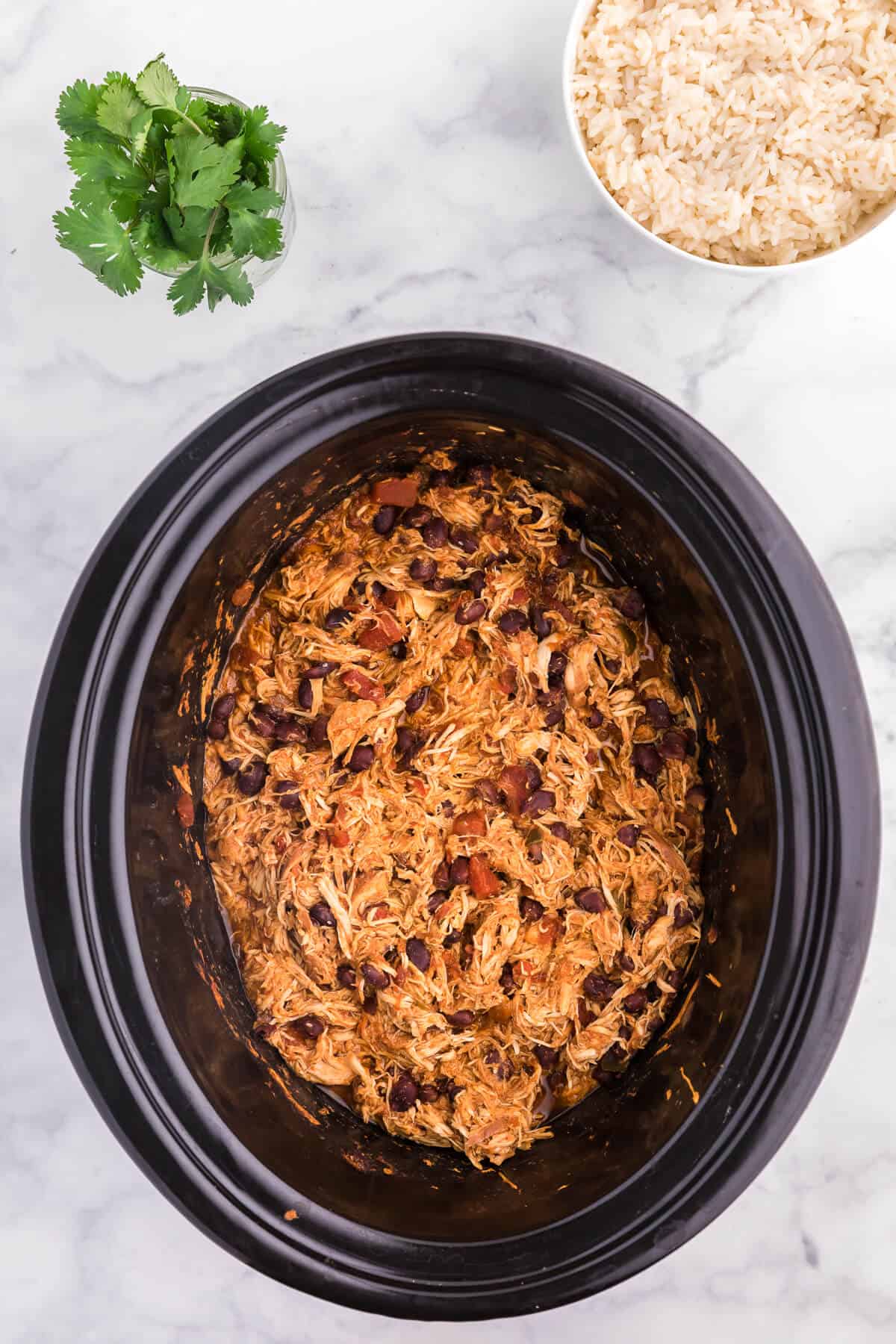 With the new year now upon us, I know many of us (myself included) are focusing on healthy living and eating better. Since 2012, I've been watching what I eat and making an honest effort at including more "real food" in my diet. Chicken is one of the main types of protein that I eat because it is so good for you. My favourite is chicken breasts because they are low in fat and a high source of protein. The Chicken Farmers of Canada website has a Health portal where you can find all sorts of interesting facts about chicken. For instance, I learned that both dark and white meat is a source of vitamins and minerals like niacin, phosphorous, B6, B12, Vitamin D, calcium, iron and zinc. The great debate of White Meat vs. Dark Meat is worth a read.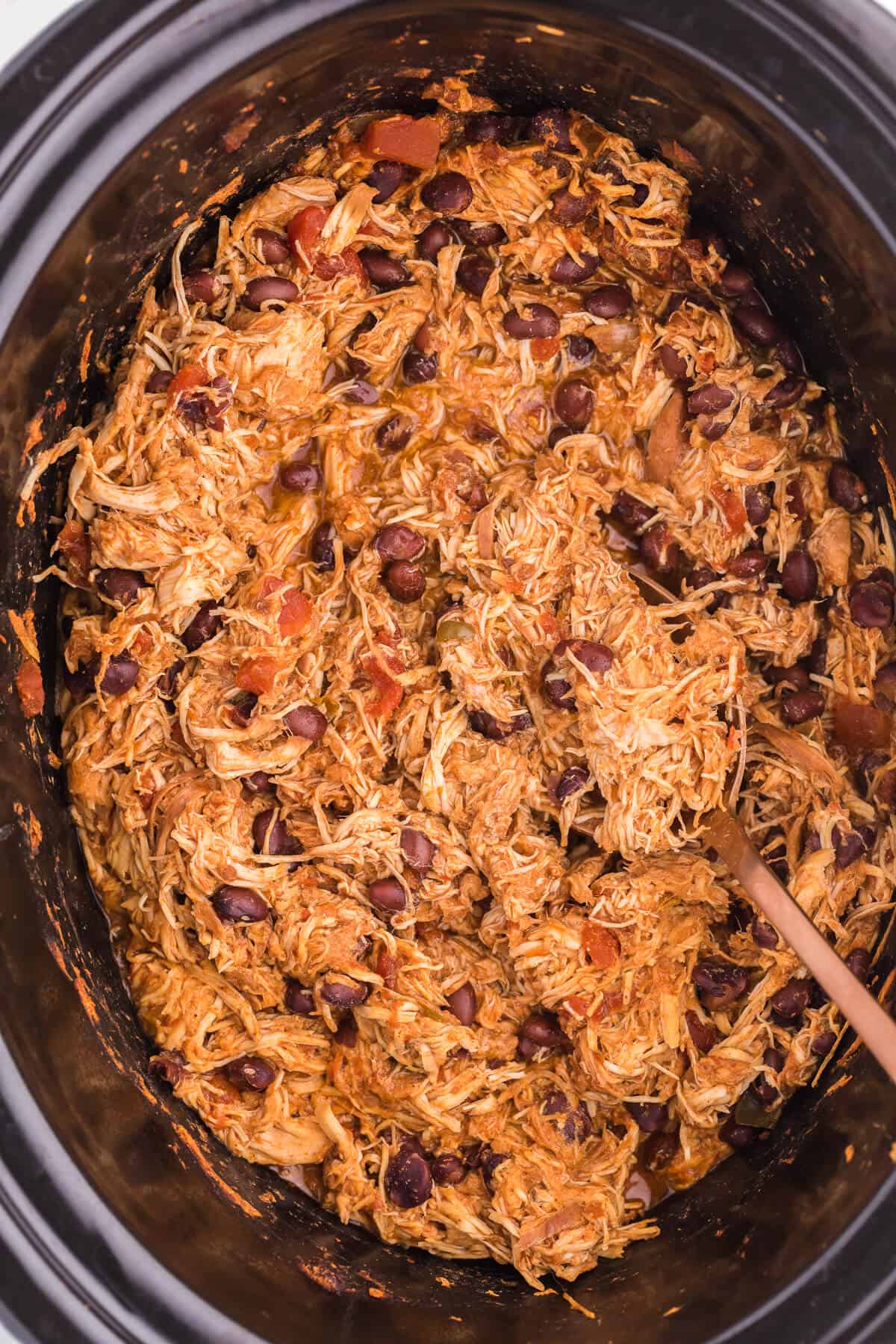 I enjoyed checking out the handy Nutritional Comparison tool that lets you compare your pick of chicken cut to other varieties of meat and see how they stack up healthwise. Then there are a multitude of Patient Resources with fact sheets on managing your weight, gluten-free eating, heart health and lots more. They also have categories with information on Nutrition, Heart Health, Exercise and Lifetime Health.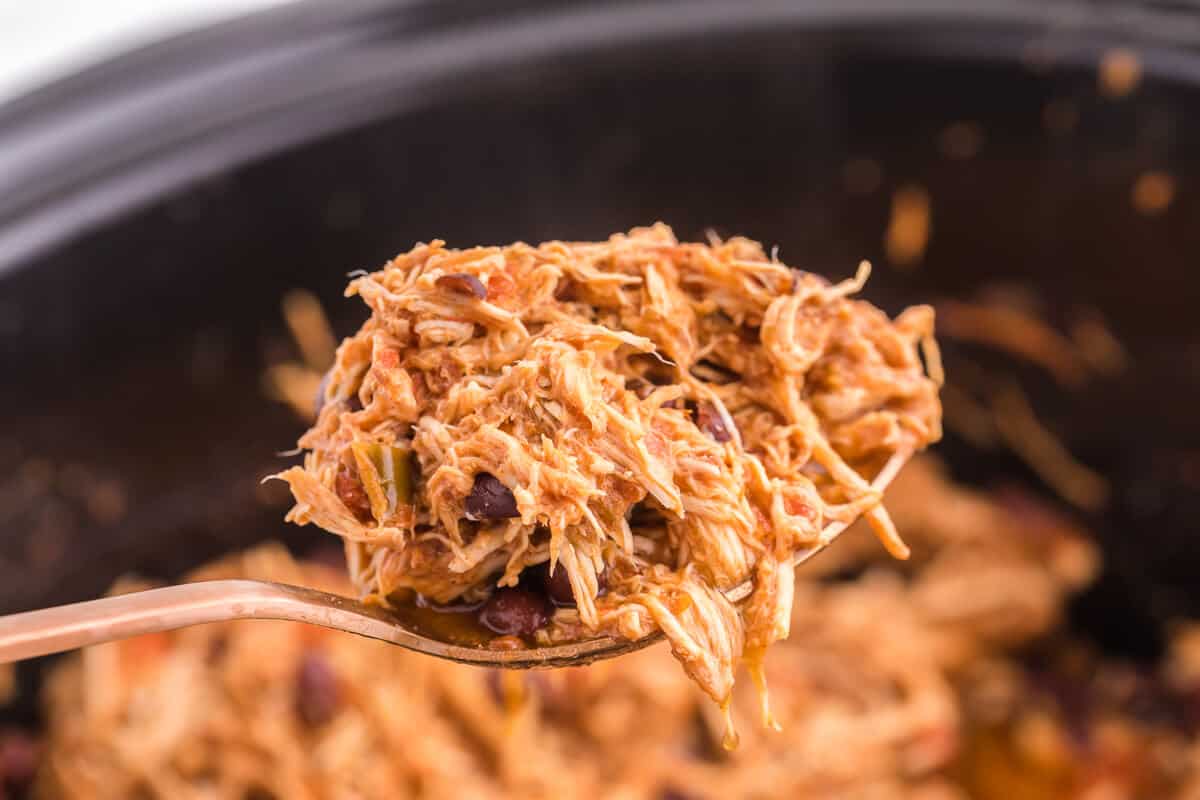 Another neat feature is the ability to do an advanced recipe search to find recipes based on your personal health concerns.
For my recipe this month, I wanted to create a meal that is both tasty and healthy and one that I wouldn't feel guilty eating seconds of! I made this Salsa Chicken in my slow cooker. My slow cooker gets lots of use in the cold months and has a permanent home on my countertop. This recipe is so easy. There's no chopping, dicing, or anything fancy.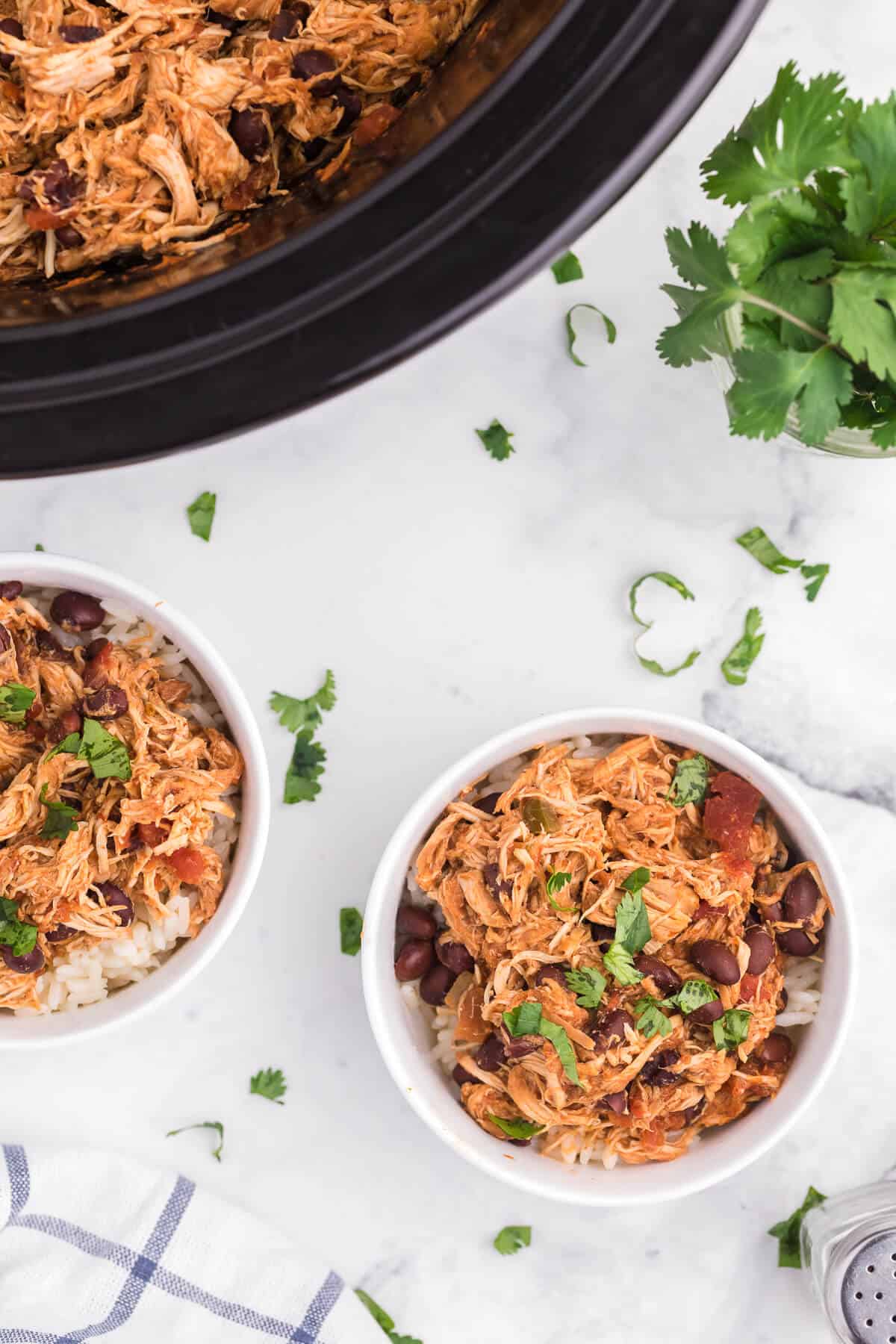 The chicken goes in the slow cooker uncooked and simmers all day in the sauce. By the time you sit down to eat, it is so tender and juicy with loads of spicy flavour. You can serve it alone or on a bed of brown rice. Add some shredded cheese into the slow cooker at the end of cooking time if you like.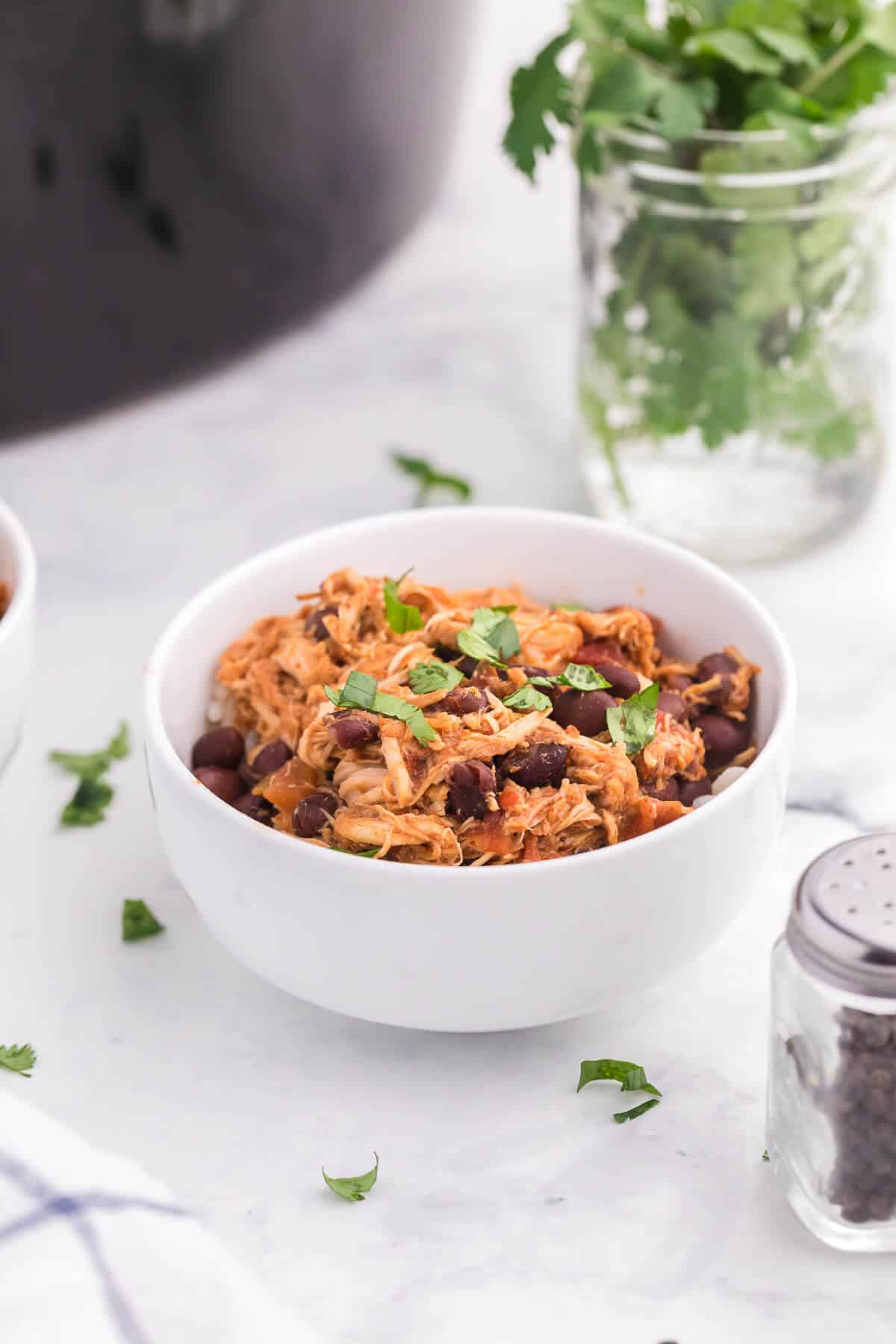 For more chicken recipes and health info, make sure to check out Chicken Farmers of Canada!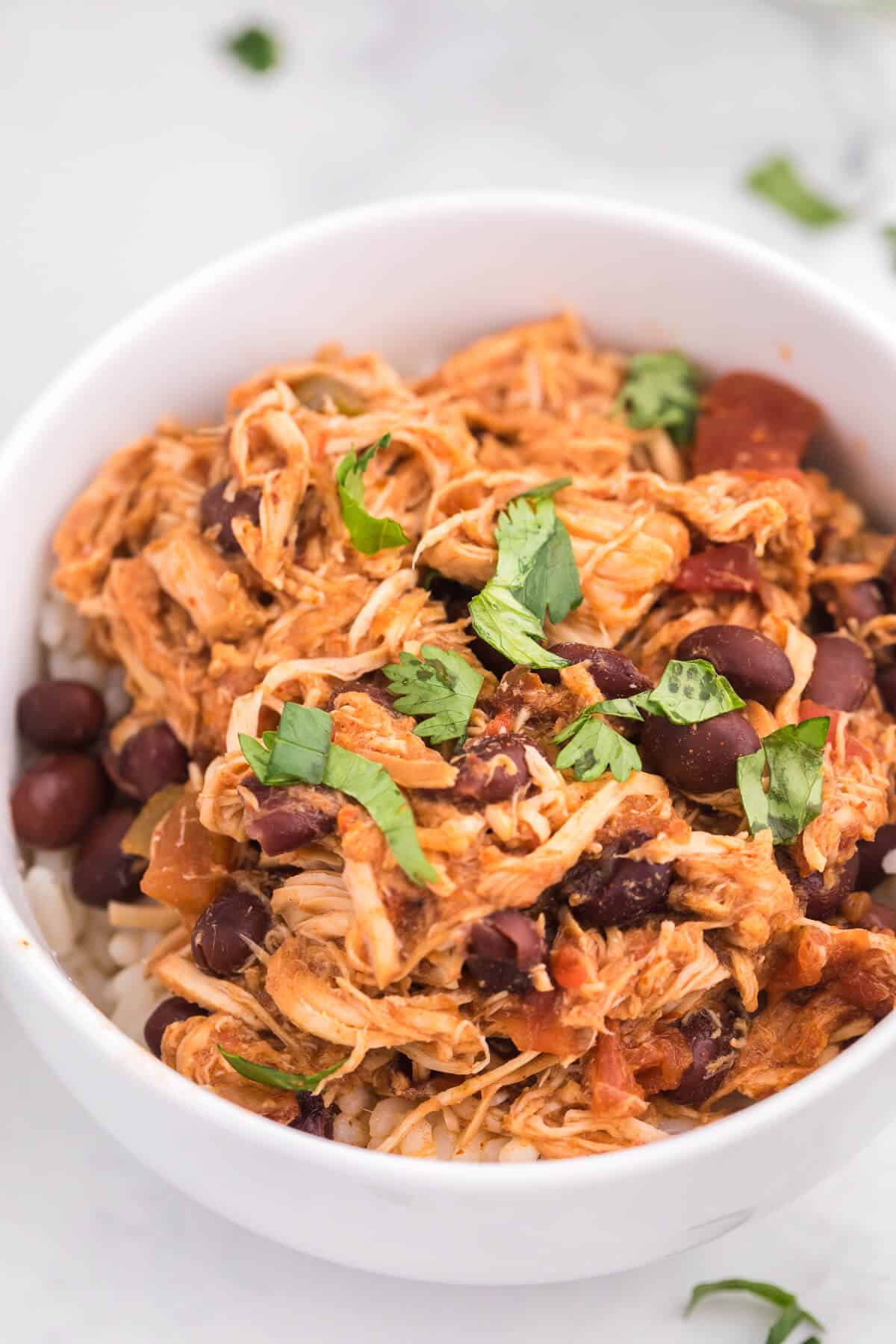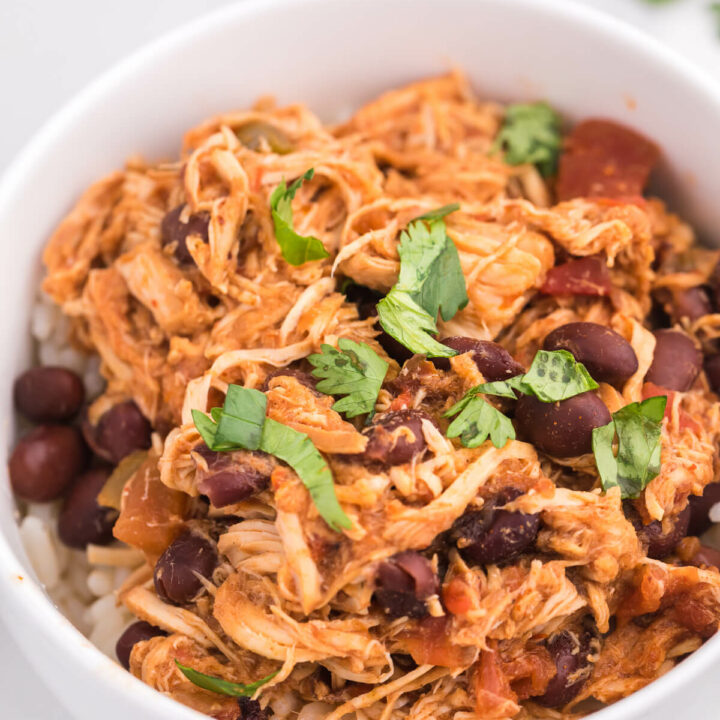 Slow Cooker Salsa Chicken
Yield: 4
Prep Time: 15 minutes
Cook Time: 8 hours
Total Time: 8 hours 15 minutes
The EASIEST Crockpot recipe ever! Tender chicken breasts stew all day in a chunky salsa for an amazing busy day dinner.
Ingredients
4 boneless, skinless chicken breasts, uncooked
2 cups canned black beans, drained and rinsed
1 3/4 cup salsa
1 cup Rotel Chopped Tomatoes with Green Chilies
2 cloves garlic, minced
1 tablespoon chili powder
1 teaspoon cumin
1 teaspoon red pepper flakes
½ teaspoon paprika
½ teaspoon onion powder
½ teaspoon oregano
1 tablespoon fresh cilantro, chopped, for garnish (optional)
Instructions
Place the four chicken breasts at the bottom of the slow cooker.
In a large bowl, stir together black beans, salsa, Rotel Chopped Tomatoes and Green Chilies, garlic, chili powder, cumin, red pepper flakes, paprika, onion powder and oregano. Pour over chicken in slow cooker.
Cook on low heat for 8 to 10 hours until chicken is fully cooked.
Shred chicken with two forks. Stir to combine with the salsa.
Serve alone or on a bed of rice. Top with freshly chopped cilantro, if desired.
Recommended Products
As an Amazon Associate and member of other affiliate programs, I earn from qualifying purchases.
Nutrition Information:
Yield: 4
Serving Size: 1
Amount Per Serving:
Calories: 360
Total Fat: 6g
Saturated Fat: 2g
Trans Fat: 0g
Unsaturated Fat: 4g
Cholesterol: 102mg
Sodium: 728mg
Carbohydrates: 31g
Fiber: 9g
Sugar: 4g
Protein: 46g