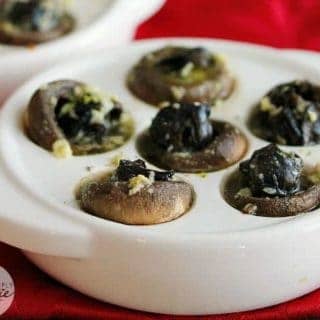 Escargots in Mushroom Caps with Garlic Butter
Yield: 36
Prep Time: 10 minutes
Bake Time: 20 minutes
Total Time: 30 minutes
One of my favourite appetizers!
Ingredients
1 can small escargots, drained and rinsed
36 to 40 mushrooms, washed and stems removed
3/4 cup butter, melted
6 cloves garlic, minced
1/4 tsp onion powder
1/4 tsp Italian seasoning
Instructions
Place mushroom caps in your mushroom cap dish or place one mushroom cap in each individual muffin tin with the stem side up.
Add one escargot inside each mushroom cap.
Mix together butter, garlic, onion powder and Italian seasoning and liberally brush over the mushroom caps.
Bake in a preheated 350F oven for 15 to 20 minutes. Serve hot.
Notes
Dip bread in excess butter – delish!
Nutrition Information:
Yield: 36
Serving Size: 1 escargots
Amount Per Serving:
Calories: 45
Total Fat: 4g
Saturated Fat: 2.4g
Unsaturated Fat: 1.3g
Cholesterol: 12.9mg
Sodium: 5.6mg
Carbohydrates: 1g
Fiber: 0.2g
Sugar: 0.5g
Protein: 1.7g