Ginger Lime Chicken
I know there are people out there who barbecue all year long, but I'm not one of them. I'm really not feeling the urge to barbecue when my backyard is covered in two feet of snow. Now that the snow is melted though, I'm ready to get my grill on. My first grilling recipe of the season was this delicious recipe from Chicken Farmers of Canada for Ginger Lime Chicken. You'll want to print this one out and try it – it's so good!
Ginger Lime Chicken
I like simple recipes with minimal prep work and this one fits the bill perfectly. You can quickly whip up this marinade in a matter of minutes. Brush it on and fire up that barbecue. Dinner is served as soon as the meat thermometer reads 165F. This handy cooking temperature chart is a great resource so you know when your meat is cooked. I always rely on my meat thermometer just to be safe. It's hard to tell sometimes when it's ready to be taken off the grill.
The marriage of ginger and lime is a match made in heaven. Each bite is juicy and bursting with flavour. My daughter's boyfriend was here for dinner when I served this recipe and he said it was a winner. I'd have to agree with him. It's a keeper.
I can always count on great recipes from Chicken Farmers of Canada. I've made many of their recipes found on their site and grocery app and all have been a huge success. If you don't have their Grocery App yet, I recommend you get it. It's free and will help you so much with your shopping list! Plus, they have recipes similar to this one.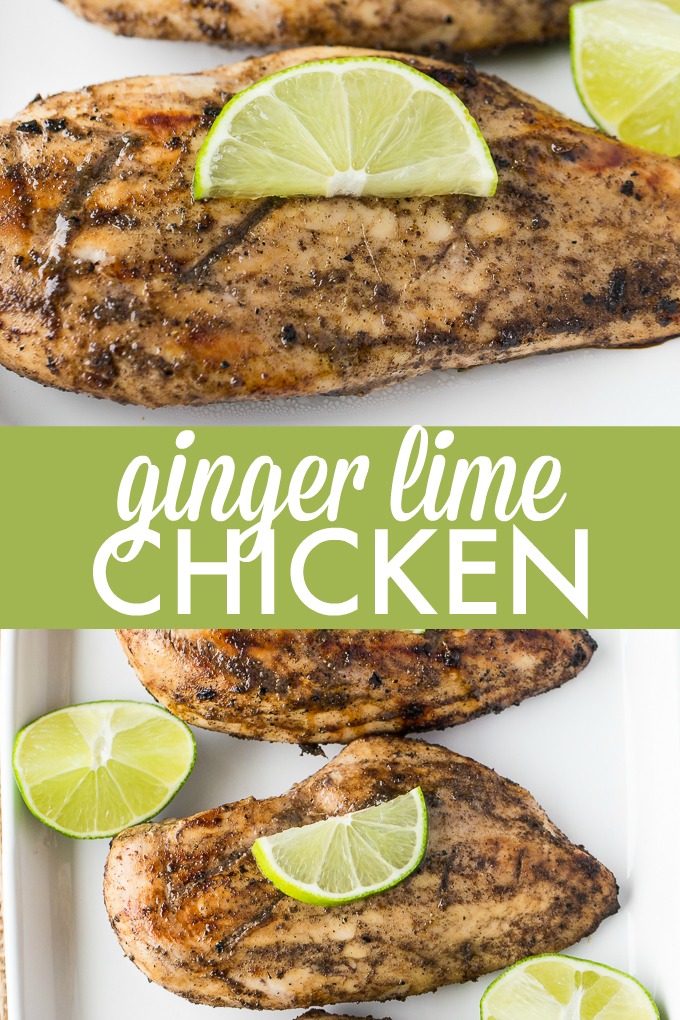 I'm always on the lookout for the Raised by a Canadian Chicken Farmer logo when I'm shopping. This way I know that the chicken I'm feeding my family is Canadian and raised to the highest possible standards of food safety and animal care. All chicken in Canada is grain-fed and free of hormones and steroids. If your store doesn't have the mark on the chicken, ask them to get it. Tell them it matters to you and hopefully more stores in Canada will use it.
I plan on buying lots of chicken this summer so expect to see more recipes, including ones for the grill, over the next few months!
You might also like this Honey Sriracha Chicken.
Connect with the Chicken Farmers of Canada on Facebook, Twitter, Instagram and Pinterest.
Ginger Lime Chicken
Yield: 4

Prep Time: 10 minutes

Cook Time: 12 minutes

Total Time: 22 minutes

This easy grilling recipe will soon be an instant family favourite!
Ingredients
4 boneless, skinless chicken breasts
1 lime
1 tbsp fresh ginger, finely grated
1 tbsp honey
2 tbsp vegetable oil
2 tsp cumin
1/2 tsp salt
Instructions
Preheat barbecue to medium heat.
Make shallow cuts to both sides of the chicken.
In a small bowl, mix together lime juice, honey, ginger, vegetable oil, cumin and salt. Brush marinade over both sides of the chicken.
Place chicken on the barbecue with lid down. Turn and baste often with marinade for the first five minutes. Continue to barbecue until the chicken feels springy when pressed and a meat thermometer reaches 165F, about 5 to 7 more minutes, depending on your barbecue.
Recommended Products
As an Amazon Associate and member of other affiliate programs, I earn from qualifying purchases.
Nutrition Information:
Yield: 4 Serving Size: 1
Amount Per Serving: Calories: 285Total Fat: 11gSaturated Fat: 2gTrans Fat: 0gUnsaturated Fat: 9gCholesterol: 102mgSodium: 382mgCarbohydrates: 7gFiber: 1gSugar: 5gProtein: 38g

Disclosure: I am participating in the Chicken Farmers of Canada campaign managed by SJ Consulting. I received compensation in exchange for my participation in this campaign. The opinions on this blog are my own.