This recipe for easy Ginger Meatballs is a fun and flavorful take on Asian meatballs. With easy to find ingredients that add delicious flavor and texture your whole family will enjoy, these Ginger Meatballs are generally gone with no leftovers!
I like to make these as a meatball appetizer too, easily swapping out forks for toothpicks and arranging them on a serving tray ready for guests to grab.
Baked meatballs are an easy way to make sure the meatballs are cooked thoroughly and give a nice texture to the outside of the meatball, a nice firm finish instead of the softer texture of meatballs cooked completely in a sauce.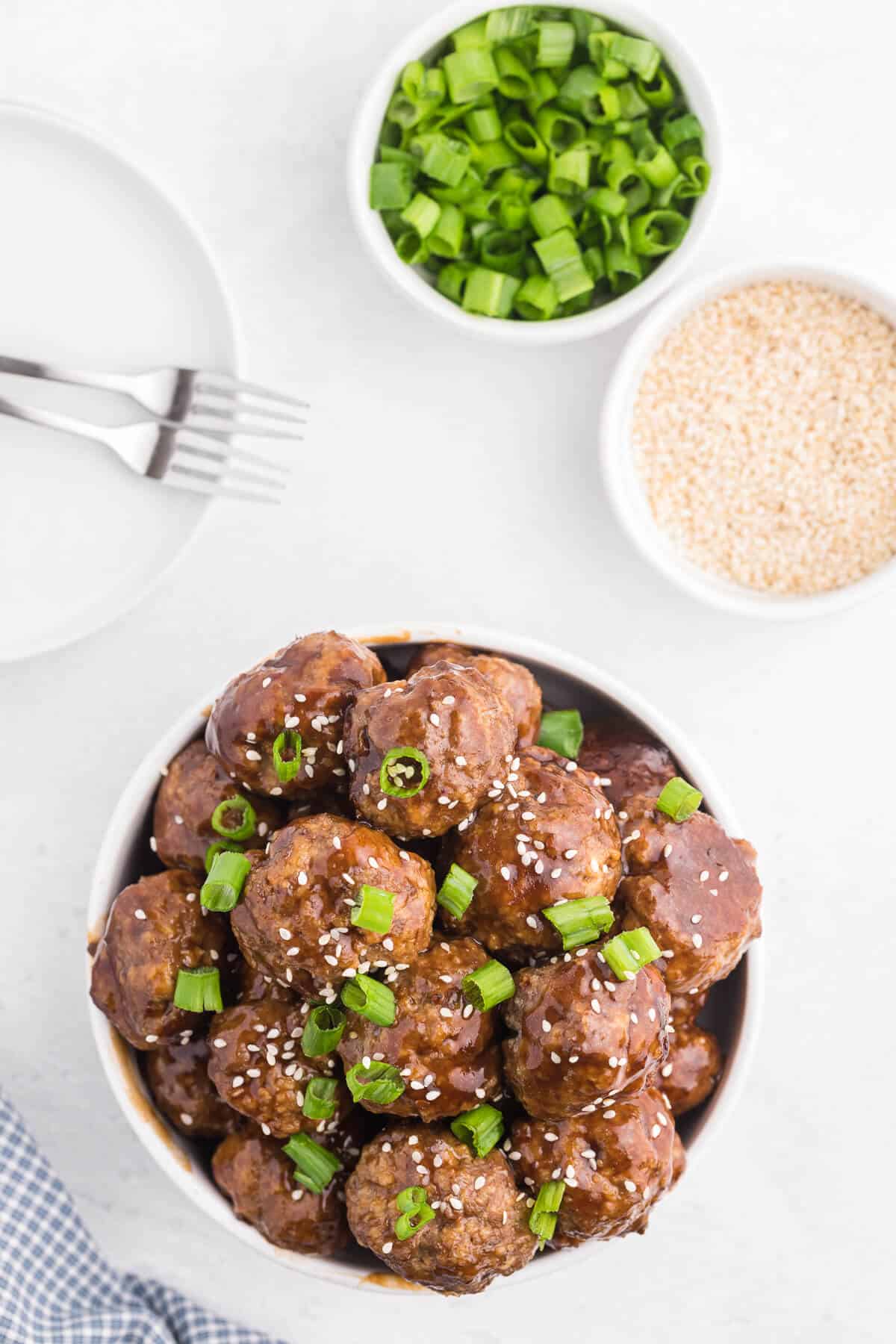 With less than 10 ingredients and only 45 minutes to prepare from start to finish, you and your family will enjoy this easy meatball recipe for many occasions.
Great to make ahead or keep warm in your crockpot for parties and family gatherings, appetizer meatballs are always a crowd pleaser. Be sure to make enough as these meatballs tend to disappear fast!
Ingredients
Lean Ground Beef – Get the leanest option possible so that grease is not an issue with the finished meatballs.
Egg – Helps to hold all the ingredients together for a nicely formed meatball.
Breadcrumbs – When adding breadcrumbs to meatballs you want to make sure the flavor of the breadcrumb complements the sauce that will be used. I would go with plain breadcrumbs for this recipe.
Garlic – Adds a delicious aroma and flavor to your meatballs while complementing the spiciness of the ginger.
Ginger – This recipe calls for fresh ginger, but if you need to use ground dried ginger instead you certainly can. Ginger lends a subtle spiciness and amplifies the flavors found in Asian meatballs.
Water – A little bit of water helps to fluff up the breadcrumbs and blend the additional ingredients together.
Salt – A good addition to bring each flavor to life.
Stir Fry Sauce – Stir fry sauce makes a delicious glaze to finish the Ginger Meatballs and give them a mix of sweet and spice. I like to use General Tsao Stir Fry Sauce.
Sesame Seeds and Green Onion – Sesame is another traditional Asian flavor that complements the spicier seasonings used and green onion lends a fresh bit of crunch and earthiness.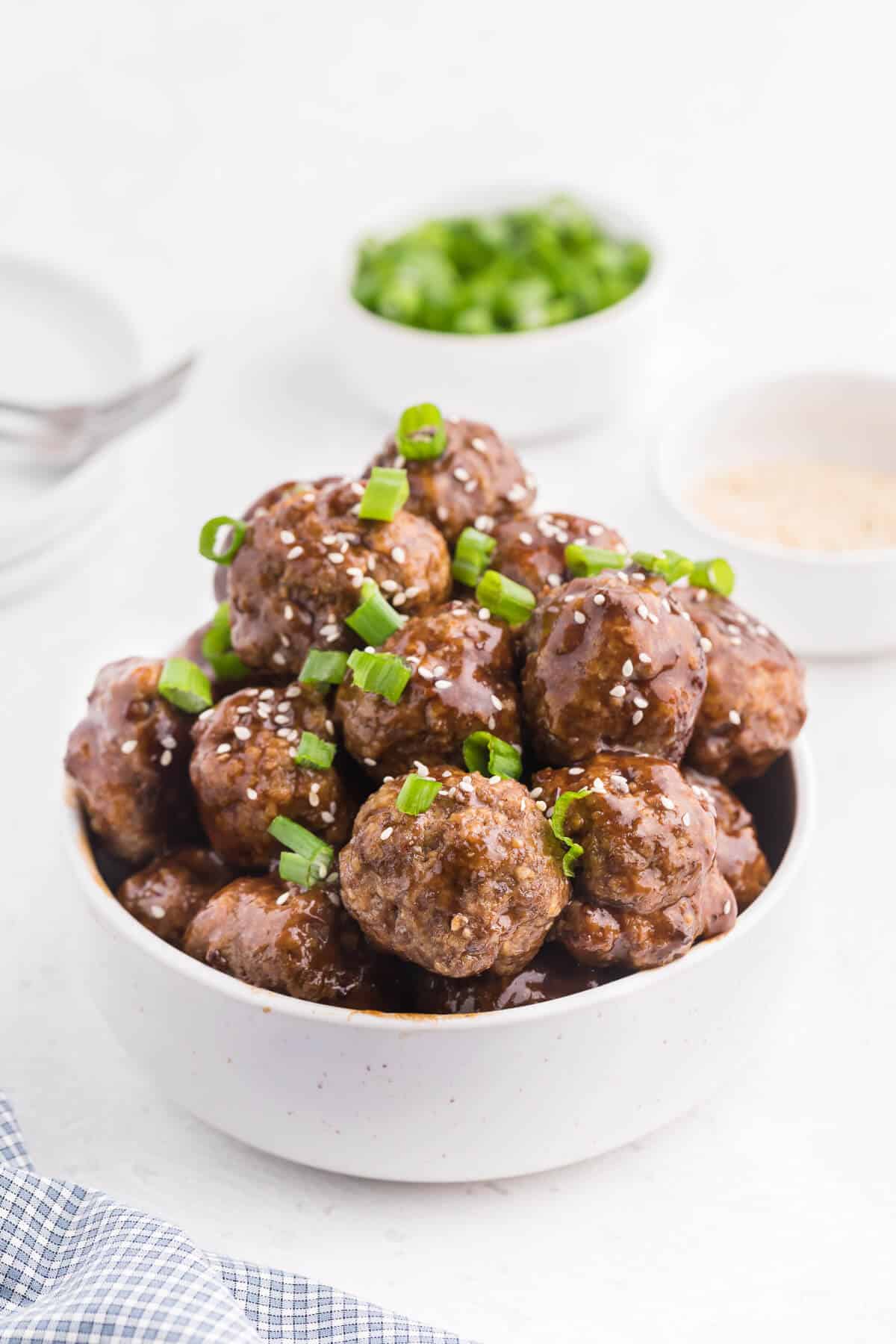 How To Make
Preheat your oven to 350°F and line a baking pan with aluminum foil.
In a large bowl combine the egg, breadcrumbs, garlic, ginger, water, and salt until well mixed.
Make sure you have washed your hands and add the ground beef to the bowl and mix together with breadcrumb mixture until well blended and holding together nicely.
Now you're ready to roll the meatballs, you want to have rounded balls about 1 inch in size. I like to pinch off a little bit at a time and roll it gently between my hands until it is nicely round. Place each ball on the baking pan with a little space between so they don't stick together.
You need to bake the meatballs for 25 minutes in your pre-heated oven, or until the meatballs are no longer pink in the center.
Remove the meatballs from the oven and let them cool on the baking pan for 5-10 minutes, then add them to a medium to large sauce pan. Gently mix in the stir fry sauce and heat over medium low for about 5 minutes. Stir gently with a spoon or spatula to make sure all meatballs are covered with sauce, but make sure not to break them apart.
There are a few options for serving your finished Ginger Meatballs: you can skewer them or use a toothpick in each one to make them easy to grab finger foods on a platter, or serve them on rice or as is for a main dish. Sprinkle with sesame seeds and thinly sliced green onions before serving.
Helpful Kitchen Tools
This post contains affiliate links.
Mixing bowls: I prefer these glass mixing bowls for ease of cleaning and you can see better than all the ingredients are well mixed.
Baking Pan: This is a nice size for this recipe and holds up well in the oven after many uses.
Garlic Press: When a recipe calls for minced garlic sometimes I cringe a little at the work involved, then I remember these handy gadgets exist and make the work much easier.
Skewers: I like to use the longer skewers to serve finger foods, they are longer and stronger than standard toothpicks making for less mess and accidental dropping or touching of the meatballs.
Recipe Tips
Lightly rub cooking oil on your hands if you're having trouble with the meatballs sticking while trying to roll.
Make sure to wash your green onions thoroughly and gently slice them nice and thin for garnish.
If your meatballs stick to the foil, allow them to cool completely so any grease on the bottom will thicken and stick to the meatball instead of separating, use a small spatula to lift the meatballs from the pan.
You can blot the meatballs before adding them to the sauce if you feel there is too much grease for your preference.
Variations
Try different types of stir fry sauce.
Swap out the beef for ground chicken or turkey. Keep in mind the leaner meats may create a slightly drier meatball.
Add some diced red onion to the meatballs or the sauce to add a little more acidity to the recipe.
Panko breadcrumbs are commonly used in Asian meatball recipes. You can try those for a firmer breadcrumb and change the consistency of these Ginger Meatballs a little.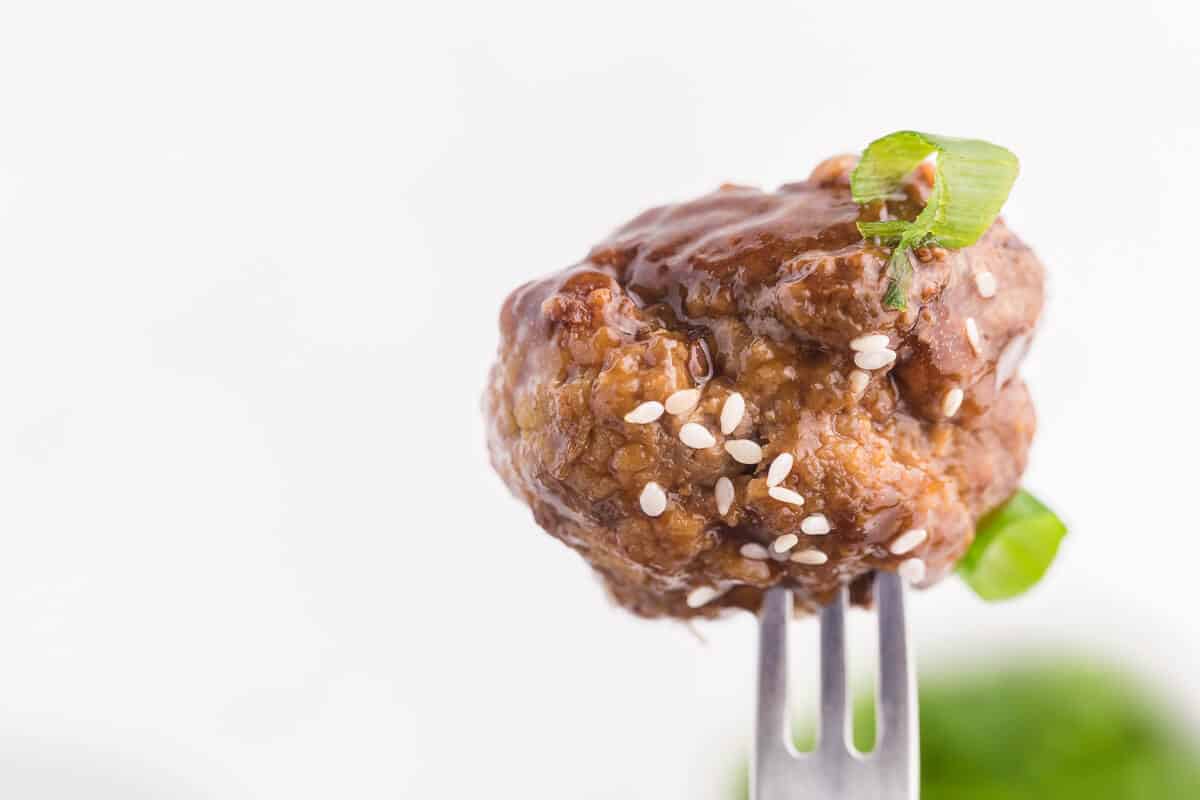 How to Store
Store your cooked Ginger Meatballs in an airtight container in the refrigerator for up to 5 days. The best way to reheat would be on the stove in a saucepan over medium heat until heated through; you can also use the microwave with the meatballs spaced apart on a microwave safe plate.
How to Serve
Serve the meatballs on a bed of fluffy white rice for a meal, completed with a sprinkling of sesame seeds and green onion. Another great option is as an appetizer with individual skewers or toothpicks and garnish the meatballs on the platter. Of course, you can always eat them alone or with a side of sugar snap peas for a delicious dinner.
Can You Freeze Ginger Meatballs
You have a couple of options: you can freeze them before adding the stir fry sauce or after. Place the Ginger Meatballs in a freezer safe airtight container and freeze for up to three months. I would recommend thawing completely in the refrigerator before reheating to serve.
More Meatball Recipes
Check out these additional meatball recipes. If you're hosting a party or tailgate, a meatball buffet would be a fun way to give everyone a nice variety.
Follow me on Instagram @simplystacieblog, on Facebook at Simply Stacie, and on Pinterest @simplystacie and let me know how you liked this recipe and my other recipes.
If you make the recipe, rate it on the recipe card below and tag me on Instagram and use #simplystacie. I like sharing the photos on my Instagram stories!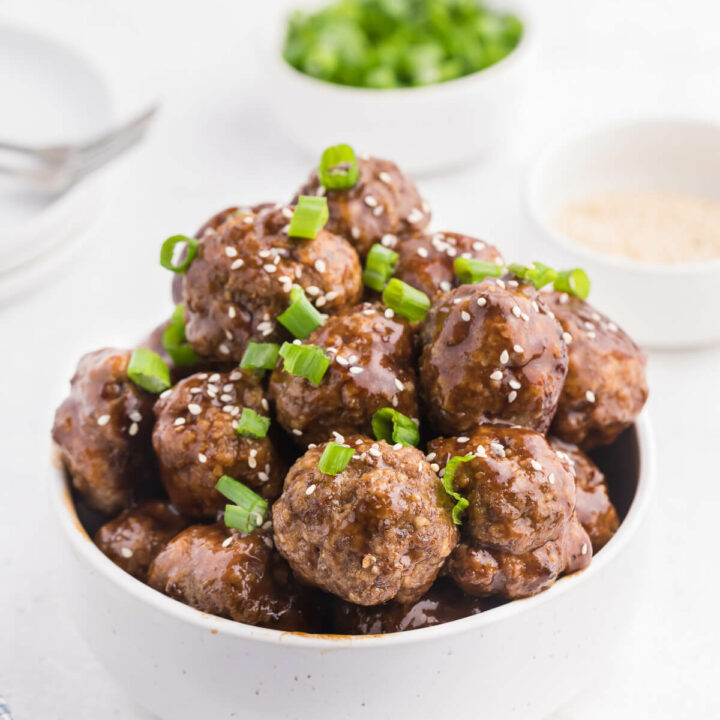 Ginger Meatballs Recipe
Add this Asian meatball recipe to your next party menu! Homemade beef meatballs with zesty ginger are smothered in sweet and tangy stir fry sauce. Yum!
Ingredients
1 lb. lean ground beef
1 egg
½ cup bread crumbs
1 clove garlic, minced
1 tablespoon ginger, minced
2 tablespoon water
1 teaspoon salt
1 (355ml) bottle of your favorite stir-fry sauce
Sesame seeds and sliced green onions, for garnish (optional)
Instructions
Preheat oven to 350 F. Line a baking pan with aluminum foil.
Mix egg, bread crumbs, garlic, ginger, water and salt in a large bowl.
Add ground beef to the bowl and mix together with clean hands.
Roll meat mixture into 1 inch balls with your hands and place on the baking pan.
Bake for 25 minutes or until the meat is cooked and no longer pink in the center.
Let cool 5 to 10 minutes and then add meatballs to a saucepan. Gently mix in Stir-Fry sauce and heat over medium low for about 5 minutes.
Serve by skewering meatballs on wooden skewers or by putting a toothpick in the center of the meatball. You can also serve them over rice or eat them as is in a bowl.
Notes
I like General Tsao Stir-Fry Sauce.
Recommended Products
As an Amazon Associate and member of other affiliate programs, I earn from qualifying purchases.
Nutrition Information:
Yield:

24
Serving Size:

1
Amount Per Serving:
Calories:

57
Total Fat:

3g
Saturated Fat:

1g
Trans Fat:

0g
Unsaturated Fat:

1g
Cholesterol:

25mg
Sodium:

59mg
Carbohydrates:

2g
Fiber:

0g
Sugar:

0g
Protein:

6g