Cheesy Corn Casserole
Casseroles are always a hit for dinner in my home. They are quick to make and usually only involve throwing ingredients into a bowl to mix up and then into a casserole dish to bake. Plus, they often taste better the next day for leftovers. This Cheesy Corn Casserole was eaten in one sitting so we didn't have the luxury of leftovers. I'm cool with that though. I'm happy to see my family enjoy something I made!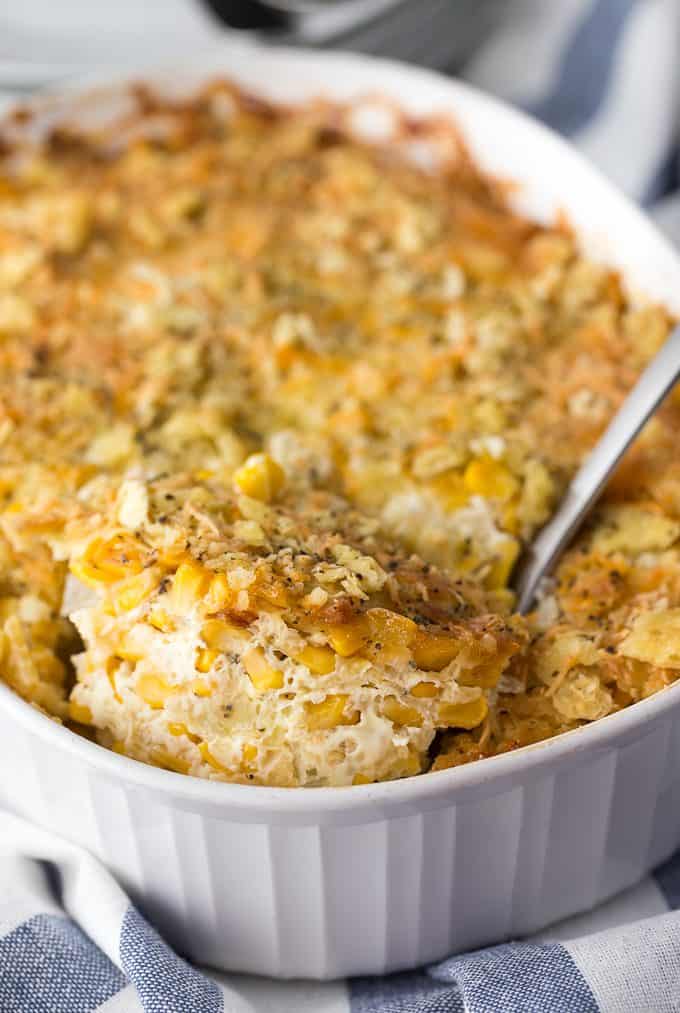 Cheesy Corn Casserole
It's a savoury/sweet combination of corn, butter, eggs, cheese and a little bit of basil. The topping is my fave – crushed soda crackers. They add a little bit of extra crunch and make it a little more interesting!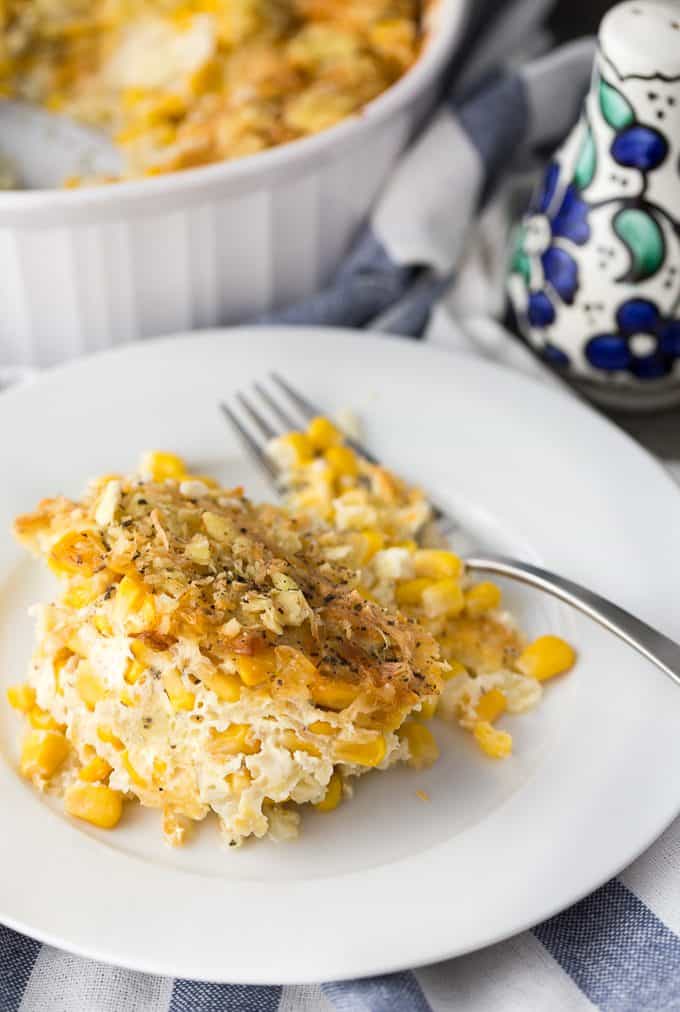 This casserole would also make a yummy Thanksgiving side dish versus a plain ol' can of corn. If you're reading this in the summer, you could use fresh kernels shucked from your corn on the cob. I just used a can of corn to keep it simple.
Serve it with a side salad or some roasted chicken. It's filling enough on its own for a main course, in my opinion.
For comforting casserole recipes, check out my Casserole recipe box. I have a ton for you to try! If you try this recipe, I'd love to hear how you liked it!
Have you used corn in a casserole before?

Yield: 6
Cheesy Corn Casserole
A comforting casserole dish loaded with sweet corn, cheese and a crunchy soda cracker topping.
Ingredients:
3 eggs
1 cup milk
3 tbsp butter, melted
1 tbsp sugar
1 onion, finely chopped
pinch of salt and pepper
4 cups corn
1 cup soda crackers, crushed, divided
3/4 cup shredded cheese, divided
1/2 tsp basil plus extra for garnish
Directions:
Preheat oven to 325F. Whisk eggs, milk, butter, sugar, onion, basil and salt and pepper together in bowl. Stir in corn, 1/2 cup cheese and 1/2 cup soda crackers.
Pour into a 2 quart casserole dish. Sprinkle with 1/2 cup soda crackers and 1/4 cup cheese.
Bake, uncovered, for 55 minutes.