Jalapeno Ranch Pasta Salad
Do you like pasta salad with a creamy dressing or an oil & vinegar based dressing? I like BOTH because I'm crazy of all kinds of pasta salad. I've shared enough pasta salad recipes already and have a Pinterest board dedicated to this fabulous summer side dish.
Jalapeno Ranch Pasta Salad
This Jalapeno Ranch Pasta Salad has a creamy, homemade ranch dressing with a kick of flavour. It's loaded with veggies and black beans to give it a southwest edge.

Use whatever kind of noodles you have on hand. Fusilli, rotini or even bowtie pasta is nice for presentation purposes.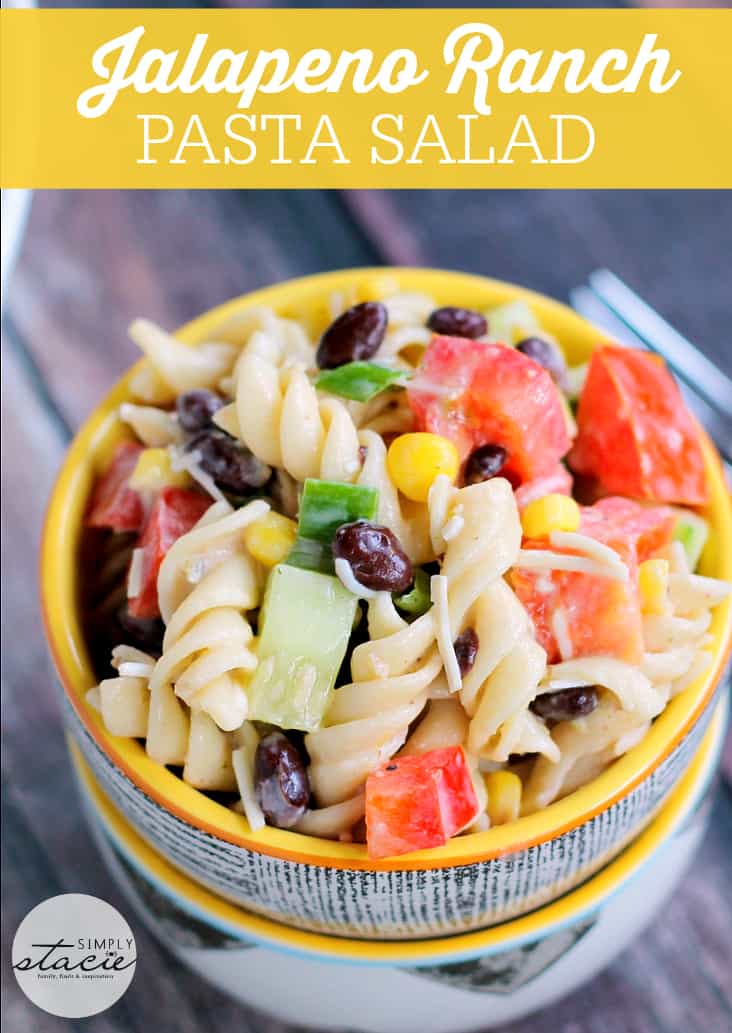 Plus with this recipe, you'll even have some leftover Jalapeno Ranch Dressing you can save for another salad or dipping sauce.

Make it the night before your event and store it in the fridge. It tastes even better after the flavours have a chance to mingle together.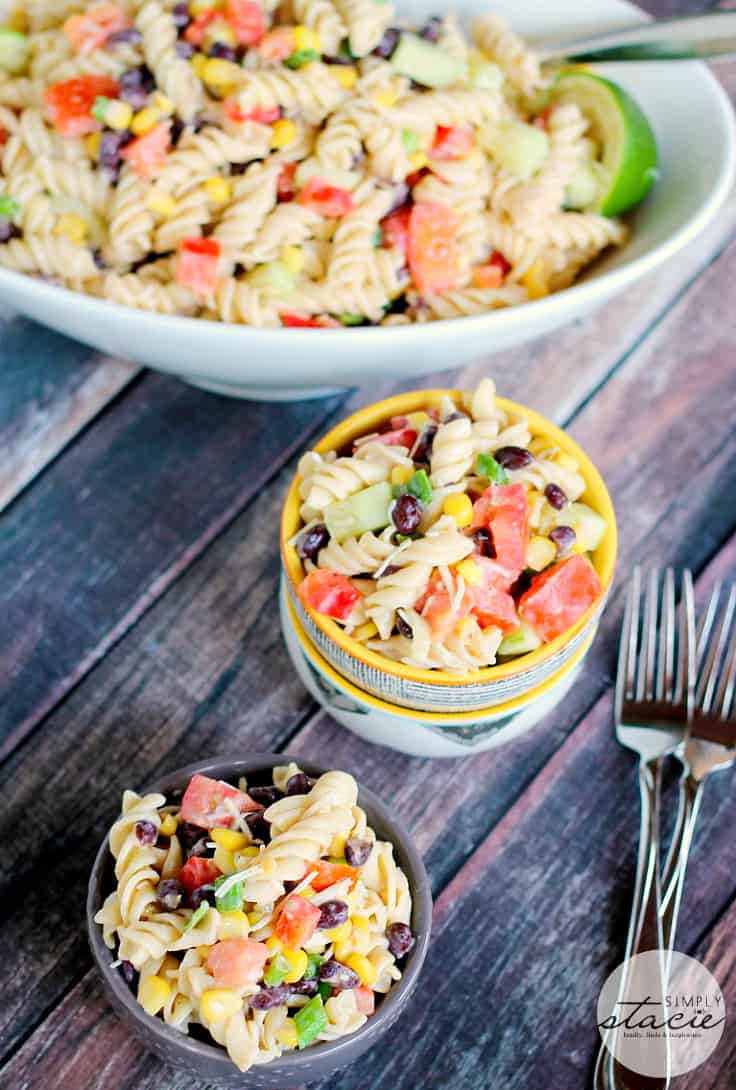 Check out my other pasta salad recipes – Roasted Pepper Pasta Salad, Greek Pasta Salad, Chili Pasta Salad, Chicken Fajita Pasta Salad, Easy Bacon Pea Pasta Salad and Bruschetta Pasta Salad. Also, check out my Pasta Salad board on Pinterest.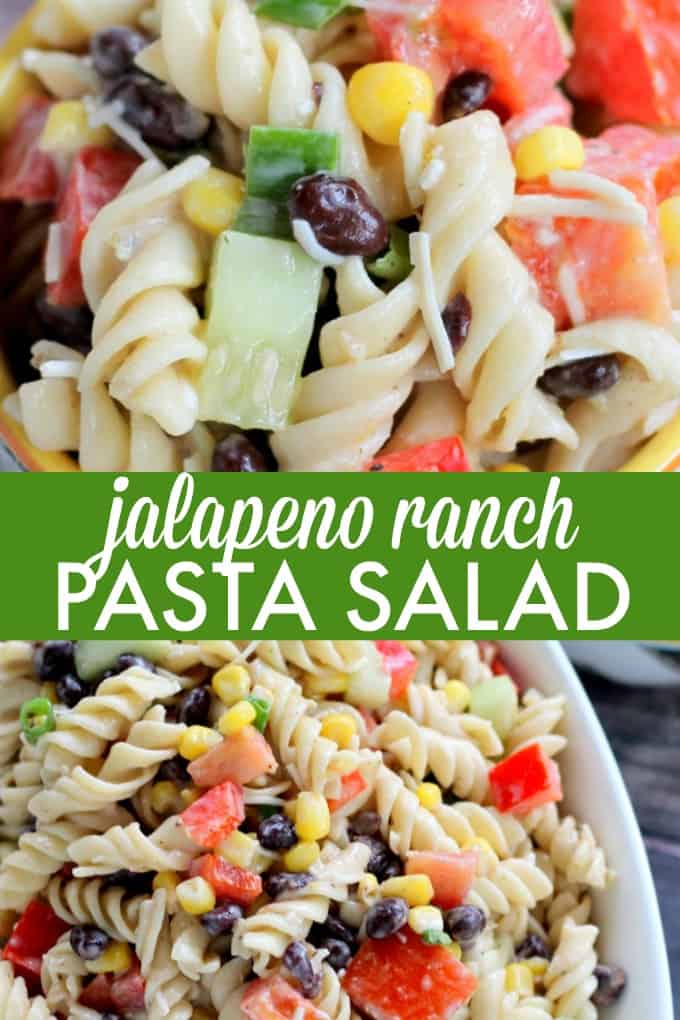 Do you like your pasta salad creamy or oil & vinegar based?

Yield: 8
Jalapeno Ranch Pasta Salad
Smothered in a creamy, homemade ranch dressing with a kick of flavour. It's loaded with veggies and black beans to give it a southwest edge.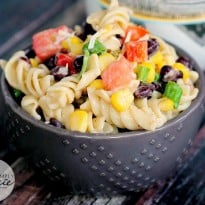 Ingredients:
3 jalapenos, stems removed and seeded
1 packet dry ranch dressing mix
1 cup mayonnaise
1 cup milk
1 pound fusilli/rotini pasta
15 oz. black beans, rinsed and drained
1 cucumber, peeled and chopped
1 red pepper, seeded and diced
3 plum tomatoes, chopped
1 cup corn
6 green onions, chopped
4 oz, freshly grated Parmesan or Asiago cheese
1/8 tsp freshly ground black pepper
1/8 tsp salt
juice from 1 lime
Directions:
In a food processor, add milk, mayonnaise, ranch seasoning, and jalapenos; process for 30 seconds, scrape down sides, and process for a few more second. Place bowl into fridge while you continue making the salad (this needs to set at least 20 minutes in the fridge – can easily be made ahead of time and stored in fridge).
Cook pasta according to package directions, making sure not to overcook. Add black beans last minute of cooking. Drain, rinse with cold water, set aside.
In a large bowl, add cucumbers, red pepper, tomatoes, and corn; stir gently to combine. Add pasta and black beans, fold to combine. Add cheese, green onions, salt and pepper; folding again to combine.
Pour 1 cup* of the jalapeno ranch dressing into the salad, fold carefully to evenly coat salad ingredients. Taste and add additional salt and pepper, if desired.
Refrigerate for at least 1 hour** before serving. Squeeze lime juice over the top before serving.
**This salad is much better if left at least half a day or overnight. The flavours meld together and it becomes even more delicious. If you feel it's saucy enough after sitting overnight in the fridge, add a little more ranch.[br][br]*The recipe above will yield about 2 cups of jalapeno ranch- this should be stored covered tightly in the fridge, and should last for about 3 weeks. It's delicious on pretty much anything!