Cream Cheese Stuffed Strawberry Bread
If dry bread is your thing, then you'll want to skip this recipe. This Cream Cheese Stuffed Strawberry Bread is a super moist, melt-in-your-mouth kind of recipe! I prefer the latter, hands down.
Snack or dessert, it doesn't really matter. It tastes yummy on its own or serve it with some vanilla ice cream. This recipe is a keeper!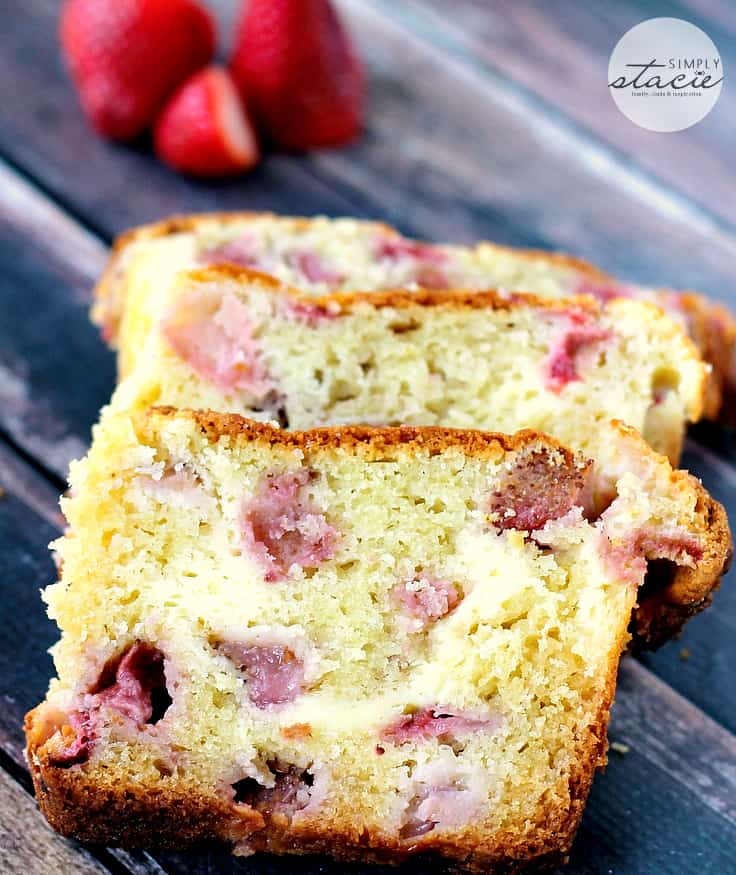 The peak season for strawberries in Ontario is in June and July. We often pick berries in the summer and then make a recipe with our day's work. Bridget adores strawberries so I buy them year round.
For more strawberry recipes, try these ones from my blog: Strawberry & Coconut Breakfast Casserole, Strawberry No-Bake Cheesecake, Berry Cheesecake Trifle, Strawberry Agua Fresca and Berry Jam Smoothie.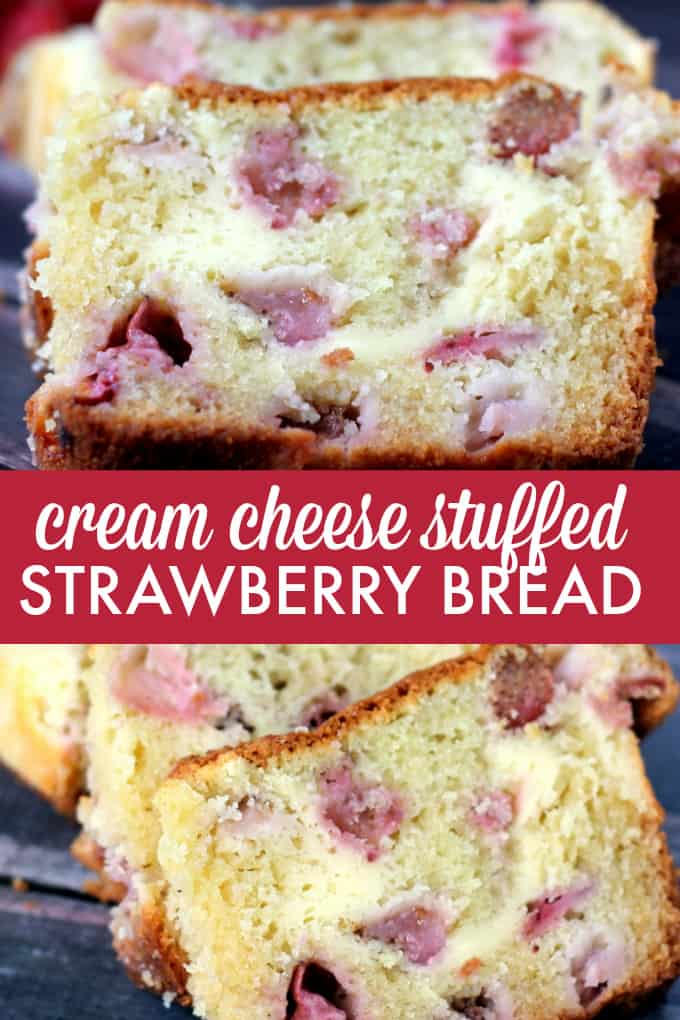 Have you ever made strawberry bread?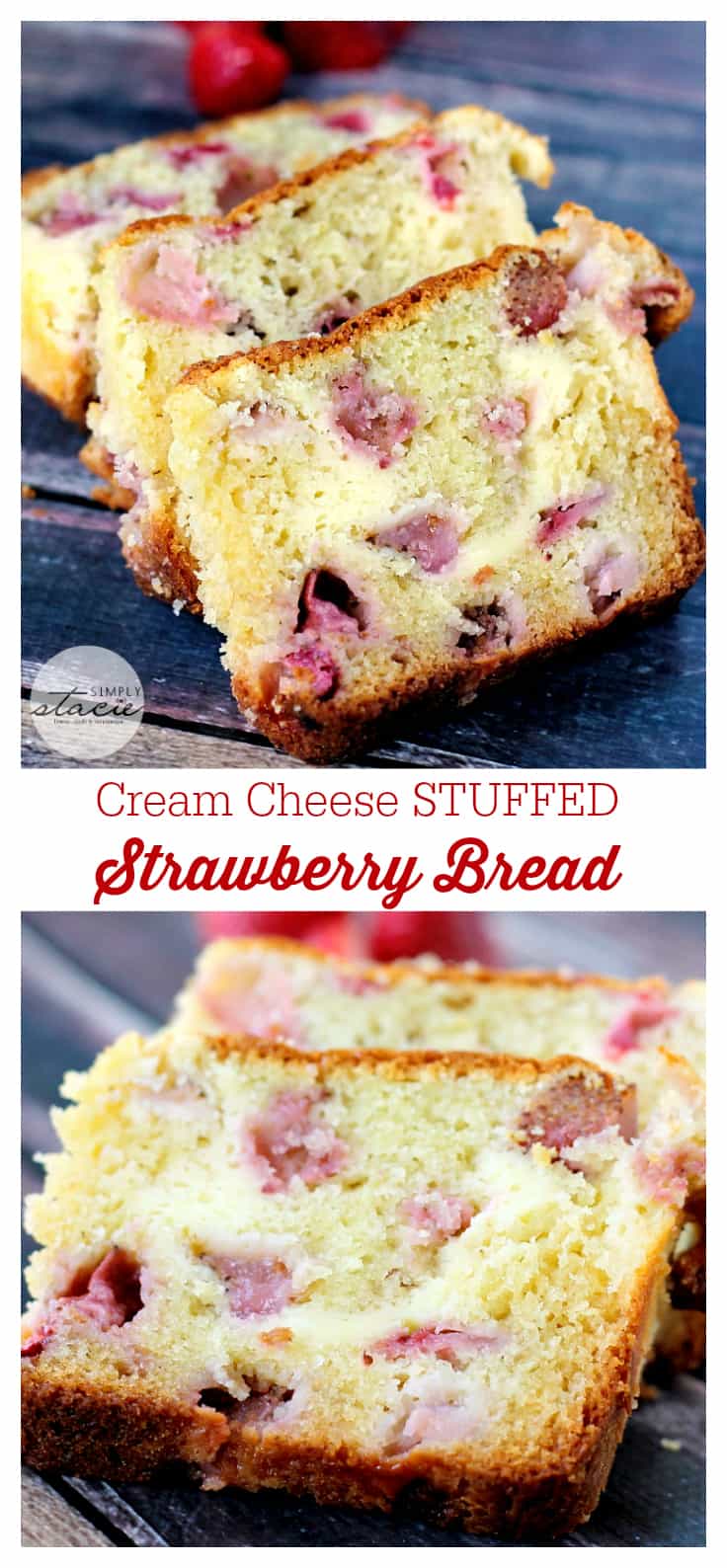 Yield: 1
Cream Cheese Stuffed Strawberry Bread
Ingredients:
For bread
¾ cup sugar + 1 tbsp for topping
½ cup butter, softened
4 oz cream cheese, softened
1 tsp vanilla extract
2 eggs
2 cups flour + ½ tbsp for strawberries
2 tsp baking powder
½ tsp baking soda
½ tsp salt
½ cup heavy cream (or whole milk/whole greek yogurt)
1 pint strawberries, tops removed and chopped
For cream cheese filling
4 oz cream cheese, softened
¼ cup sugar
1 egg
3 tbsp flour
Directions:
Preheat oven to 350 F.
In the bowl of a stand mixer, add ¾ cup sugar, 4 ounces cream cheese, and ½ cup butter; beat on medium until fluffy. Add eggs one at a time, beating well after each one. Add vanilla and heavy cream; beat to combine.
Remove bowl from stand mixer. Add 2 cups flour, baking powder, baking soda, and salt to the bowl with the wet mixtures; Fold in with a spatula until just combined.
Place strawberries in a small bowl and sprinkle ½ tbsp flour over the top; toss to coat. Add strawberries to batter and gently fold in. Do not overmix. Set aside.
In a medium bowl, add 4 oz cream cheese, ¼ cup sugar, 1 egg, and 3 tbsp flour; whisk or use a fork to completely combine (no lumps); set aside.
Using a 9×5 loaf pan, spray with non stick spray, add ¾ of the strawberry batter to the pan; spread evenly. Pour cream cheese filling mixture over the batter; spread evenly. Carefully add the remaining batter to the top, pressing very lightly to spread (you don't want it to mix a lot with the cream cheese filling), until the cream cheese layer is covered. Sprinkle 1 tbsp sugar over the top, place in oven; bake for 50-60 minutes. If you feel the bread is getting too browned partly through cooking, you can tent a piece of foil over the top. Check bread with toothpick at 50 minutes. When the toothpick comes out without batter on it, the bread is done (this is a little difficult because the cream cheese won't get hard – but check for batter not cream cheese).
Remove from oven and allow to cool in pan for 30 minutes on a wire rack. Remove from pan and allow to cool completely on a wire rack before slicing to serve. Enjoy!
Store wrapped tightly in the fridge. If you use mini loaf pans, make sure to only fill 3/4 full, otherwise it will be a BIG mess.