Strawberry Mousse
Oh Strawberry Mousse how I love thee! You are sweet, light and addicting. Plus, you are simple to whip up and don't leave my kitchen looking like a disaster zone. Thank you for being there when I needed to satisfy my sweet cravings. I really do appreciate it…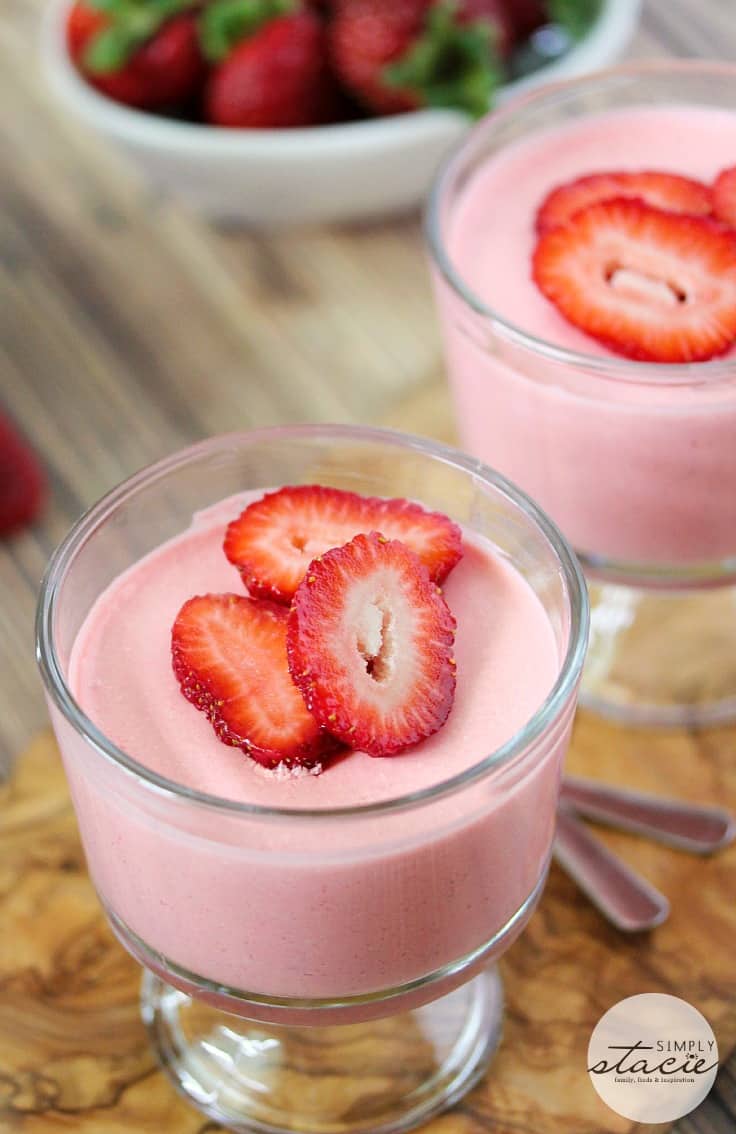 Strawberry Mousse
All kidding aside, this dessert is one of our summertime favourites. I can't wait to head out to our local strawberry farm to pick my own strawberries. It's been years since we've done that as a family. These strawberries were from the grocery store and I think they were from California. They are ginormous!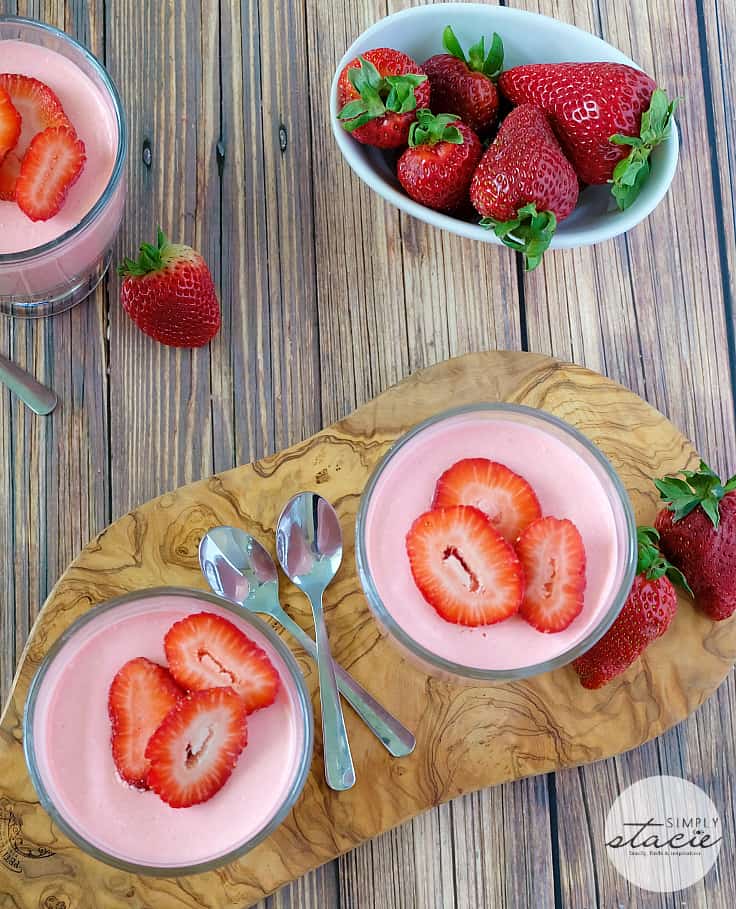 This recipe is similar to the Lemon Cheesecake Mousse I recently shared. It's fun to play around with the ingredients to see what you can come up with. I've got plans for a Cherry Mousse with some fresh cherries I recently picked up. I told John I was making it and he asked if I'd be removing the pits?! Ummm.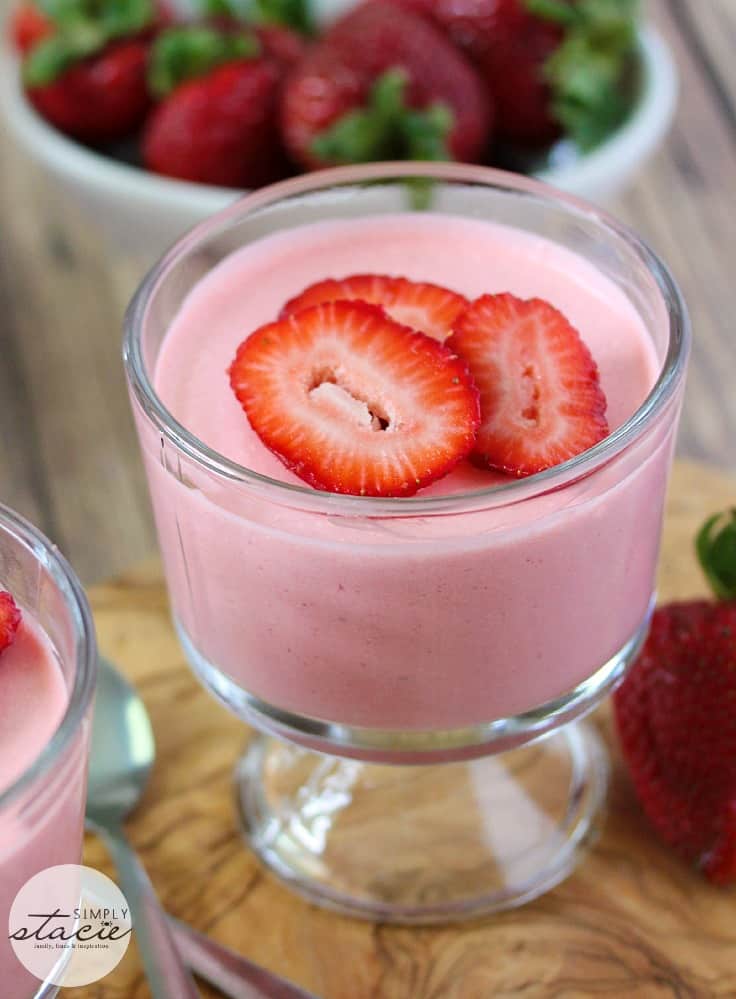 I have more packages of Jello in my pantry right now from a recent sale. I went a little crazy with my coupons. Good thing there are lots of ways to use them up like this mousse recipe.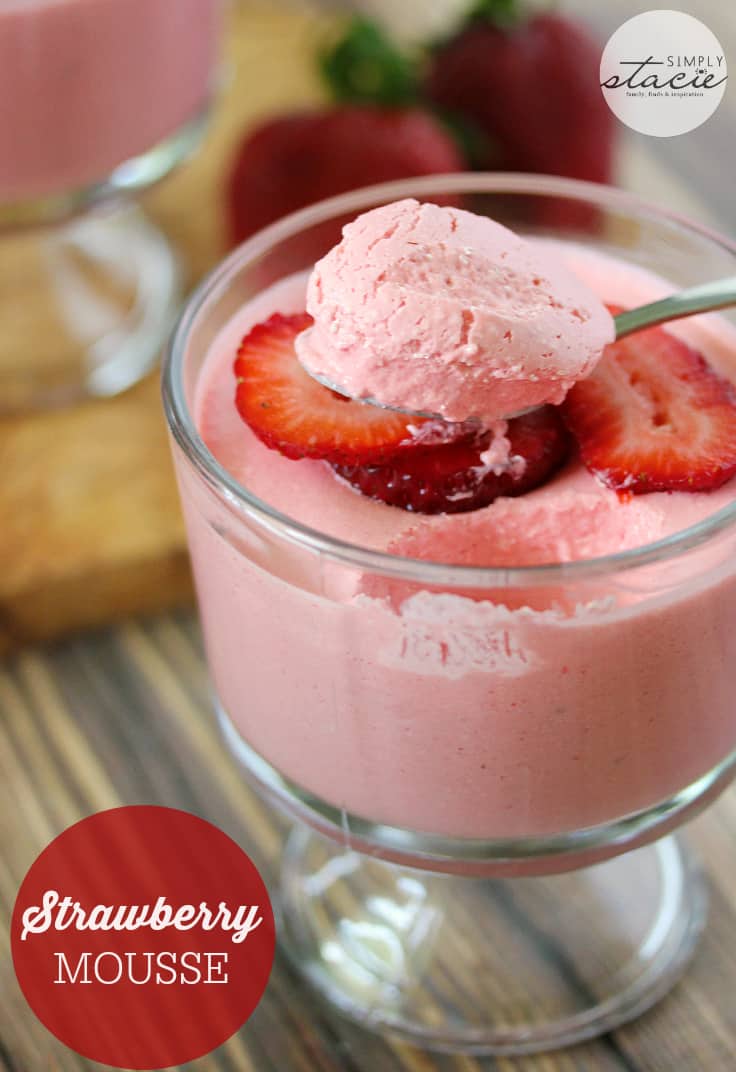 Even little Reggie (my kitten) wanted a taste. He was being a curious kitty trying to jump up on the table while I was trying to take pictures. He's cute, but a handful at times. I told him he had to stick to cat food.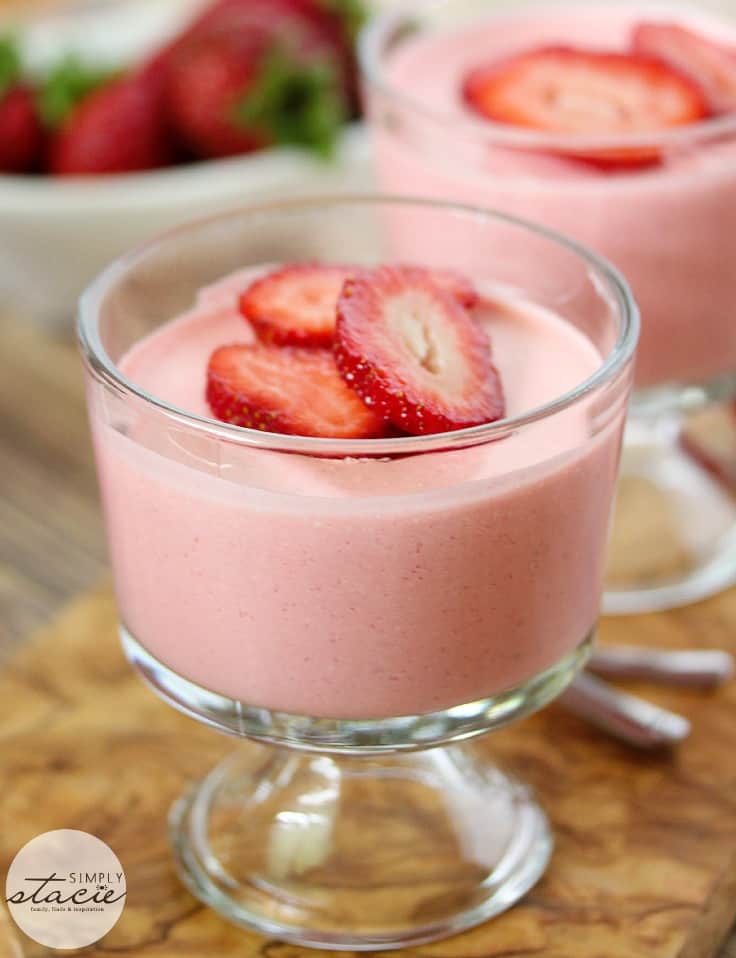 If you want an easy, no-bake, absolutely scrumptious dessert, this is the recipe to try.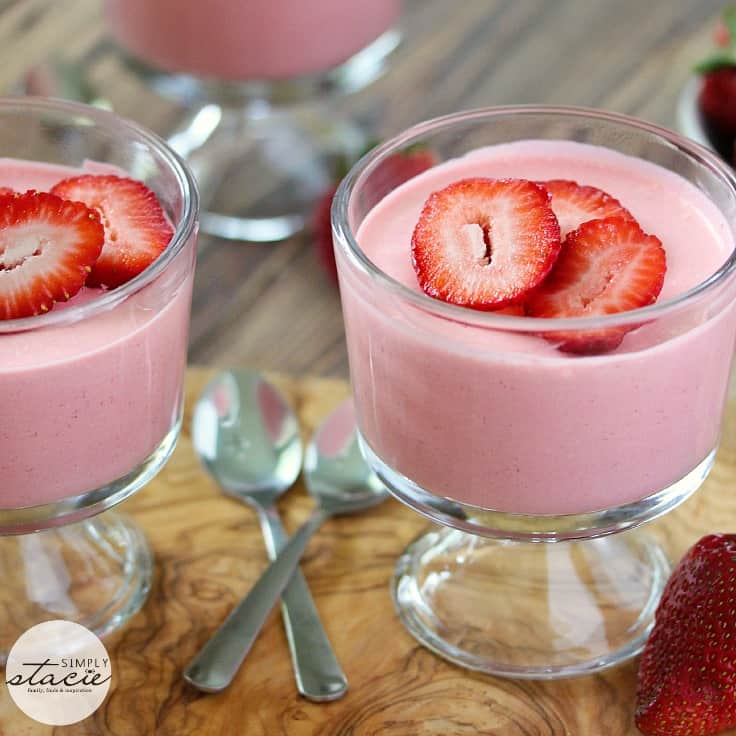 For more strawberry dessert recipes, check out my Cream Cheese Stuffed Strawberry Bread and Strawberry No-Bake Cheesecake.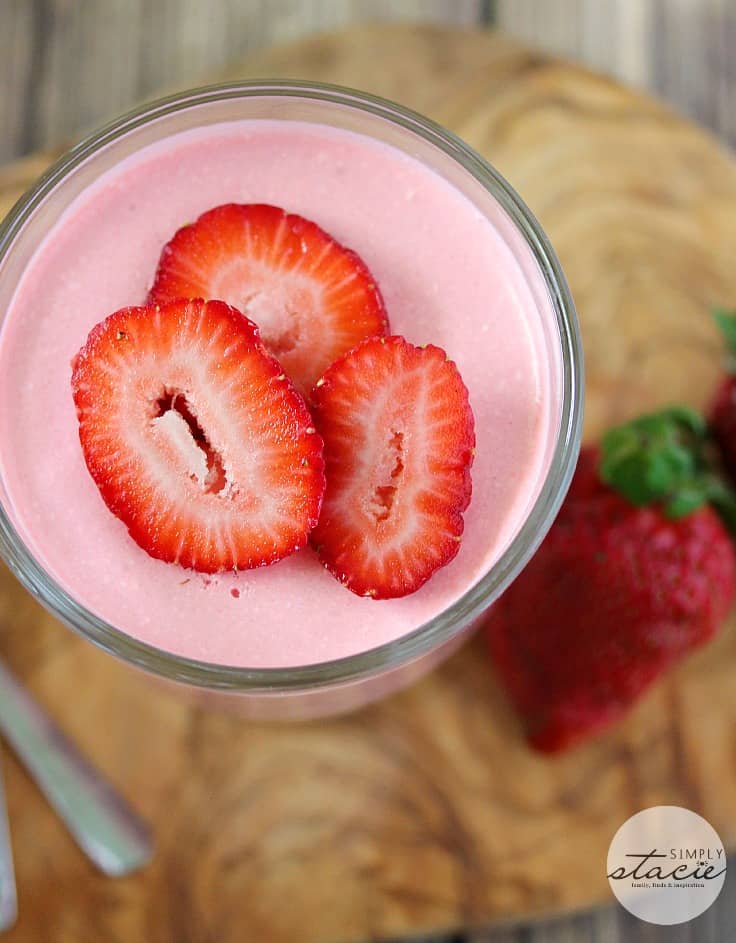 What is your favourite mousse recipe?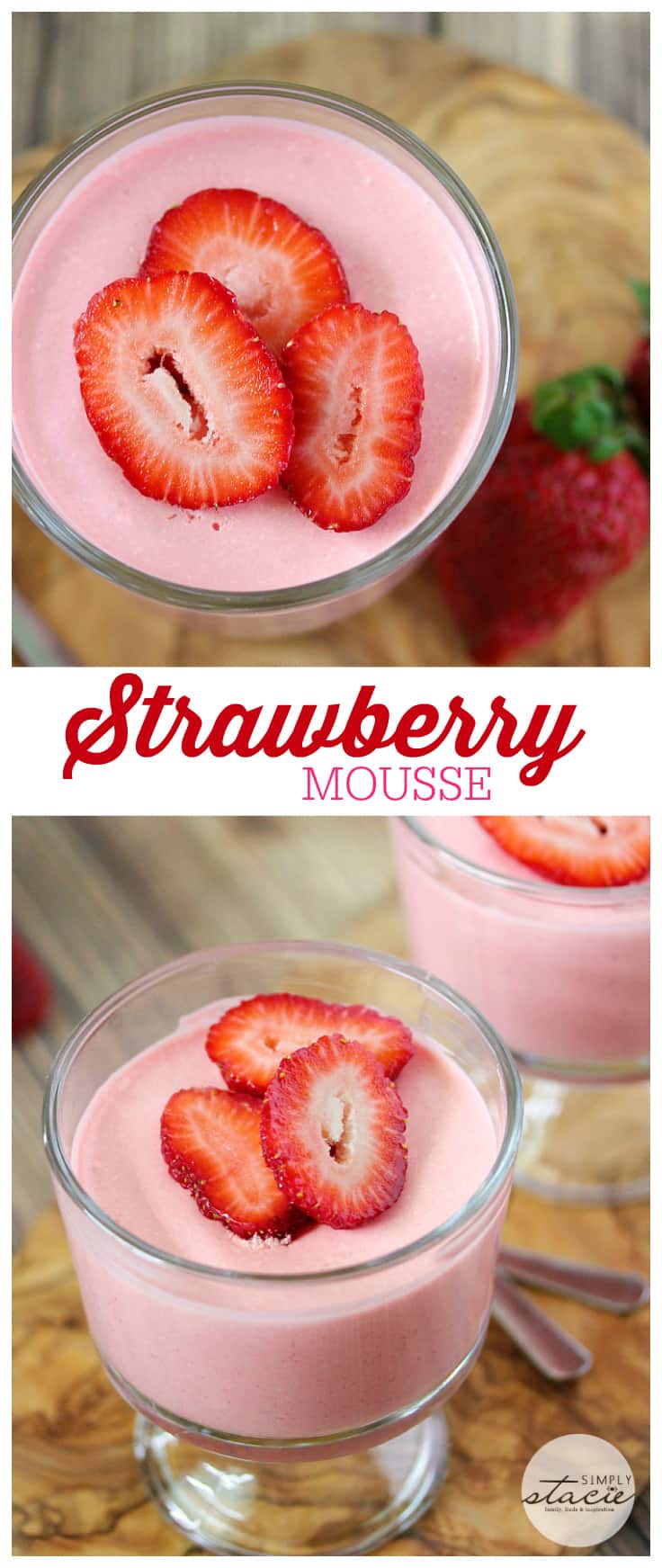 Yield: 4
Strawberry Mousse
Sweet, light and addicting, this Strawberry Mousse recipe is an easy, no-bake recipe your family will love!
Ingredients:
1 package strawberry Jello (4 serving size)
1/2 cup boiling water
1 cup strawberries, sliced
1/2 cup cream cheese, softened
1/2 cup cold water
1/4 tsp vanilla extract
1 cup Cool Whip, thawed
sliced strawberries and Cool Whip for garnish, if desired
Directions:
Add Jello package to a medium bowl. Pour in boiling water and stir until completely dissolved.
Pour Jello mixture into a blender. Add strawberries, cream cheese, vanilla extract and cold water. Blend for 1 minute or until smooth.
Pour blended mixture into a large bowl. Whisk in Cool Whip until completely blended.
Add mixture to four dessert dishes and put in the fridge for two hours to set.
Garnish with sliced strawberries and Cool Whip, if you wish.