Snickers Brownies
Hi everyone, my name is Nicky and I'm a 36-year-old wife and mum of two living in the UK.  You'll usually find me over at my blog Kitchen Sanctuary, but today I'm thrilled to be guest posting here at Simply Stacie with these luscious Snickers Brownies.
Being a certified chocolate addict, I thought it would be fun to share my Snickers Brownie recipe with you.  These things are seriously rich and gooey and I love one with a cup of coffee for an afternoon chocolate fix.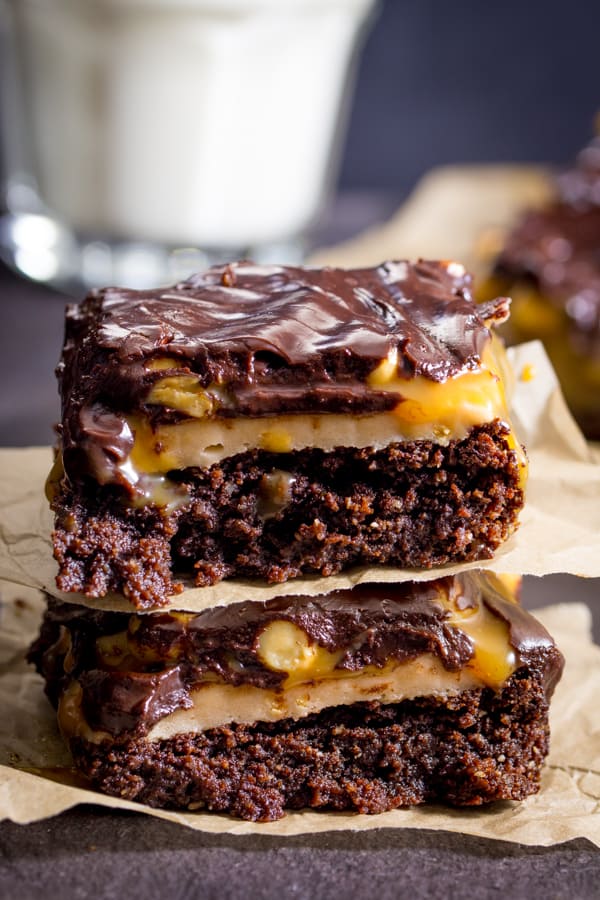 Snickers Brownies
This post contains affiliate links.
A few interesting snippets about these brownies:
They're gluten free
They have all the flavour of a Snickers chocolate bar, but there are no Snickers bars in them
They contain my super simple recipe for chewy peanut butter nougat (only 3 ingredients!)
We're talking squidgy chocolate brownie, topped with peanut butter nougat, then slathered with a layer of salted caramel, a sprinkling of peanuts and all topped off with dark chocolate ganache.
You really don't need much to satisfy that sweet tooth!
The brownie is made with ground almonds (almond meal) rather than flour, which ensures it stays lovely and moist.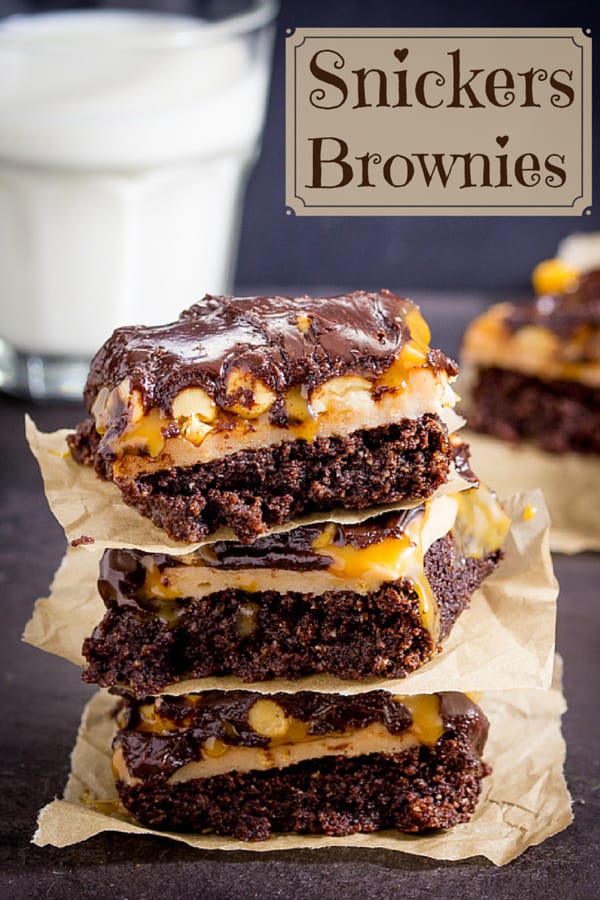 Check out all these layers of deliciousness! Is your mouth watering yet?
Brownie mixture (before going in the oven):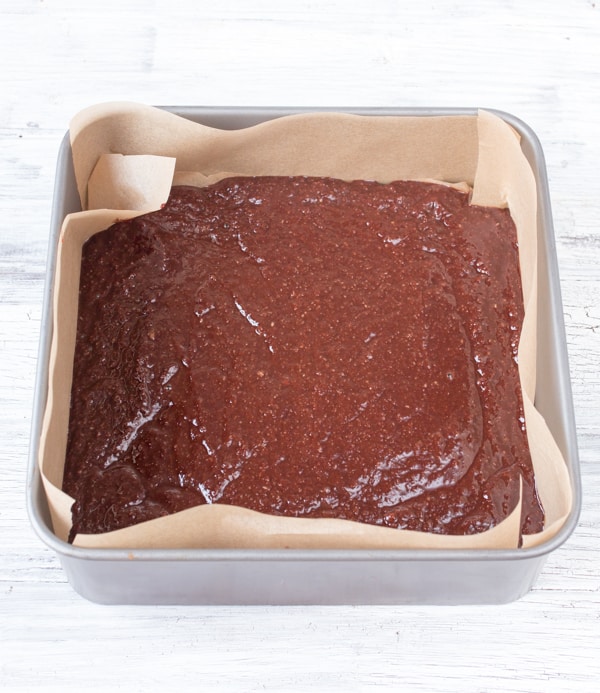 Nougat layer: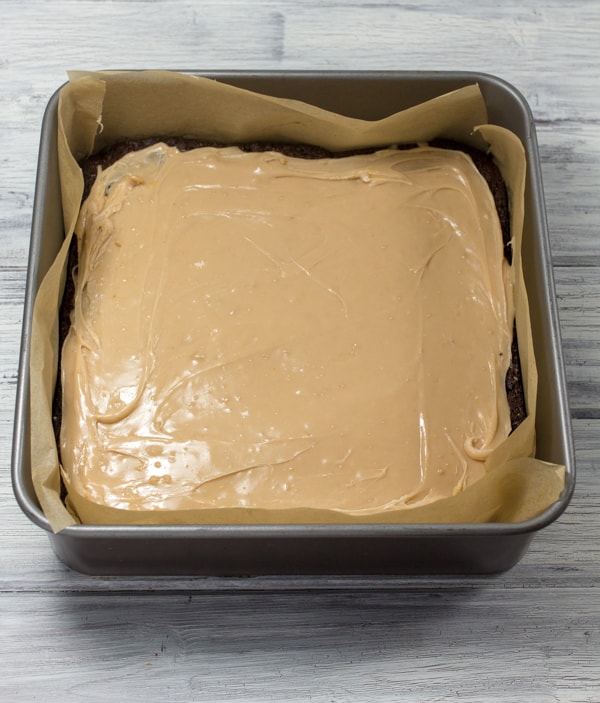 Caramel and peanut layer: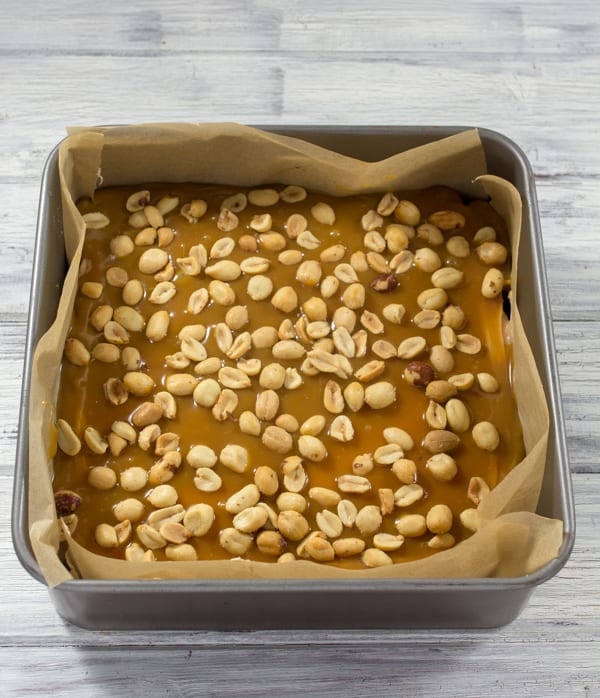 Finally, the ganache: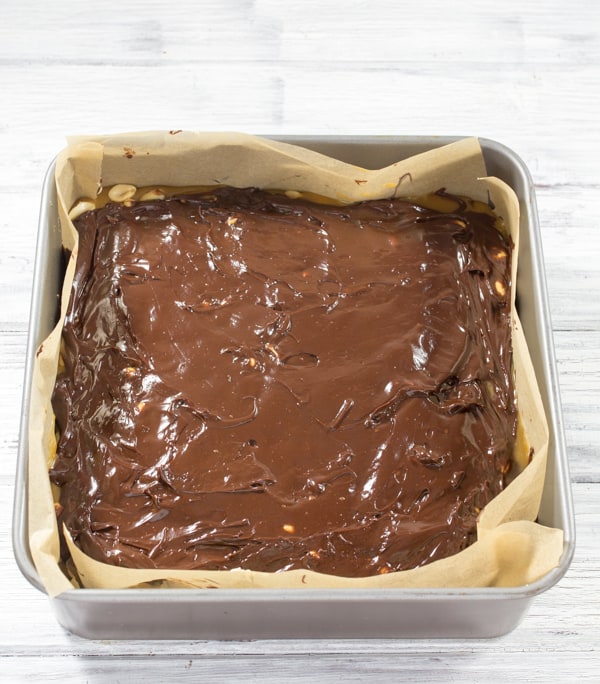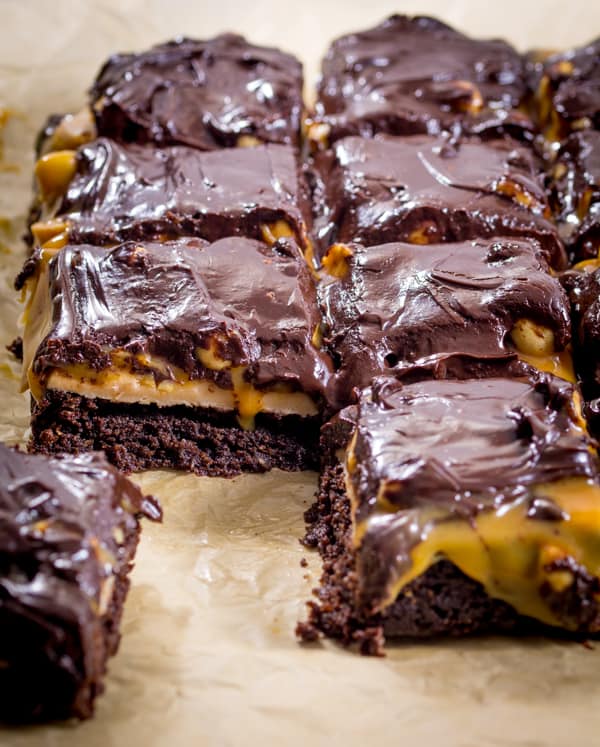 Craving more brownies? Try these Banana Split Brownies, Peanut Butter Cheesecake Brownies and Chocolate Raspberry Brownies. You might also like these brownie mix hacks. Nothing satisfies a chocolate craving better than a brownie, in my opinion!
Nicky lives in Cheshire in the UK with her husband and two children. She blogs over at Kitchen Sanctuary where she creates family friendly recipes and mouth-watering photos. Connect with Nicky on Facebook, Instagram, Pinterest and Twitter. 

Yield: 16
Snickers Brownies
Divine recipe for Snickers Brownies that will satisfy your sweet tooth!
Ingredients:
Brownies
225g/8oz good quality dark chocolate, broken into pieces (check it's gluten free if required)
225g/8oz unsalted butter
2 tsp vanilla extract
200g/1 cup golden caster sugar
170g/1 cup ground almonds (almond meal)
3 eggs, lightly whisked
Nougat
200g/7oz marshmallows (usually gluten free, but check if required)
3 tbsp peanut butter
115g/1 cup Icing/confectioner's sugar, sieved
Peanut-Caramel layer
1x260g (9oz) jar of salted caramel sauce (ready-made or you could make your own
150g/1 cup Peanuts (I used salted, but you can use salted or unsalted)
Chocolate Ganache
150g/5.5oz good quality dark chocolate, broken into pieces (check it's gluten free if required) *Note: you can use milk chocolate if you're not keen on dark chocolate.
150ml/5.5 fl oz double/heavy cream
Directions:
Preheat the oven to 170C//325F and line a 24cmx24cm tin with baking parchment. I find it better to use two long pieces (24cmx50cm-60cm) of parchment and to cross them – so you don't get large creases in the corner of your brownie.
Melt the chocolate and butter in a pan on a low heat. Mix in the vanilla and sugar. Turn off the heat and leave to cool for 5 minutes.
Add the ground almonds and then the whisked eggs to the chocolate pan and stir to combine.
Pour the brownie mixture into the prepared baking tray and bake for 30 minutes. The top should be set and the inside should still be quite soft.
Take out of the oven and leave to cool completely in the tin.
Once the brownie has cooled you can make your nougat. Place the marshmallows, peanut butter and confectioner's sugar in a pan and place on a medium heat. When the marshmallows start to melt, give everything a stir with a silicone spatula. Keep stirring slowly until the marshmallows have completely melted. It will look lumpy at first, but it will come together. You should be left with a relatively smooth, stretchy mixture.
Working quickly (before it sets) pour out the nougat on top of the brownie in large blobs. Smooth over the top of the brownie using a palette knife.
Leave to cool for 10-15 minutes.
Whilst the nougat is cooling, make the ganache.
Place the cream into a small pan and heat on medium until it's almost boiling (you'll see a couple of bubbles rise to the top when it's time to turn it off). Turn off the heat and add in the chocolate. Cover the pan and leave for 5 minutes. After 5 minutes, take off the lid and whisk the chocolate (using a balloon whisk – no need for an electric whisk) and cream. It should turn to a glossy sauce. Leave the sauce to thicken (about 10-15 minutes).
Now pour your salted caramel over the top of the nougat and sprinkle with the peanuts. When the ganache has thickened, give it a final quick whisk and pour it over the peanuts in little blobs. Use your palette knife to spread it over, covering all the peanuts. You'll need to be quite gentle to make sure you don't mix the ganache into the peanut/caramel layer.
Leave to set for 30 minutes at room temperature or in the fridge, and then cut into squares using a sharp knife. It's a good idea to wipe your knife with a tissue or cloth in between each cut to keep the layers looking clean.
These brownies should keep for 2-3 days in a sealed container at room temperature.
You Will Also Love
If you liked this post, you will also love these ones!