Slow Cooker Beef Stroganoff
I grew up hating Beef Stroganoff with a passion. My mom's recipe used cream of mushroom soup which I could not stand as a kid. Mind you I was a very picky eater and hard to please. The list of foods I would eat was short. I know I gave my parents a very hard time with eating as a kid. Thankfully I grew out of it and now am willing to try just about anything at least once. A big change from my 8 year old self!
This recipe for Beef Stroganoff does not include cream of mushroom soup and is also made in the slow cooker. It uses fresh mushrooms not canned – which I still don't like. There's no pre-cooking anything. Just dump all the ingredients in the slow cooker except the sour cream and set it on low. Simple! My house smells so good while it's cooking and it's hard to not want to sneak a quick taste.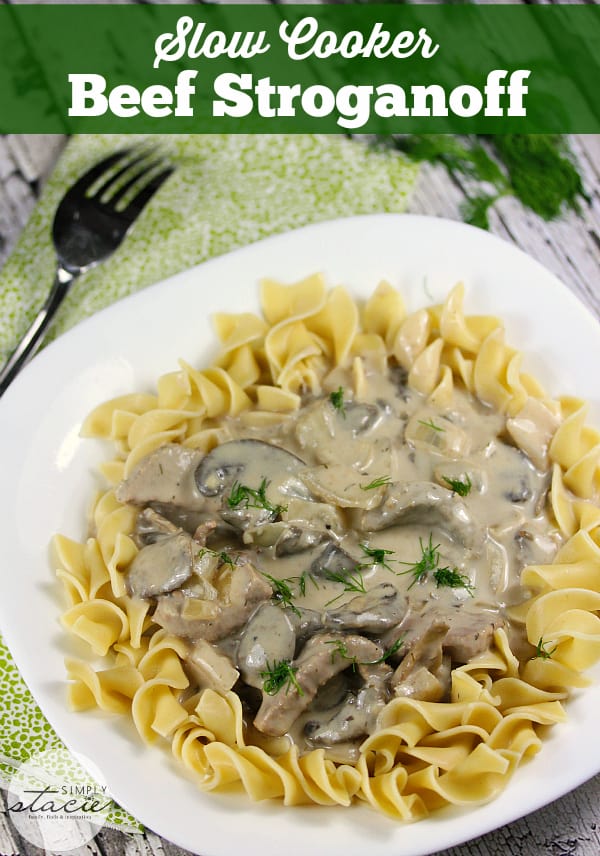 My niece, Avery, was visiting over the holidays and spent the night at our house. She's six years old and cute as a button. She's also very intelligent and told me that she loved the recipe. She cleaned her entire plate! She is not picky like my girls! Bridget would only eat the sauce as long as I didn't get any mushrooms in it. Olivia ate it and thankfully has outgrown her picky behaviour.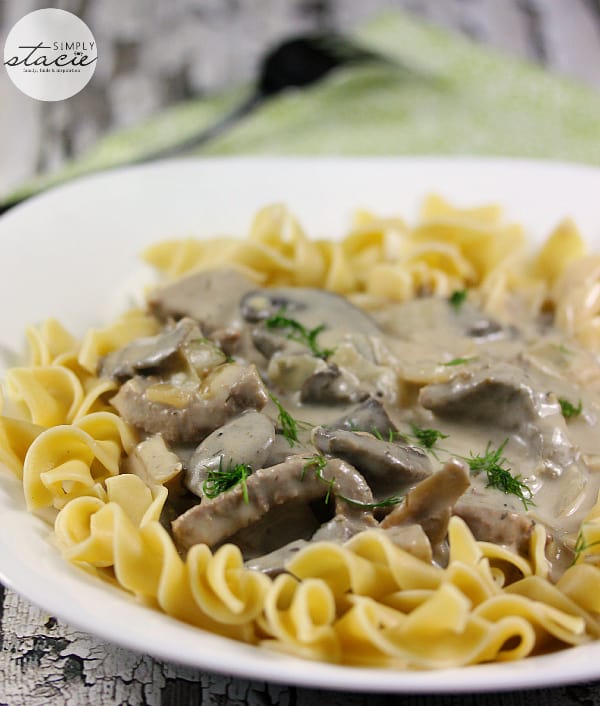 I would make this more often if steak wasn't so darn expensive. It's funny because steak was cheaper in Nova Scotia, but chicken was pricey. Here in Ontario, it's the opposite!
We eat more chicken, but I do like to mix it up with beef every so often.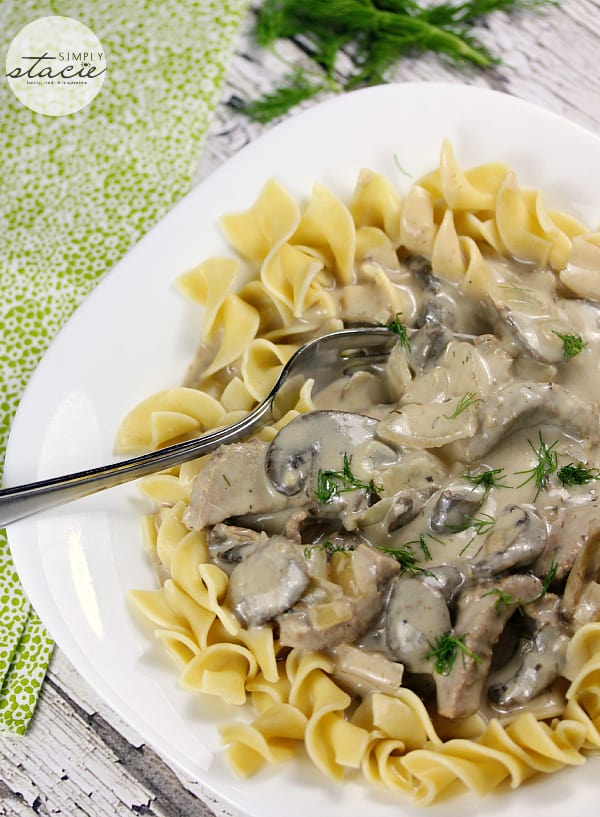 How do you make your Beef Stroganoff?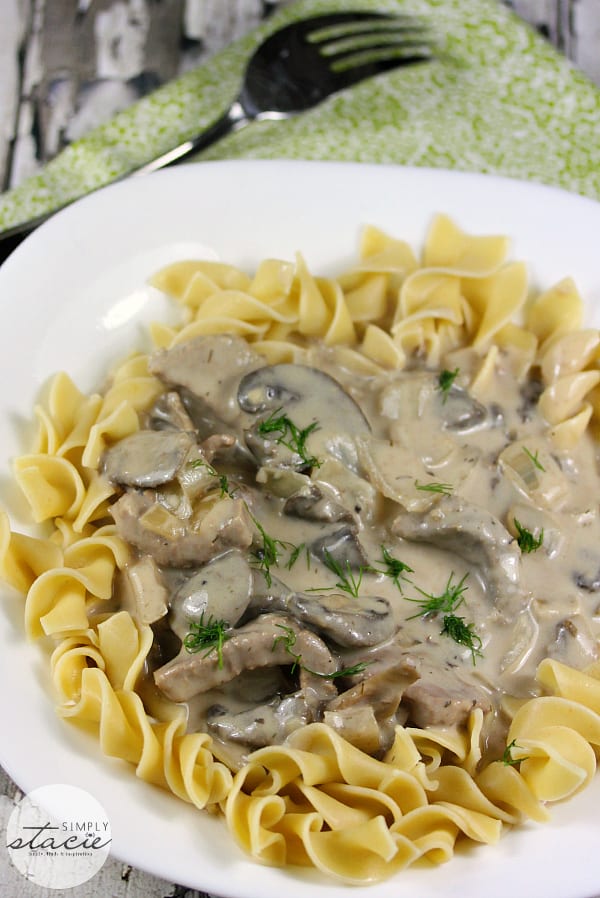 Yield: 4
Slow Cooker Beef Stroganoff
A classic recipe made with a creamy mushroom sauce, steak and served over a bed of tender egg noodles. A family favorite!
Ingredients:
1 lb steak of your pick, cut into quarter inch slices
2 onions, chopped (about 1 cup)
2 tbsp Dijon mustard
1/2 tsp salt
1/2 tsp pepper
1/2 tsp dried dill
2 cups sliced mushrooms
3 cloves garlic, minced
1/3 cup flour
1 cup beef broth
1 cup sour cream
4 cups egg noodles, cooked
fresh dill, optional
Directions:
Place steak, onions, Dijon mustard, salt, pepper, dill, mushrooms and garlic in a slow cooker and stir together.
In a mixing bowl, add the flour and then slowly whisk in the beef broth. Add to slow cooker mixture and stir together.
Cover and cook on low for 6 to 7 hours.
Turn slow cooker off and remove lid and let sit for 10 to 15 minutes. Stir in sour cream.
Serve sauce on a bed of egg noodles. Garnish with fresh dill, if desired.