Hurry Chicken
In my early 20s, I started cutting out recipes from magazines and pasting them into a scrapbook. I recently was going through my books and discovered that I had a few handwritten recipes that my Grandma June had given me included in the book. My grandma passed away in December 2012 and not a day goes by that I don't think of her. I miss her so much that it physically hurts. When I saw her recipes in there, I knew I had to make them and share them in honour of her.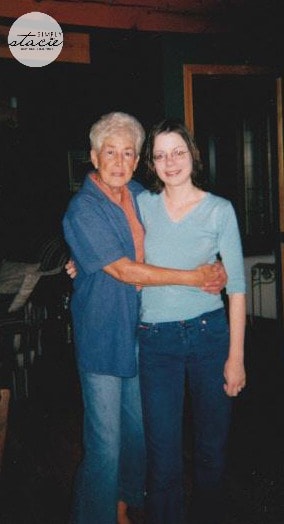 Grandma June wrote a little note on her recipe for Hurry Chicken about how her boyfriend and life partner, Clarence, did not like chicken, but he liked her Hurry Chicken. She said she normally uses chicken legs and removes the skin just when they are starting to thaw. She said this recipe will work with whatever chicken you have on hand.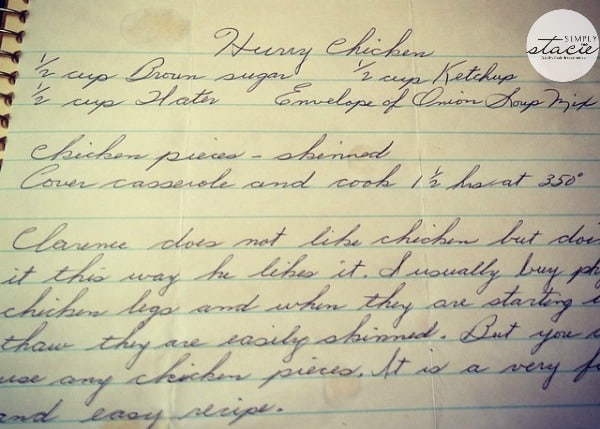 I picked up a package of chicken legs on sale at the grocery store this week and thought it would be perfect for Grandma's Hurry Chicken recipe. I left the skin on instead of removing. You can always remove the skin after it's cooked. This way the flavours and juices stay in the meat.
The chicken turned out beautifully. The meat practically fell off the bone and even John remarked how yummy it was.
I'll be making Hurry Chicken again not only because it reminds me of my Grandma, but also because it's an easy and delicious recipe. Enjoy!
For more chicken meal ideas, check out these recipes for Chicken Antojitos, Jamaican Jerk Chicken, Honey Garlic Chicken Wings, Easy Chicken Lettuce Wraps, Bacon and Rosemary Wrapped Chicken, Best Ever Chicken Enchiladas and Chicken Clubhouse Bites on Skewers.

Yield: 5
Hurry Chicken
Juicy, fall-off-the-bone delicious! This recipe was passed down from my grandmother and is always a hit!
Ingredients:
4 to 5 chicken pieces (I used chicken legs)
½ cup brown sugar
½ cup ketchup
½ cup water
1 envelope of onion soup mix
Directions:
Preheat oven to 350°F.
In a mixing bowl, stir together brown sugar, ketchup, water and onion soup mix.
Place chicken in a casserole dish and pour sauce over top to cover the chicken. Put the lid on the casserole dish and cook for 1½ hours.