My Strawberry Mousse is so simple to whip up and is bursting with freshness and sweetness in every bite. A no-bake creamy and fluffy strawberry mousse that will please the taste buds. Pretty enough to serve guests and easy enough to make often!
Oh, Strawberry Mousse how I love thee! You are sweet, light and addicting. Plus, you are simple to whip up and don't leave my kitchen looking like a disaster zone. Thank you for being there when I needed to satisfy my sweet cravings. I do appreciate it…
If you are all like me and have a love affair with strawberry, this recipe is going to fit right into your liking. This is my go-to summertime dessert that we eat regularly in our home. Once I see our local strawberry farmers are selling ripe and fresh strawberries, we dive in head first!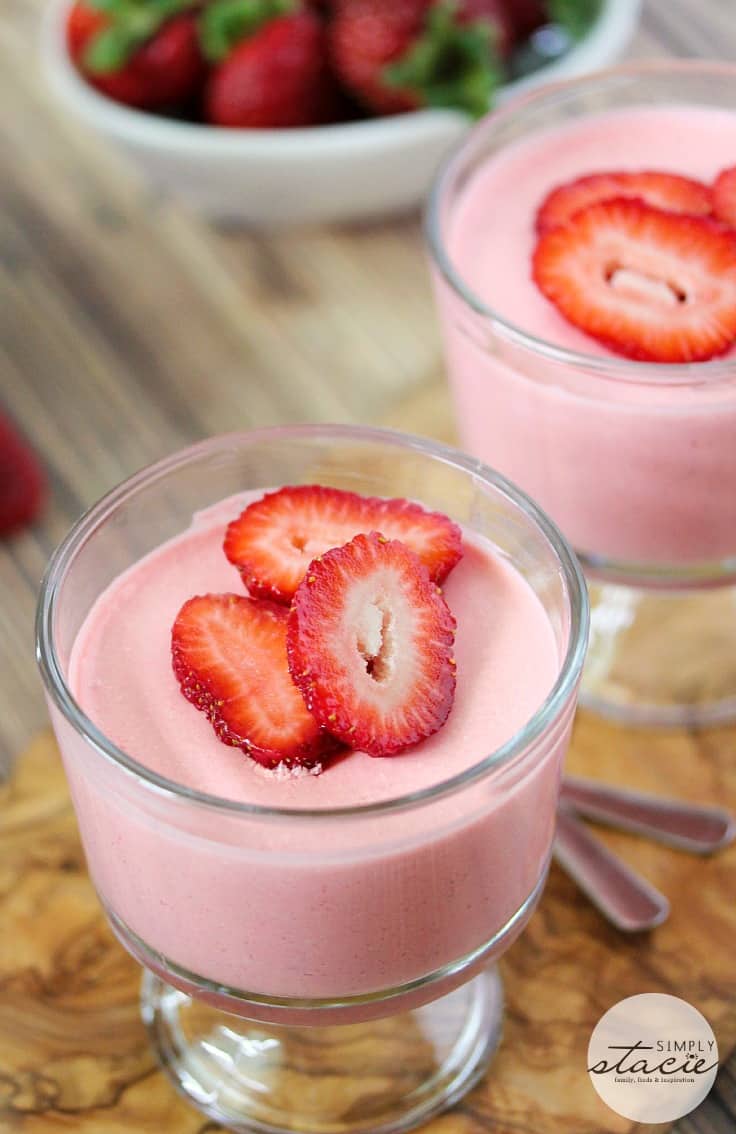 No Bake Strawberry Mousse
I never realized how easy it was to make a homemade mousse, and then one day I gave it a try! This indeed is one of the easiest strawberry desserts to whip up, for parties, a treat after supper, or surprise after school snack for your kids. The hardest part is allowing your mousse to set up in the fridge for a few hours!
More Strawberry Recipes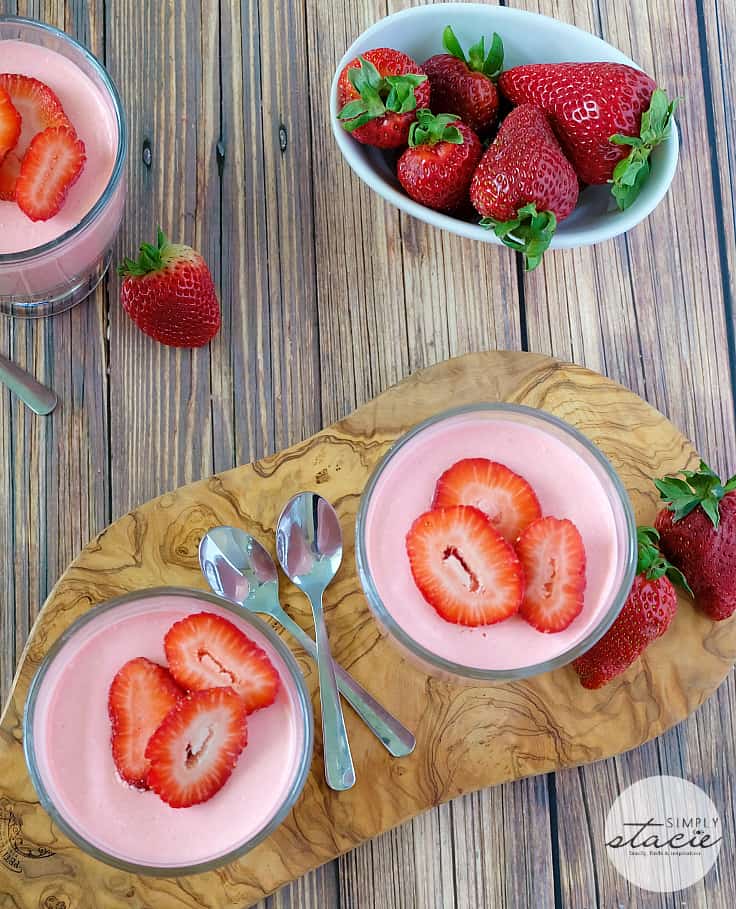 Fresh Strawberry Mousse
I use Strawberry Jello and fresh strawberries to work together to give you that vibrant and sweet strawberry flavor in each bite. Then you mix in the whipped topping for that light and airy texture that brings this dessert to a gold star status!
How Can I Make Mousse Thicker
I reached for Jello which is gelatin that is flavored with strawberry for this recipe. The gelatin is what helps give your mousse that thickness you are going to be looking for. If you find you could use it a little bit thicker add more whipped cream to your mix, blend and let it set up a bit longer.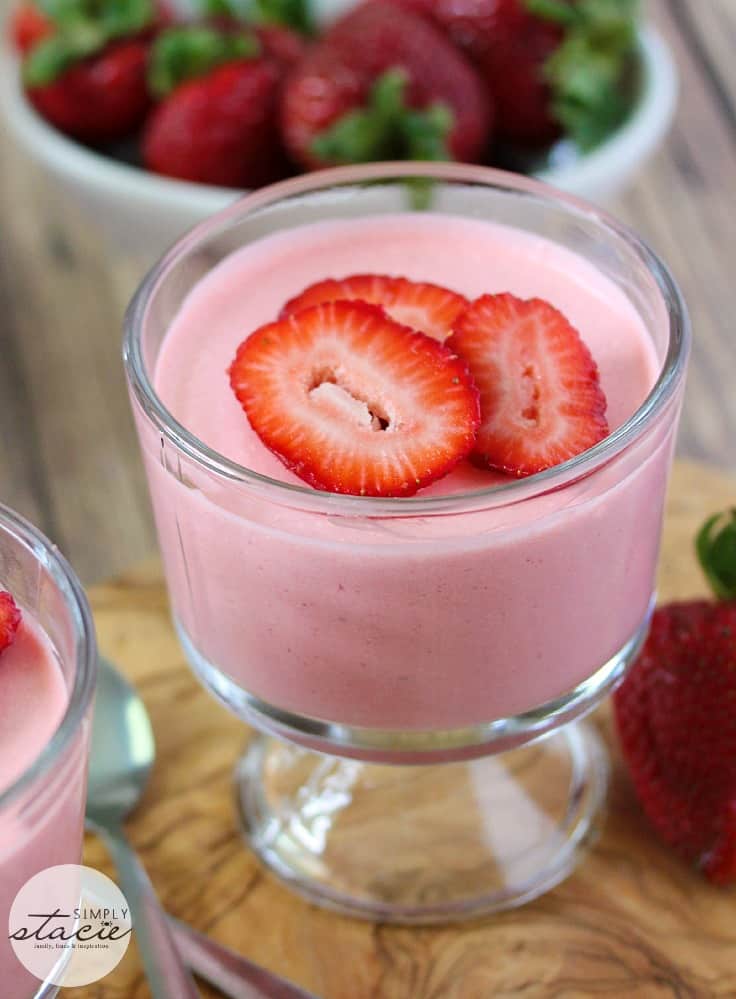 How Much Gelatin Do You Put In Mousse
I used a four serving size packet of gelatin for my fresh Strawberry Mousse recipe. It was the perfect amount that seemed to give this mousse that light and fluffy texture I wanted.
How Long Can Mousse Be Refrigerated
The Strawberry Mousse can last in the fridge at the proper temperature for three days tops. I would recommend eating it within day one or two for best flavor.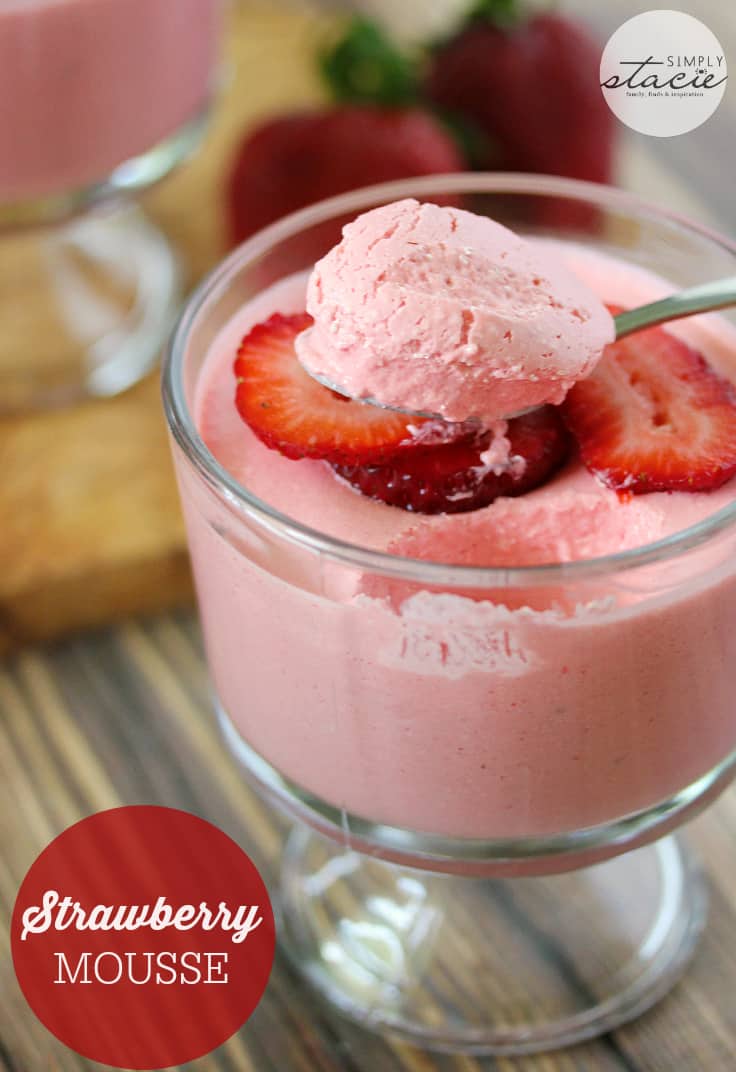 How Long Does Mousse Take To Set Up In Fridge
You need to allow two hours for my Strawberry Mousse recipe to set up. If you serve it before then, it won't have time to fully set and won't be that light and airy texture you are looking for.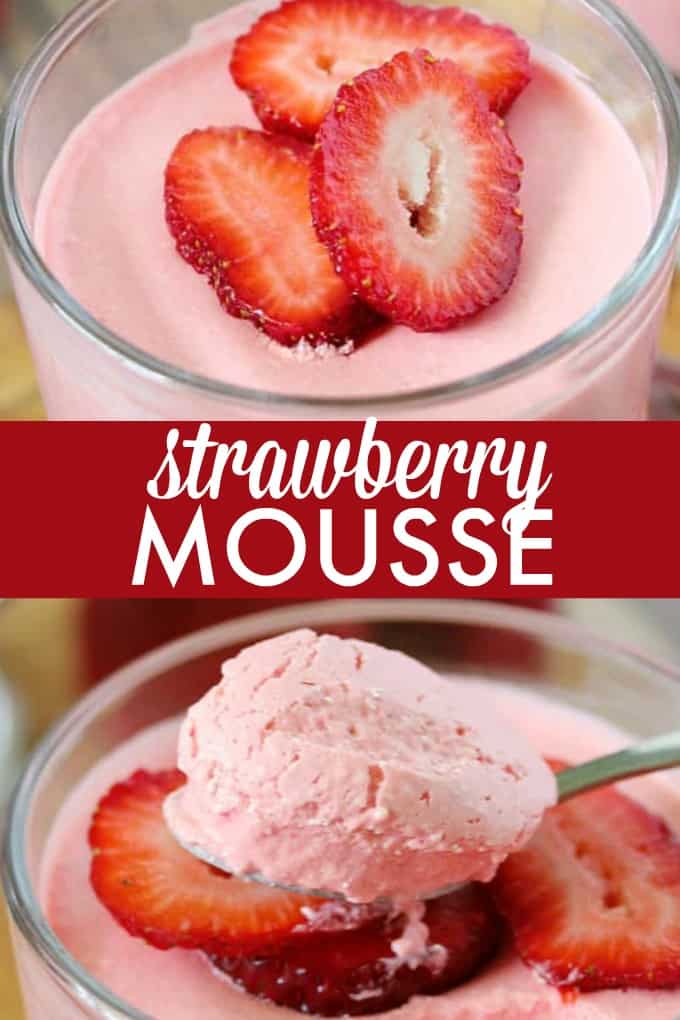 Do You Need Gelatin For Mousse
My fresh Strawberry Mousse does need gelatin to help make the mousse set up correctly. Traditionally mousse is made with gelatin; it helps to give you that set up texture next to the light and fluffy aspect.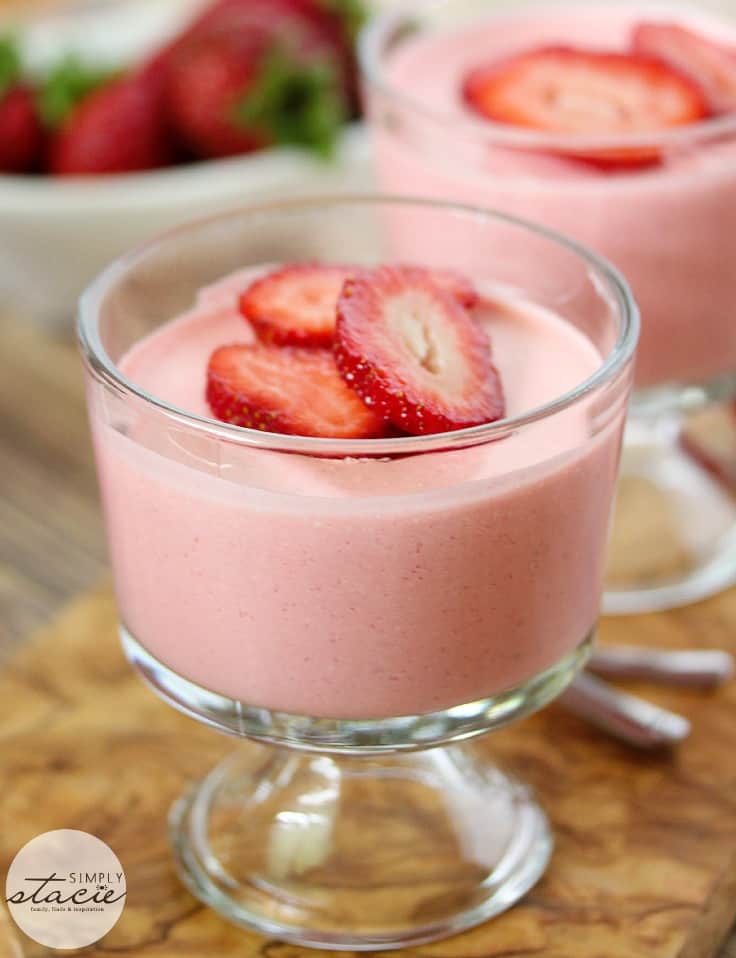 Can You Freeze Strawberry Mousse
You can indeed freeze this Strawberry Mousse. It will slightly change the texture once it thaws at times, but you will still get that light and airy texture. Just wrap up and place in the freezer, making sure you have your mousse sealed adequately. Then when you are ready to eat, put in the fridge to allow it to thaw. Then serve.
If you want to have fresh strawberries on top, I don't recommend freezing fresh strawberries. As it freezes and then thaws for serving they will become pretty mushy. So save back fresh strawberries or buy new to top your mousse before serving.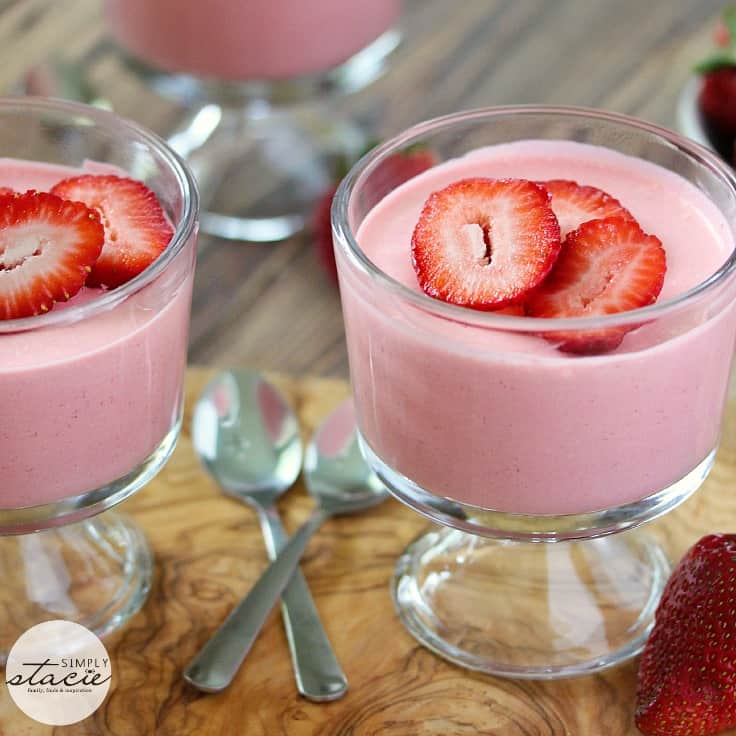 Can You use Frozen Strawberries for Strawberry Mousse
Whether you froze fresh strawberries or picked up a bag at the market, you can replace frozen with the fresh in the recipe. Just thaw your strawberries before you toss them into the blender to mix it up.
If you don't have time to wait for your strawberries to thaw, run the bag under cold water to speed up the thawing process. Then measure out the right amount of strawberries and toss it in.
Most frozen strawberries are frozen at their prime, so you will still get that fresh flavor in your mousse.
As you can see this is genuinely one easy recipe to follow and before you know it you have a dessert everyone can enjoy. Sprinkle on some chocolate chips for that chocolate covered strawberry flavor, add a dollop of whipped cream or fresh berries and dive in!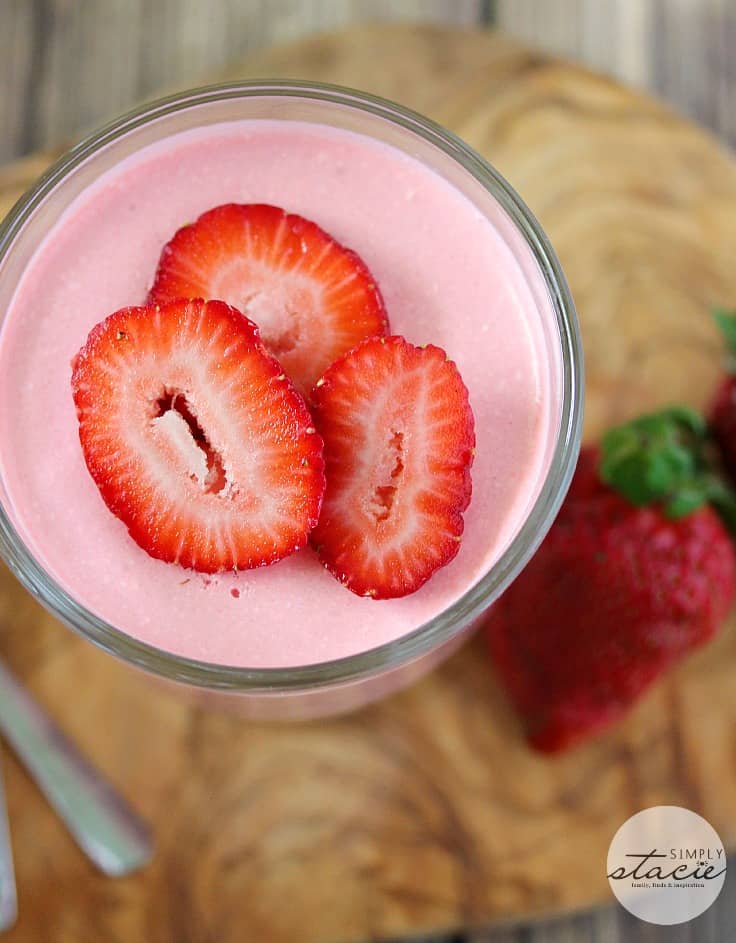 No Cool Whip? Try my homemade stabilized whipped cream.
Try my Strawberry Cake Mix Cookies, Raspberry Cheesecake Cups and Strawberry Pretzel Salad.
Have you made homemade Strawberry Mousse before?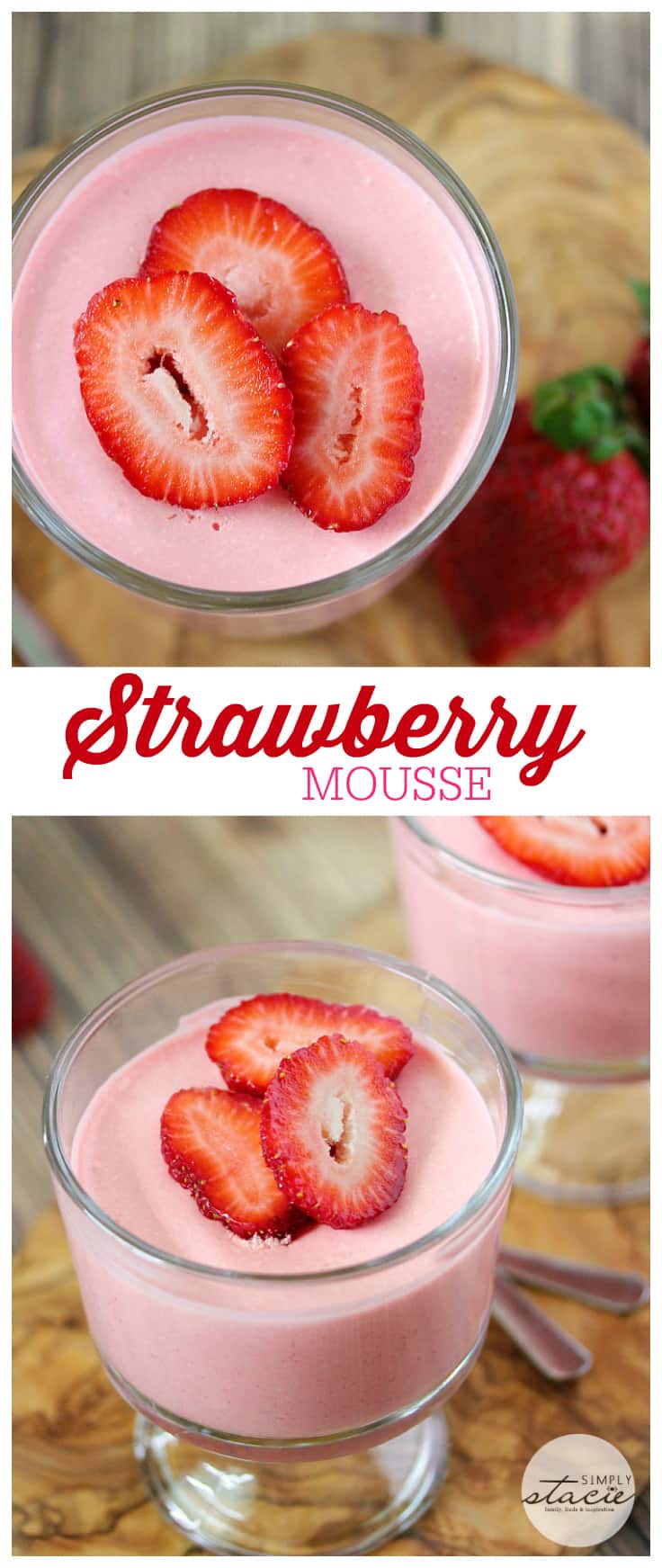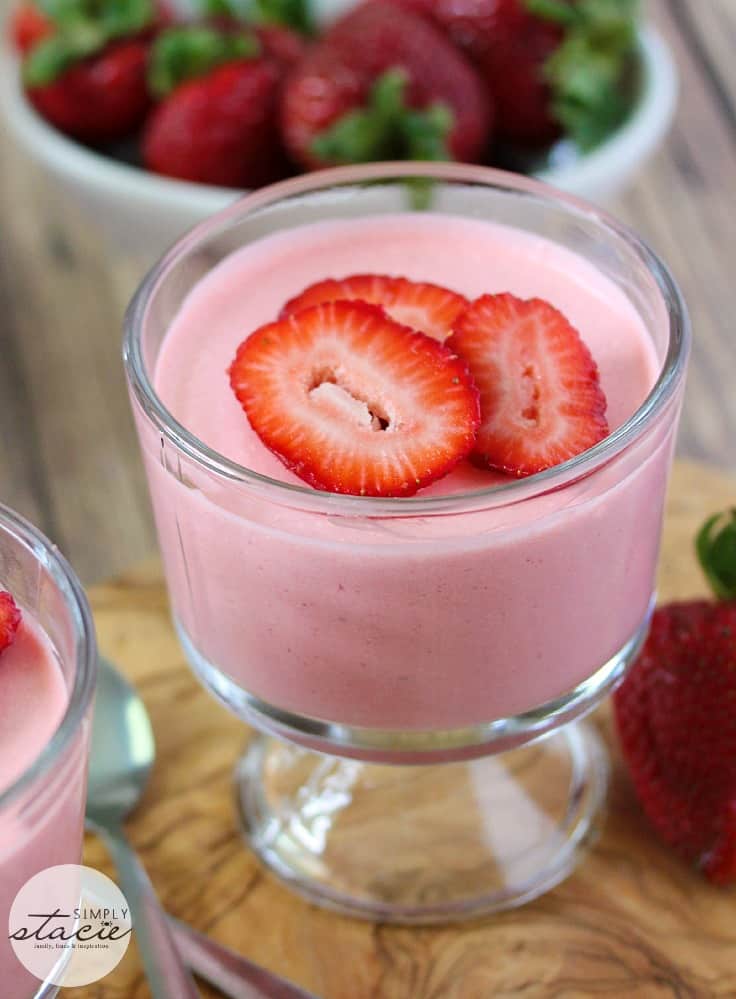 Ingredients
1

package

strawberry Jello

4 serving size

½

cup

boiling water

1

cup

strawberries

sliced

½

cup

cream cheese

softened

½

cup

cold water

¼

tsp

vanilla extract

1

cup

Cool Whip

thawed

sliced strawberries and Cool Whip for garnish

if desired
Instructions
Add Jello package to a medium bowl. Pour in boiling water and stir until completely dissolved.

Pour Jello mixture into a blender. Add strawberries, cream cheese, vanilla extract and cold water. Blend for 1 minute or until smooth.

Pour blended mixture into a large bowl. Whisk in Cool Whip until completely blended.

Add mixture to four dessert dishes and put in the fridge for two hours to set.

Garnish with sliced strawberries and Cool Whip, if you wish.
Kitchen Tools
Nutrition
Serving:
1
g
|
Calories:
273
kcal
|
Carbohydrates:
31
g
|
Protein:
4
g
|
Fat:
15
g
|
Saturated Fat:
10
g
|
Polyunsaturated Fat:
4
g
|
Cholesterol:
29
mg
|
Sodium:
201
mg
|
Fiber:
1
g
|
Sugar:
27
g
The information shown is an estimate provided by an online nutrition calculator. It should not be considered a substitute for a professional nutritionist's advice.
Love Recipes? Join our Free Facebook Group!
Join Mom's Best Recipes to find more delicious family recipes.
Save
Saved!