Take a tropical ride with these Pineapple Sticky Buns with Coconut Caramel. They are sticky, sweet, and downright addictive. These tropical Pineapple Sticky Buns are the perfect way to kickstart your day or serve them up for brunch. These Pineapple Coconut Sticky Buns use biscuit dough, so they are ready in 30 minutes.
I got creative one day, and that is how this recipe came about. Opened up my pantry and reached for all things pineapple and coconut. I had a can of biscuits in the fridge, that was calling my name as the expiration was getting closer. So, I had no choice but to make some incredible sticky buns with a pineapple and coconut twist.
The result.. oustanding! If you love tropical, and the pairing of pineapple and coconut (do you like Pina Coladas?) then this recipe needs to be added to your must make a list now.
30 Minute Pineapple Sticky Buns with Coconut Caramel
This recipe is assembled in layers starting with the coconut caramel layer at the bottom. Top with your coconut flakes, pineapple chunks and sliced almonds. These two layers will be your topping. Yes, it's on the bottom, but it won't be when you are ready to serve them. It's one of those flip 'em over recipes.
More Sweet Roll Recipes
What is the Difference Between a Sticky Roll and a Cinnamon Roll
Cinnamon rolls are a roll that is topped with an icing most generally. Where sticky buns have a caramel style sauce and nuts that they are baked in at the bottom of the pan. You then flip the pan over for that ooey-gooey sticky sweet roll.
For my Pineapple Coconut Caramel Sticky Buns, you will find they are incredibly sweet. The almonds add a nice crunch, and the biscuits help make them slightly less sweet. Grab a napkin; you will need it!
How Do You Store Sticky Buns
Allow your Pineapple Sticky Rolls to cool down from the oven. Then place them in a container and wrap tightly with foil or plastic wrap. Then toss in the fridge and keep them for around 4-5 days.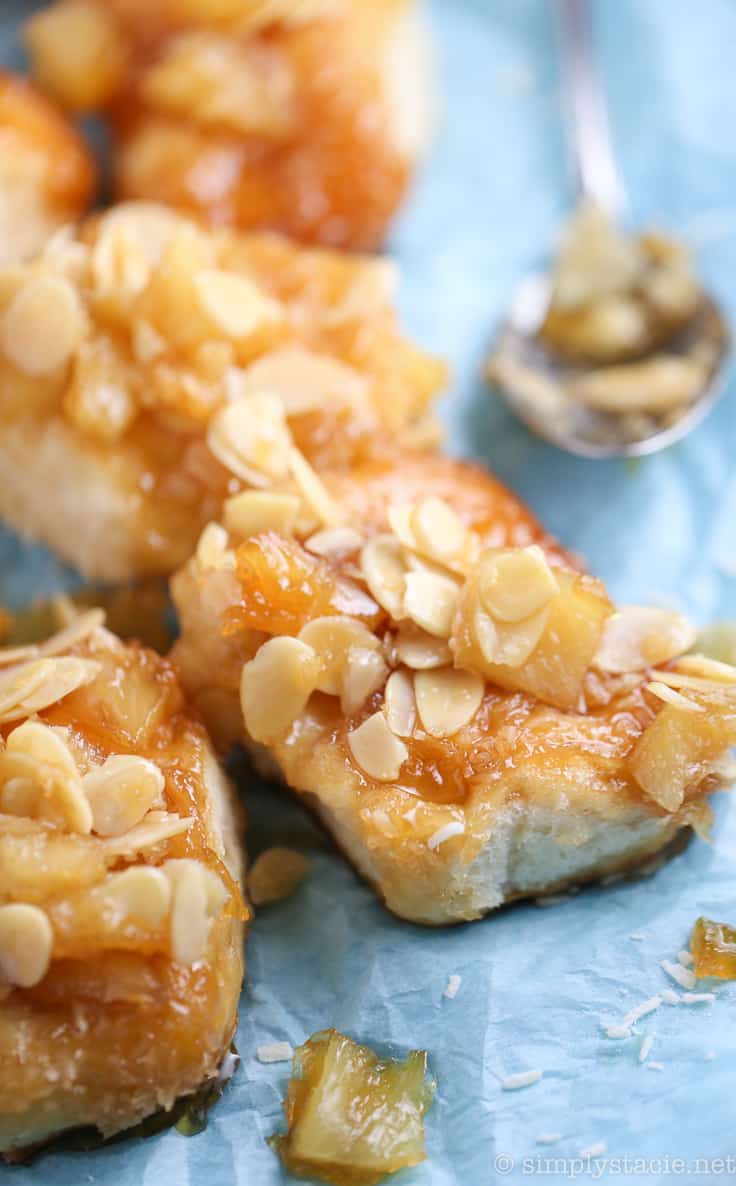 How To Reheat Pineapple Sticky Bun Rolls
I generally scoop what I want out of the pan, and place it in the microwave for 5-second intervals until it is warmed entirely through. If you want you can always top with more almonds or shaved coconut.
How To Make Pineapple Sticky Buns with Coconut Caramel
Start by getting your oven preheated.
Then in a bowl, you want to mix your brown sugar, maple syrup, butter, and extracts. Give it a good whisk until it is combined. Then pour that into your casserole dish. This is going to be your caramel sauce!
Then sprinkle on your almonds, pineapple and coconut flakes.
Place your biscuits in a single layer with a little space in between each biscuit (they expand as they bake).
Bake for 30 minutes or until they are golden brown and cooked through. Stick a toothpick into the roll to check and see if it is still doughy.
Once you remove rolls from over carefully flip your pan over onto a serving platter.
If you have any remaining sauce or nuts or pineapple, just spoon it onto the rolls.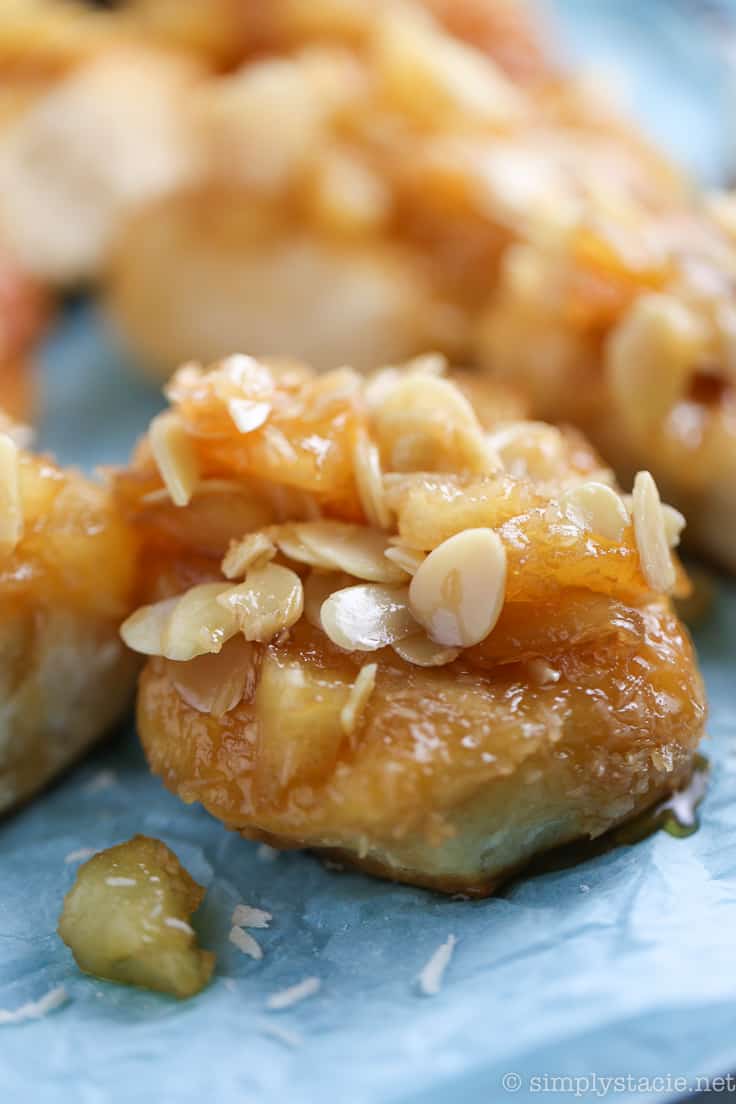 Other Pans to Use to Make Sticky Rolls In
I have used a silicone cupcake mold in the past to make sticky rolls in. You just want to remember the caramel sauce you are placing on the bottom of the pan, does become slightly sticky. So as you bake that sauce, you want to ensure you can remove it from the pan easily.
Use a cooking spray to grease your pan, so that it helps lift off and not bakes on and becomes madness to get clean.
Can I Leave Off The Almonds in Pineapple Sticky Roll Recipe
Absolutely! If you are not a fan of almonds or don't want that crunch, then omit them from the recipe. I love nuts on rolls, and it was a great add on, but it is not a have to have for this recipe.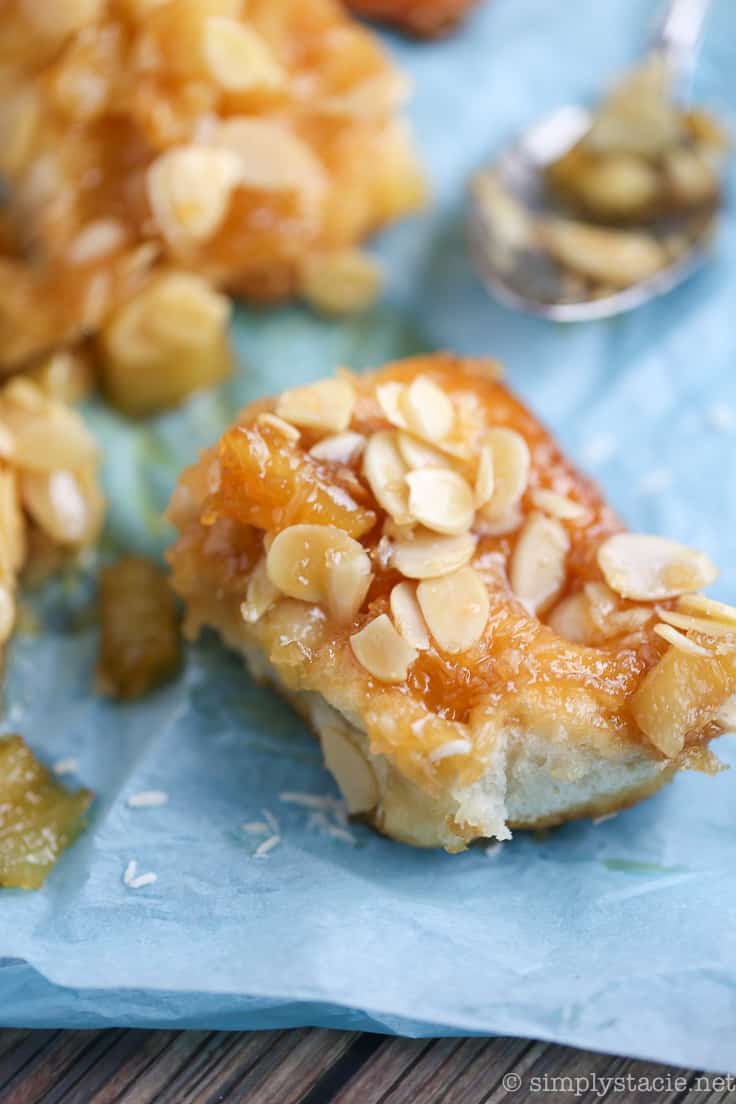 The next time you are craving a sticky roll, give this pineapple coconut sticky roll recipe a try. It is a fun twist that really is bright, light and incredibly flavorful!
You might also like these Pineapple Upside Down Cupcakes, Pineapple Cake, Caramel Nut Brittle, Pineapple Pie, Pineapple Delight or Pineapple Pretzel Fluff.
You'll also like this Caramel Sauce.
Does this dessert look like something your family would enjoy?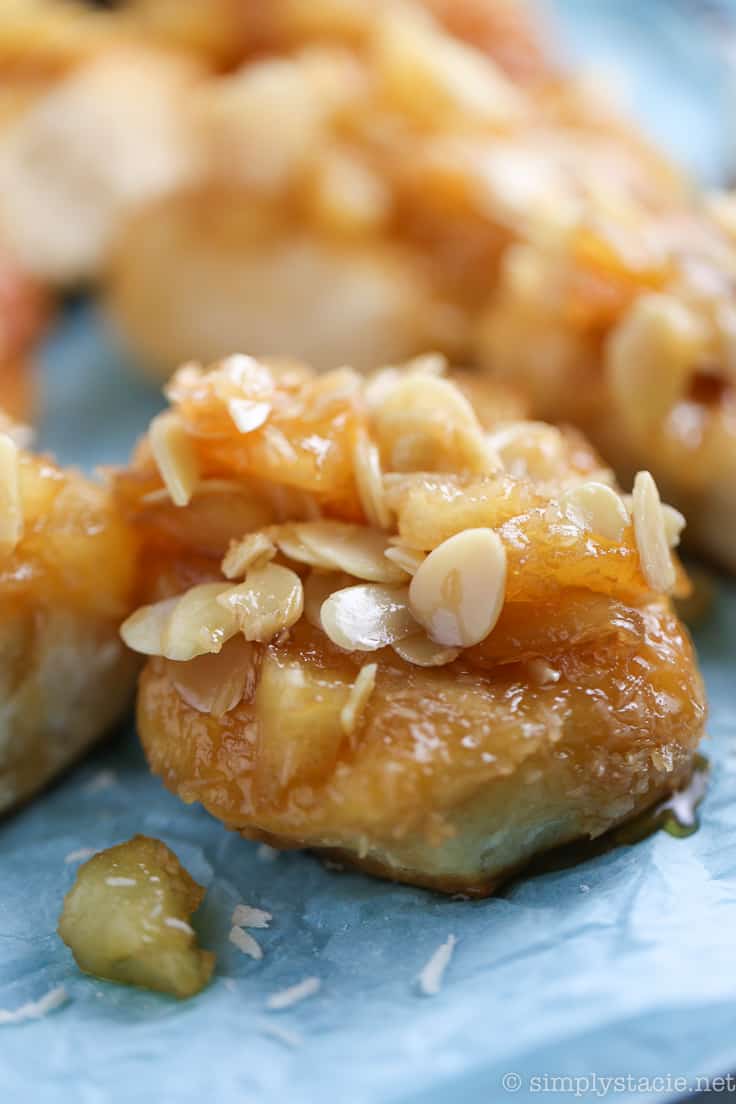 Pineapple Sticky Buns with Coconut Caramel
Take a tropical trip with these sticky buns! This easy treat is also quick — ready in half an hour!
Ingredients
1 package refrigerated biscuits (10 biscuits)
2/3 cup brown sugar
1/4 cup maple syrup
2 tbsp melted butter
1 tsp vanilla extract
1/2 tsp coconut extract
1 cup pineapple, chopped
1/4 cup almond slices
1/4 cup sweetened coconut flakes
Instructions
Preheat oven to 350F.
In a medium bowl, stir together brown sugar, maple syrup, butter, vanilla extract and coconut extract. Pour into a baking dish or casserole dish* and spread out evenly.
Sprinkle almonds, coconut flakes and pineapple evenly over the caramel mixture.
Place each biscuit in a single layer over top. Don't worry if it doesn't cover the entire surface because they will expand while baking.
Bake for 30 minutes or into golden brown. Carefully flip over onto a large serving platter. Serve warm.
Notes
I used Pillsbury Refrigerated Country Biscuits. I would use a dish on the smaller side. 9×13 will definitely be too big. The one I used was a Corningware 3quart dish. It was just a tad too big at first, but ended up being an ok size because the biscuits will expand while baking.
Recommended Products
As an Amazon Associate and member of other affiliate programs, I earn from qualifying purchases.
Nutrition Information:
Yield:

10
Serving Size:

1
Amount Per Serving:
Calories:

149
Total Fat:

6g
Saturated Fat:

2g
Trans Fat:

0g
Unsaturated Fat:

3g
Cholesterol:

6mg
Sodium:

81mg
Carbohydrates:

24g
Fiber:

1g
Sugar:

20g
Protein:

1g