Disclosure: I am participating in the Chicken Farmers of Canada campaign managed by SJ Consulting. I received compensation in exchange for my participation in this campaign. The opinions on this blog are my own.
It's barbecue season and I'm losing precious days without my barbecue! Our old one went to barbecue heaven before we moved to Ontario last month. Thankfully, my parents bought a new barbecue and have kindly offered us their old one. It still works and all we need to buy is a propane tank. Easy enough!
In the meantime, I've been using my indoor grill. It's not quite the same as using an outdoor barbecue, but it will do in a pinch till our "new" grill arrives. I whipped up a batch of one of my signature grilled chicken recipes: Grilled Herb Chicken. I started making this when I was a teenager. The marinade is fresh herbs, tomatoe, green onion, balsamic vinegar and olive oil.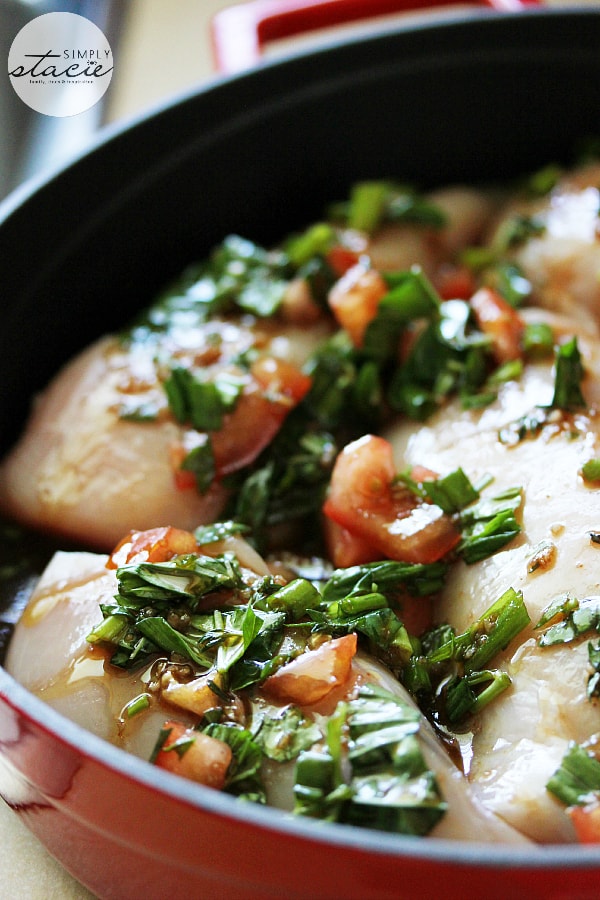 The chicken breasts are soaked in it for at least an hour and then grilled to perfection. The marinade then becomes a sauce thanks to my handy blender puree setting and voilà, dinner is served.
The herbs I use are just a suggestion. If you can't find them fresh, try another kind or use the ones you have in your herb garden. It's a simple, fresh and delicious way to enjoy chicken breasts. Serve with a barbecued potato and salad for an amazing summer meal.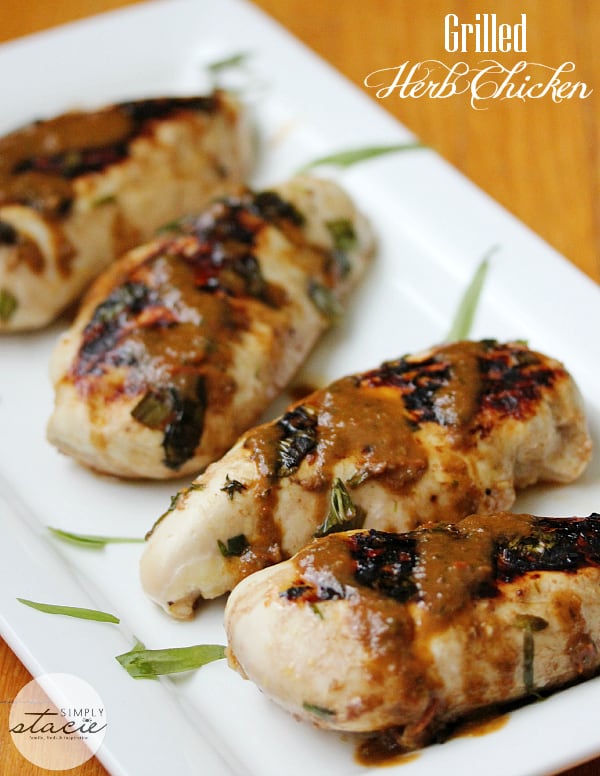 Are you barbecuing for a crowd? Double (or triple) the recipe. Easy-peasy.
The Chicken Farmers of Canada have a large selection of chicken recipes including more recipes for chicken on the grill. I found several recipes on their site that I want to try including:
Did you know that you should never barbecue chicken over high heat? My friend, Sober Julie, know this all too well now….

Besides chicken recipes, Chicken Farmers of Canada is wealth of information. Learn more about chicken farms, nutrition, tips and techniques, how-to's and more on their site. They also recently launched a brand new logo which I blogged about last month.
Connect with the Chicken Farmers of Canada on Facebook, Instagram, Pinterest and Twitter.
Grilled Herb Chicken
Change up your barbecue chicken game this season! This homemade marinade combines balsamic vinegar, garlic, green onions, tomatoes, thyme, tarragon, basil, and a pinch of cayenne pepper.
Ingredients
6 boneless skinless chicken breasts
1/3 cup balsamic vinegar
4 green onions, chopped
6 cloves garlic, minced
1 tomato, chopped
pinch cayenne pepper
pinch salt
1 tsp fresh thyme, chopped
1 tsp fresh tarragon, chopped
1 tbsp fresh basil, chopped
½ cup olive oil
pinch sugar
Instructions
Place chicken breasts in a single layer in a large dish. Set aside.
In a large bowl, mix together balsamic vinegar, green onions, garlic, tomato, cayenne pepper, thyme, tarragon, salt and basil. Whisk in olive oil.
Remove ½ cup of the marinade and pour over chicken breasts. Marinate for one hour on counter or overnight in the fridge. Reserve remaining marinade.
Grill chicken breasts on the barbecue on medium high or on an indoor grill, about 5 minutes or so per side (or until cooked).
Meanwhile, place the reserved marinade in a small pot on the stove and add sugar. Bring to a boil. Boil for about 2 to 3 minutes. Transfer marinade to a food processor or blender and puree. Serve sauce drizzled over chicken breasts.
Recommended Products
As an Amazon Associate and member of other affiliate programs, I earn from qualifying purchases.
Nutrition Information:
Yield:

6
Serving Size:

1
Amount Per Serving:
Calories:

381
Total Fat:

22g
Saturated Fat:

4g
Trans Fat:

0g
Unsaturated Fat:

17g
Cholesterol:

102mg
Sodium:

118mg
Carbohydrates:

5g
Fiber:

1g
Sugar:

3g
Protein:

38g