When I'm on the hunt for a comforting recipe that the entire family will love, I'll pull out this reliable cheeseburger chowder.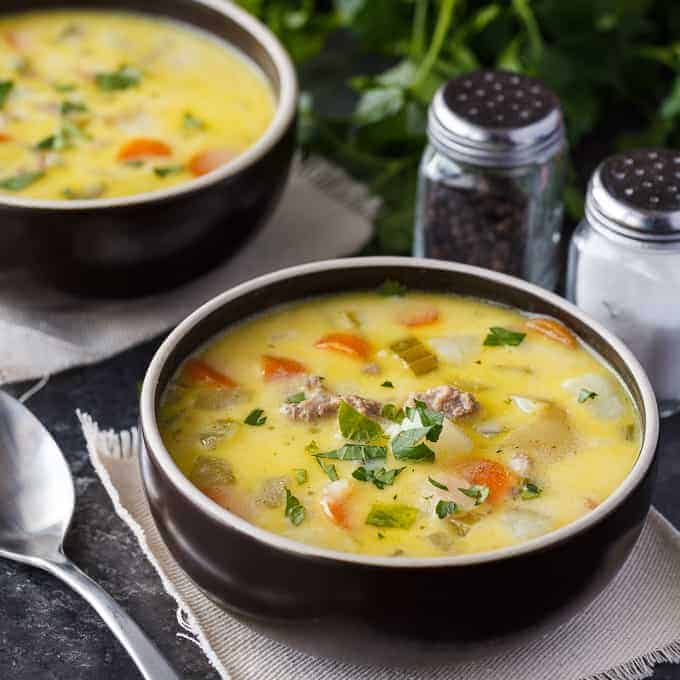 Not only does it promise to warm you up when the cool weather starts to bite, but it's loaded with protein and spices for a seriously tasty dinner. Plus, it's a fun alternative to traditional pasta dishes, soups, or burgers that you might whip up instead!
When I first made this cheeseburger chowder, I couldn't get over how simple it was to make. Everything's made in a single pot, clean-up is minimal, and you won't need to babysit your pot to avoid sticking!
And don't even get me started on the delightful cheesiness and creaminess that you get from the Velveeta cheese!
I've always felt that one serving of this hearty dish was more than enough as there's just so much going on. But if you have a larger appetite, you can easily load your bowl up with seconds to combat that unpleasant winter chill.
Whether you're on the hunt for a simple and reliable evening meal or have some crusty rolls you can't wait to use – this chowder has got you covered.
Why You'll Love This Cheeseburger Chowder
It's the perfect comfort food for those cooler evenings.
It requires virtually no prep work and clean-up is a breeze!
You can easily make it ahead if you're short on time.
It reheats perfectly which makes it a fabulous choice for Meal Prep Mondays.
It's ready in just 45 minutes for those busy weeknights.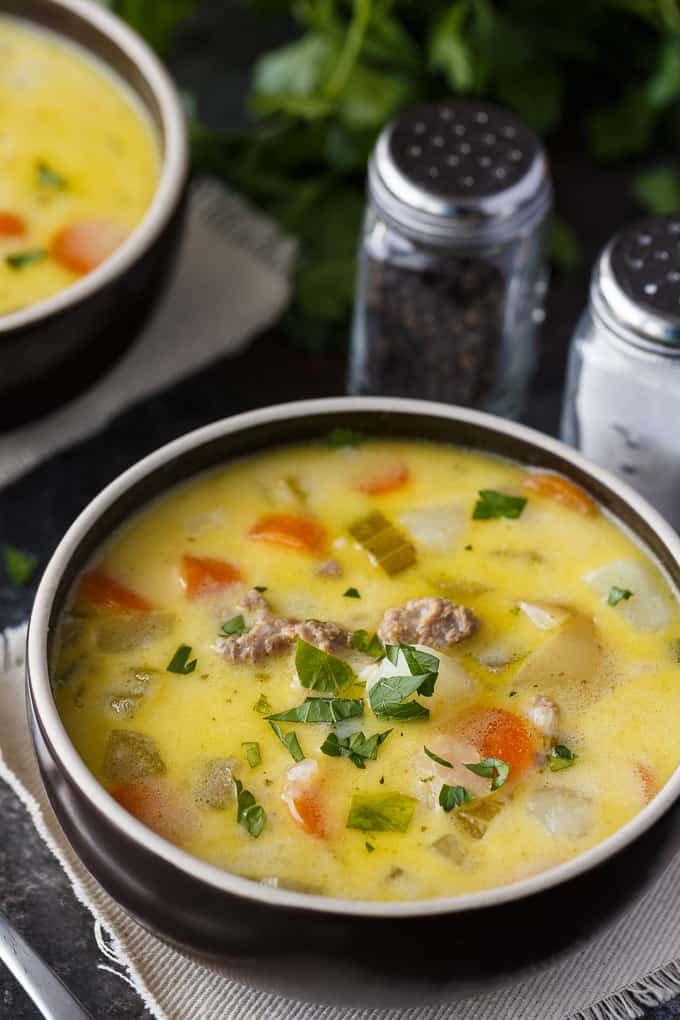 Ingredients
Butter
Onion
Carrots
Celery
Water
Potatoes
Chicken noodle soup
Garlic powder
Chicken bouillon
Ground beef
Milk
Velveeta cheese
Sour cream
Pepper
Parsley (optional)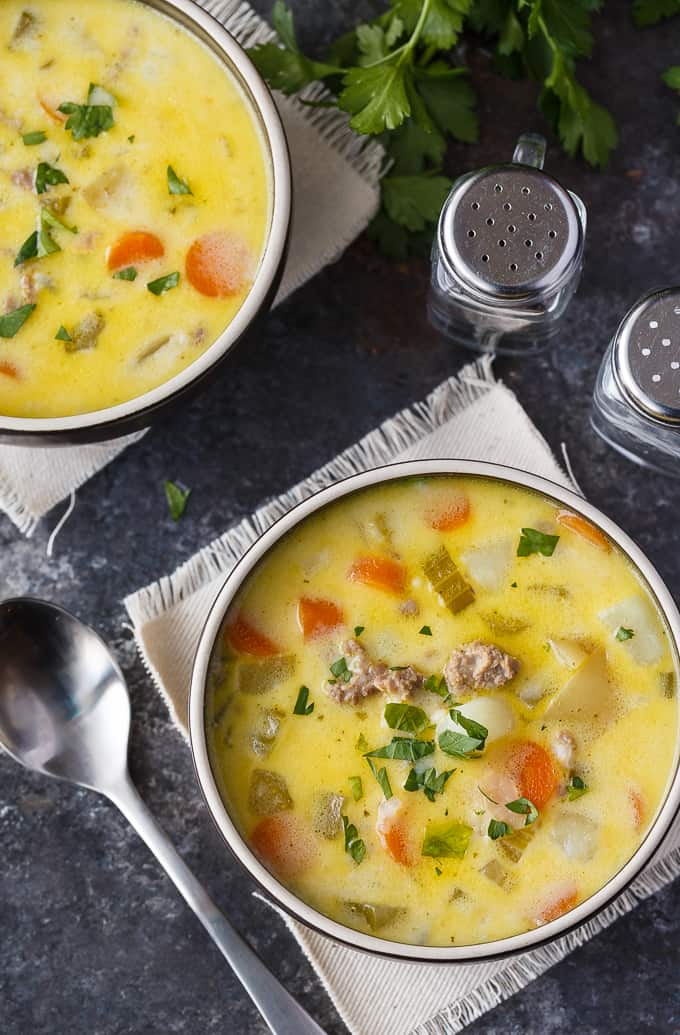 How to Make Cheeseburger Chowder
Step One: Melt butter in a large pot over medium-high heat.
Step Two: Add onions, carrots, and celery, and then saute the mixture for 8 to 10 minutes until everything has softened.
Step Three: Add water, potatoes, chicken noodle soup mix, garlic powder, chicken bouillon, ground beef, and pepper.
Step Four: Stir everything together until combined and then bring the mixture to a boil.
Step Five: Reduce the heat to medium-low, cover, and simmer for 30 minutes.
Step Six: Remove the mixture from the heat and stir in Velveeta cheese, milk, and sour cream.
Step Seven: Garnish with parsley, serve, and enjoy!
Equipment Needed
You barely need anything to make this cheeseburger chowder come to life. But I recommend using a few key ingredients for the best results possible.
As an Amazon Associate and member of other affiliate programs, I earn from qualifying purchases.
What to Serve with Cheeseburger Chowder
Recipe Tips and Tricks
Don't skimp on the butter. Although you might want to cut the calories in this dish, the butter is crucial if you want to achieve a creamy base for the sauteed veggies.
You can use full-fat meat, but lean meat actually works better for this particular recipe. I'll rarely suggest using lean meat, but I find that using leaner ground beef makes the soup less greasy and gives it a pleasant savory bite.
Use russet potatoes or another starchy variety if you can find them. These types of potatoes are ideal as they don't break apart or go mushy in soups! If you don't have them to hand, just make sure you don't overcook your potatoes.
Don't forget to take the soup off the heat before adding the cream cheese. This should keep the disk perfectly creamy without causing any weird curdling or separation issues that might ruin your soup.
If the chowder is too thick, you can stir in a bit of water, extra broth, or milk in small increments. After a while, you should reach your desired consistency.
Variations and Substitutions
If you don't like ground beef, feel free to switch it out for any protein that you like! I find that ground turkey is a good substitute, but Italian sausage works just as well if you want to spice things up slightly.
Don't skimp on the seasoning. The garlic powder and bouillon are crucial to getting the perfect savory flavor in this soup. If you want to dial up the heat, add a few red pepper flakes to the mix!
I recommend using Velveeta as it's super creamy, but cheddar cheese can be substituted in a pinch.
Feel free to top your soup with anything you like! Although you can eat this soup as-is, I like throwing in a few croutons or crackers for a hint of crunch.

Storage Instructions
Not only is this cheeseburger chowder completely delicious, but it stores like a dream!
Yup – it's the perfect choice if you're looking for a dish that is super easy to reheat and meal prep.
If you need to store your soup, let it cool to room temperature before putting it in an airtight container in the fridge. It should stay tasty for up to 4 days.
When you're ready to reheat this cheeseburger chowder, I recommend adding just a tiny splash of water to loosen the mix.
Can I Freeze?
Yes and no.
Although you can freeze this cheeseburger soup, I recommend picking out the potatoes and freezing the rest of the mixture.
It's not totally necessary, but potatoes often go slightly mushy when they're frozen and defrosted – so, just be warned!
You can either use Ziploc bags or airtight and freezer-safe containers to keep your soup safe for around 3-6 months.
For more yummy soups, check out my soup recipe box. I have lots of selection to keep you going over the winter.
You might also like this Salmon Chowder, Cheeseburger Pizza, Cheesy Chicken Chowder or Corn Chowder. Check out these Cheeseburger Egg Rolls and Impossible Cheeseburger Pie.

Follow me on Instagram @simplystacieblog, Facebook at Simply Stacie, TikTok @simplystacierecipes or Pinterest at @simplystacie and let me know how you liked this recipe and my other recipes.
If you make the recipe, rate it on the recipe card below and tag me on Instagram and use #simplystacie. I like sharing the photos on my Instagram stories!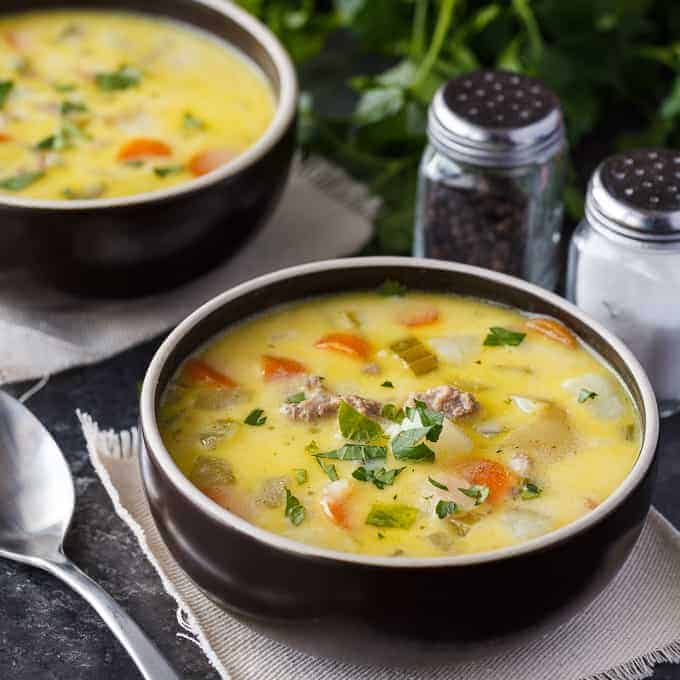 Cheeseburger Chowder
The best comfort food to warm your bones! This creamy, cheesy soup is filled with ground beef, potatoes, carrots, celery, and Velveeta cheese.
Ingredients
2 tbsp butter
1 cup onion, chopped
1 1/2 cups carrots, chopped into rounds
1 1/2 cup celery, chopped
5 cups water
3 cups potatoes, diced
1 envelope chicken noodle soup
1 tsp garlic powder
1 tbsp chicken bouillon
1 lb ground beef, cooked
2 cups milk
3/4 cup Velveeta cheese
1/2 cup sour cream
Dash of pepper
1 tbsp parsley, chopped, for garnish, optional
Instructions
Melt butter in a large pot over medium high heat. Add onions, carrots and celery, Saute for 8 to 10 minutes, until softened.
Add water, potatoes, chicken noodle soup mix, garlic powder, chicken bouillon, ground beef and pepper. Stir together. Bring to a boil. Reduce heat to medium low. Cover and simmer for 30 minutes.
Remove from heat. Stir in Velveeta cheese, milk and sour cream. Garnish with parsley.
Recommended Products
As an Amazon Associate and member of other affiliate programs, I earn from qualifying purchases.
Nutrition Information:
Yield:

8
Serving Size:

1 bowl
Amount Per Serving:
Calories:

288
Total Fat:

13.3g
Saturated Fat:

8.9g
Trans Fat:

0.1g
Unsaturated Fat:

3.1g
Cholesterol:

61.8mg
Sodium:

479.2mg
Carbohydrates:

20g
Fiber:

2.8g
Sugar:

7.8g
Protein:

22g