These one-ingredient Cheese Chips are barely a recipe but are definitely an amazing low carb snack! Dip these keto chips in salsa or guacamole, or crumble them up on a salad for extra crunch and extra cheese!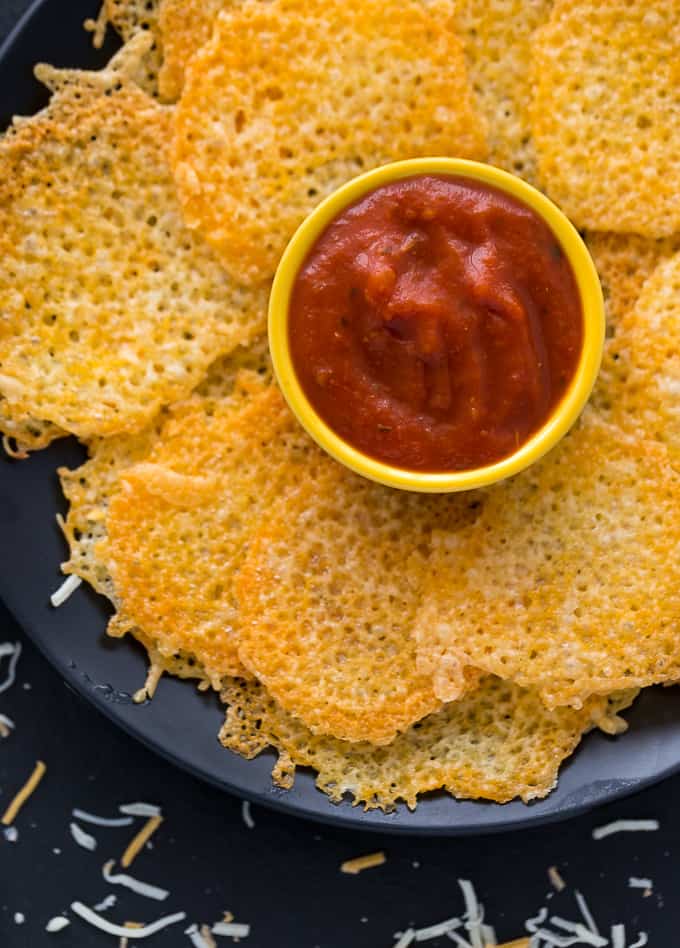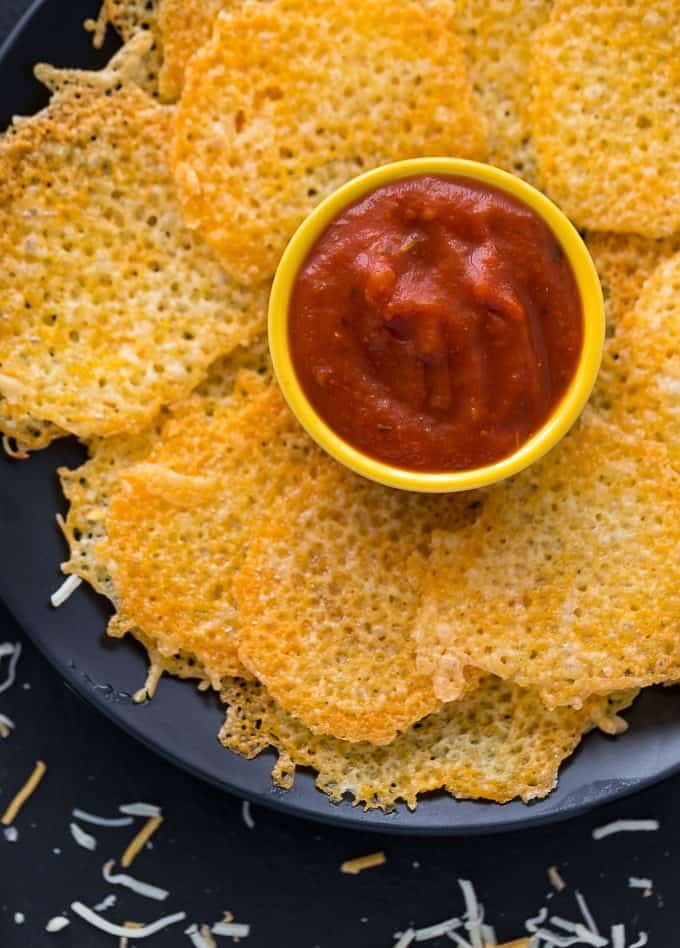 Cheese Chips
I love a crunchy potato chip, but sometimes I don't love the carbs that come with it. These Cheese Chips are amazing snack options for anyone on a low carb diet and make the perfect dippers for your favorite dips and sauces!
I experimented with a variety of cheese to find the best one for this recipe. My favorite is the shredded Mexican cheese you buy in the bag. I found it made the crispiest cheese chips out of all the cheeses I tried!
Though I've been making this recipe for a while, I discovered another easy recipe to enjoy using a different kind of cheese. Parmesan Crisps are equally delicious, low carb and super easy to make! Dip them in a little marinara sauce for the perfect pizza snack!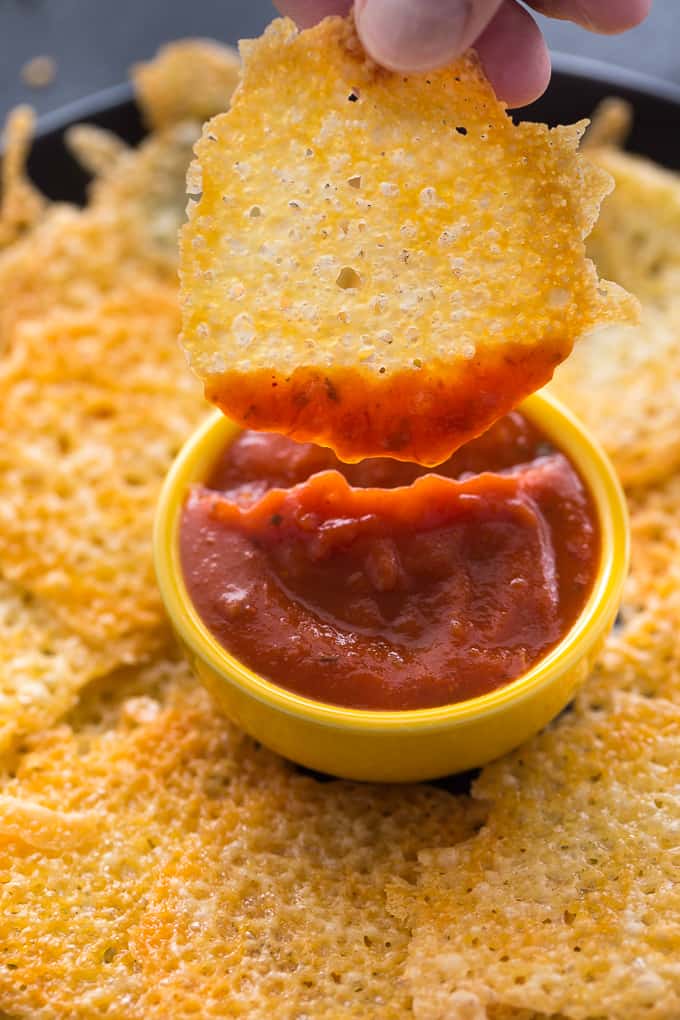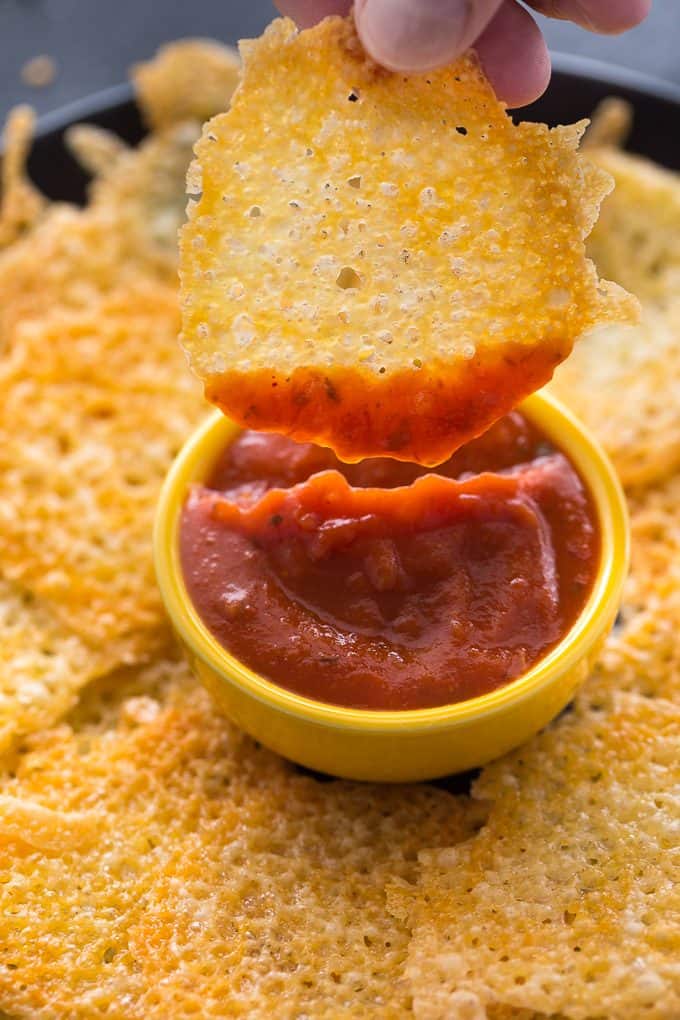 You'll want the Cheese Chips to look a little crispy so they'll keep their shape once they cool. If you overcook them, it's not really a big deal — you'll just have a crispier chip. Just be careful to not burn them as they do bake quickly!
Ingredients
Shredded cheese — that's it!
Looking for more of a kick? Feel free to season the cheese just before baking. This would go great with paprika, onion powder, garlic powder, chili powder, taco seasoning, or Italian seasoning! Try matching your dip style with your seasoning preference!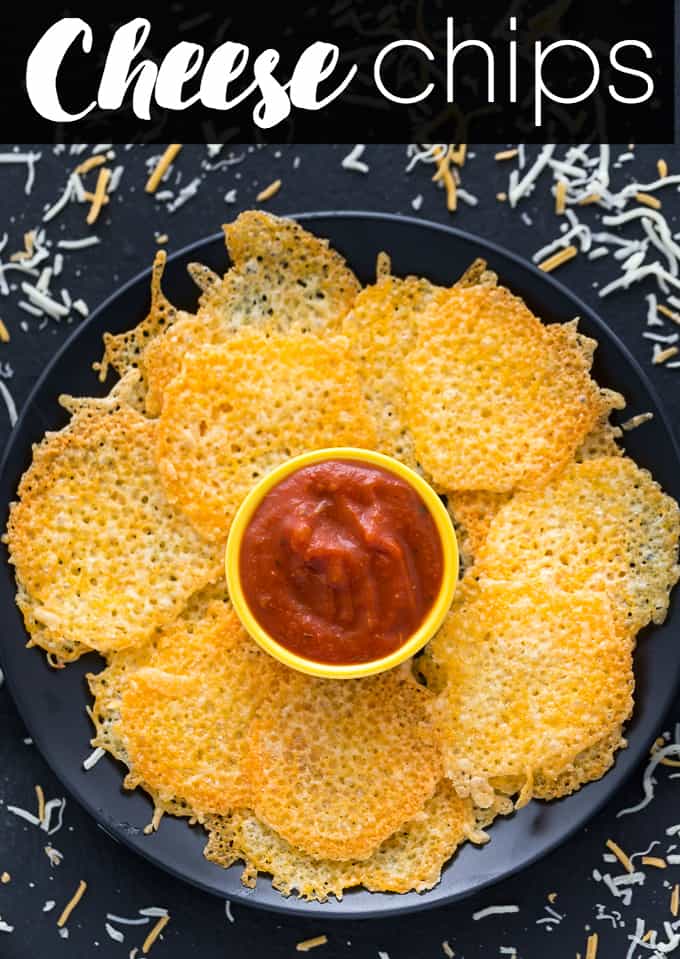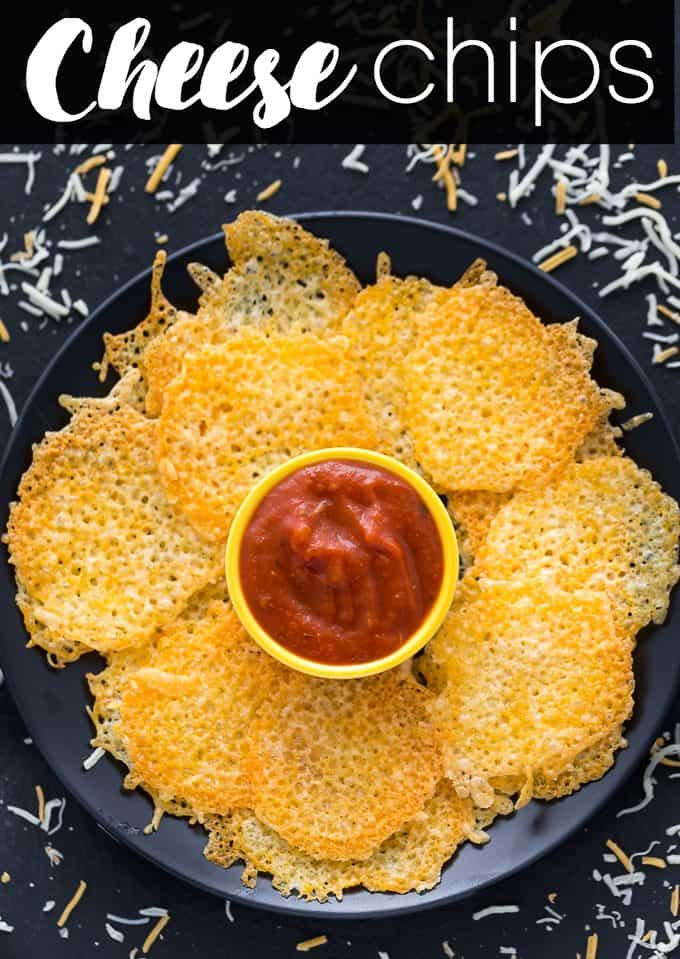 What I used for my Cheese Chips
This post contains affiliate links.
Sheet pan: Everyone needs a sturdy sheet pan, and this is my favorite. The raised sides are great for roasting meat and veggies without overflow!
Sometimes I make these for a party, but sometimes it's just for me. The best part about this recipe is it's easy to make as many or as few as you need with no changing of measurements and cook times!
How to Make Cheese Chips
Preheat oven to 375 degrees F. Lay parchment paper across 2 (or 3, depending on your space needs!) baking sheets.
Add cheese to the baking sheet, about 1 tablespoon per chip. Much like cookies, make sure to leave room between your cheese piles as they will spread as they cook!
Bake for 5 to 7 minutes, or until the chips begin to crisp. Remove from heat and allow to chill and set for 5 to 10 minutes. Remove chips from parchment paper and serve with your favorite dipping sauce!
I think these go great with a pizza sauce, but any dip will complement these crunchy Cheese Chips like guacamole, salsa, buffalo dip, ranch, even a cheese dip!

How to store Cheese Chips
Since these chips are made with perishable ingredients, they have to be stored in the refrigerator and can last up to 72 hours before they get soft — if you have leftovers at all!
Pro-tip: Usually I'd say store everything that's cooked in an air-tight container, but not these. Store your cheese chips in a paper bag folded and clipped close to help absorb the additional moisture from the chips and the humidity from the fridge to keep these chips crispy longer!
How to use Cheese Chips
Dips and snacks are my first to-go for these crunchy, carb-free discs, but sometimes I make WAY too many and have to find other uses for them.
These are a great crunchy alternative to add to a salad, or a fun element to add with your tomato basil soup instead of grilled cheese!
One fun part of this recipe is, before they cool, you can easily mold or shape them into other forms! Place them over the underside of a muffin tin before cooling and use them as mini cheese bowls, or roll them into tubes to be stuffed for a fancy keto appetizer.
The options are endless with these delicious chips!
Low Carb Recipes
Other delicious low-carb recipes to try…
You might also like these Taco Roasted Chickpeas and Air Fryer Mozzarella Balls.
Have you ever tried cheese chips?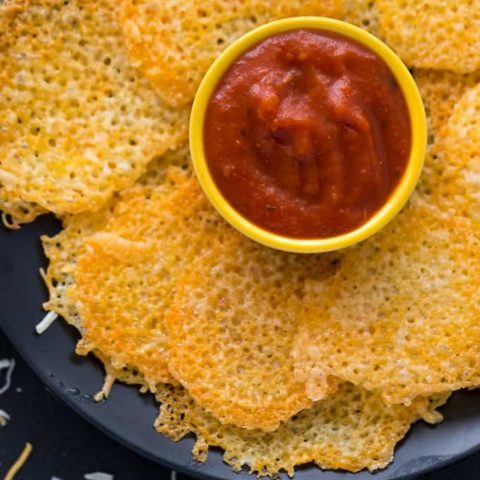 Cheese Chips
The best keto snack! Ditch the potatoes and dunk these crunchy low carb alternatives in all your favorite dips or enjoy them plain.
Ingredients
1 1/2 cups shredded cheese
Italian seasoning, optional
Pizza sauce, for dipping
Instructions
Preheat oven to 375F. Lay a piece of parchment paper on two baking sheets.
Add cheese to baking sheet, about 1 tablespoon per chip. Make sure to leave enough room in between them so they aren't touching.
Bake for 5 to 7 minutes, or until starting to crisp. Remove from heat and let cool about 5 to 10 minutes. Carefully remove from baking sheet and serve with your favourite dip. I like them with pizza sauce.
Notes
I've experimented with different types of cheese. Parmesan works great, but my favourite is the shredded Mexican cheese that comes in a resealable bag.
Recommended Products
As an Amazon Associate and member of other affiliate programs, I earn from qualifying purchases.
Nutrition Information:
Yield:

24
Serving Size:

1
Amount Per Serving:
Calories:

29
Total Fat:

2g
Saturated Fat:

1g
Trans Fat:

0g
Unsaturated Fat:

1g
Cholesterol:

7mg
Sodium:

46mg
Carbohydrates:

0g
Fiber:

0g
Sugar:

0g
Protein:

2g