Caramel Apple Pizza is one of my favorite fall pizza recipes. A sweet pizza recipe that is loaded with apples, spice, and of course caramel. Topped on a pizza crust and baked to sweet perfection.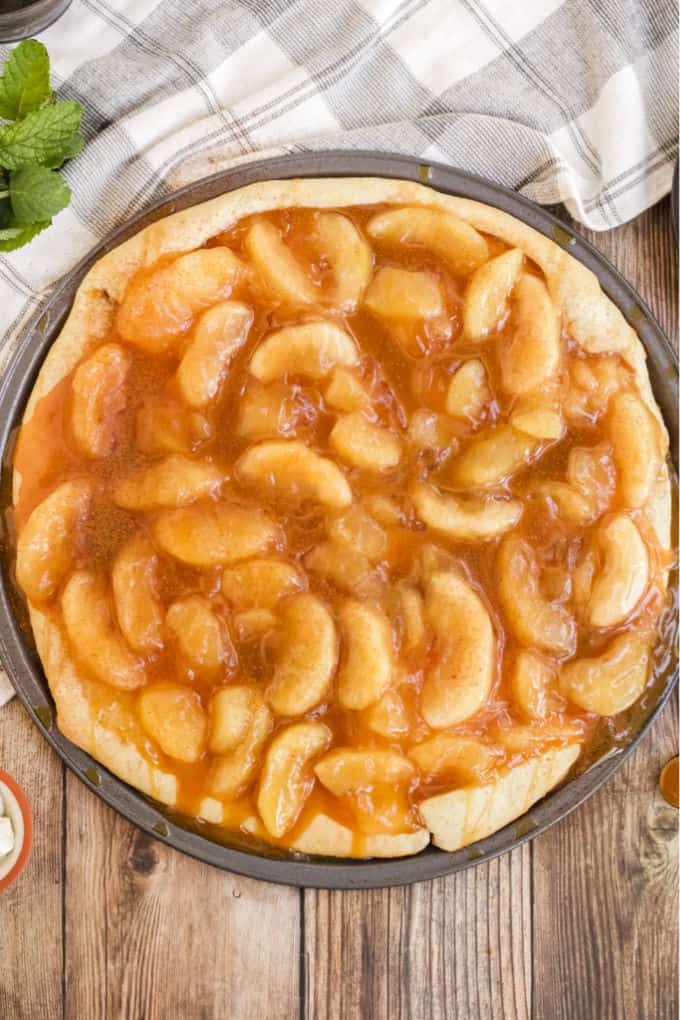 This may not be a popular opinion, but I'm going to say it anyway. I prefer caramel over chocolate any day. Don't get me wrong, chocolate is amazing. There is just something about caramel. Maybe it's the sweet, sticky taste or the way it melts in my mouth igniting my taste buds for more….lots more.
Caramel Apple Pizza
I knew I wanted to incorporate caramel into a pizza in some way. I saw a can of apple pie filling at the grocery store and thought how perfect that combination is and knew it was what I wanted to make. May I present to you Caramel Apple Pizza. This is another easy dessert pizza recipe for you to whip up when you are craving something different!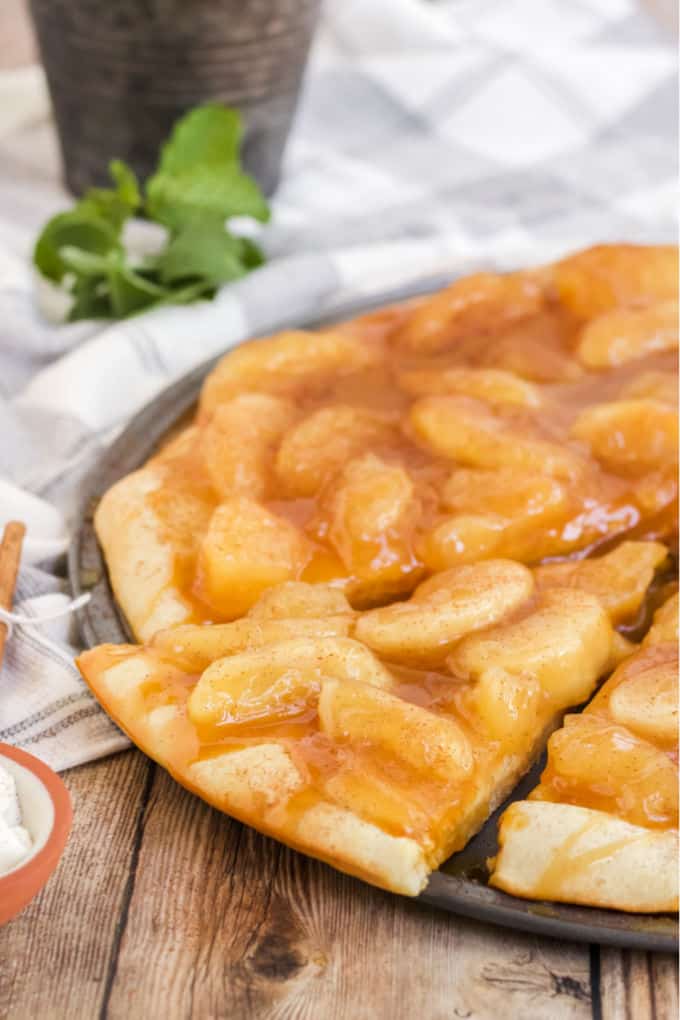 It's truly a beautiful dessert with its lovely golden colour. Caramel and apples are a perfect match. They look good together, but more importantly, they taste magnificent paired up.
I topped my piece with a bit of whipped cream. I bet ice cream would be good too. It looks a bit like an apple pie, doesn't it?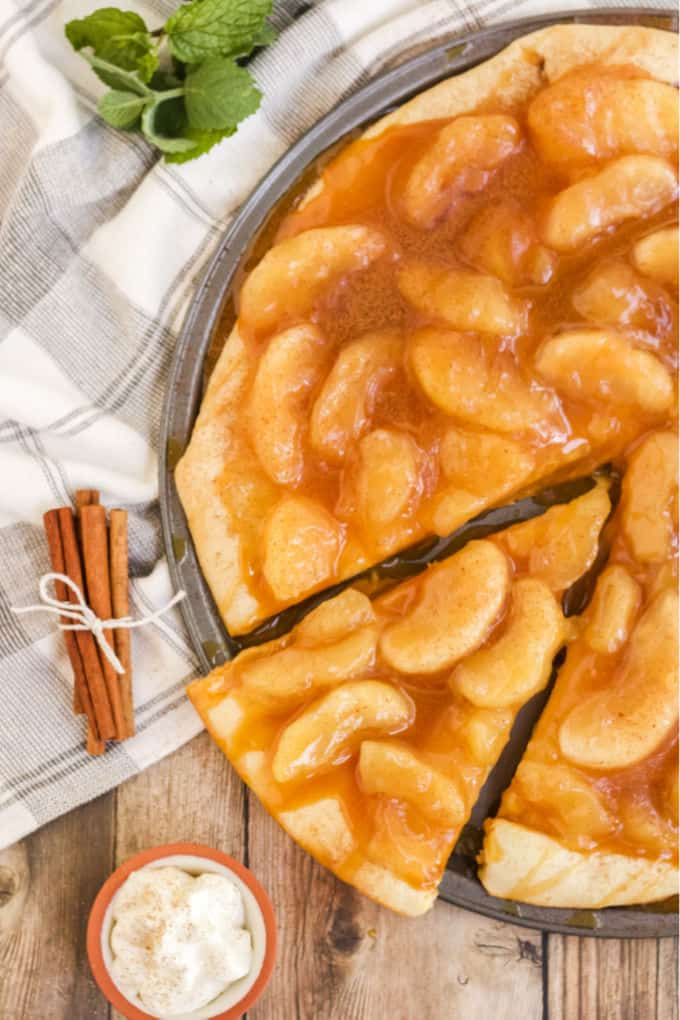 What Type of Apples Do You Use for Apple Pizza
I reached for a can of apple pie filling. Now I used store-bought apple pie filling but you are more than welcome to make homemade if you prefer a fresh pie filling. Just a few ingredients are all you need for this simple dessert pizza.
Here are more apple recipes to try
Apple Cake With Butterscotch Sauce | Talk about a fantastic cake. This is unique in flavor, light, delicate, and bursting with rich butterscotch and apple flavor.
Apple Cinnamon Bun Casserole | Great for holidays, brunches, and anytime you want something special for breakfast. An easy breakfast casserole that feels like dessert in every bite.
Apple Crisp Bars | Layers of sweetness are what make this crisp bars recipe stand out. I highly recommend giving it a try for a creative way to use up your apples.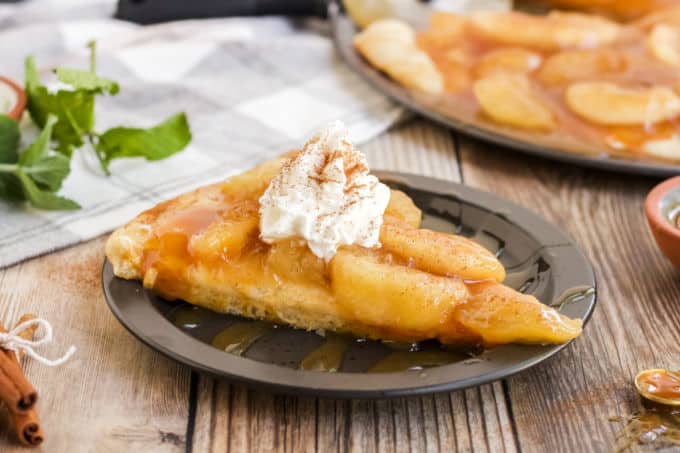 Can I Use Fresh Apples Instead of Canned Filling
If you use fresh apples I would soften them up with a little butter and cinnamon in a pan on the stove. The reason being is you will have a no-cook time and the apples wouldn't break down. So you could have a fresh apple that you cook and break down in a pan to make a homemade style apple pie filling.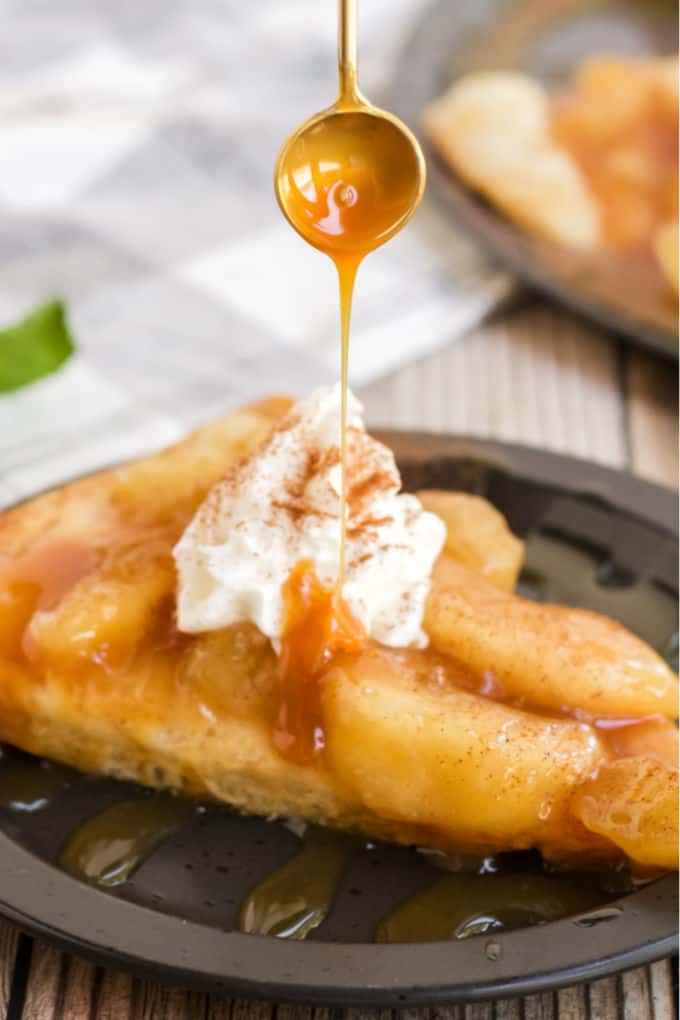 Are Dulce de Leche and Caramel the Same Thing
Dulce de Leche and Caramel sauce are similar, but with a slight difference. Dulce de Leche is made with condensed milk so you will find it offers a thicker and creamier texture than a traditional sauce. Both will give you that sweet caramel flavor you want to spread onto the pizza.
So you can opt to buy or make either. I have found it is all about your personal preference on which you like. It is super easy to make your own dulce de leche, it just takes time to cook.
Do You Use A Special Crust for Dessert Pizza
Regular pizza dough is what you will want to use for dessert pizza. I find using homemade or store-bought dough you roll out works great. Either will give you that tender and soft crust that is mild and pairs great with the sweet toppings you add on.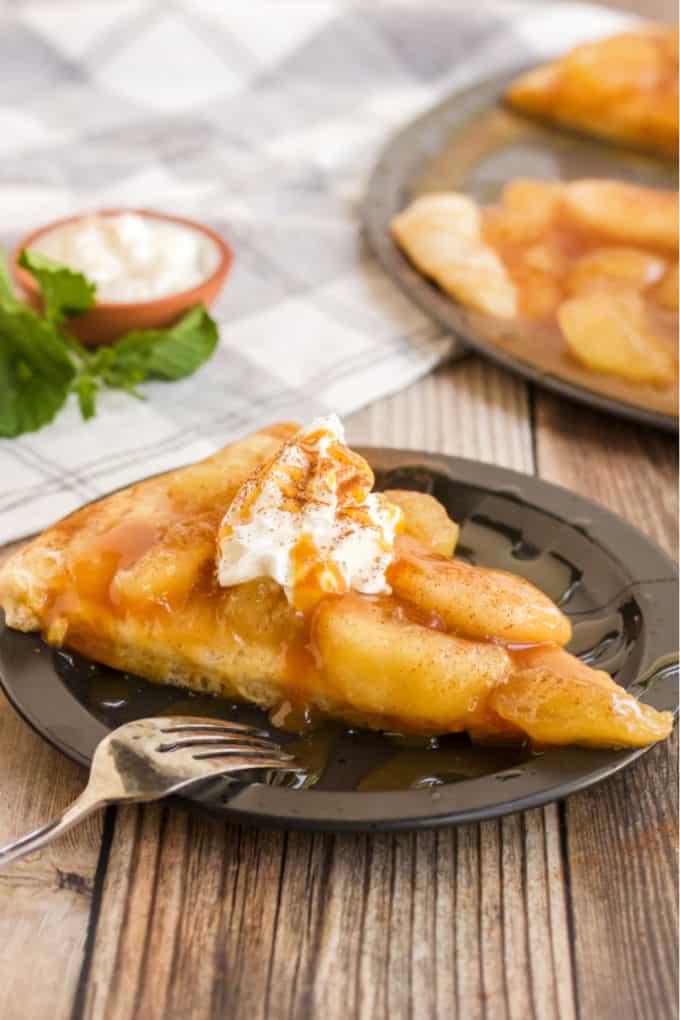 How to Make Caramel Apple Pizza
Start by preheating your oven to 400 degrees. Then grease your pizza pan and then lay out your dough and shape it into a pizza shape. Then sprinkle with the brown sugar, and toss in the oven for 15 minutes or until your dough is cooked and golden brown.
Once the pie crust is done you will remove it from the oven, and then reach for your caramel or the leche. Spread it over the dough but make sure to leave a gap around the edge to mimic pie crust.
Then spoon the pie filling over the top, and then top with whipped cream if you like.
How to Store Leftover Apple Dessert Pizza
You will want to store any leftover pizza you have in an airtight container in the fridge. It will store 3-4 days in the refrigerator. Then when you want a slice either opt for eating it cold or warm up a slice in microwave or pan.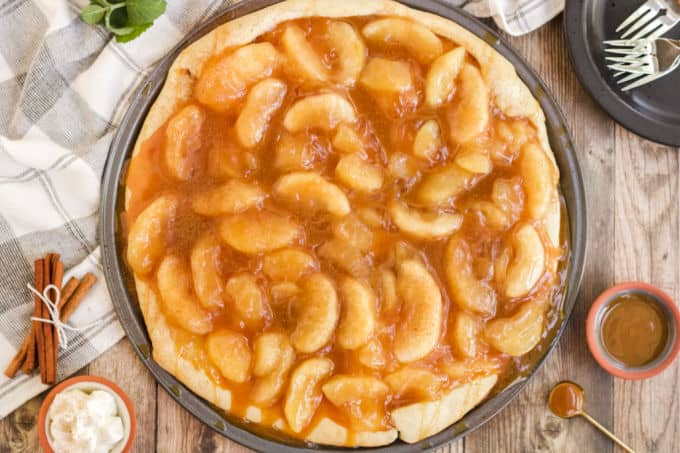 Can You Freeze Caramel Apple Pizza
I have not tried freezing this pizza. I would think it should hold up when frozen, but I would recommend trying one slice and see how it does. Just make sure to store in an airtight container and store for a max of three months. Thaw in the fridge before eating. If you do plan to freeze I would leave the whipped cream off the top of the pizza.
Are you a fan of caramel?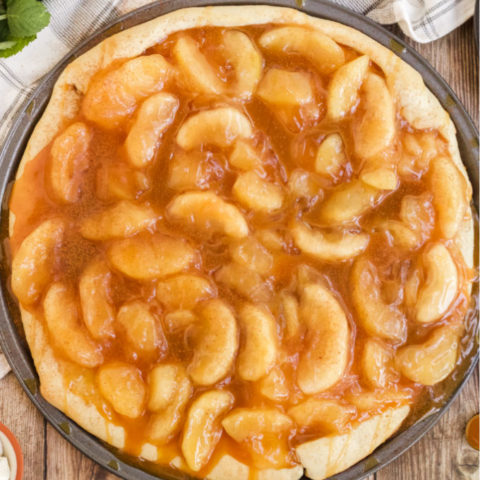 Caramel Apple Pizza
The PERFECT fall dessert pizza! Sweet cinnamon apple pie filling with rich caramel covering a basic pizza crust for the taste of pie without the mess and wait.
Ingredients
1 Pillsbury Pizza Crust (or your own homemade pizza crust or other brand of refrigerated pizza crust)
1 cup caramel sauce or Dulce de Leche spread
1 can (540 ml) apple pie filling
1 tbsp brown sugar
whipped cream, optional
Instructions
Preheat oven to 400F. Grease a pizza pan and spread out dough to fit. Sprinkle brown sugar over the pizza dough. Bake for 15 minutes or cooked and golden brown.
Immediately remove from oven and spread caramel sauce or Dulce de Leche spread over the cooked pizza dough leaving a gap around the edge. It will be very hot so be careful.
Spread apple pie filling evenly over top of the caramel spread. Top with whipped cream to serve if desired. Refrigerate any uneaten portions.
Recommended Products
As an Amazon Associate and member of other affiliate programs, I earn from qualifying purchases.
Nutrition Information:
Yield:

6
Serving Size:

1
Amount Per Serving:
Calories:

422
Total Fat:

8g
Saturated Fat:

2g
Trans Fat:

0g
Unsaturated Fat:

6g
Cholesterol:

2mg
Sodium:

629mg
Carbohydrates:

83g
Fiber:

2g
Sugar:

39g
Protein:

7g