Your favorite appetizer just got a makeover! This Bruschetta Chicken Pasta Salad gives you all those bold and zesty flavors of bruschetta chicken but with a twist. Grilled chicken, al dente pasta, balsamic vinegar, tomatoes, and more come together for an incredible pasta salad recipe.
This weekend we had a BBQ feast over at my parent's house. I made steak kebabs and brought some hot dogs for the kids. I also whipped up a batch of Bruschetta Chicken Pasta Salad because nothing says summer quite like pasta salad.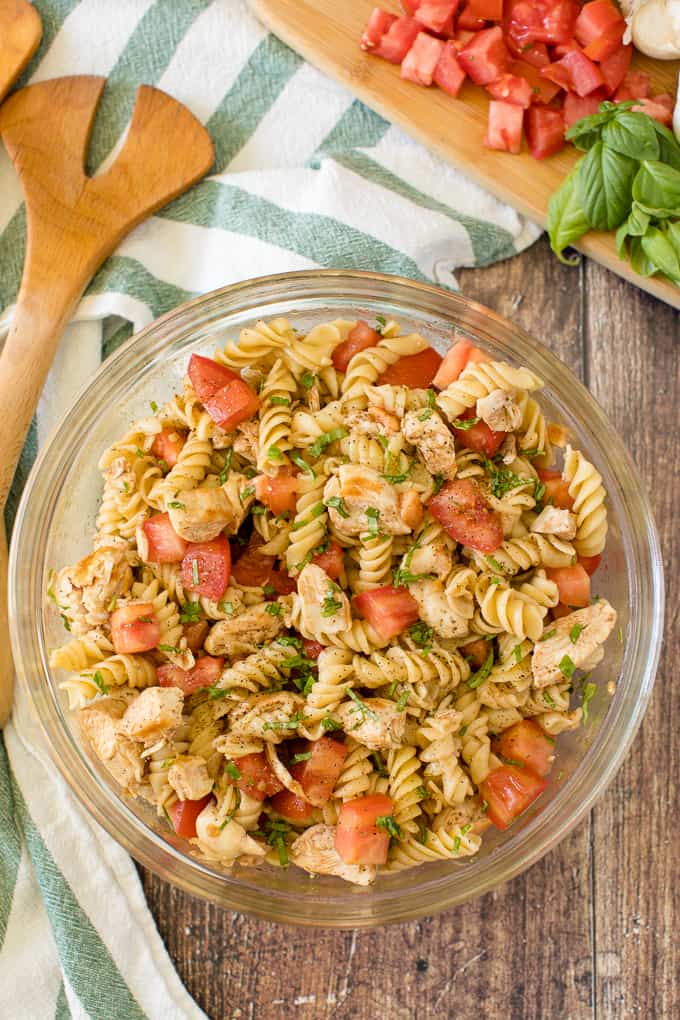 Bruschetta Chicken Pasta Salad
Bridget had a friend with her and this little girl was so sweet and polite. She told me it was the yummiest pasta salad she's ever tried. How nice is that? I like this girl!
I used six tomatoes on the vine. They were on sale at Food Basics this past week so I grabbed a bunch. Roma tomatoes also would have worked in this recipe. I also used four cloves of garlic because I adore the flavor of fresh garlic. Cut it down to two cloves if garlic isn't really your thing.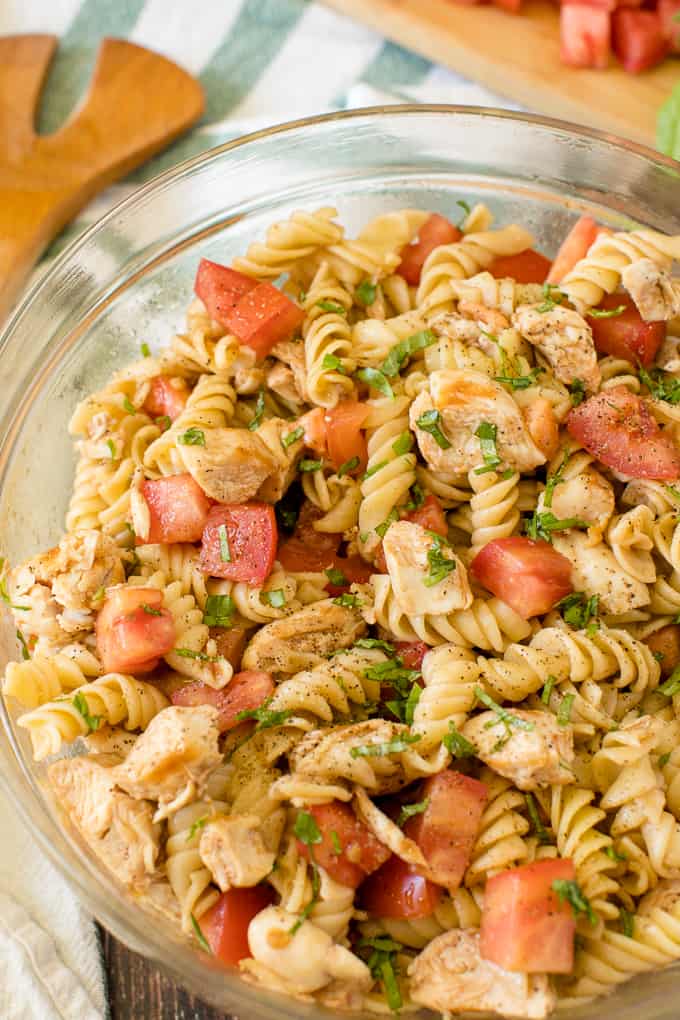 How to Store Bruschetta Pasta Salad
Every bite is a burst of fresh flavor. If you like bruschetta, chances are you'll also enjoy this pasta salad. Store it in the fridge till you are ready to serve.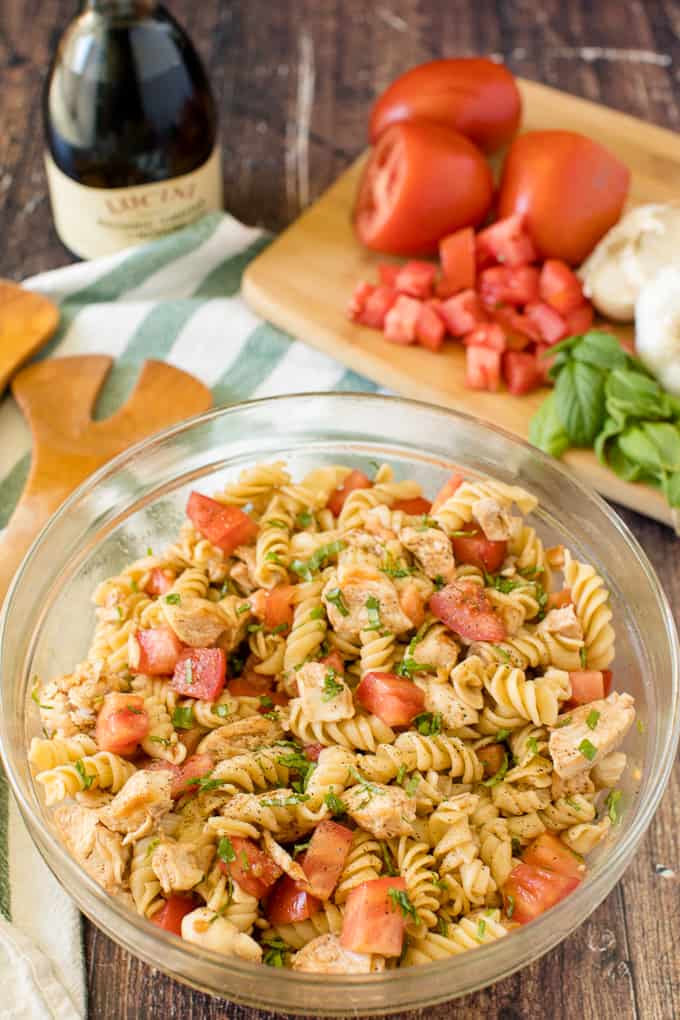 Can I Make Chicken Bruschetta Pasta Ahead of Time
Absolutely! This recipe is great day one, but it tastes even better the next day after all the ingredients have had a chance to mingle together. Just make and then cover and store in the fridge until you are ready to serve. Give a good stir and then plate up your salad.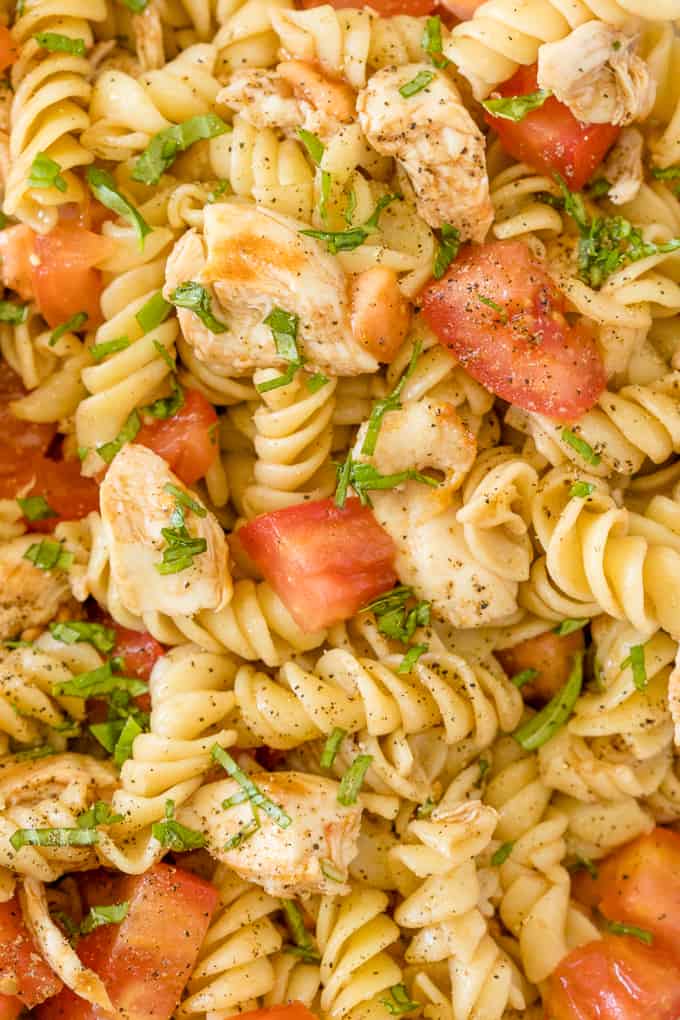 What Type of Pasta Do You Use for Bruschetta Pasta Salad
You can use any type of pasta you would want. Spaghetti pasta, elbow, bowtie, whatever you have on hand will work. Just make sure that you follow cooking directions on the back of the package.
You could even take it a step further and use cheese-stuffed tortellini to replace the regular pasta. This would be a tasty option to make.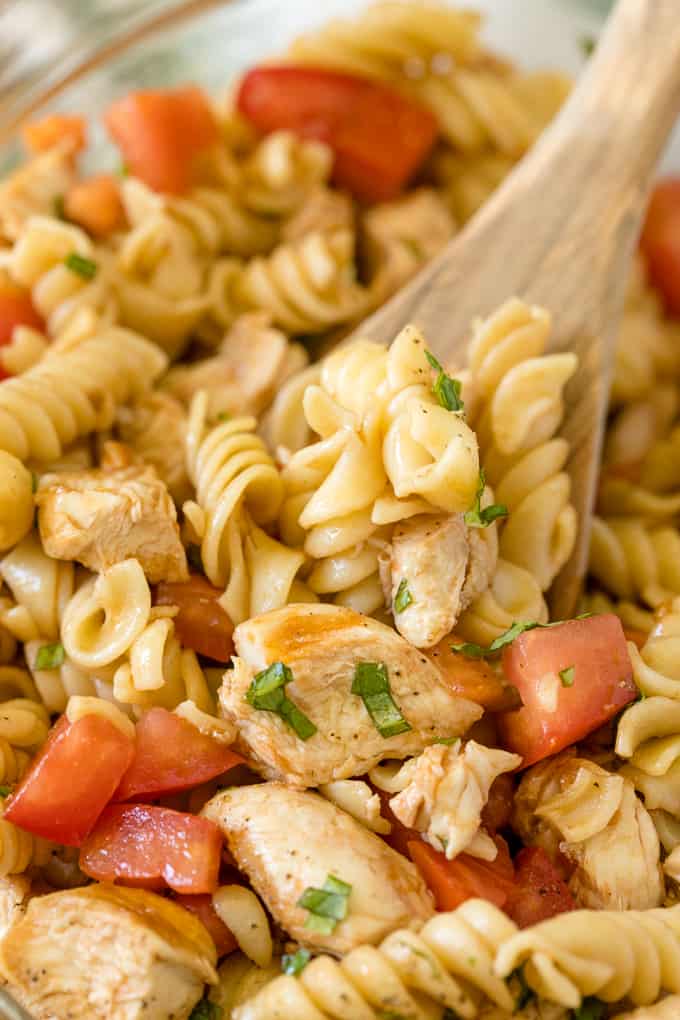 Can I Use Rotisserie Chicken for Bruschetta Chicken Pasta Salad
Yes, you can use rotisserie chicken for your pasta salad. Just make sure to shred and de-bone the chicken and then use that to replace the cooked chicken breast. You want a rotisserie chicken that doesn't have a ton of flavor or it will affect the flavor of the salad.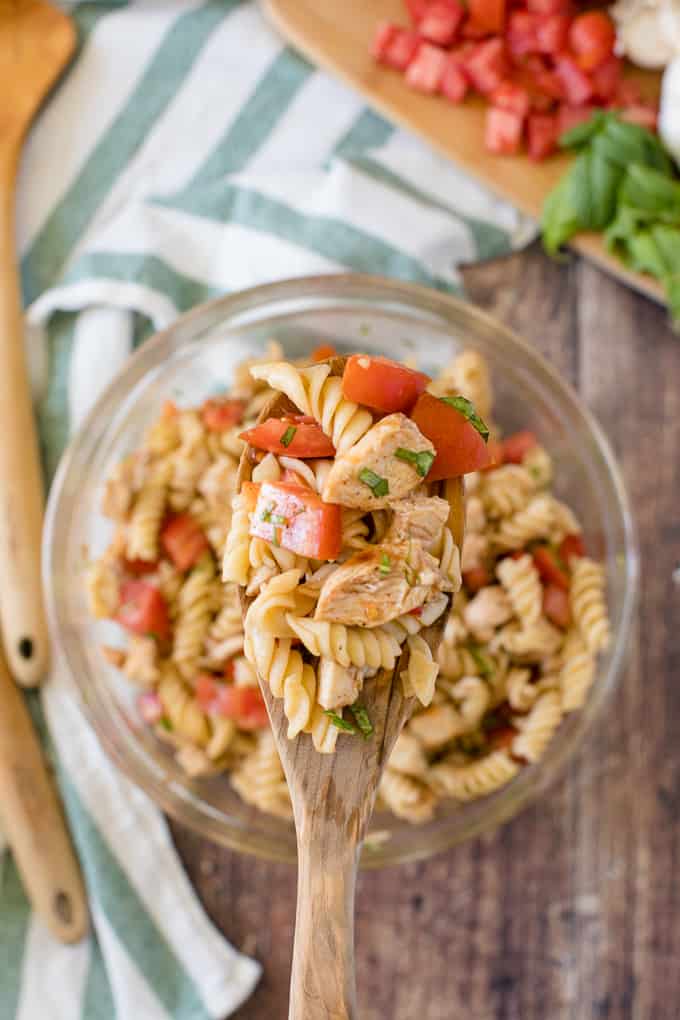 Even More Pasta Salad Recipes
Check out my other pasta salad recipes – Ramen Noodle Salad, Roasted Pepper Pasta Salad, Greek Pasta Salad, Chili Pasta Salad, Chicken Fajita Pasta Salad and Easy Bacon Pea Pasta Salad. Also, check out my Pasta Salad board on Pinterest.
What To Serve With Bruschetta Chicken Pasta Salad
Garlic Bread
Breadsticks
Pair with a side sandwich
Or use this as a side dish for a potluck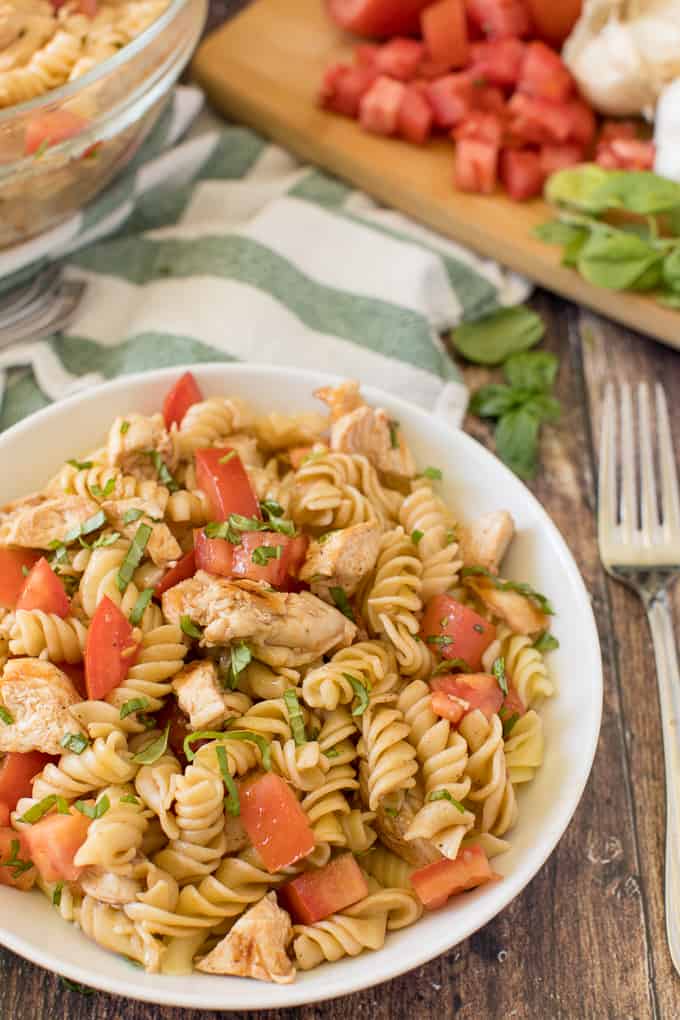 Can I Leave the Chicken out of this Pasta Salad
If you want to make this a vegetarian dish, feel free to leave your chicken out of the dish. You could add in vegetables like broccoli or even cucumbers in replace, or just make it as is without the chicken.
What Type of Cheese Would Work in this Bruschetta Pasta Salad
I would reach for fresh mozzarella or even mozzarella pearls. It would work perfectly for this salad. Or add on some shaved parmesan cheese to top each serving.
How to Make Bruschetta Chicken Pasta Salad
Start by cooking your pasta according to the package. Then in a bowl take your chopped tomatoes, garlic, basil and chicken and stir together. Then in a small bowl whisk your oil and vinegar together. Pour onto the chicken mixture and stir well. Then once the pasta is cooked, pour into the mixture, stir one last time and season with salt and pepper.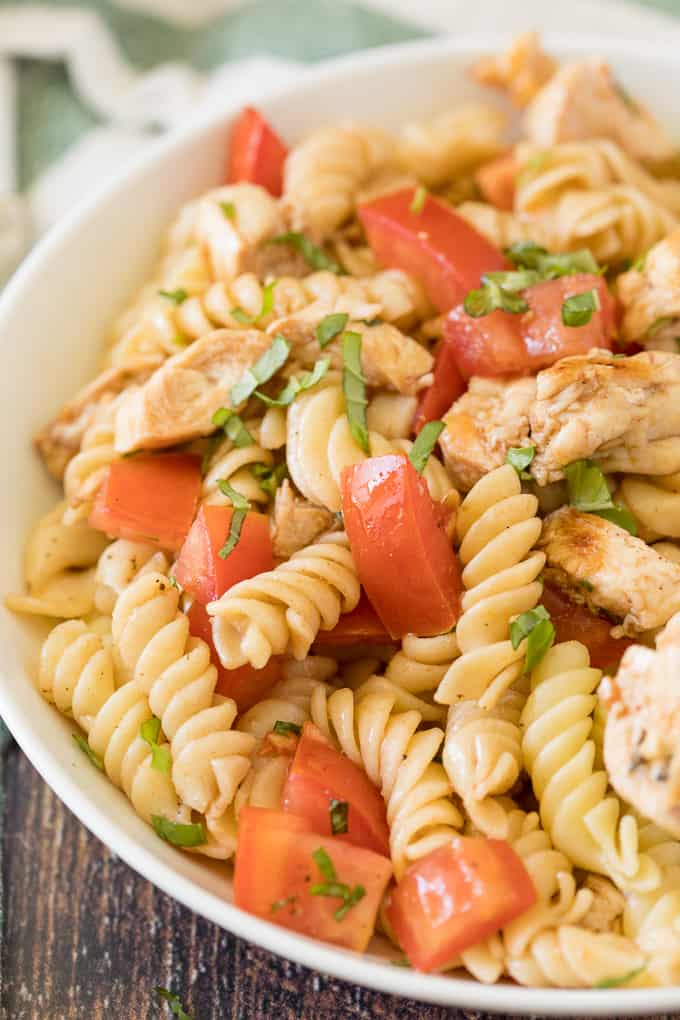 How Long Can Bruschetta Chicken Pasta Salad Store For
You can keep this pasta salad in the fridge for 3-4 days. I recommend using your best judgment in terms of if you think the salad has gone bad. Give a good stir between each serving to ensure the dressing gets mixed. It can kind of dry out as it sits in the fridge on the top layer.
Do You Eat This Pasta Salad Cold or Hot
Either actually. You can throw it together while the pasta is still slightly warm for a warmer take on this recipe. Or allow it to chill in the fridge for a cold pasta salad. We tend to eat this salad chilled but you are more than welcome to serve one at first.
I think if you are a fan of bruschetta you will love this fun twist on it. Pasta salad is great for a quick and easy meal, potluck dish or even side to your main meal.
You'll also like this Italian Pasta Salad and Chicken Caesar Pasta Salad.
What is your favourite kind of pasta salad?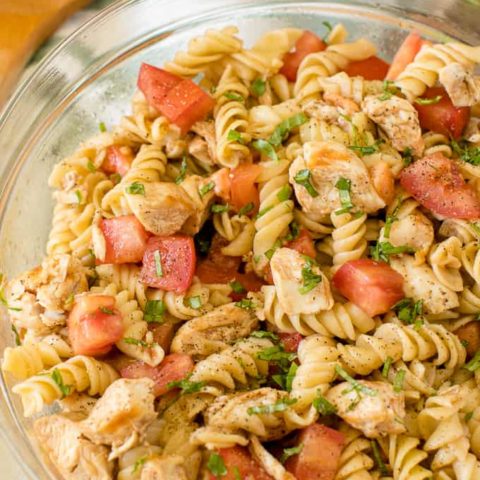 Bruschetta Chicken Pasta Salad
The best pasta salad! Add fresh tomatoes and basil for an amazing summer side dish packed with protein.
Ingredients
4 cups cooked pasta
6 tomatoes, chopped
4 cloves garlic, minced
2 tbsp fresh basil, chopped
2 chicken breasts, cooked and chopped
1/4 cup extra virgin olive oil
2 tbsp balsamic vinegar
salt & pepper, to taste
Instructions
Toss tomatoes, garlic, basil, and chicken in a large bowl.
In a small bowl, whisk together olive oil and balsamic vinegar. Pour into large bowl.
Add cooked pasta to large bowl and toss to combine. Season with salt and pepper.
Refrigerate until ready to serve.
Recommended Products
As an Amazon Associate and member of other affiliate programs, I earn from qualifying purchases.
Nutrition Information:
Yield:

6
Serving Size:

1
Amount Per Serving:
Calories:

304
Total Fat:

11g
Saturated Fat:

2g
Trans Fat:

0g
Unsaturated Fat:

9g
Cholesterol:

34mg
Sodium:

88mg
Carbohydrates:

32g
Fiber:

3g
Sugar:

5g
Protein:

18g