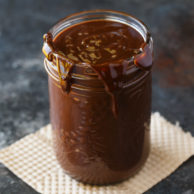 Hot Fudge Sauce
Yield: 2 1/2 cups
Prep Time: 5 minutes
Cook Time: 10 minutes
Rest Time: 30 minutes
Total Time: 45 minutes
So thick and decadent! This delicious sauce is wonderful over ice cream for the ultimate sundae.
Ingredients
1 354ml can evaporated milk (about 12 oz)
2 cups semi-sweet chocolate chips
1/2 cup sugar
1 tbsp butter
1 tsp vanilla extract
Instructions
Add milk, chocolate chips and sugar to a saucepan over medium heat. Heat to boiling, stirring constantly. Remove from heat.
Stir in butter and vanilla extract.
Cool for 30 minutes and serve warm.
Notes
Store sauce in fridge for up to 1 month. Heat slightly before serving.
Nutrition Information:
Yield: 10
Serving Size: 1/4 cup
Amount Per Serving:
Calories: 312
Total Fat: 14.7g
Saturated Fat: 9.2g
Unsaturated Fat: 0.7g
Cholesterol: 3.1mg
Sodium: 37.2mg
Carbohydrates: 44.6g
Fiber: 3.2g
Sugar: 38g
Protein: 5.7g