Pecan Cookies with Cream Cheese Filling
I've been dabbling with creating recipe videos over the past few months. I'm not an expert, but I'm having fun with it and learning lots. I recently purchased a new tripod to use with my smartphone to create overhead shots. In the past, I was standing on a ladder handholding my phone to take the videos. It was not the best set up and no matter how still I tried to stay, the video always looked shaky. My new set up is 100x better.
My cousin and I tested it out with these yummy Pecan Cookies with Cream Cheese Filling. My cousin is the one doing all the prep work in the video and I'm on the ladder taking the video with my new tripod.
The cookies turned out great! They taste like two sugar cookies with a nutty pecan flavour and inside is a sweet and smooth cream cheese frosting.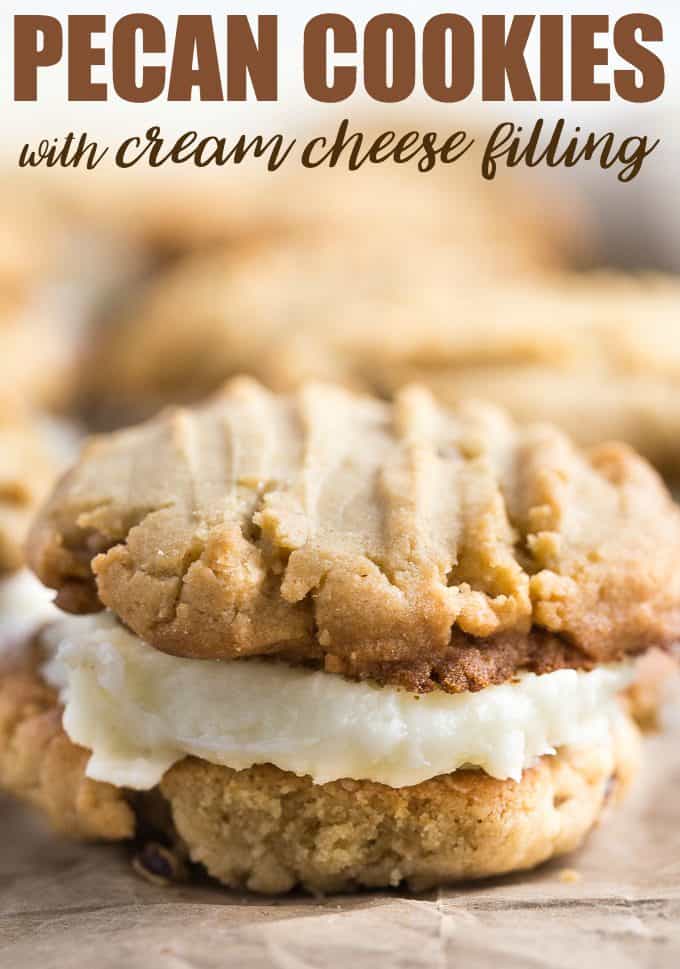 Check out the video below to see the cookies come to life. I hope to share more recipe videos with you over the coming months! Enjoy!
Pecan Cookies with Cream Cheese Filling
Yield: 24

Prep Time: 10 minutes

Cook Time: 10 minutes

Total Time: 20 minutes

Think sugar cookies with a decadent nutty flavour and rich, smooth cream cheese frosting.
Ingredients
1 cup brown sugar
1 cup sugar
1 cup butter, softened
2 eggs
1 tsp baking soda
1 tsp salt
1 tsp vanilla extract
3 1/2 cups flour
1 cup pecans, chopped
Cream Cheese Filling
1 8 oz package cream cheese, softened
4 cups powdered sugar
Instructions
Preheat oven to 375F. Grease a baking sheet and set aside.
In a large bowl, add brown sugar, white sugar, butter, eggs, baking soda, salt and vanilla extract. Beat on medium speed until combined.
Add flour to mixture in three parts, stirring in between. Stir in pecans.
Roll cookie dough mixture into 1 inch balls and place on baking sheet. Flatten with a fork. Bake for 10 minutes. Place on a baking rack to cool.
To Make the Filling
Beat together cream cheese and icing sugar until smooth. Spread filling on one cookie and put together with another cookie like a sandwich.
Recommended Products
As an Amazon Associate and member of other affiliate programs, I earn from qualifying purchases.
Nutrition Information:
Yield: 24 Serving Size: 1
Amount Per Serving: Calories: 336Total Fat: 15gSaturated Fat: 7gTrans Fat: 0gUnsaturated Fat: 6gCholesterol: 45mgSodium: 249mgCarbohydrates: 49gFiber: 1gSugar: 34gProtein: 3g