Slow Cooker Chocolate Peanut Butter Cheesecake
This recipe proves how versatile a slow cooker is. A cheesecake isn't the first thing that comes to mind when you see it sitting on your kitchen counter. But, maybe it should be! Yes, you can make cheesecake in your slow cooker. Talk about ah-mazing!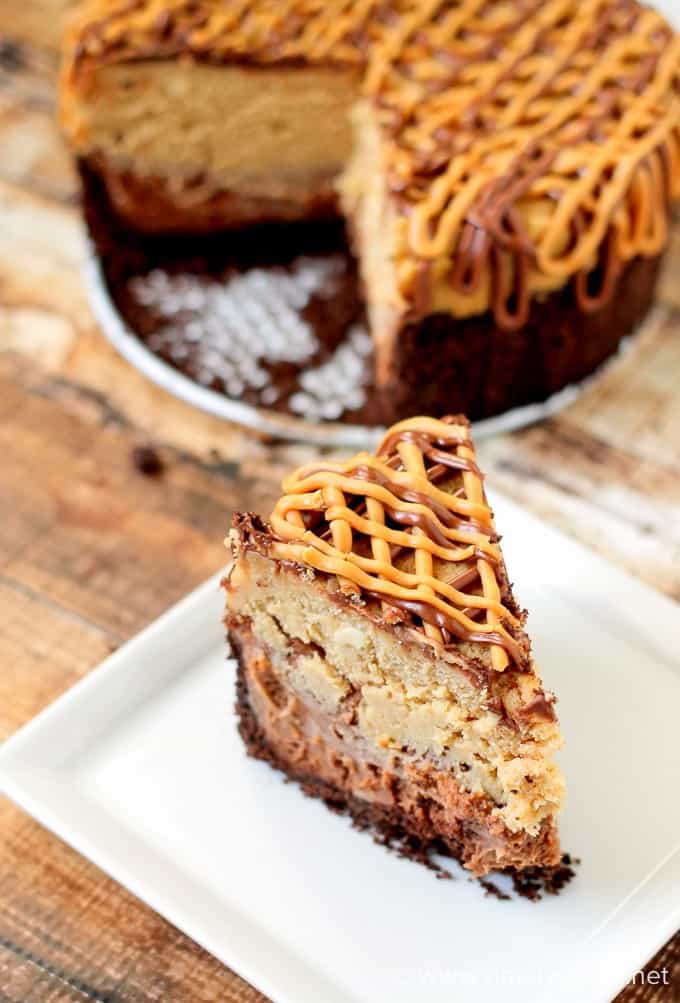 This Slow Cooker Chocolate Peanut Butter Cheesecake is the epitome of comfort food. It's thick, dense, moist and sweet. It's everything a cheesecake should be and then some.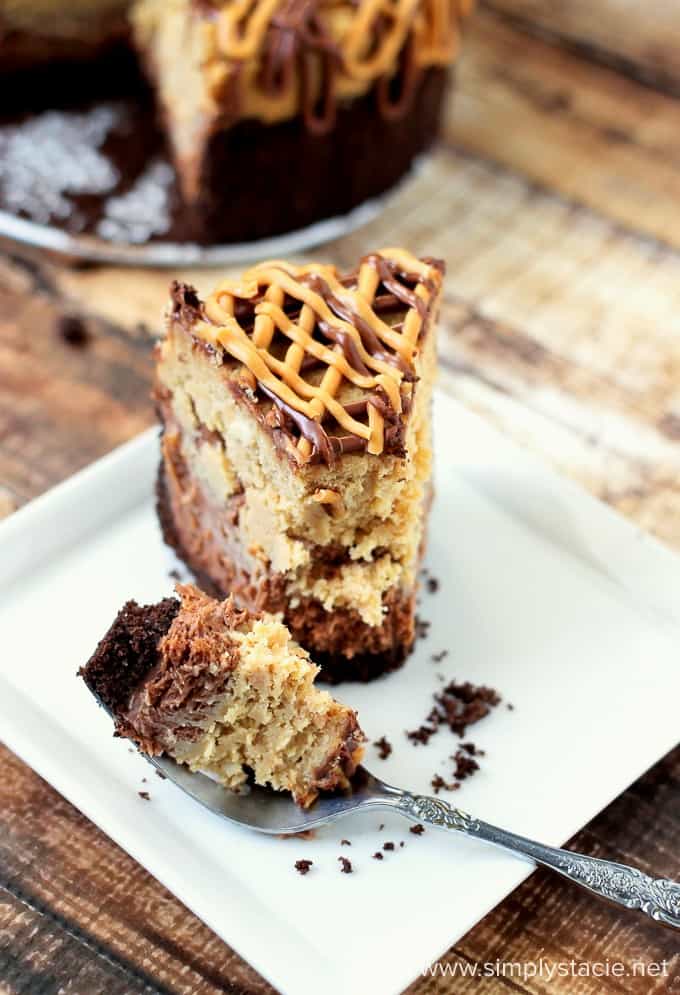 The only special equipment beyond your slow cooker that you'll need is some mason jar lids. You can pick those up inexpensively at Walmart.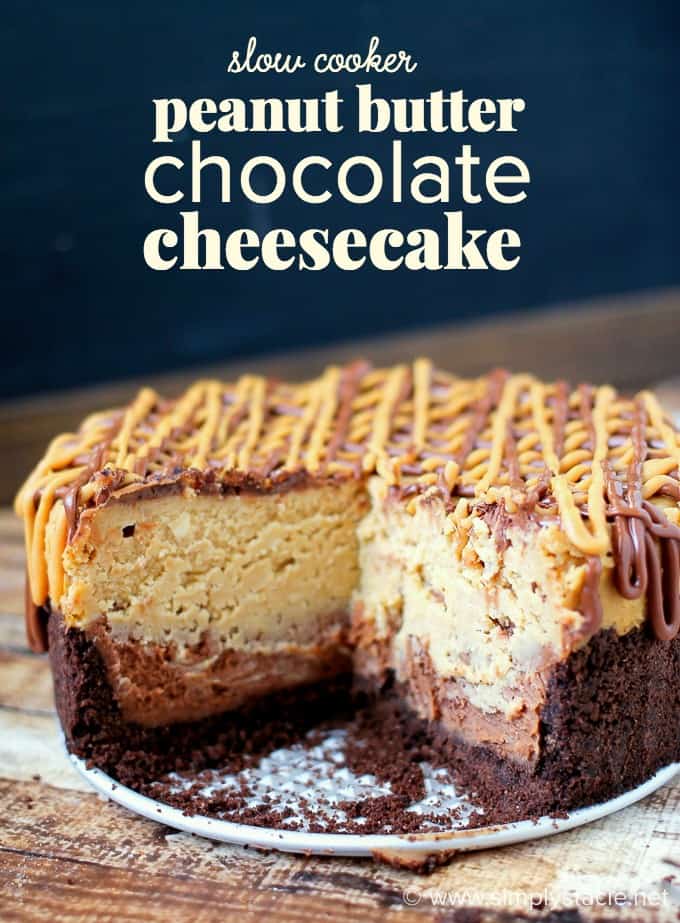 Yield: 6
Slow Cooker Peanut Butter Chocolate Cheesecake
Ingredients:
Cheesecake
2 packages cream cheese (8 oz each), softened
½ cup sugar
2 tbsp heavy cream (or whole milk, or sour cream)
¾ tsp vanilla
2 eggs
¾ cup semi sweet chocolate chips
¾ cup peanut butter chips 
1 ¼ cups chocolate graham cracker crumbs
4 tbsp butter, melted
Topping
¼ cup peanut butter morsels
¼ cup semi sweet chocolate morsels
Directions:
In the bowl of a stand mixer, add cream cheese and sugar, mix at a high speed until combined with no clumps. Add heavy cream and vanilla, mix for a few seconds to combine. Add eggs, one at a time, beating after each one. Mix at a medium speed for 10 more seconds. Set aside.
In a bowl, add chocolate graham cracker crumbs and butter; use a fork to moisten the crumbs.
Using a 6 inch springform baking pan, add the moistened crumbs to the bottom and press down to pack them, allowing some to come up the sides and pressing them to pack those as well. Set aside.
Place your chocolate chips and peanut butter chips into 2 seperate microwave safe bowls. Doing one at a time, heat the first bowl for 30 seconds, and then stir, continue heating in 15 second increments, stirring every 15 seconds until melted. Repeat for second bowl; set aside.
Add half of the cheesecake filling to another bowl, then using a spatula, add the melted chocolate chips, stirring until completely combines. Pour on top of the chocolate crust and smooth out the top using the spatula. Add melted peanut butter chips to the remaining cheesecake filling; stir until completely combined. Pour on top of the chocolate cheesecake filling carefully, then carefully smooth the top out. The top should be at least a half inch from the top of the pan.
In a large slow cooker, add about an inch of water to the bottom. Place a wire rack, or mason jar lid rings (the circle part with hollow middle) on the bottom of the slow cooker.
Place springform pan on top of the 'rack', it shouldn't be touching the water. Place 4 paper towels across the top of the slow cooker, and then cover, pulling the towels tightly so that they don't touch the cheesecake.
Cook on HIGH for 2 1⁄2 hours. Remove lid carefully and paper towels and allow to cool on the counter for at least 1 hour. Place pan into the fridge and cool for 4 hours, or ideally overnight.
When ready to serve, using the same method above, melt both the chocolate and peanut butter chips in separate bowls. Place the melted chocolate into a piping bag or a ziplock bag. If using a zip lock bag, cut a tiny bit off the corner, and then squeeze the melted topping over the top of the cake, repeating with both melted peanut butter and chocolate.
Cut into slices and serve. Store in fridge.

I'm a huge fan of the chocolate and peanut butter combination. Each flavour is wonderful on its own, but when combined? Pure magic.
If you're looking for more ways to use your slow cooker, check out my post featuring 31 irresistible slow cooker desserts. You can thank me later.
I'd love to know if you have ever made a cheesecake in your slow cooker. How did it turn out? If you haven't, why not try my recipe here as your first!
You Will Also Love
If you liked this post, you will also love these ones!