August is Chocolate Heritage Month in Saint Lucia, the picturesque island in the Eastern Caribbean archipelago. I used to think of Europe when I thought about chocolate until I recently tasted Saint Lucian chocolate. And wow, did my perspective change! Saint Lucian chocolate is scrumptious!
Saint Lucia is the world leader in "chocolate tourism". Yes, it exists! I know all you chocoholics right now are like, "Say what?!". With Chocolate Heritage Month going on right now, it's the perfect time to book an indulgent getaway to Saint Lucia. It's a little piece of chocolate heaven.
Look at all the ways you can satisfy your chocolate cravings with a trip here:
Choc-tails: Chocolate infused spa treatments
Cocoa plantation tours at Mome Coubaril Estate, La Dauphine Estate and Fond Doux Holiday Plantation
Behind-the-scenes look to see the bean to bar process at Jade Mountain's Emerald Estate Organic Chocolate and Chocolate Laboratory
Witness the many stages of chocolate production at Hotel Chocolat
Enjoy specialty tasting menus
Plus, you can get sweet deals at hotels and resorts island-wide for couples and families with savings up to 50% off. Take a peek at the packages!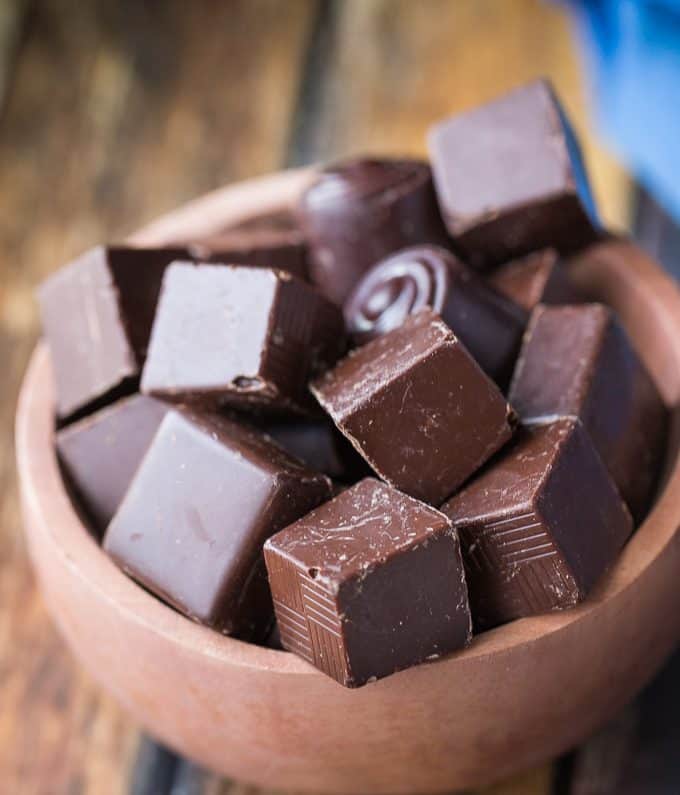 Saint Lucia and chocolate have a long history dating all the way back to the 1700's. They have a thriving cocoa industry that produces some of the world's best chocolate. They are home to the Pitons, a mountain range that provides the perfect conditions for chocolate growing.
Saint Lucian Chocolate Cheesecake
In honour of Saint Lucia's Chocolate Heritage Month, I created the most incredible cheesecake I've ever made. I'm completely serious. I was blown away with how perfect it turned out! I'm sure the Saint Lucian chocolate I used played a big role!
It's pretty straightforward to make. For your base, you'll need chocolate cookie crumbs and melted butter.
I recommend using a 9-inch springform pan. It will make removing the cheesecake effortless and keep it looking gorgeous to serve to your family and friends.
The star of the recipe is all this decadent Saint Lucian chocolate!
The cheesecake layer is made out of melted Saint Lucian chocolate, cream, cream cheese, sour cream, eggs, sugar, vanilla extract and a pinch of salt. I had to stop myself from eating it right out of the bowl. It looks so rich and luxurious.
I normally use the dry heat method for cheesecakes versus a water bath. The only thing with dry heat is that your cheesecake will crack. Don't panic if this happens. The chocolate ganache will hide all the imperfections and no one will ever know.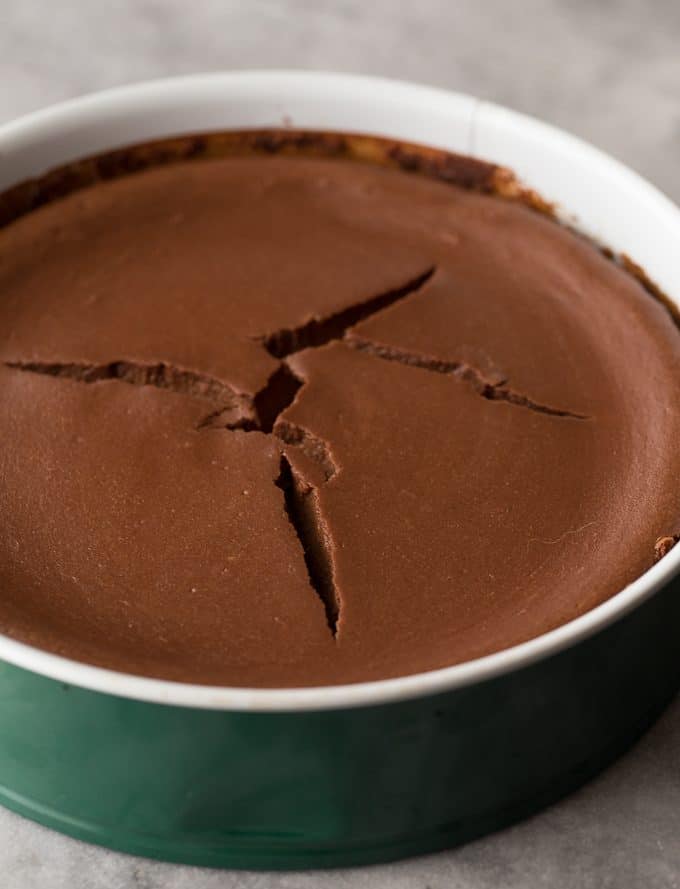 After your cheesecake has cooled completely, it's time for the final step: the chocolate ganache. It's made out of more Saint Lucian chocolate, cream and butter. Pour it over top of your cheesecake and you are ready to serve it to your guests!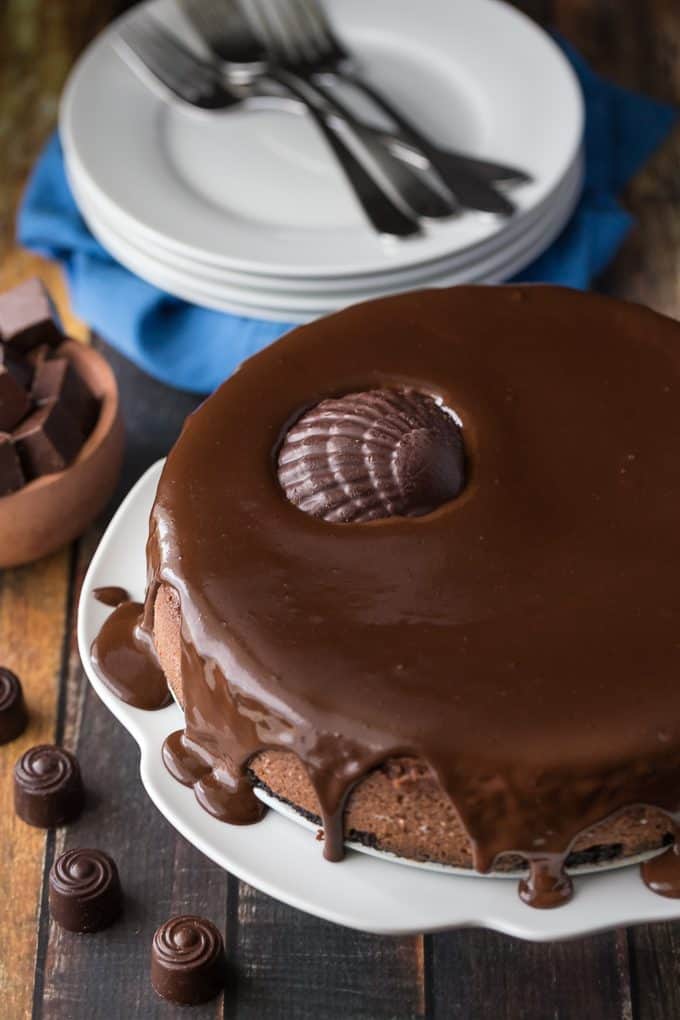 I garnished mine with a Saint Lucian chocolate clam. I thought it fit the theme of this culinary destination perfectly.
How does it taste? Mind-blowing, perfect and just the right amount of sweetness. It's creamy, smooth and rich. One piece and I guarantee you'll be craving more. I was a bit sad when it was all gone.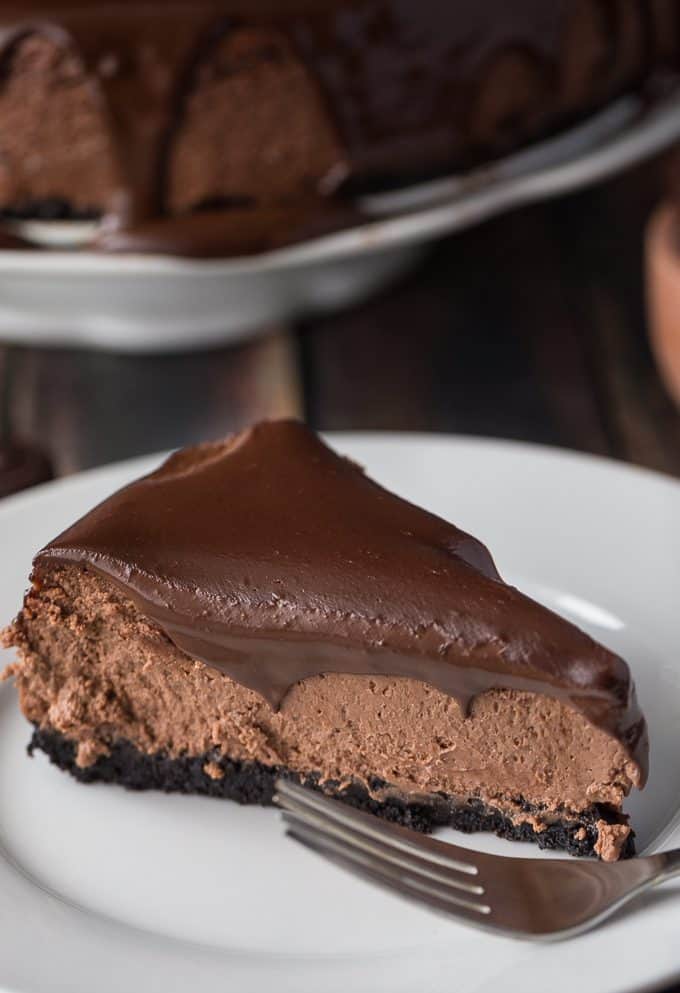 I shared with family and friends. In fact, I received a lovely email from my daughter's boyfriend's mother that as a cheesecake lover, she has tried many cheesecakes and mine beats them all. I cannot tell you how great that made me feel! It made my day.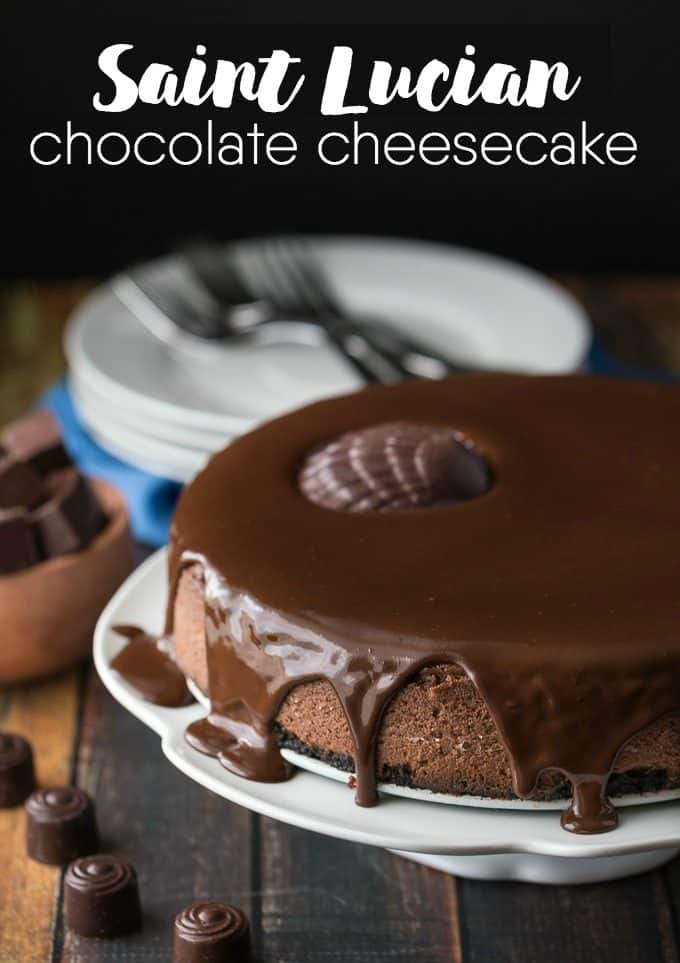 I hope you'll add Saint Lucia to your travel bucket list if you aren't able to make it this month. I know it now has a top position on mine!
Visit the Saint Lucia Tourist Board's site and learn more about this amazing travel destination and start planning your next vacation!
You'll also like this Caramel Pecan Cheesecake.
Saint Lucian Chocolate Cheesecake
Cook Time:
1 hour
8 minutes
Total Time:
1 hour
28 minutes
Taste Saint Lucia from your own kitchen! Take a Caribbean getaway with this decadent chocolate cheesecake.
Ingredients
Chocolate Cookie Crust
1 1/2 cups chocolate cookie crumbs
6 tbsp unsalted butter, melted
Cheesecake
1 1/2 cups table cream (heavy cream)
1 1/2 cups St. Lucian chocolate, chopped finely
1 cup sour cream
2 250g packages cream cheese, softened
3/4 cup sugar
3 eggs
2 tsp vanilla extract
pinch of salt
Chocolate Ganache
1 cup table cream (heavy cream)
1 1/2 cups St. Lucian chocolate, finely chopped
1 tbsp unsalted butter
Instructions
Chocolate Cookie Crust
Preheat oven to 350F. Add chocolate cookie crumbs and butter to a bowl and mix together. Press into a 9 inch springform pan. Bake 12 minutes. Cool completely.
Chocolate Cheesecake
Add cream to a small saucepan over medium heat. Heat until just simmering and turn off heat. Add in chocolate and let sit for 3 minutes without stirring. After 3 minutes, stir until it fully combined and smooth. Whisk in sour cream and set aside to cool.
Beat cream cheese on medium speed for about 1 1/2 minutes. Add in sugar and beat for another minute on medium. Add in eggs, one at a time, beating in between each addition. Add in salt and vanilla and beat for another 30 seconds. Stir in chocolate mixture until smooth.
Preheat oven to 375F. Pour the cheesecake mixture in the springform pan and place on a baking sheet. Bake for 20 minutes. Turn down the oven temperature to 300F and bake for an additional 30 minutes. The centre should be slightly jiggly.
Remove the cheesecake from the oven and place on a cooling rack. Gently run a knife blade around the edge of the pan so it will be easier to remove later. Let it cool to room temperature and then place in the fridge for 3 to 4 hours.
Chocolate Ganache
Heat the cream in a saucepan over medium heat until it gets hot and starts to steam. Turn off the heat and add in the chocolate and butter. Make sure all the chocolate is covered by the cream and gently shake the pan if you need to. Let sit for 3 minutes. Stir gently so you don't add any air bubbles to the mixture until it's fully combined. Let it cool for 15 minutes and pour over top of your cheesecake and serve.
Notes
Don't worry if your cheesecake cracks. This happens all the time with dry heat baking with cheesecakes. Your chocolate ganache will hide them.
Recommended Products
As an Amazon Associate and member of other affiliate programs, I earn from qualifying purchases.
Nutrition Information:
Yield:

8
Serving Size:

1
Amount Per Serving:
Calories:

1132
Total Fat:

88g
Saturated Fat:

52g
Trans Fat:

1g
Unsaturated Fat:

28g
Cholesterol:

275mg
Sodium:

382mg
Carbohydrates:

75g
Fiber:

3g
Sugar:

63g
Protein:

15g
Disclosure: I was compensated for this post. All opinions expressed are my own.