Slow Cooker Buffalo Chicken Sliders
I can't get enough Buffalo Chicken these days. I picked up a big bottle of Frank's Wing Sauce and have been using it in lots of recipes. I made Buffalo Chicken Pizza using it as the sauce. So tasty! This recipe for Buffalo Chicken Sliders is just as good and it's even easier to make. The slow cooker does most of the hard work!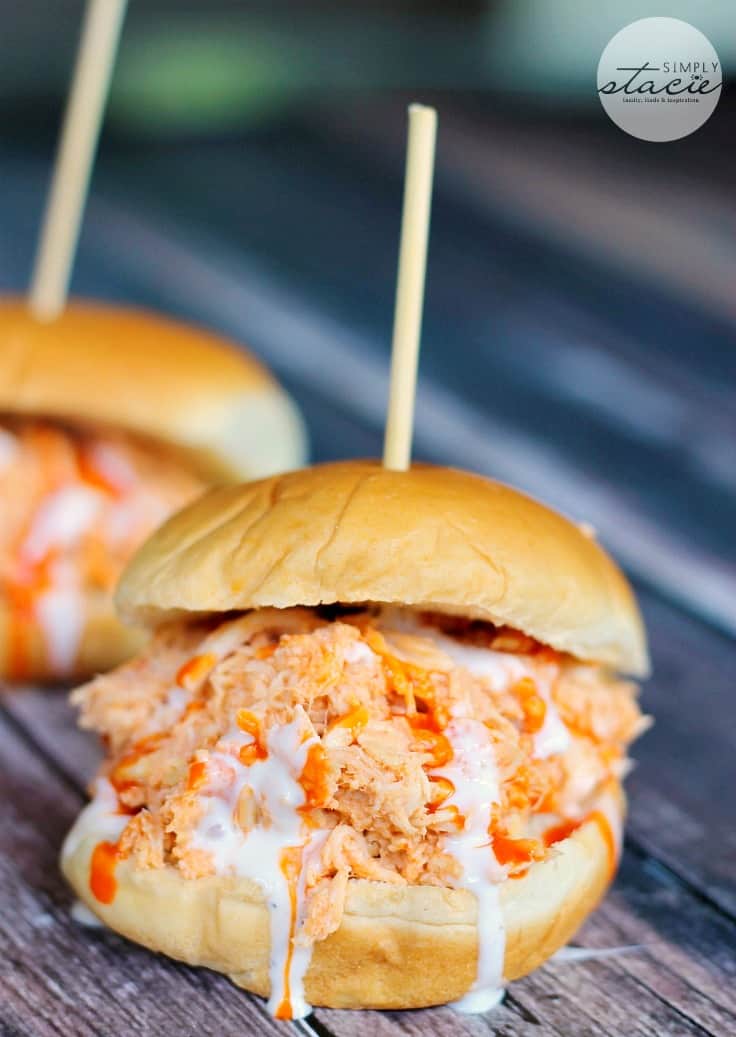 Buffalo Chicken Sliders
The chicken breasts are covered in Frank's Wing Sauce and onions in the slow cooker. And like anything you make in the slow cooker, the flavour permeates deep down so that every bite lights up your taste buds.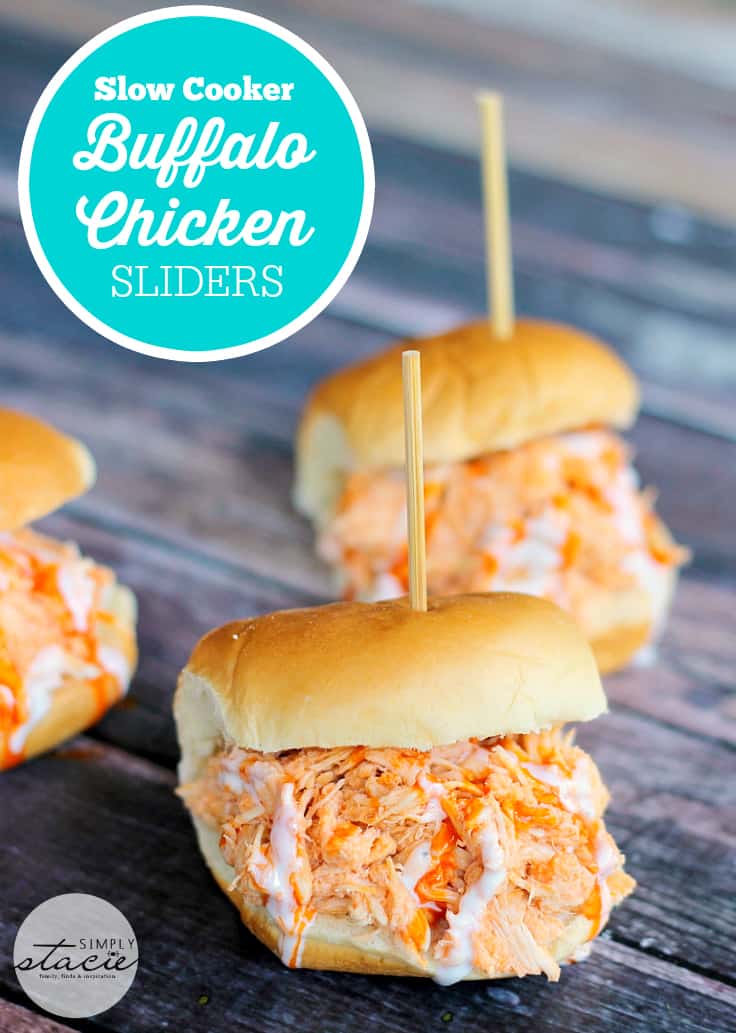 The only thing that could make these sliders better is if they were on King's Hawaiian buns! I tried them at Blogher 2011 in San Diego and have been craving them since. I wish they had them in Canada.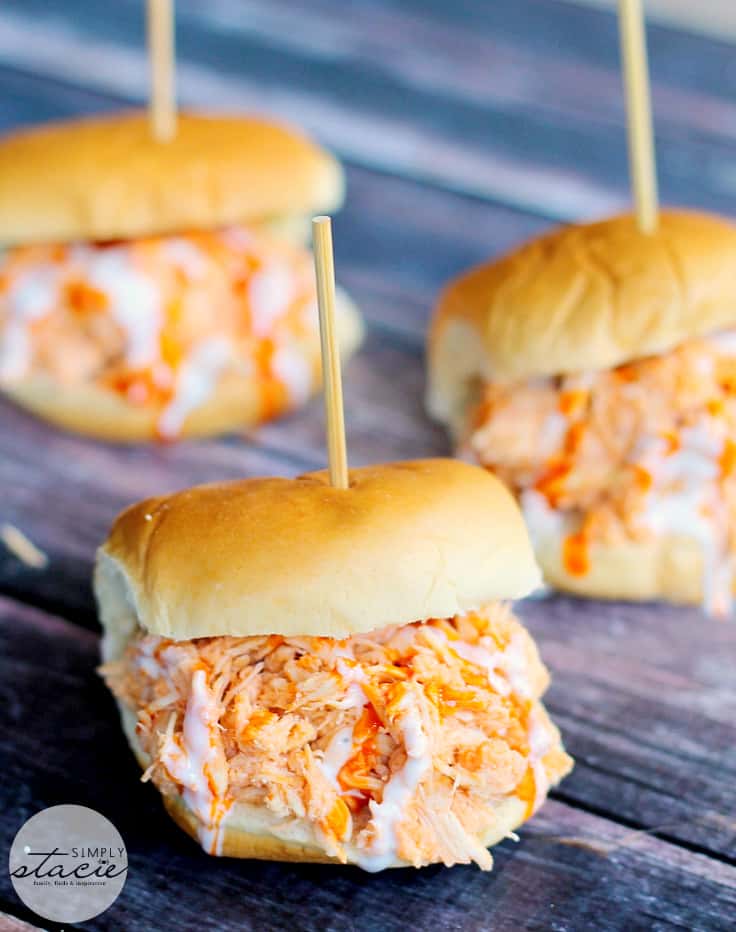 The ranch dressing complements the spice of the wing sauce. I like Hidden Valley Ranch dressing, but I'll buy others if they are on sale. Renee's and Kraft are other ones that we often use.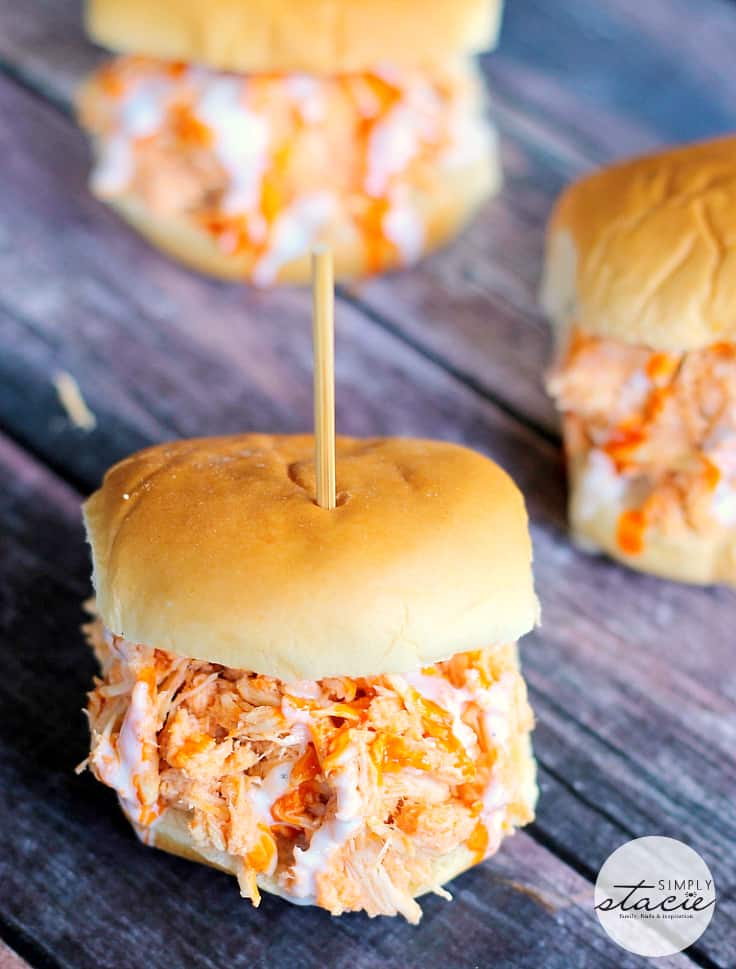 Serve up some coleslaw with your sliders. Yum!
These Buffalo Chicken Sliders are the perfect game day snack. Your whole house will smell delicious and everyone will be salivating by the time the sliders are ready to eat. I recommend starting the slow cooker in the morning so that they are ready to enjoy during mid-afternoon. I guarantee your guests will love them!

Yield: 4 to 6
Slow Cooker Buffalo Chicken Sliders
Mouthwatering recipe for Slow Cooker Buffalo Chicken Sliders made with Frank's Wing Sauce!
Ingredients:
2 lbs boneless, skinless chicken breasts
1 cup wing sauce (I like Frank's), divided
1/2 onion, chopped finely
Ranch dressing
12 slider buns
Directions:
In a slow cooker, add chicken breasts and top with 1/2 cup wing sauce and onions. Cover and cook on low for 6-7 hours or high for 4-5 hours.
Remove chicken from slow cooker and shred using 2 forks or stand mixer. Reserve 1/4 cup of liquid from slow cooker, and discard the rest. Place shredded chicken back into slow cooker bowl, add 1/4 cup reserved liquid, and remaining 1/2 cup wing sauce. Stir to coat chicken.
Place about 1/4 to 1/3­ cup of chicken on each bun. Garnish with additional wing sauce and ranch dressing if desired. Enjoy!
When was the last time you had sliders? 
You Will Also Love
If you liked this post, you will also love these ones!