Cherry Cheesecake Pizza
The pizza craze continues, but this time I'm sweetening things up just a bit. Making a dessert pizza has been on my mind for the last while. I wanted to still use the refrigerated pizza dough for the crust instead of using a cookie based crust like many dessert pizzas have. There is nothing wrong with doing it that way. I'm stocked up on pizza dough and need to use it up.
I made up my mind that I would make a Cherry Cheesecake Pizza. I imagined a slightly sweet crust with a rich, creamy cheesecake filling. I'd top it with some cherry pie filling. It looked perfect in my mind's eye.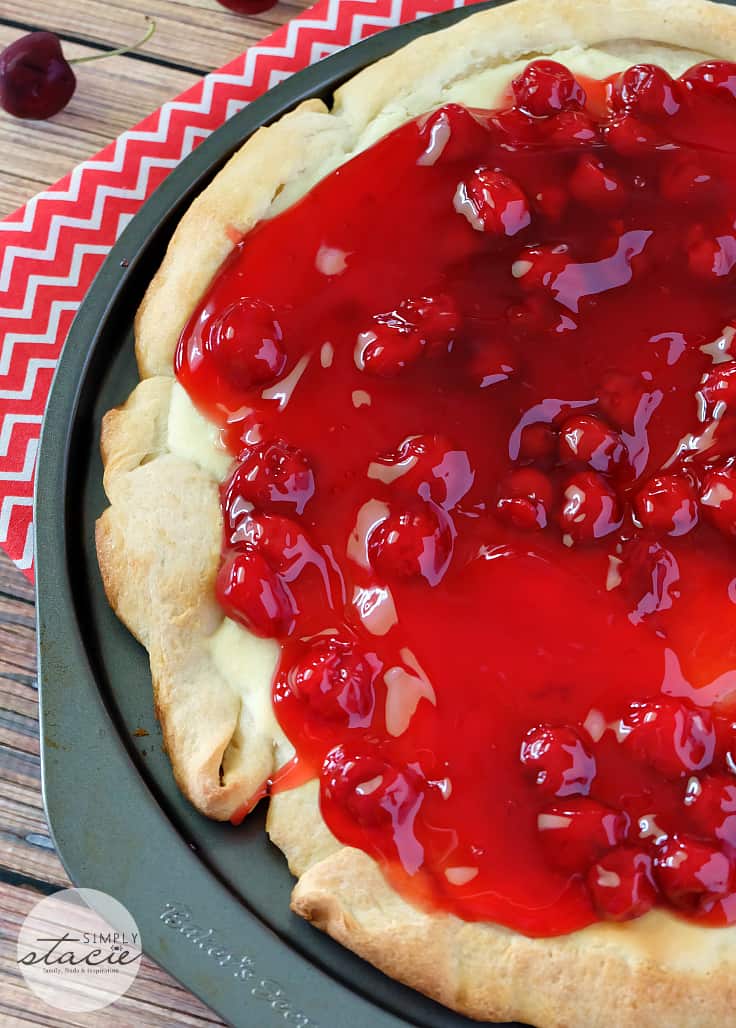 Cherry Cheesecake Pizza
Let's just say round one of making this recipe was a complete flop. I thought a deep dish pizza would be tasty. I stretched out my dough to fit the deep round baking dish. I poured in a thick layer of cream cheese mixture and in the oven it went. The dough was cooked in about 25 minutes and the cheesecake filling looked cooked too. The top of it was set and firm. I thought I had a winner. That was until I cut the first slice…..then it was cheesecake chaos. The inside was runny and not at all cooked. I used way too much filling. The dough would have burnt to a crisp if I had let it cook long enough for all that filling to finally cook. I was sad because I had high hopes.
The next day, I regrouped and decided to try again. This time I used a regular pizza pan and used less filling. My goal was to have the filling and the dough be both cooked perfectly at the same time. I figured it out. Round two was a success!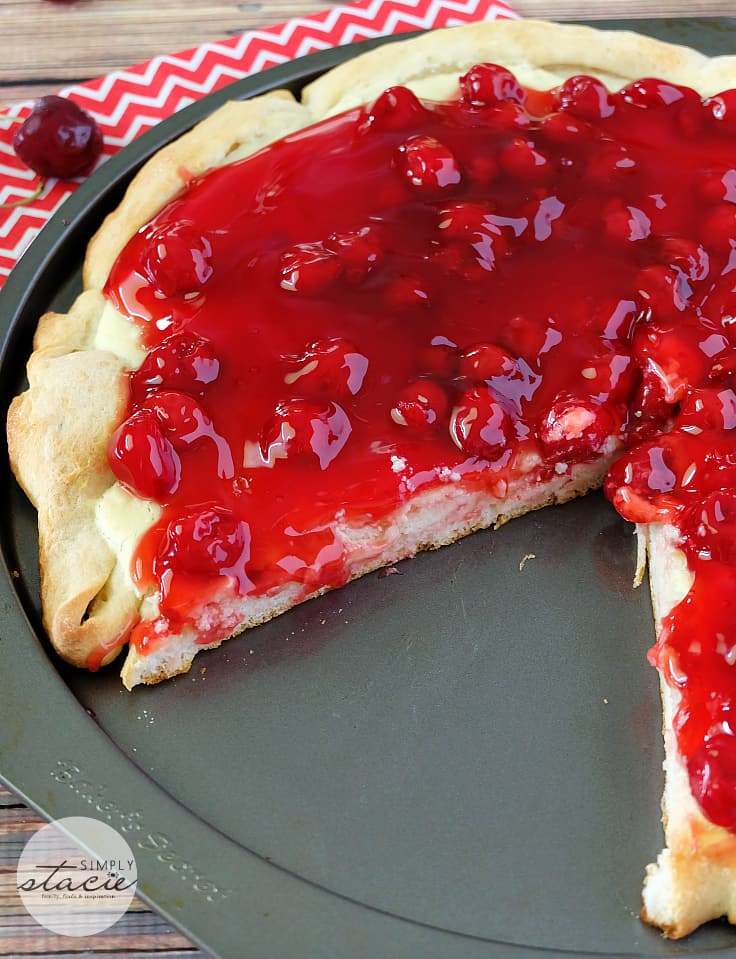 I was pleased with how it turned out. The crust was perfectly golden and the filling looked set. I knew the real test would be when I cut a slice. I was keeping my fingers crossed it was cooked! I had a good feeling about it though!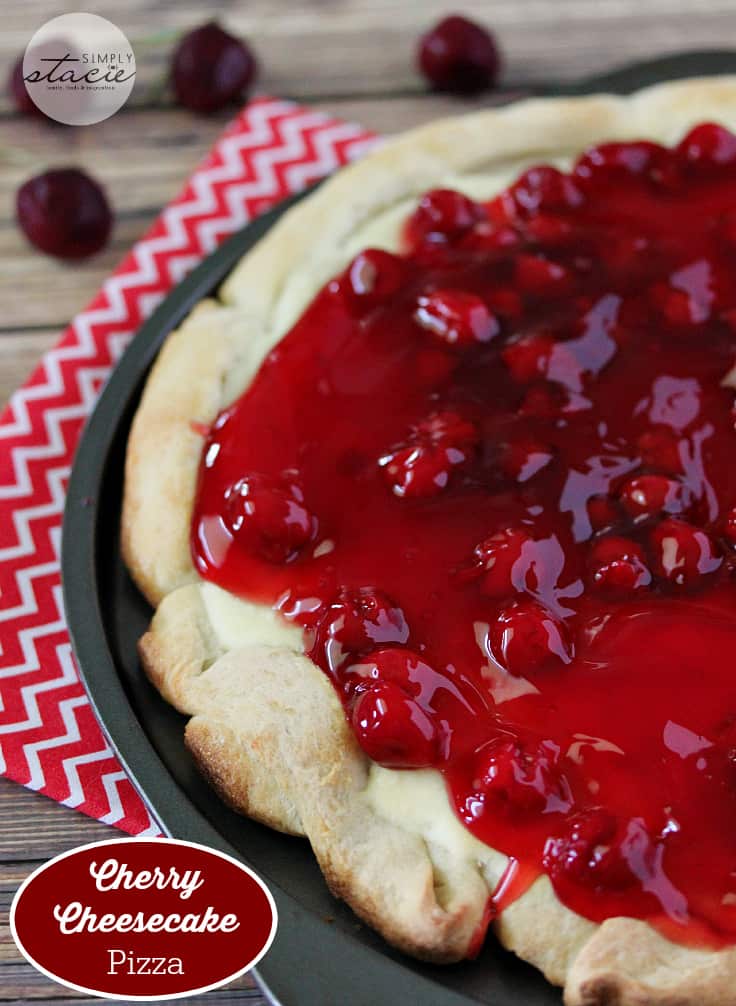 I breathed a quick sigh of relief when I placed a slice neatly on my plate. A little trial and error paid off this time!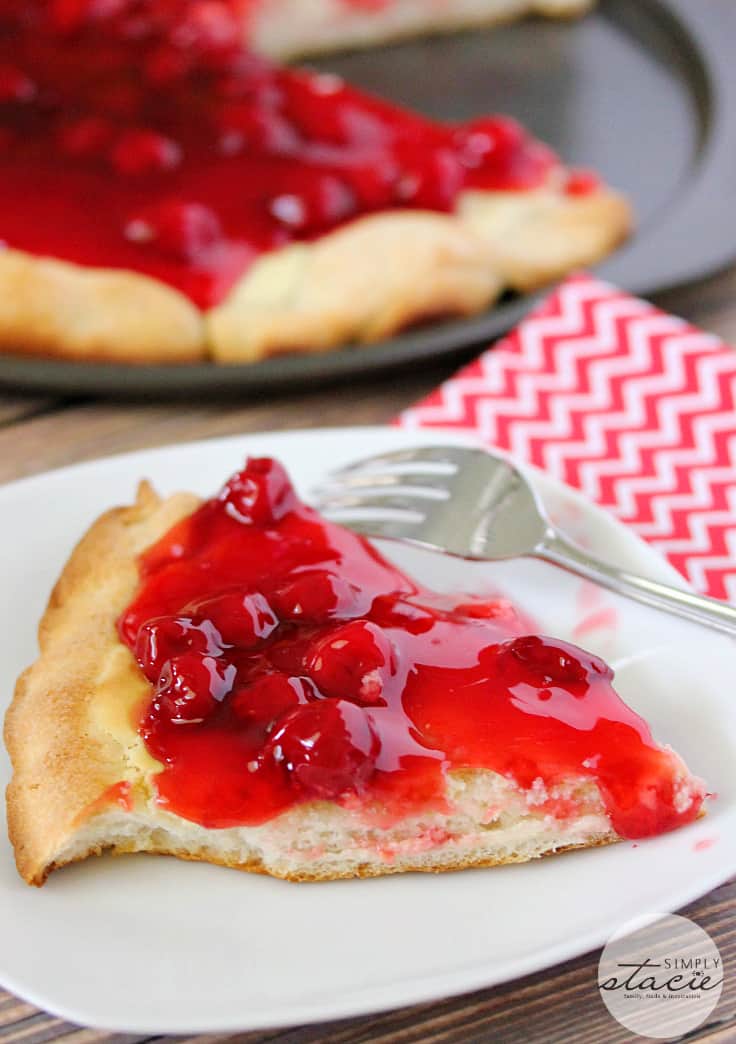 I may experiment with a few more dessert pizzas soon. I haven't decided exactly what I'll make yet though. I promise if it's a good one, I'll share it here! Follow me on Instagram to get a sneak peek into what's coming up on the blog. I normally post after I've made something and then schedule it on my blog.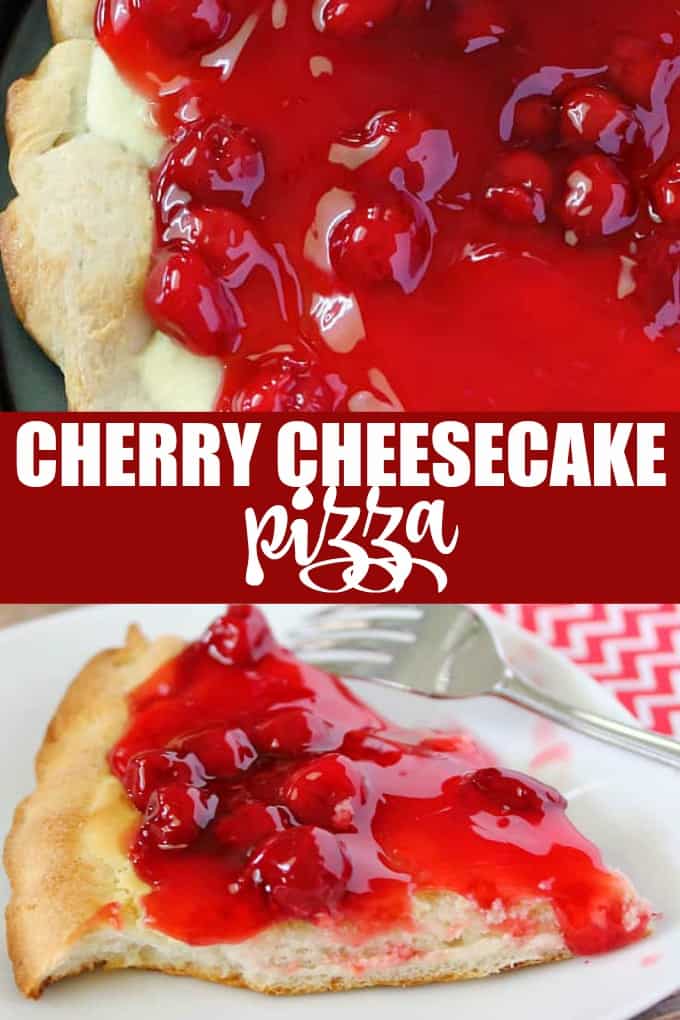 Would you like a slice of my Cherry Cheesecake Pizza?
Yield: 6
Cherry Cheesecake Pizza
Dig into this decadent dessert, Cherry Cheesecake Pizza, made with refrigerated pizza crust. A unique dessert pizza that is sure to impress!
Ingredients:
1 Pillsbury Pizza Crust (or your own homemade pizza crust or other brand of refrigerated pizza crust)
1 package cream cheese, softened
1 tsp vanilla
1 tsp lemon juice
1 egg
1/3 cup sugar + 1 tbsp sugar
1 can cherry pie filling
Directions:
Preheat oven to 350F. Grease a pizza pan and spread out dough to fit. Sprinkle 1 tbsp sugar evenly over dough. Set aside.
In a mixing bowl, add cream cheese, vanilla, lemon juice, egg and 1/3 cup sugar. Beat with an electric mixer until smooth.
Pour cream cheese mixture evenly over pizza dough leaving a gap around the edge. Bake for 25 minutes or until cream cheese is set and crust is lightly browned.
Remove from oven and let cool 30 minutes. Then top with cherry pie filling leaving a gap around the edge. Refrigerate uneaten portions.