Satisfying Slow Cooker Casseroles
My slow cooker has been getting a lot of action this winter. This week alone I've made supper in it almost every single night. Typically you think of using your slow cooker for soups and stews, but that is only the tip of the iceberg. There are SO many scrumptious dishes you can make in it, including slow cooker desserts!
One of my favourite things to make in the slow cooker is casseroles. The best kinds are the dump and forget about it. I'm at home during the day so I'm tempted by the delicious aromas wafting from the kitchen. I have to force myself not to constantly sneak a peek or a quick taste. The last time I thought I'd test a small bite I burnt myself and ended up with a blister on my chin. I'm much more patient now. I can wait till supper time.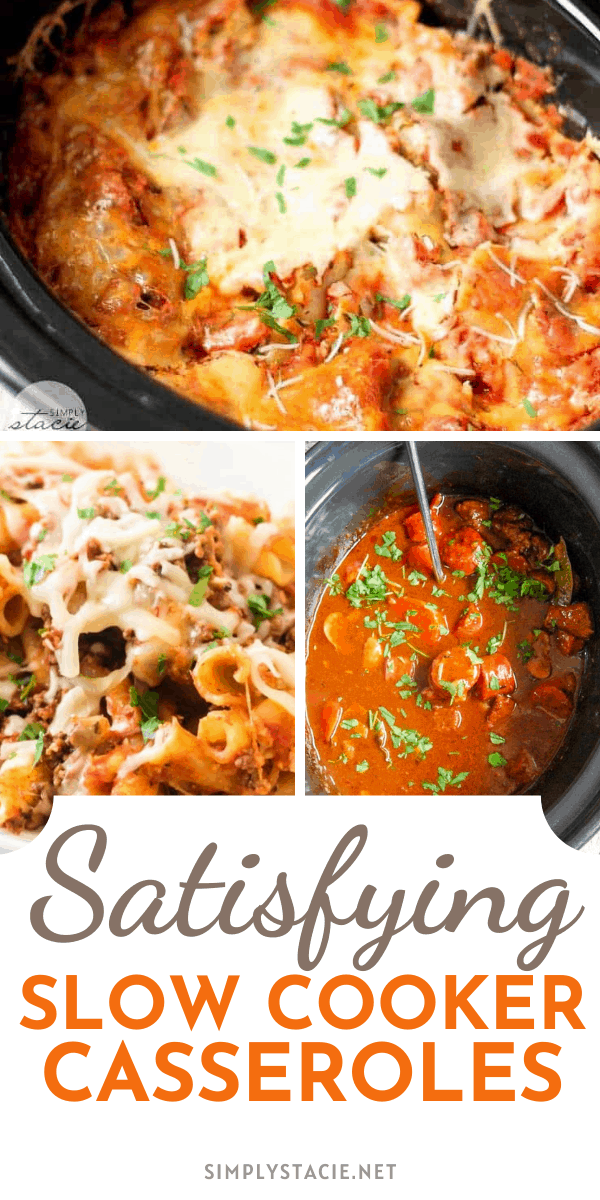 This collection of satisfying slow cooker casseroles is exactly what you need to make your family a delicious meal.
Satisfying Slow Cooker Casseroles
This collection of satisfying slow cooker casseroles is exactly what you need to make your family a delicious meal.
Slow Cooker Lasagna is a super easy way to enjoy your favorite Italian Dish. A meatless lasagna recipe that uses ricotta cheese, spinach and of course cheese for that incredible lasagna flavor you know and love.
Slow Cooker Pepperoni Sausage Pizza Pasta is a quick and easy dinner that is kid-friendly. Loads of meat, sauce, cheese, and tender pasta. This pizza pasta is a must make for any pasta lover.
Try my no-fail Slow Cooker Spinach & Feta Quiche. A low carb quiche recipe that has no crust. Loaded with flavor so every bite tastes better than ordering takeout from your favorite restaurant.
Photo Credit: spaceshipsandlaserbeams.com
Crock pot baked ziti is a delicious, rich pasta dish -- with an amazing cheese topping -- that is so easy to throw together. You just let the crock pot do all the work for family dinner.
Photo Credit: foodmeanderings.com
A Ukrainian recipe for slow cooker casserole- a huge Ukrainian meal in one pot, including kielbasa sausage, cabbage, rice and pierogi/perogy flavors. Prepped in 20 minutes - the slow cooker does the cooking for you!
Photo Credit: www.healthylittlefoodies.com
This Slow Cooker Sausage Hotpot is easy to whip up and is a wonderfully warming, filling meal.
Photo Credit: theflavoursofkitchen.com
Quinoa Chicken Broccoli Casserole is an incredibly healthy meal that the whole family would love. Quinoa, Chicken, Broccoli topped with cheese cooked slowly in a slow cooker.
Photo Credit: eatbeautiful.net
This gluten-free and grain-free Enchilada Casserole recipe is so easy and so delicious, made in your Crock Pot!
Photo Credit: www.savoryexperiments.com
Set it and forget it the night before with this deliciously easy Breakfast Casserole in the slow cooker!
Photo Credit: somethingsweetsomethingsavoury.com
This slow cooker beef and chorizo casserole is exactly what you need on a chilly day – tender chunks of beef slowly simmered in a rich, delicious gravy with chorizo chunks, mushrooms and carrots.
Photo Credit: www.suburbansimplicity.com
Crockpot Pizza Casserole is an easy weeknight dinner everyone LOVES! All the flavors of your favorite pizza, slow-cooked to perfection. Simple and delicious every time. It's even a great leftover lunch the next day!
Photo Credit: intelligentdomestications.com
This Crockpot Manicotti recipe is very similar to oven baked lasagna except even better. Be sure to have leftovers the next day because they are fabulous.