Loaded Baked Potato Soup Recipe
Tis the season for soup! When the cold weather hits, so do my cravings for hot comforting soup and I'm not picky! I make soup either in the slow cooker like my recipe for cabbage roll soup, or on the stove top like this potato soup recipe I'm sharing today. It all goes into my family's bellies so as long as it tastes delicious, they are happy.
This recipe for Loaded Baked Potato Soup is the epitome of comfort food. It's creamy, cheesy with all the fixins' we love in a loaded baked potato. I love loaded baked potatoes, but they can be a pain to make. I always mess up the potato skin when I'm trying to scoop out the inside. At least with this recipe, you don't have to fuss around with the presentation. It all goes into a pot on the stove to cook. Top with your garnishes and you have a satisfying bowl of smooth, rich soup.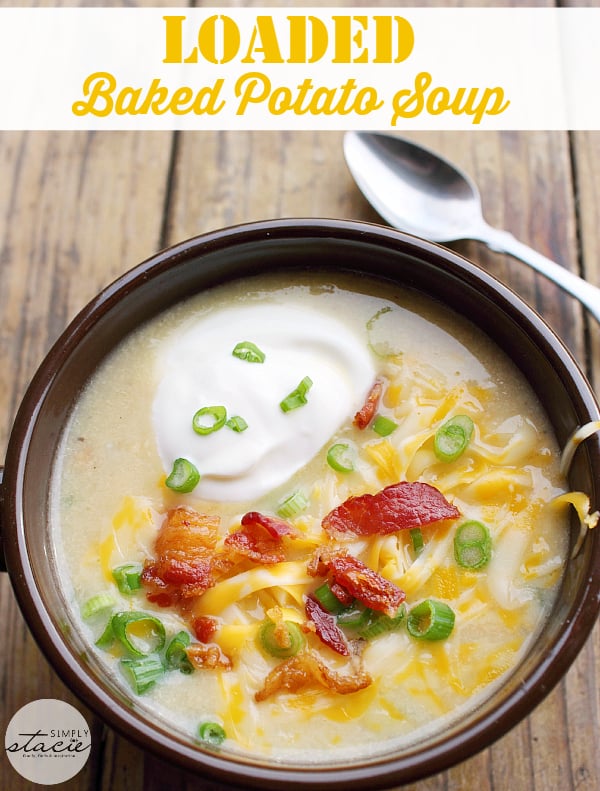 Loaded Baked Potato Soup
Ingredients:
1 1/2 lbs Russet potatoes, sliced in half lengthwise and the cut into 1/4 inch slices
1 can vegetable broth
1 cup milk
8 slices bacon, cooked crispy and chopped
4 green onions, thinly sliced
1/2 tsp salt
1 tsp black pepper
2 cups Colby Jack cheese OR Monterey Jack cheese, shredded
sour cream, for garnish
Directions:
In a large pot over medium heat, bring vegetable broth, potatoes and just enough water to cover the potatoes to a boil. Reduce heat to simmer.
When potatoes begin to break apart, add milk, 3/4 of the bacon, 3/4 of the green onions, salt and pepper and continue cooking until the potatoes are completely broken down.
Add 1 1/2 cup of the cheese and stir until completely melted.
Serve hot garnished with remaining bacon, green onions, cheese and a dollop of sour cream, if desired.