Caramel Coffee Milkshake
I find the weather much more hot in Ontario compared to Nova Scotia. It's also humid which intensifies my discomfort. Maybe I'm a minority here, but I actually prefer the cold vs. the heat/humidity. I'm always looking for ways to cool down. A coffee milkshake is a decadent treat to beat the heat. Not only do I get my caffeine fix, but it also makes for a cool, refreshing and sweet drink.
There's really nothing to fixing up a few of them. All you need is some brewed coffee, scoops of ice cream and whatever flavour you want to add in. I chose caramel, but chocolate works too. I didn't cool my coffee before adding it to the blender. I made a cup in my Keurig brewing machine and poured it right into my blender. The ice cream will cool it down and make it a cold drink.
I wouldn't drink these every day since they are not the best for my waistline, but I like to indulge every once in awhile.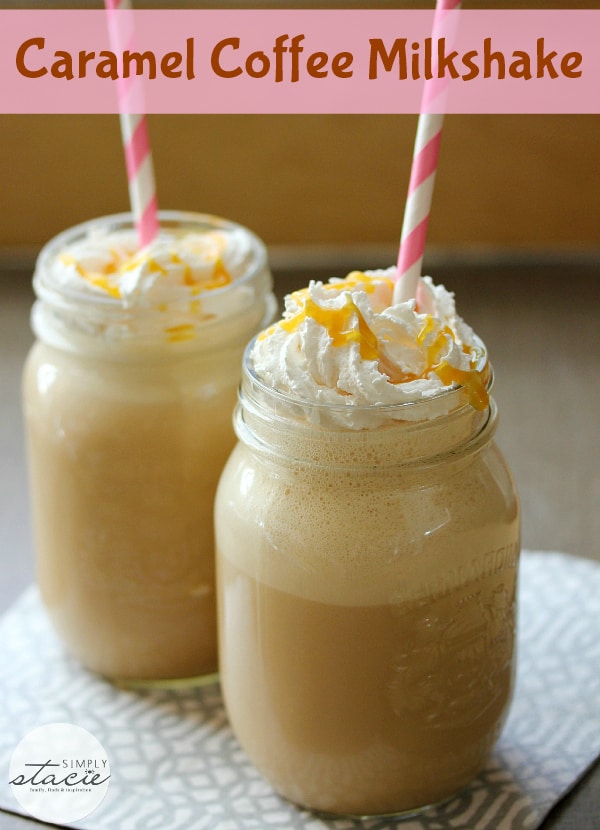 For more ice cream drinks, check out these recipes from my friends: Frozen Hot Chocolate and Healthy Frozen Mocha.

Yield: 2
Caramel Coffee Milkshake
Satisfy your sweet tooth + get your caffeine fix! This milkshake is so yummy.
Ingredients:
1½ cup brewed coffee
3 cups vanilla ice cream
1 tbsp caramel ice cream syrup
whipped cream (optional)
Directions:
Add coffee, vanilla ice cream and caramel syrup to a blender. Blend until smooth. If you want it thicker, add more ice cream until you reach your desired thickness. Pour into individual glasses and top with whipped cream and caramel sauce.