Maple Syrup Cheesecake
One of my first themed boards I created on Pinterest was a Cheesecake board. I'm obsessed with cheesecake and cannot resist a piece. I make it every once a while since it isn't the friendliest dessert on my waistline. I figure I can indulge every once in a while though.
I decided to see what Maple Syrup Cheesecake would be like. I picked up a bottle of real Maple Syrup a few weeks ago and we needed to use it up before we move. This dessert finished off the bottle.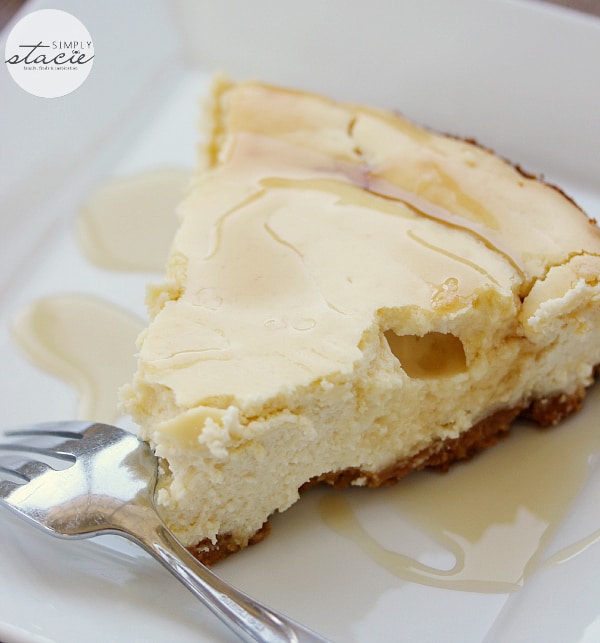 Oh my is it good! The crust is made from crushed maple cream cookies. I normally use graham cracker crusts for cheesecake, but I figured cookies would work too.
The cheesecake filling is smooth, creamy and not overly sweet. It's a basic baked cheesecake filling but instead of adding in white sugar, I used maple syrup. I also drizzled some maple syrup on top to finish off each piece.
If you like add a scoop of vanilla ice cream on top and drizzle maple syrup on top. Delish!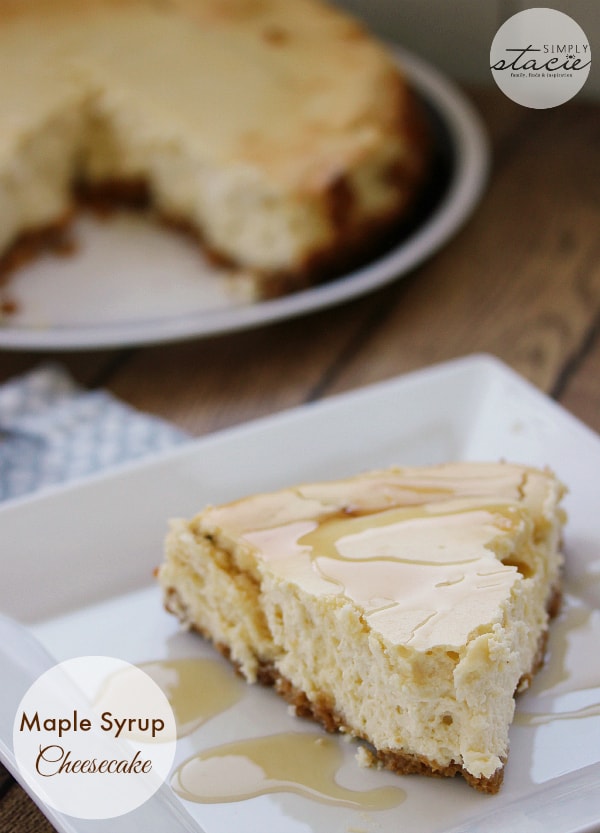 For more cheesecake recipes, check out these decadent treats from my blogging friends: S'more Cheesecake Dip, White Chocolate and Raspberry Cheesecake Bars, Raspberry Cheesecake Smoothie, Mini Strawberry Cheesecake Bites and Mini Nutella Cheesecake with Oreo Crust.

Yield: 6 to 8
Maple Syrup Cheesecake
A decadent recipe for Maple Syrup Cheesecake made with a maple cookie crust and maple syrup cheesecake filling.
Ingredients:
18 Maple Leaf Cream Cookies (I used Dare Ultimate Maple Leaf Creme Cookies)
1/3 cup butter, melted
3 250g packages cream cheese, softened
1 cup maple syrup
3 eggs
Directions:
Crush Maple Leaf Cream Cookies with a rolling pin and add to a mixing bowl. Stir in melted butter. Press mixture into a 9-inch spring form pan and set aside.
In a KitchenAid Stand Mixer or with a handheld electric mixer, beat cream cheese and 3/4 cup maple syrup on low until combined. Add in eggs and mix on low until smooth. Pour cheesecake mixture over top of your maple cookie crust.
Bake for 45 minutes in a 350°F oven or until the cheesecake is set. Let cool before removing the springform pan. Refrigerate for 3 to 4 hours before serving.
To serve, drizzle maple syrup over top of each slice.