Famous Curried Chicken Salad
Disclosure: I am participating in the Chicken Farmers of Canada campaign managed by SJ Consulting. I received compensation in exchange for my participation in this campaign. The opinions on this blog are my own.
Even though I love eating chicken with the skin-on, I don't often buy it for meals. It's been drilled into my head for years that eating healthy means buying skinless chicken. I guess that's why I buy boneless, skinless chicken breasts like they are going out of style. Don't get me wrong, I enjoy eating my boneless, skinless chicken breasts, but it shouldn't come as a surprise that skin-on chicken is juicier, more tender and with loads of yummy flavour.
The reason skin-on chicken is juicier is because the skin traps the natural juices inside the meat as it cooks. Cook a chicken breast with skin and cook one without skin and you will be able to tell the difference between the two.
Today I have an exciting health breakthrough to share with you about why chicken is really a Superfood. The Chicken Farmers of Canada have recently undertaken a nutrition study and made an important discovery that changed the way I cook my chicken. They learned that a skin-on cut of chicken can attain similar nutritional value as its skinless counterpart IF the skin is removed prior to consumption. What this means is that you cook your chicken with the skin on and then remove it before you eat it. This method allows the chicken to keep all those juices and flavour we know and love. Serving your chicken this way is essentially the same health-wise as serving a skinless cut of chicken!
Image courtesy of Chicken Farmers of Canada
It's all possible thanks to a process called "chicken osmosis". This is the process where the fat in the meat is drawn into the skin and absorbed during cooking. Then, afterwards, when you removed the skin, you are also removing most of the fat with it!
Did you also know that bone-in chicken contains significantly more zinc, Vitamin B and B12? Now you can take advantage of these extra health benefits without the extra fat and calories.
You know what this means right? Now, I'll be able to purchase the bone-in, skin-on cuts of chicken at the grocery store which are cheaper than the boneless, skinless chicken. Saving money is always good!
Chicken Farmers of Canada has a post on their site called New Study Shows How to Cook Healthy Chicken with Skin On. I encourage you to check it out for more info about this important health breakthrough. It definitely changed the way I'll be shopping and cooking my family's chicken!
If time is on your side today, feel free to check out my recipe for Slow Cooker Salsa Chicken and my post, Meet the Chicken Farmers of Canada.
Of course, I had to test out this new found knowledge! I made the absolute best chicken salad I've ever tasted: Famous Curried Chicken Salad. This is the only kind of chicken salad I ever want to eat. It was seriously that good!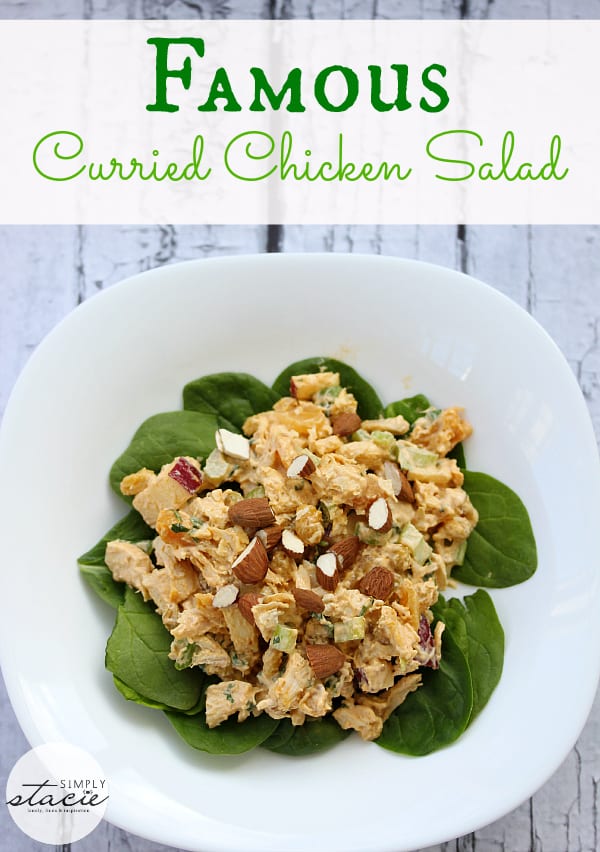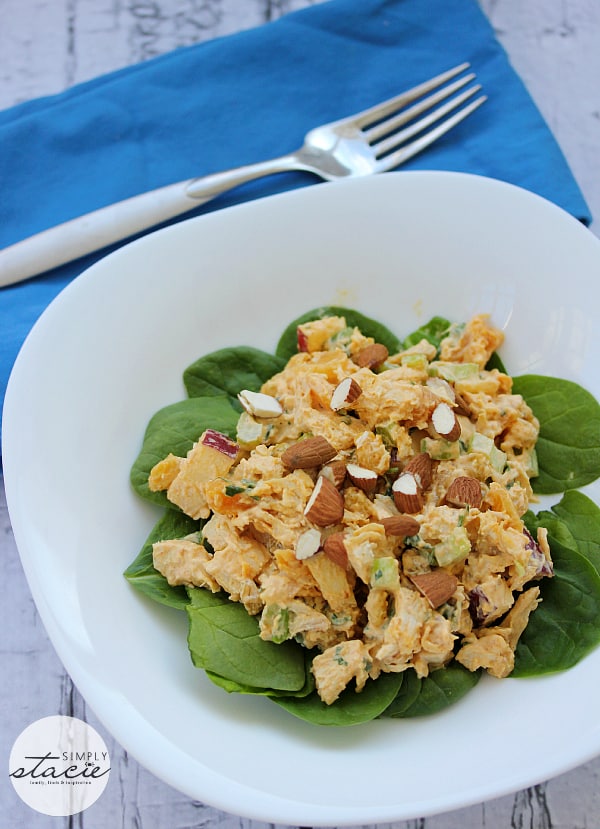 Famous Curried Chicken Salad
Yield: 6
Prep Time: 15 minutes
Total Time: 15 minutes
The BEST chicken salad you will ever taste!
Ingredients
2 chicken breasts, cooked, remove skin and chop into cubes
½ cup golden raisins
½ cup mayonnaise
¼ cup sour cream
1 tbsp hot curry paste
½ tsp salt
½ cup whole dried apricots, thinly sliced
2 celery stalks, chopped
4 green onions, chopped
1 apple, cored and chopped
½ cup fresh cilantro, chopped
¼ cup almonds, chopped
Instructions
Put raisins in a bowl of boiling water to plump up. Set aside.
Combine mayonnaise, sour cream, curry paste and salt in a large bowl. Blend together until no streaks of curry remain. Mix in chicken.
Add apricots, celery and green onions to chicken mixture and stir together.
Drain the raisins and mix into the chicken mixture. Add in apple and cilantro and mix to combine.
Top with almonds. Serve on a bed of greens if desired.
Recommended Products
As an Amazon Associate and member of other affiliate programs, I earn from qualifying purchases.
Nutrition Information:
Yield: 6
Serving Size: 1
Amount Per Serving:
Calories: 329
Total Fat: 20g
Saturated Fat: 4g
Trans Fat: 0g
Unsaturated Fat: 15g
Cholesterol: 47mg
Sodium: 443mg
Carbohydrates: 25g
Fiber: 3g
Sugar: 18g
Protein: 15g