Taco Chicken Salad
Chicken salad is one of those recipes that's easy to change up to suit your tastes. I've made it the traditional way and with a few modifications like these recipes for Famous Curried Chicken Salad and Chicken BLT Salad. How about we kick it up a notch with a spicier version? Yes, please! You have got to try this Taco Chicken Salad!
Taco Chicken Salad
This Taco Chicken Salad recipe is full of fresh (and hot!) ingredients like jalapenos, chili powder, cumin, cilantro and more. I'm craving a bowl right now.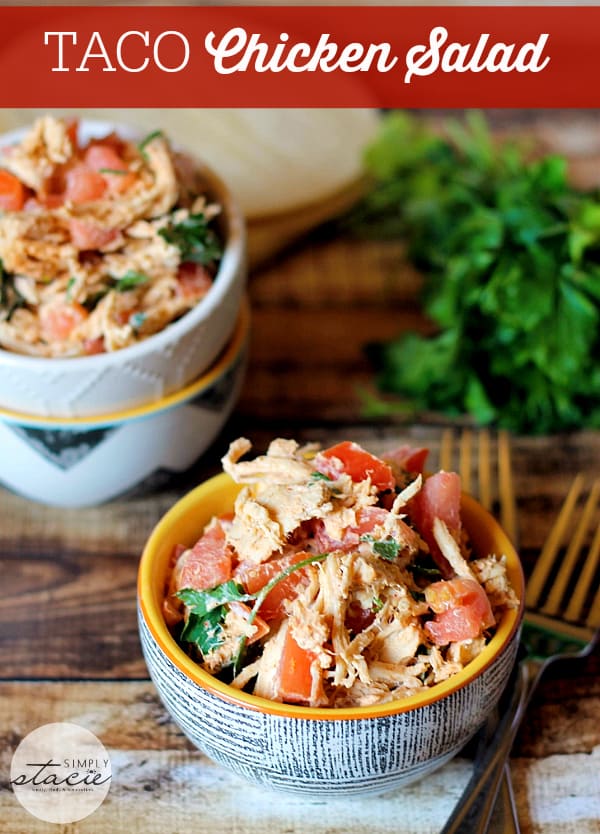 Helpful Kitchen Tools
This post contains affiliate links.
Eat a bowl for lunch on its own or add it to a tortilla for a wrap. You can't go wrong with a chicken salad sandwich! I often serve mine on a bed of greens so I can get my daily veggies into me.
This Taco Chicken Salad is a great way to use up leftover chicken. I will sometimes cook extra chicken just so I can use it in recipes like this one. It saves a step and anything that saves time is a good thing in my books. I use boneless chicken because the worst thing you can find in a chicken salad is a stray bone. It gives me the chills just thinking about it. Blech.
Garnish it up with some cilantro, Greek yogurt, cheese, avocado or whatever you like. I used cilantro in the photos to give it a pop of colour. However, I'm not a big fan of the taste. I find it tastes like soap! My mom, on the other hand, eats cilantro like it's going out of style. I must have inherited the soap tasting gene from my dad.
You might also like this Regal Chicken Salad or Waldorf Salad.
How do you like to eat your chicken salad?
Yield: 4
Taco Chicken Salad
Great served alone, with crackers or chips, or as a wrap in a tortilla!
Ingredients:
4 cups water
2 cups fat-free, lower-sodium chicken broth
1 tbsp whole black peppercorns
5 garlic cloves, crushed
1 pound skinless, boneless chicken breasts, cut in half
2 celery stalks, chopped
1 large carrot, peeled and chopped
1 jalapeño, cut in half
1 medium onion, cut in quarters
1 large tomato, chopped
1/4 cup fresh cilantro, chopped
1/4 tsp salt
1⁄4 tsp cracked black pepper
1/2 tsp ground cumin
1/2 tsp chili powder
4 ounces low fat cream cheese, very soft, cut into small chunks
Optional garnishes: cheese, sour cream, greek yogurt, hot sauce, avocado
Directions:
Combine water, broth, peppercorns, garlic, celery, carrot, jalapeno, and onion in a large pot over medium heat. Place chicken into pot with other ingredients, and bring to a boil. Reduce heat and simmer 8-10 minutes or until chicken is done. Remove chicken and shred chicken using 2 forks; set aside. Discard liquid or save for later use as chicken broth (freezes well).
In a large bowl, mix chili powder, cumin, salt, pepper, and cilantro. Add shredded chicken and mix to coat chicken in spice mix.
Add cream cheese chunks into mixtures, and cut into the chicken until fully mixed.
Top with optional cheese, sour cream or Greek yogurt, hot sauce, or avocado.